These classes are truly transformational... and our teachers are knowledgeable and passionate about teaching these WOTE Level I courses.

11/7-11/9

Kat... Blanco, TX

970-366-0963

Sharon... Stowe, PA

610-326-8391

Lemia/Josh...Irvine. CA

949-370-9904

Lynn... Portland, OR

971-322-8444

11/22-11/24

Izumi... Tokyo JP

mothereartharoma@gmail.com

Lisa/Craig.. Citronelle, AL

251-866-7204

1/17-1/18

Audre... Arcata, CA

928-300-5090

Izumi... Tokyo, JP

mothereartharoma@gmail.com

For a complete listing click here

Hathor message from Tom & Judi
This is a sobering message about the state of affairs our world is in, but I think it's helpful to know what we are dealing with. They also have a beautiful free sound meditation that you can download and use to raise the vibration of your body.

What an amazing Level II class we had this past October. The cohesiveness of the group was astounding and because of the trust and unified field we created, we were able to move deeply into relationship with ourselves as well as a deepening our relationship with the Earth.

Geri writes "
The Level 2 experience was amazing. I particularly loved the ceremony: the buffalo robe ritual, and the Medicine Wheel ceremony were both transitional for me. I let go of some parts of my life that needed healing and welcomed new parts of myself that I didn't know I had. What a gift this was and continues to be. I will be forever grateful.
However, this is not a journey for the faint of heart. Mother Earth and her plant essences draw you in and ask that you look at and birth the inner-most parts of your soul, and live that true essence every day. Not easy in our culture. Yet, if we continue to go back to the essences for encouragement and healing, we will be blessed on our journey, the most important journey of our lives."
Thyme---The Great Equalizer


Hello WOTE Family!

Fall has finally arrived here in AZ with beautiful days and cooler nights. It is the perfect time to be here in the Southwest hiking during the day and star gazing in the evening. I was recently in CT visiting family and it rained 4 out of the 5 days that I was there. I was certainly glad to get back to the sunshine.

I wanted to touch on all the hoopla regarding the Ebola virus and as well as the virus/flu season that is upon us. We have had "dangerous" viruses in the past including the Swine Flu, the H1N1 and many others by different names, and the one real cause of these virus attacks has to do with the body's immune system. Most viruses attack the body when we have a compromised immune system. Strep lives in the human body and doesn't affect us unless our immune systems are weak. This is why people with healthy immune systems rarely get sick, while others are sick all the time.
There are the many ways that we can compromise our immune system and these can include:

Stress
Eating Fast and Unhealthy Foods
Using lots of Pharmaceuticals
Environmental (Chem Trails etc.)
Fear!!!
Emotional States of Being
The Thyme family is a powerhouse when combating viruses of any kind. Please remember that they are HOT essences and have to be layered or sandwiched in between cooler ones, or put on the soul's of the feet. They are an immune stimulant, anti-viral, anti-fungal, anti-bacterial, anti-microbial, anti-parasitic and they work with issues such as asthma, edema, and impotency. I cannot possibly write all the benefits in this short article, but I wanted to make you aware of some of the properties. Remember that the immune system is the only true healer.

WOTE Thyme's from the hottest to the mildest..

Thyme, Red (very hot)
Thyme, Spike (very hot)
Thyme, Borneol (strong, warm, spicy)
Thyme, Linalool (mild)
Thyme, Geraniol (rare--gentle--broad spectrum)
Thyme, Thuyanol (rare--gentle--broad spectrum)
The Thyme essences have been used for thousands of years. According to Greek mythology, Thyme was created from the teardrop of Helen of Troy. Thyme was also used to combat infections during European plagues and was used as a battlefield antiseptic during WWII.

There is so much more I could write about this beautiful deva, but I wanted to give you a heads-up, a clue as to what you might include in your medicine chest this season. If we are armed with information about the alternatives that might be helpful when dealing with these viruses, our stress and fear levels can diminish as we take control over our own well-being. After all, it is time to create a culture of health and well-being, so that we take full responsibility for ourselves and our loved ones.

Wishing you a healthy and prosperous season.

From Nature's Great Mystery,

Cynthia & the WOTE Folk

"One day I was told that time was of the essence. I believed this and hurried my life away, until one day I stopped to smell the flowers. What I found was that Thyme is the essence." ~Paula G.

Thoughts from our Level II Papers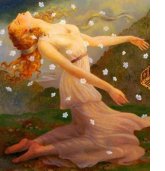 "I truly feel that essences are in the process of evolution and that we need to be expanding and growing in our knowledge and acceptance of that evolution." ~Charity S
"Essential oils have become very important in my life, grounding me, reminding me to feel and to move from my heart. They take me back to the natural world, away from the third-dimensional rhythm. They protect me from negative entities and increase my energy. When we open our hearts and surrender to the spirit of the plant, they tell us how to align with our divine plan and shift to the rhythm of nature and our consciousness. WOTE essential oils tell us that the boundary line between the plant kingdom and the human world is an illusion."

~Iru G

We are excited to have several new essences in our portfolio.

Yellow Birch has returned to us from Canada - $47 (15ml) - good for joint pain, liver tonic, anti-inflammatory, etc.

Moena from Eastern Europe - $79 (15ml) - warms cold joints, arthritis, anti-inflammatory, etc.

OakMoss comes from France and grows on the Oak Trees - $45 (15ml) - good for fungus, anti-inflammatory, antiseptic, expectorant, etc.

Tancy, Tansy Common from Eastern Europe - $40 (15ml) -

powerful expectorant, anti-viral, mucolytic, etc.