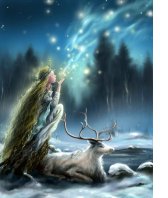 Season's Greetings everyone,
We are so grateful for the love and support we have had throughout this year. Your presence and honoring of the plants and trees has made for tremendous growth in our business as well as our personal lives. It has been such a pleasure to meet so many of you while you were vacationing here in Sedona. It is always wonderful to meet friends that are using our WOTE essences.

There are a few tips I'd like to share with you as you go into the season of gift giving, stress, and weather-related traveling.

Taking time out to relax, breath and go within, even if it is for a few minutes, will be very beneficial. I wanted to share an excerpt from a book I read by Jane Roberts: "Honor your body, which is YOUR representative in the Universe. It's magnificence is no accident. It is the framework thru which your works must come; thru which the spirit and the spirit within speak. The marriage of soul and flesh is an ancient contract, to be honored. Who feeds the body with love, neither starving it nor stuffing it, feeds the soul. Who betrays it, betrays the soul. Your body is the body of the soul. The body is the soul in Earth garments." Very powerful statement for us to remember, and with that, I would like to share some tips that you can do for yourself to honor and love the body in which you inhabit.

Take a bath using Lavender, Rosalina and Fir Needle Siberian Silver for a delicious smelling relaxing and immune building moment. The smell alone will raise your joy vibration and frequency.

Have a cup of essence tea daily using black cumin, orange and cinnamon bark with some raw honey to strengthen your immune system because stress is the biggest toxicity to the body. It will bring down your immune system in a heartbeat.

Spray hydrolats on your face to boost the energy and frequency of your of your skin as a toner alone or in combination. Hydrolats such as Geranium for tissue regeneration, Helichrysum for skin issues and wrinkles, and Rose for the overall health and beauty of your skin. Lavender and Helichrysum will protect the skin from environmental toxins. Spraying Frankincense, Sage, and the Pines around your body will help clear the aura and give you a bubble of protection from the cold and flu season. Peppermint hydrolat will give you an extra boost when shopping, partying or when you feel tired and have a long drive home. You can also put a bit of hydrolat in water and drink it.

Oiling your skin with some of our precious nut oils will soften tired, dry and chafed skin. I would highly recommend our Cucumber Seed oil from Chile, pressed from the seeds of cucumbers; pure Argon oil that comes from the argon nut seed that the Berber woman use in Morocco for dry hair and skin; and Rosa Rubiginosa from Patagonia, pressed from the rose hip seeds for dry cracked hands and lips.

Give yourself the most precious gift of time. Time to take care of the representative of your soul and your body. Luxuriate in the most precious gifts of the Earth with these beautiful, pure, raw essences. Your body and soul will thank you.

We at Wisdom of the Earth wish you Good Health and time to enjoy the Blessings of the Season.

Happy Holidays from Cynthia, Barry, Audre, Leonardo and the WOTE team.