1/16-1/18

Lynn... Portland, OR

971-322-8444

1/17-1/18

Jennifer... Charlotte, NC

704-562-6272

1/23-1/25

Lemia/Josh... Irvine, CA

949-677-3700

1/23-1/25

Sharon... Stowe, PA

610-326-8391

1/30-2/1

Izumi... Tokyo, JP

mothereartharoma@gmail.com

2/7-2/8

Audre/Cynthia... Cornville, AZ

928-649-9968

2/21-2/22

Lemia/Josh... Dania, FL

949-677-3700

2/27-3/1

Siddiqa... Chadds Ford, PA

484-542-5547

2/27-3/1

Kat... Basalt, CO

970-366-0963

2/27-3/1

Ayumi... Tokyo, JP

ayumi.okada@reconnect.jp

We had a fabulous snow storm here in Northern AZ for New Year's. The air smelled clean and everything was so quiet. We at WOTE wish you all a Healthy and Happy New Year and know that all your dreams can come true... We love you!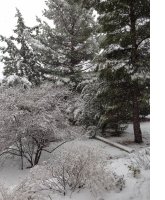 Our Purple "Words of Wisdom" Newsletter is Ready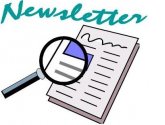 In this issue read about:

* Myrtle, "The Essence of Life"

* Carnation

* The Beauty of Buddha Wood

* Artemisia vulgaris linn

* ...and so much more

Level I Weekend with Audre and Cynthia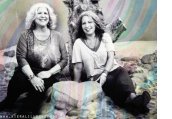 This is a rare opportunity to take the foundational aromatherapy certification class with WOTE Partner, Audre Gutierrez and WOTE Educational Director, Cynthia Olivera de Kapp. Our intention, and the focus of this Level 1 class at WOTE, is to develop a more vibrant and expanded WOTE community in our home state of Arizona. This offering responds to the requests we have had to offer a Level 1 in the Sedona area, and furthers our desire to create relationships with those of like-mind and heart in other areas of the state…Phoenix, Tucson, Flagstaff, Prescott, Glendale and Gilbert, to name a few. So please spread the word about this special Level 1 offering to your AZ family, friends and colleagues who may have an interest in developing a deeper, healing relationship with the Plant Kingdom via pure medicinal-grade essential essences. Class will be held February 7-8, 2015 here at Wisdom of the Earth in Cornville, AZ. Call 928-649-9968 to register.
Holy Chalice Woman's Weekend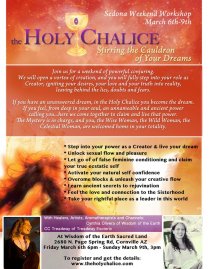 Join CC Treadway and Cynthia Olivera de Kapp March 6-8, 2015, for a weekend of powerful conjuring and manifesting though your womb power. We held this class last September and the journey allowed the woman to step fully into their magnificence and authenticity.
JP wrote "Cynthia and CC created a sacred and safe place to effectively work deep into your feminine soul and womb, and unblock consciously and unconsciously stored negative energies, issues, fears and self beliefs with light, love, grace and ease.
The work facilitated by Cynthia and CC integrated the healing powers of Mother Earth, the sacred land of Wisdom of the Earth in Sedona and the Spirit to share, let go, renew and manifest new beginnings in sisterhood, confidentiality, truth and integrity."

Love is the Great Equalizer!



"Everything real comes through the heart. When it is truly opened, everything secondary falls away- egoistical glory, fame and fortune, substitute gratifications. The heart doesn't care about such things. It doesn't hold it against you if you don't own your own home, achieve your goals, have a perfect body. The heart doesn't care what you have earned or accumulated. No matter our seeming differences, we are all the same when the heart gate opens. Deep feeling levels the playing field. Love is the great equalizer." ~
~Jeff Brown