Greetings WOTE Family!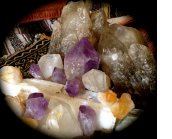 Over the last few months there have been many ceremonies, teachers, and spiritual leaders here in Sedona. Not unusual for this area. And though I have listened and participated in many of these teachings and ceremonies, I find that something is drastically missing.
In many of the conversation here at WOTE, we often talk about the changing energies and the Ascension wave that is upon us. Barry keeps a pulse on what is happening on Mother Earth with all the changes worldwide. We know that we are smack in the middle of the Earth raising her frequencies.
I have to say that for me, there is something more that I seek. When CC and I hosted our Chalice work, we spent a lot of time clearing out old beliefs as well as cleansing our wombs, and then creating the new stories for ourselves. We spent time dreaming and writing our new stories and helping each not to speak from the old wounds. Each time we have had our womb weekend, we have had an interesting manifestation that let us know our dreams were heard.
First, my Tipi Dream Lodge is made of cloth and is aging. Because of that she has started to mildew. But after the sweet conjuring evening, and putting all our dreams and desires for the planet, and ourselves into the center, the Tipi responded
by changing the shape of the mildew into diamonds. (See pic)

Secondly, again after an intense dream-time, we had had some roses in water and I left them there until I had an opportunity
to dismantle the altar. The water had dried and to my surprise, the dead stems of the roses grew green leaves. (See pic)
This leads me to believe that the dreams of what we desire to create in the new world
are a conversation that we must embark upon. We know that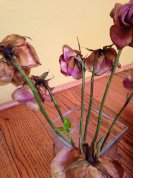 in this paradoxical world, the fear is as strong as the light, though the tipping
point is on the side of love. We see it everywhere. I really believe that we need to start speaking about what the New Earth would look like. What would a world of love and cooperation be like? If money were not the thing that kept us enslaved, what would we be doing? Where would our wildest imagination take us if we were to create a utopian society? What would we be doing if there were no illness or suffering? Can we imagine a world of artistry and creativity as the norm?

Thank you for indulging me in this pondering. I know the Earth responds to our dreaming and musing. Our imaginations are so powerful. The land here at Wisdom of the Earth is responsive to our letting go, our prayers and our dreams. Using our beautiful essences will help stretch the imagination and empower us to reach for the stars. We are very powerful Be-ings after all, and have the wherewithal to create the life and the planet that we choose to live in.

Keep dreaming!!!

Cynthia and the WOTE Team