Follow our craft beer adventures...
- Athens Beer Week: April 6-12, 2015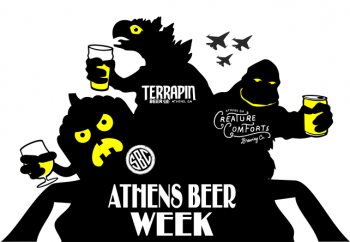 Athens Beer Week is an exciting seven days of spring beer events in the beautiful college town of Athens, Georgia.
Come out and support local craft beer!
Enjoy local brewery tours, beer dinners, craft beer celebrations, special tappings and MORE during Athens Craft Beer Week that culminates on Sunday, April 12 with the 20th anniversary Classic City Brew Fest!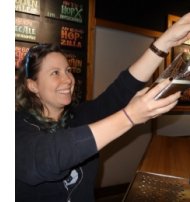 Athens has become known around the Southeast as an upcoming center for craft beer.
As a beautiful, progressive and welcoming college town, Athens offers a wide range of restaurants, craft beer pubs and nightlife.
CLICK HERE for the full calendar of events for Athens Beer Week.
- 20th Anniversary CLASSIC CITY BREW FEST
Sunday, April 12, 2015

Graduate Hotel Athens & Foundry Music Hall (formerly the Foundry Park Inn)

Athens, GA

Voted one of the USA's top 10 beer festivals on BeerInfo.com and AmericasBestOnline.com!
TOP TEN REASONS NOT TO MISS THE 20TH CLASSIC CITY BREW FEST...

10. It's a benefit for the Athens-Area Humane Society.
9. It's the most friendly, fun and atmospheric beer fest anywhere.
8. A phenomenal range of 350+ of the best beers from around the world.
7. Exclusive Cask Ale Pavilion with almost 25 special cask ales - sponsored by Catch 22. The casks alone are worth the ticket price!
6. Super special beer treats that will blow you away!
5. Live music from Athens' own The Perpetrators.

4. Every ticket is an all-access VIP ticket!
3. The event is spread around all areas of the newly remodeled Graduate Hotel Athens and Foundry music hall.
2. It's the culmination of Athens Beer Week.
1. It's one of the Southeast's longest-running and most loved beer festivals. Come find out why!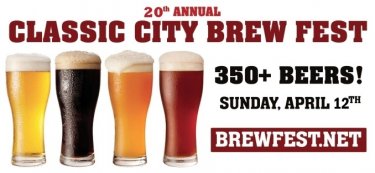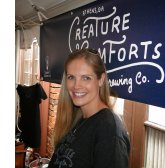 Brew Fest Sponsors:
- Where the Wild Beers Are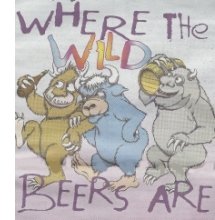 By Owen Ogletree
Lactobacillus, Pediococcus and Brettanomyces, oh my! Vile microbes, usually viewed as harbingers of spoilage, are now being invited into craft brewhouses around the country, with the resulting sour and wild beer craze even infecting the Southeast.

Sour and wild beer styles making appearances in southeastern craft breweries include Berliner weisse - a low-alcohol, pale wheat beer with clean lactic sourness; gose - a fruity, tart wheat ale with light spices and salt; "Brett" beers with Brettanomyces yeast that produces a funky, dry, leathery acidity; a variety of soured fruit beers; and sour/funky styles springing from a mixture of yeast and bacteria.

Check out the current issue of Southern Brew News to read Owen's full article with quotes from all the brewers.
A sampling of just a few wild and sour beers from around the Southeast…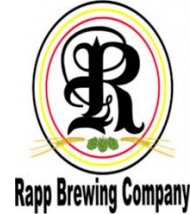 Rapp Brewing Gose - Greg Rapp researched gose because the beer was brewed originally in Goslar Germany, where his mother was born. Rapp Gose, brewed with Himalayan sea salt and coriander, forms the perfect balance of tartness, wheat breadiness and saltiness.
Burnt Hickory's Sour Vonn is a 9% ABV, barrel-soured version of Eerie Vonn XXX Spiced Apple Ale. It's barrel-aged for a year with Burnt Hickory's house blend of funk.

Haw River Farmhouse Ales' Major Arcana is a black sour aged in grape brandy barrels for a year. It's a dry, tart, ruby-edged dark sour that pulls all kinds of strawberry, cherry and stone fruit flavors from the barrels.

Creature Comforts' Curious No. 2 - A blonde American Brett beer refermented with kiwi and pineapple juice. This beer won a bronze medal at the Great American Beer Festival for American Style Brett Beer. The Curious No. 3 will be Reclaimed Rye aged in a Willet bourbon barrel with Brettanomyces and blackberries.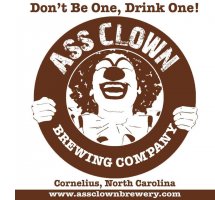 Ass Clown Brewing's Orange Peel Cedar Sour comes in as a sharp, crisp sour ale with complex notes of orange zest and spicy cedar character.
Wild Oak Artisan Ales Farmacology is a farmhouse beer highlighting unique Florida ingredients. Barrel fermented with a French red wine yeast, the beer then gets a dose of Lactobacillus, three strains of Brettanomyces, raw honey from Florida orange groves and fresh Florida kumquats.

Green Bench Brewing creates a series of wine and spirit barrel-aged sour beers called the Webb's City Cellar Series, and the first one was named For the Mad Ones - a rye sour brown ale fermented with Lactobacillus and Brettanomyces claussenii in cabernet sauvignon barrels.


Orpheus' flagship beer is a sour plum saison called Atalanta. They do a sour wort, ferment it as a saison, and get Arden's Garden to cold press 1.5 pounds of plums for each gallon of beer.

Cigar City Guava Grove started out as a saison when the brewery first opened in 2009. It has since gone through several evolutions, with the most current being a kettle-soured, 8% ABV "Amero-Belge" sour ale fermented with pink guava.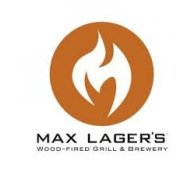 Max Lager's Georgia Air Lift Berliner Weisse is a kettle-soured Berliner with the addition of a blend of peaches and honey that's used to grow a lactic starter. The souring culture is a combination of pure lacto and a wild starter from crushed barley to add complexity. It is also conditioned on chardonnay soaked oak.
Burial Beer Company's Hefrst Wild Farmhouse – An experimental 100% wild fermented beer using both bacteria and Brettanomyces in primary fermentation. Made with heavy amounts of raw and malted wheat and finished with crushed peaches, the beer is then fermented with a collection of various Brett strains and a heavy dose of Pediococcus and Lactobacillus.

- Georgia's Biggest Collab Brew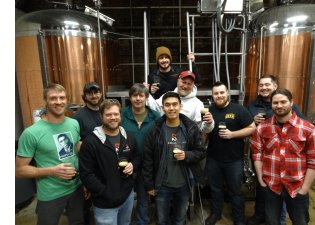 Last week, Georgia brewers brought ingredients and ideas to 5 Seasons Westside in Atlanta to brew up a Belgian inspired IPA hopped up with CTZ, Equinox, Citra, Galaxy, Jarrylo and Calypso with additions of peach, candi sugar and rum-soaked curaçao - all fermented with the Three Taverns Belgian yeast strain.
The simple idea was brew a beer together to show appreciation and support for Senator Hunter Hill who has done an amazing job sponsoring the Georgia Beer Jobs Bill that goes for a vote today. Thanks to everyone who contacted your representative and voiced support for the bill!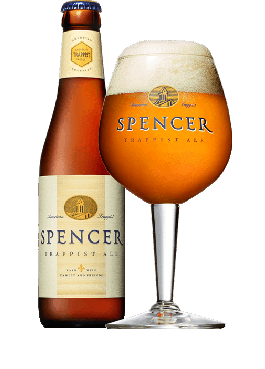 Spencer Trappist Ale
From the monks at Spencer...
America's First Trappist Beer
Our recipe was inspired by the traditional refectory ales known as patersbier ("fathers' beer" in Flemish) in Belgium. These sessionable beers are brewed by the monks for their dinner table and are typically only available at the monastery. Spencer is a 6.5% ABV, full-bodied, golden-hued ale with fruity accents, a dry finish and light hop bitterness. The beer is unfiltered and unpasteurized, preserving live yeast that naturally carbonates the beer in the bottle and keg and contributes to the beer flavor and aroma.
- Brewpub Wanted in Lawrenceville, GA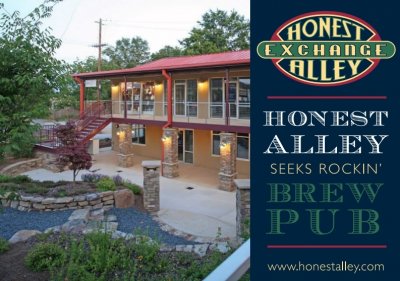 Honest Alley seeks rockin' brewpub or tavern to fill our one-of-a-kind space in historic downtown Lawrenceville, Georgia.
Picture the pulls: "Honest Alley Pale Ale, Mule Skinner Stout, Larryville Lager"…be the first to bring them to town!
We get it. You want to set up shop in a flourishing town, complete with amenities like a busy park, a local and well-attended theater, and plenty of parking. And of course, you won't even consider setting up shop without a classic biergarten in the package.
If this is what you are looking for, then you have come to the right place. We have an opportunity for an enterprising craft beer operation at the best location in the heart of affluent Gwinnett County! Here's the setup:
Recent rehab of beautiful old historic building

Crosswalk to free City parking garage & surface parking

On site mature "biergarten" designed for outdoor foodservice & entertainment

Half block walk to Lawrenceville Lawn outdoor events park and across from the Visitors Center

Cross the street to the famed Aurora Theater

Nearby Georgia Gwinnett College with 9,000 students
Up to 5000 SF available with additional outdoor, covered seating, grease trap, separate entrance, exciting local tenants. Flexible lease terms, or equity interest in real estate possible. Call Henry,
786-877-4509
or Linda
404-375-8379
and check us out
http://www.honestalley.com/
. This will work!
- Help Eventide Create a Tasting Room

Grant Park's Eventide Brewing, the fourth brewery to be located on Atlanta's bike-friendly beltline, has begun a kickstarter campaign asking patrons to buy glasses in advance to help fund construction of their new tasting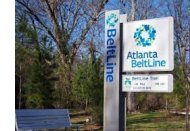 room. "We've noticed in Atlanta most tasting rooms become party places," states Eventide's Mathew Sweezey. "We have a vision to create a cozy, unique space for Eventide patrons by taking the best of what we learned from traveling all over the world and adding our homegrown flavor that will include a cellar program, collaborative brews, a dog-friendly environment, and a monthly Curiosity Club where we host a local artisan to come teach their craft."
- Catch 22 to Sponsor Cask Ale Pavilion at Classic City Brew Fest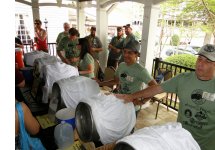 We're proud to announce that Athens' amazing Catch 22 gastropub will once again be the sponsor of the popular Cask Ale Pavilion at the 20th anniversary Classic City Brew Fest. Join rock-star owner/chef Richard Miley in sampling the almost 25 rare casks at the event on Sunday, April 12.
Also head to Catch 22 on April 7 at 7:00 pm for a delicious three-course beer dinner. Experience four beers and three creative courses for only $35 +tax/tip. This event is part of Athens Beer Week!

- Owen's Recent Group Trip to Belgium
Click the image below to check out the photos from our Brewtopia group beer journey to Belgium last February. The group of 31 beer fans had a blast!

There's still space available on our upcoming UK Yorkshire cask ale adventure this October. This trip will give attendees a life-long appreciation for classic English cask beers, so click here to sign up today!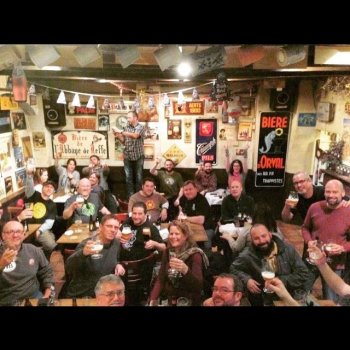 - Featured Links & Events

03/21/2015 - Buckwheat Zydeco at the Foundry music hall in the Graduate Hotel, Athens, GA. Join Owen and The Beer Wench for a night of zydeco and local craft beer specials.
04/6-12/2015 - ATHENS BEER WEEK.
04/11/2015 - Terrapin 13th Anniversary Carnival at the brewery in Athens, GA.
04/12/2015 - 20th Anniversary CLASSIC CITY BREW FEST. Athens, GA. Click here for tickets!
03/07/2015 - Secret Stash Bash beer fest at 5 Seasons and Taco Mac Prado, Sandy Springs.

- Like Brewtopia Events on Facebook & Follow on Twitter

CLICK HERE and hit the Brewtopia Events "like" button on Facebook to see live photos and news posts as we sip, quaff and sniff craft beer around the world.

Also follow Brewtopia Events on Twitter.
COMING UP....

Owen Ogletree and Thel Melton head off this weekend to report on altbier in Dusseldorf and kolsch in Koln, Germany. Prost!
See posts and photos from Owen later this month from new breweries in Amsterdam.