Follow our craft beer adventures...
- Classic City Brew Fest's Impressive CASK ALE list announced!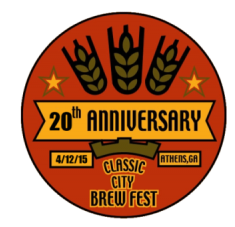 20th Annual
CLASSIC CITY BREW FEST
Sunday, April 12, 2015
Athens, GA
Graduate Hotel Athens & Foundry Music Hall (formerly the Foundry Park Inn)
A benefit for the Athens-Area Humane Society.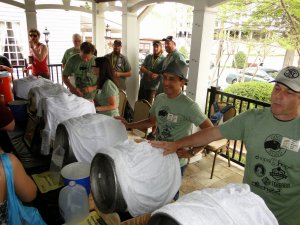 The Classic City Brew Fest's popular CASK ALE PAVILION alone is worth the $39.99 ticket price. This is the best beer fest ticket deal in the Southeast! Don't miss these rare, one-off casks...

Blue Tarp Cascade Killa - Released for the first time today, our new American IPA showcases classic "old" craft Cascade hops. With an ABV of 8.1%, is it an IPA or a Double IPA? You decide.
Burnt Hickory The Didjits. This blood orange IPA cask is blended with barrel-aged Didjits for an amazing vanilla note.
Cherry Street Rum Wood-Aged Coconut Porter - 6.4% ABV Chief Sawnee's Stash Porter with organic toasted coconut, dates and vanilla beans aged on rum-soaked wood spirals and extra coconut in the cask.
Creature Comforts Athena Paradiso - Athena Berliner Weiss refermented with pineapple and coconut.
Creature Comforts The Curious No. 5 - A golden sour ale fermented with Athens, Georgia wild yeast and bacteria.
Dark Star Original - This 5% ABV, former Champion Beer of Britain ranks as a dark, flavorful, pleasantly bitter beer with complex flavors of crystal and chocolate malts.
Eventide Revivale is an 8.5% ABV Belgian Golden Ale dry-hopped with El Dorado to accentuate complex fruit esters from the yeast.
Green Flash Serrano Chili Double Stout with cinnamon and cocoa nibs - Notes of cinnamon and chocolate meld with a bold, roasty character, finishing with a subtle, spicy chili kick.
Jekyll Hop Dang Diggity with pineapple habanero provides a great sensation of flavor and aromatics from well-balanced hops paired with spicy peppers and sweet pineapple.
Max Cask - Max Lager's Belgian-style Dubbel dry-hopped with Galaxy hops and cask-conditioned with Indian coriander and orange peel. IBUs: 13, ABV: 8%.
Monday Night Addicted to Love - Blind Pirate double IPA with coffee, vanilla and Godiva dark chocolate. ABV: 8.2%, IBUs: 85.
Moon River Interval IPA (5.7% ABV) - Brewed with Savannah band Passafire and named for their new EP, this bold IPA includes Columbus, Simcoe and Crystal hops. This cask was also dry-hopped with Nelson Sauvin and Galaxy.
O'Dempsey's Inukshuk IPA is a balanced IPA made in the British tradition with American hops. This cask has a little surprise created by Golding dry-hops.
Oskar Blues Ten Fidy - This exclusive cask of thick, rich imperial stout sports tasty additions of coffee and chocolate.
Red Brick Hibiscuwit - A Belgian-style wheat ale brewed with hibiscus, orange peel and cinnamon. Organic pomegranate juice was added to the cask for secondary fermentation.
Red Hare Whabbit Wheat is brewed with peaches, apricots and an insane amount of wheat. For this exclusive cask, we added more local peaches and our house strain of Brettanomyces lambicus.
Reformation Stark is a coffee porter infused with toasted coconut and vanilla.
Second Self Citrus IPA - A version of our spring IPA dry-hopped with citrusy hops and lemon and orange peel. We added extra Citra hops and peel to this distinctive cask.
Service Brewing Old Guard - A Biere de Garde brewed with Yaupon honey from Savannah Bee Company and fermented with our local Savannah yeast strain harvested from our brewery bees.
Southern Brewing's Pale Ale (Belgian-style) fermented from a blend of brewery-cultured Athens wild yeast strains Wild Azalea and Cherokee Rose.
Southern Brewing Owen's English Session (Pale Ale) - A 3.8% ABV elegant English ale showcasing citrusy hops from the Pacific Northwest. A collaboration with Classic City Brew Fest founder Owen Ogletree.
Starr Hill Reviver Mango Tango offers strong tropical fruit and citrus aromas. The mango blends well with Citra, Mosaic and Amarillo hops and contributes an intriguing fruit complexity to balance the medium bitterness.
SweetWater Ol' Faithful - SweetWater IPA with Centennial hops and black peppercorns.
Terrapin ​Liquid Bliss. This delightfully stripped-down version of Liquid Bliss porter joins a silky-smooth malt body with a barely-there US Golding hop bite. Experience bliss in the buff!
Thomas Creek Deep Water Dopplebock - A German-style strong lager with toasted bread flavors blending with chocolate notes. Expect a dry finish with lingering dark fruit and soft, bready notes.
Twain's - The cask description from Decatur's brewpub will be announced at the Classic City Brew Fest.
Wrecking Bar Mexican Siberius Imperial Stout - A rich, complex ale barrel-aged in Prichard's Rye Whiskey barrels and infused with Indonesian cinnamon, Tahitian vanilla beans, smoked serrano and chipotle morita chilies.
Yes Face IPA is a classic English real ale emphasizing a delightful hop profile and 100% pale malt. A delicious, golden session ale.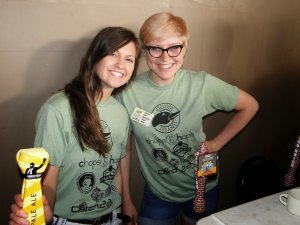 There is NO WAY you can miss out on trying these unique cask ales or the almost 400 other amazing beers! Get your tickets today!
Brew Fest Sponsors:
- Athens-Area Humane Soc.
- Brewtopia Events LLC
- Terrapin Beer Company
- Goose Island
- Five Points Bottle Shops
- Trappeze Pub
- Chops & Hops
- Catch 22 Gastropub

- Try Owen Ogletree's Sierra Nevada Beer Camp Brew at Classic City Brew Fest!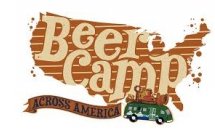 Owen Ogletree recently participated in a Sierra Nevada Beer Camp guest brewing session in Chico, California with bar and retail beer shop owners from Texas throughout the Southeast. The result is our Revenge of the Pith strong IPA with a massive amount of fresh, whole leaf hops and crushed grapefruit.
Be the first to try this one-off, exclusive beer at April 12's Classic City Brew Fest in Athens. Head to the Sierra Nevada booth and tell them Owen sent you!
Click the image below to check out the video from the Beer Camp brewing session...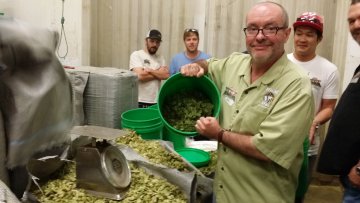 - Athens Beer Week: April 6-12, 2015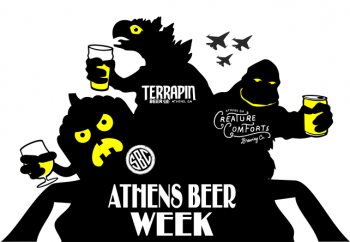 Athens Beer Week is an exciting seven days of spring beer events in the beautiful college town of Athens, Georgia.
Come out next week and support local craft beer!
Enjoy local brewery tours, beer dinners, craft beer celebrations, special tappings and MORE during Athens Craft Beer Week that culminates on Sunday, April 12 with the 20th anniversary Classic City Brew Fest!
CLICK HERE for the full calendar of events for Athens Beer Week.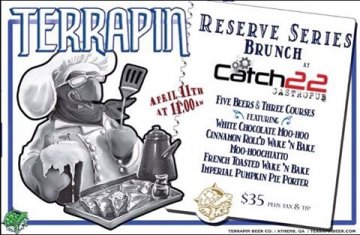 - Mekong: A Must for Any Craft Beer Bucket List
Nestled in an unassuming shopping center in Richmond, Virginia sits an American craft beer mecca. Mekong is a world-class Vietnamese restaurant with a staggering array of many of the top craft beers available today. The place has garnered many awards over the years and was even named CraftBeer.com's Great American Beer Bar two years in a row.
Owner An Bui loves craft beer, and this shows in how he presents and pairs flavorful ales and lagers with his spicy, robust dishes. Mekong is so successful, that An has added beautiful bar areas and a microbrewery a couple of doors down from the restaurant. Being a Star Wars fans, all the tanks in Mekong's The Answer Brewery are named after characters from the movies. A favorite saying of An's has always been, "Beer is the answer."
When in the Richmond area, be sure to spend an entire evening at Mekong sampling wonderful cuisine and beer, and make it a point to check out the adjoining brewpub bar areas with even more beers to savor. Mekong IS for beer lovers!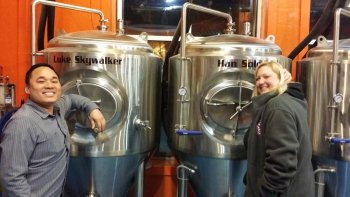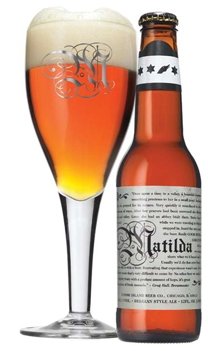 Goose Island Matilda
RECIPE INFORMATION...
Style: Belgian Style Pale Ale
Alcohol by Volume: 7.0%
International Bitterness Units: 26
Color: Golden Sunrise
Hops: Styrian, Pilgrim, Golding Celela, Saaz
Malts: 2-Row, Caramel, Candy Sugar
BREWER'S NOTES:
Inspired by great Trappist ales, our complex Belgian Style Pale Ale is fermented with the wild yeast Brettanomyces. Matilda pours a golden sunrise color with dried fruit and clove aromas, a spicy yeast flavor, and a satisfying dry finish.
According to legend, a grateful Countess Matilda founded a monastery where, over centuries, monks have been brewing ale unique in character. While in Belgium, we were inspired by the story and the monks' beer. We returned to Chicago and brewed our homage – a Belgian Style Pale Ale named Matilda.
- Featured Links & Events
- Like Brewtopia Events on Facebook & Follow on Twitter

CLICK HERE and hit the Brewtopia Events "like" button on Facebook to see live photos and news posts as we sip, quaff and sniff craft beer around the world.

Also follow Brewtopia Events on Twitter.
COMING UP...
.
Owen Ogletree posts photos and reports from all the exciting goings-on during next week's Athens Beer Week.
Owen and Jeff Rapp travel to Nottingham, England to attend the Campaign for Real Ale's annual general meeting.