Famous for their 3-part harmony and song selection that takes you back to a time that makes you smile, this national touring ensemble of veteran performers deliver. Enjoy renditions of yesterdays favorite mixed with todays popular tunes by a group that fits any space and can entertain any audience. Now available for hire and ready to meet your entertainment needs, Orlando Event Pros
introduces
"The Evans Acoustic Trio".

_____________________________________
Ernie Evans -

Vocalist Guitar, Mandolin, Banjo
Debi Evans -

Vocalist, Bass, Flute
Josh Griffin -

Vocalist, Percussion
SERVICES
Corporate Functions

Private Parties

Concerts

Casinos

Theaters
Expect to be entertained at your event by a tailored show specific to your demographic. This power house Trio has over 50 years of combined experience on stage. This gives them the ability to draw from a lengthy list of musical material from Pop, Jazz, Country, Rock, Bluegrass and others to suit your events needs. You can also expect state of the art PA and intruments provided by top manufacturers that they currently have endorsments with.
The strength of their performance comes from their passion for the art of entertaining. Ernie's lengthy resume includes touring internationally most recently as a member of Grammy Nominee, Valerie Smith & Liberty Pike, 5-Time Grammy Nominee Vassar Clements, and even with Motown legends "The Platters". His music has taken him all over the world throughout his career and when he is not on stage he can be found broadcasting in St. Augustine, FL at WFCF 88.5FM as well as "The Evans Midnight Roundup" and "Good Morning Europe Show" with his co-host, wife and band mate Debi Evans, on their own shows, airing weekly. Debi has been there through the entire journey learning the trade and building the the bands sound from the ground up. Cody Walker is the newest member of the group and adds the groove and energy in the sound. His knowledge for percussion creates the backbone in the groove and big sound this power house trio telegraphs. Cody is also an incredible singer that fills out the 3-part tight harmonies that make this group unique.
1. Randy Graham, CEO, Graham Talent Agency
Russell Springs, KY (859) 421-7718

2. Ray Lewis, Promoter, European Street Cafe's Listening Room
Jacksonville, FL (904) 635-4167

3. Dawn Taylor, Executive Director, Chamber of Commerce
Perry, FL (850) 584-5366

4. Rebekah Long, Chief Engineer, Tom T. Hall Productions
Nashville, TN (706) 318-5967

Ernie Evans

(904) 886-8378 office

(904) 545-3079 mobile,

6143 Sabre Drive

Jacksonville, FL 32244

__________________

Rockin' Robyn Productions

Artist Management and Promotion
Motown & Oldies

Eagles Medley

SPECIFICATIONS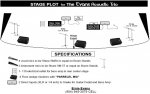 Smile
Peaceful Easy Feeling
Sunshine Go Away
Dreams
Carolina on my mind
Walk Right Back
Amie
Run to you
Buttercup
It's So Easy
Easy
Alright
Riannan
Sister Golden Hair
My Girl
Wake Up Little Suzie
Chicken Fried
Say That you Love Me
My Maria
Missing You
Listen to the Music
Lyin Eyes
Too late Baby
How Long
Bad LeeRoy Brown
When Will I Be Loved
On and On
Dance With Me
Sweet Home Alabama
Rockin Robin
Dancina way with my
Breakin Up
Carolina in the Pines
Bubble Gum Baby
Yesterday
All of Me
Walk Right Back
Mr. Bojangles
Kansas City
Lady Be Good
Sweet Home Chicago
How Long
Crazy Love
Margaritaville
Foggy Mnt. Breakdown
Brown Eyed Girl
Wild Fire
Heard it in a Love Song
Danny's Song
Land Slide
Man of Constant Sorrow
Rocky Top
Have you Seen the Rain
Mr. Bojangles
Tequila Sunrise