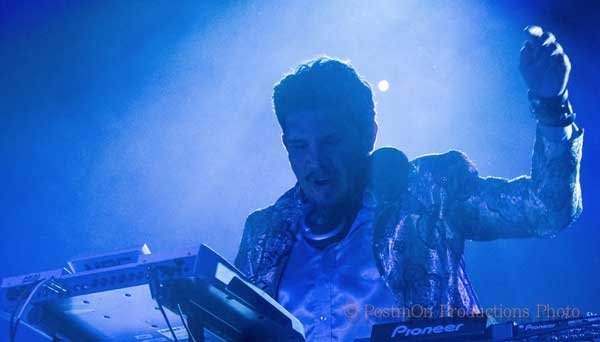 Thievery Corporation
is a powerhouse of production, blending influences ranging from roots reggae and dub; from Middle Eastern and East Indian sounds to bossa nova; from jazz to electronica, and beyond. Heavy bass and solid grooving beats combine with spacious melodies, multi-lingual lyrics (ranging from floating and etherial, to hard-hitting dancehall and hip-hop delivery). While Brazilian and world percussion punctuate the groves, a sitar floats through the soundscape; and when one (of up to nine) vocalist is finishing their song, the next singer is waiting in the wings to hit the stage just as the next track starts. Thievery Corporation brings dynamic live energy the likes of no other!
Thievery
'
s music has always had a social conscience and progressive political leanings, with songs rallying against systemic and economic corruption, media takeover, and the ills of Babylon, all as common themes. And then there are the beautiful hypnotic tracks too that reflect more on inner dimensions. The Corporation will be on tour the summer of 2015, bringing their sound to many festivals. They will be touching down as the finale act for Sierra Nevada World Music Festival on Sunday, June 21st.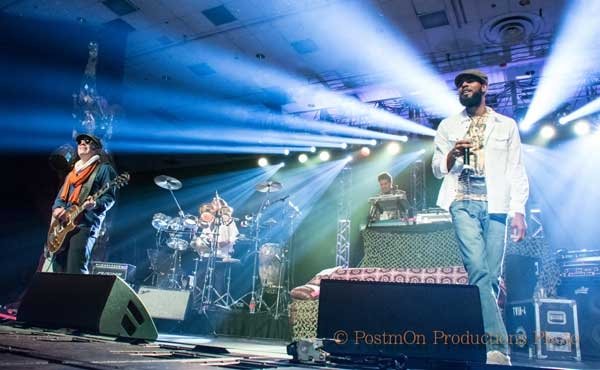 Rob Myers, Frank Mitchell, Rob Garza and Ras Puma

Reggae Festival Guide
drEditor Anthony Postman had a chance to sit with Rob Garza, one of Thievery Corporation
'
s founders [the other, being Eric Hilton, who Rob mentions throughout this interview], on a stop late last festival season. While producing Reggae Festival Guide Magazine, Postman found the interview, which he thought had been lost due to technical malfunction. Here at last is the
"
lost
"
interview, just in time for some great live dates coming up with Thievery Corporation.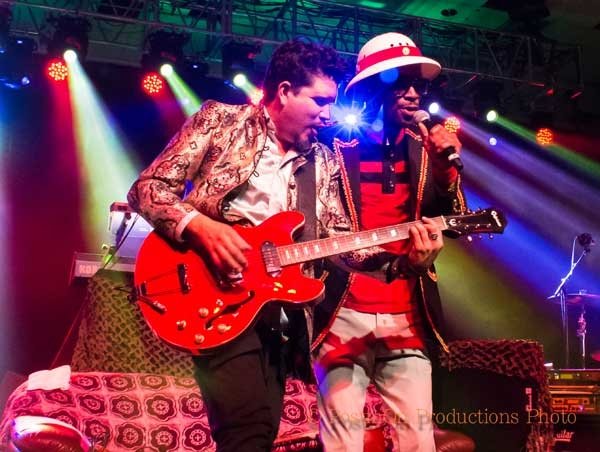 Rob Garza and Zeebo

Please tell us about the new album
Sau
dade
, and the inspiration to go back to a little more of an acoustical bossa nova sound.
One of the musical forms that Eric and I bonded over when we first met in 1995 was bossa nova, and this goes back to some of our more bossa jazz cinematic inspirations, and we decided to do a whole record playing music in that style and vein
—
you know it's a form that we really love.
Were you playing bossa nova as musicians, or as DJs, or as both?
When I walked into the Eighteenth Street L
ounge
[ESL] and met Eric for the first time, they were playing bossa over there, and I was a huge fan. We liked a lot of stuff that was coming out of Japan [at the time]. They were doing a lot of stuff with a kind of future bossa sound, electronic instruments and things like that, and that was something that we did as well in our music.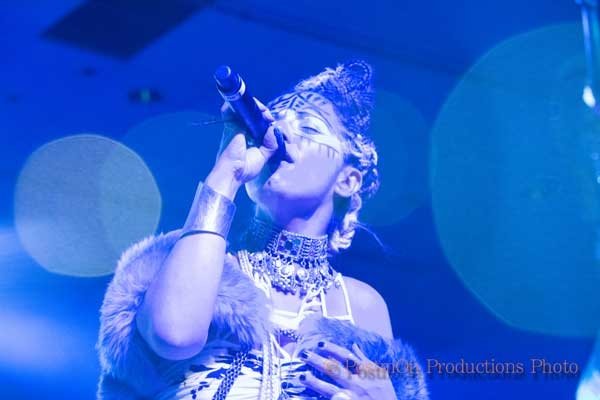 LouLou

Who were some of the artists that you were listening to at that time that inspired you?
United Future Organization, Kyoto J
azz
Massive, Soul Bossa Trio, people like that.
I see Federico Aubele is on this album playing bass.
Yeah, he plays bass on the record
…
he
'
s been a long time part of the ESL family, so it's nice to have him back
…
he
'
s just a brilliant multi instrumentalist, but he's played bass on
"
Morning Shots,
"
one of our [musical] highlights. So it's good to have him on board to pick up the bass and play a few songs.
Could you tell us about the mood of
Sau
dade
?
"
S
audade
"
is something of a particular mood, right?
Saudade means kind of like a bittersweet longing, kind of nostalgia
…
it
'
s kind of like that feeling when you listen to a song that's sad, but at the same time you can feel kind of uplifted at that moment. Even though you know you're connecting with it on an emotionally sad level, you
'
re. . .elated in some way, because that person is feeling the same thing. It doesn't have a direct translation, but that's the gist.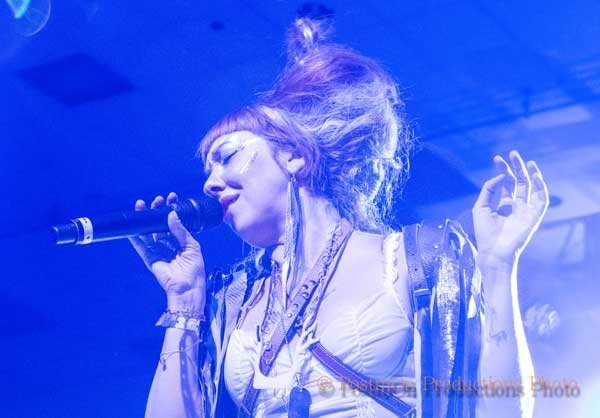 Natalia Clavier

There seems to be an element of saudade in much of Thievery's music, even that that isn't directly bossa-sounding. Even in the reggae sounds, there's something of the melancholy in the music. You know, you guys don't have a lot of songs in major key...
Yeah, exactly
—
if you listen to "Blasting Through The City," "War is blasting through the city tonight
…"
there is the sort of melancholia, and at the same time, a sort of uplifting kind of thing within it
…
I love that space musically, because that's where a lot of my favorite records come from; they have that feeling.
There is serious air to it, but it is uplifting, and a groove that I find unbeatable, especially with how it
'
s conveyed
live!
Thank you, Thank you!
So that
'
s somewhat just through your own influences, and your own likes as a musician?
I
'
ve just personally never been into really straight up like happy songs you know?... Pharrell Williams has that song
"
Happy.
"
It
'
s uplifting, I like that song
…
but in general I'm not into stuff that's just straight up just happy. I do from time to time, but it's not the main thing that inspires me. I do like some melancholy mixed up in there. You know, it's just different textures and colors, and emotions and things like that. For me and for Eric, I think that's what's inspiring.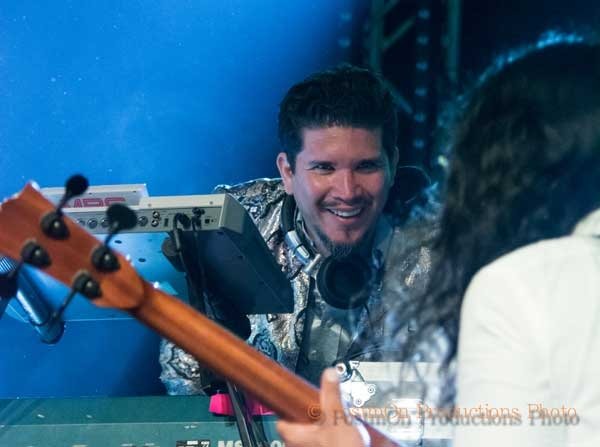 Rob Garza and Ashish

Could you talk about the songwriting process with Thievery Corporation? It seems like from watching the show, that there are a lot of players in the band...
When we record, usually it's me and Eric. We get together in the studio and just come up with a groove. Eric's a great bass player, even though he doesn't play bass on stage. I play guitar, keyboards, which Eric can play as well. We kind of just trade off on instruments, and we're good at kind of just coming up with grooves and ideas, and maybe an idea for a song, and sometimes we write lyrics. Every time it's different. Sometimes we might not have any guest musicians on a particular track, sometimes we might have a number of guest musicians, or guest vocalists. So the song writing process is kind of different each time, it's kind of unique to a particular song. A lot of times we don't have ideas that were setting out to do. We just kind of pick up instruments and see where that takes us.
As far as bringing in the singers, do you find that there are tracks that kind of tend to call out for say, See-I, or Mr. Lif, or LouLou
—
do you want to hear certain vocals in particular?
There are certain songs where we kind of sit around with a groove that we
'
re listening to, and we imagine you know: Notch on a particular track, or we can imagine Lulu or Roots or Z,
or Natalia.
Or
…
we
'
ll reach out to David Byrne, or Femi Kuti. For us, it's been just a matter of being enveloped by the music and kind of just seeing what inspires us, in our heads, trying to imagine the vocal style.
Air Ashish! Rob Myers and Zeebo Ashish Vyas

And then, at that point that the vocalists come in, do they write and come up with their own lyrics, or is that something you would have already?
A song like
"
R
ichest
Man In Babylon
"
already had the lyrics.
"
Blasting Through The City
"
had the lyrics.
"
Warning Shots,
"
like S
leepy
[Wonder] came up with the majority of those. Sometimes it's collaborative, sometimes we have [the lyrics already], and sometimes we just let the singer come up with their own thing
…
So there's no set-in-stone kind of way to do things.
Would you talk about your primary musical influences? And as a follow-up to that, could you speak specifically to your reggae and dub influences?
Growing up, I was really into punk rock, you know, bands like Black Flag, a lot of D
isc
hord [Records] stuff, stuff from Washington D.C. You know, that whole idea of just being able to do it yourself, and not having to wait for big record labels
…
and I think that reggae and dub has that thing in a way, because (especially when it first came on the scene) it's outside of the American mainstream, and people were just doing it themselves, and pressing 7
"
[singles], and they weren
'
t limited by corporations
'
record labels that own this and that. People were just making music and using certain riddims
…
so in a way, that's very punk rock too.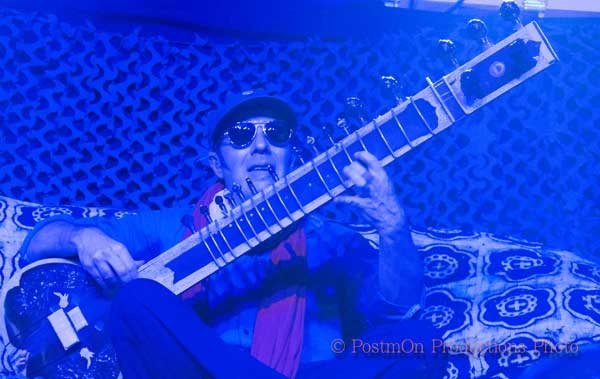 Rob Myers

And then you know, we're from Washington D.C., and you have a band like Bad Brains, who kind of bridges that thing between reggae, dub and punk rock. We just always loved dub music
…
one of the things that I love about dub music, that reminds me of bossa nova
—
is the sense of space. There's a real sense of space there, that can allow the music to just get trippy and flow
…
and it's not so crowded that
…
it just has this very trippy quality that I love about it and then: there
'
s the bass, which is kind of the foundation of reggae and dub music. I think if you look at Thievery, even if we have a bossa song, it's built on that kind of dubby bass sound. That's one thing
—
these two types of musical styles seem so different, but they actually have a lot in common, in terms of that sense of space. When you combine them together, like a dubby bass with beautiful bossa melodies, you get something very different, but that's how music is born.
I was in Jamaica, and I remember they were talking about U-Roy and El Paso Sound, and how he was inspired by Marty Robbins. He loved Marty Robbins, which was so bizarre
—
but that's how music works. Sometimes [it
'
s] the weirdest things that create all these [sounds]. Someone was telling me that in Jamaica, they're getting on transistor radios, stations from New Orleans
…
listen to Folsom Prison Blues. If you listen to that song '
chank, chank, chank, chank
.
'
It has a skank, you know like reggae in a sense.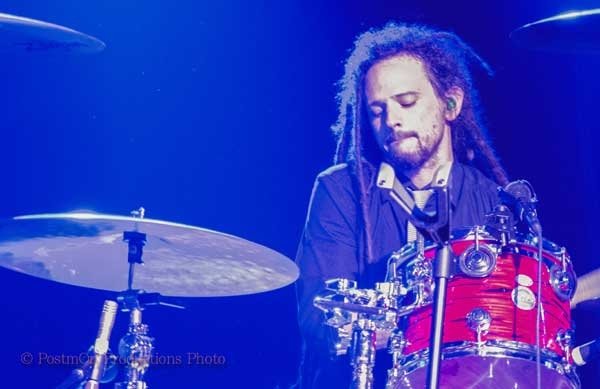 Jeff Franca "Congo Sanchez"

So
…
they were even listening to country music in Jamaica on transistor radios. But what's the one thing you don't get on the transistor radio? It's the bass. So you have that skank
…
taking that skank, and then adding these deep bass lines underneath all of that [brings reggae]. And so all of that music is like a delta, where all these rivers meet and flow and mix and it's muddy, that's jazz, that's blues, and that's muddy waters...that's to me where music comes from, is where those places meet. It's not like I'm a country guy or I'm a rock guy
…
you have greats in all of those different forms, but I feel like the most interesting is not so much about people just like that, but just when those things mix like New Orleans, where jazz and blues came from
…
I mean you have Spanish, West Indies, French, the African influence
…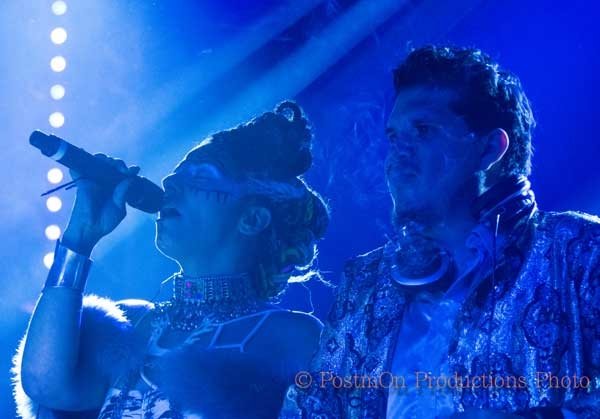 LouLou and Rob Garza

I heard somebody say once that New Orleans is the biggest metropolis of the Caribbean
…
So, what's in store for Thievery Corporation now that
Saudade
's dropped?
It's nice the template of this record has followed form, so Eric and I are talking about doing something that's just kind of more totally heavily centered on the reggae dub for the next record. It's not set in stone but that's kind of what we're talking about, instead of doing so many genres on one record, but just having one major influence on the next record, so possibly that could be the next thing.
I've caught a lot of your live sets through the past year
—
mind-blowing sets. Thank you so much for the music!
Yes
—
Cheers!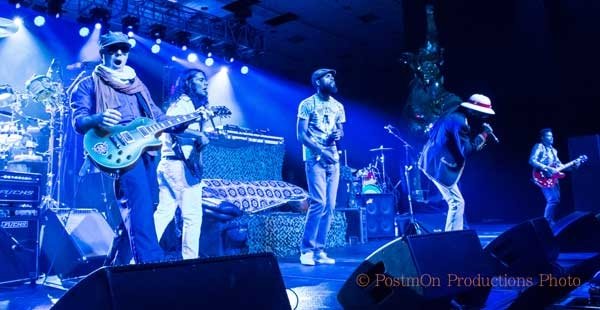 Rob Myers, Ashish, Ras Pupma, Zeebo and Rob Garza

Final Notes from The drEditor:
Since the time this interview was conducted, I had seen social media posts from Thievery Corporation band members recording in Jamaica. Knowing The Corporation has gone right to reggae
'
s source to track new sounds is most exciting. Perhaps they
'
ll drop some new tracks on us live this summer? Either way, we
'
ll be in for a great show! Be sure to catch Thievery Corporation at Sierra Nevada World Music Festival on June 21st.
More tour dates, music, videos and more.
More about Sierra Nevada World Music Festival
'
s awesome lineup.
Reggae Festival Guide
—
Our latest annual magazine is live!

RBA Publishing Inc.
P.O. Box 50635, Reno, NV 89513
775-337-8344
Website

Reggae Industry Leaders for over 20 years!