Follow our craft beer adventures...
- Bark & Brew Free Mini Beer Fest

Sunday, September 13, 2015
Sponsored by Chops & Hops and Mutty Paws. Hosted by Owen Ogletree and The Beer Wench.

Bark & Brew
is a FREE mini beer tasting at the future site of the new Mutty Paws dog resort property in Watkinsville, Georgia. Expect 30+ craft beers to sample, live music and an informal dog show with awesome Terrapin prizes (mixed breeds are welcome to enter). AAHS will be accepting donations, and a $10 to $20 AAHS optional donation per person is suggested. You must reserve your Bark & Brew spot(s) through this
EventBrite site.
- Brewery Guide: Decatur, GA

Text and photos by Owen Ogletree
The Atlanta suburb of Decatur now boasts several notable beer bars, along with a personable brewpub and three outstanding production craft breweries - all within walking distance of each other!

Head to downtown Decatur on a Saturday and embark on the brewery crawl outlined below. The breweries are open for tours on other days of the week, but expanded hours take place on Saturdays, allowing visitors to hit all four breweries in one day.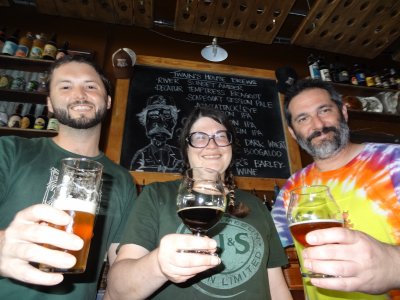 Chase Medlin (left) and the gang at Twain's offer a warm welcome.


1. Grab a seat around noon at Twain's Brewpub & Billiards and order a sampler tray of tasty house beers to accompany an appetizer and hearty entree. A base layer of food will be a necessity for this day. Head

brewer Chase Medlin cranks out a delightful range of brews - som

e with Mark Twain-inspired names. Check out the wallpaper made of pages from Mark Twain novels. Twain's Saturday hours: 11:30 am to 2:00 am.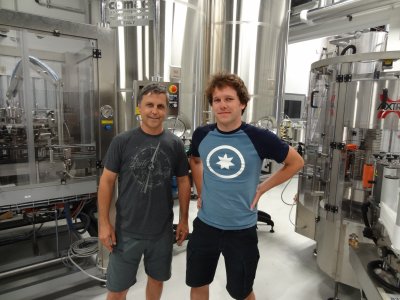 Three Taverns' CEO Brian Purcell and brewer Joran Van Ginderachter


2. From Twain's, the walk to Three Taverns Craft Brewery only takes about 15 minutes, and you should try to arrive on a Saturday around 1 pm when the brewery opens - much later, and the line at the tasting bar gets quite lengthy. Three Taverns employs a young Belgian brewer named Joran Van Ginderachter who produces beers with an array of colors and strengths - all with a bit of Belgian influence. Weathered, recovered wood from old buildings lines the attractive tasting room. Saturday hours: 1:00 pm to 5:00 pm.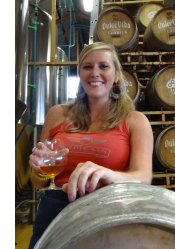 3. After a 15 minute walk east toward Avondale Estates, arrive at Wild Heaven Craft Beers. Talented brewer Eric Johnson pours care and creativity into his complex lineup of beers. With barrel-aged versions, session ales and seasonal beers with spices and fruit, there's never a dull moment on the Wild Heaven tour. Wild Heaven's brewhouse kettles got SweetWater started back in the '90s, then moved to Terrapin for a short while before ending up at Wild Heaven in Decatur. Sarah Young, Wild Heaven's Apostle of Ales, is pictured to the right. Saturday hours: 2:00 pm to 6:00 pm.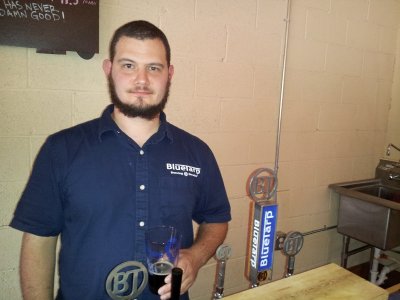 Tom Stahl - the workhorse behind BlueTarp


4. Walk back toward Three Taverns for about 10 minutes and look for BlueTarp Brewing on the left. Owner/brewer Tom Stahl puts his heart and soul into each batch of beer and prides himself on his sour brews and hoppy ales. Check out the hop plants on the patio or play an over-sized game of jenga while sipping through Tom's flavorful brew menu. Saturday hours: 3:30 pm to 7:00 pm.

The short stroll back to downtown Decatur may help regain a hint of sobriety. At the end of the brewery visits, try to find the stamina to also pop into these outstanding Decatur pubs: Brick Store, Leon's Full Service, Square Pub, Mac McGee's, Taco Mac and Marlay House. Another option would be to save these pubs for the following day. The Marriott Courtyard offers a welcome place to stay in downtown Decatur. Cheers!


- Atlanta Cask Ale Tasting tickets on sale NOW!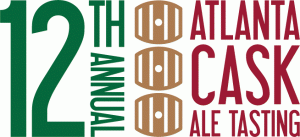 Saturday, January 23, 2016

5 Seasons Sandy Springs & Taco Mac Prado

Sample 40+ rare, cask-conditioned real ales from the USA and UK.
Take home a Monday Night Brewing souvenir glass.
Experience one of the Southeast's most highly regarded craft beer events. You must taste these casks to believe them!
Delectable food from 5 Seasons and Taco Mac will be on sale.
Vote for "People's Choice" cask and see which casks grab coveted awards from the morning judging session conducted by a panel of local beer judges.
Tickets will sell out - get yours today!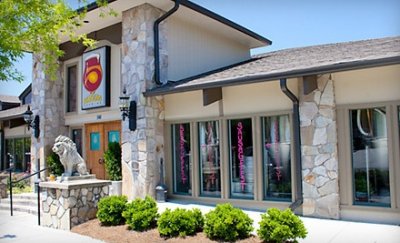 Head to 5 Seasons Brewing at the Prado in Sandy Springs, GA on August 15 for a Beer-BQ with meat specials and $3 beer all day. Sample the full range of brewer Kevin McNerney's flavorful house brews. The 5's annual Oktoberfest rolls around on September 26 at Prado with live German music, beer specials and mouth-watering German fare. Check 5 Seasons' website for details on Oktoberfest celebrations and special events at their other two locations as well.


- Georgia Beer Wench's Remodeled Blog Site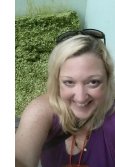 Check out the Beer Wench Georgia's newly remodeled craft beer blog site with updates on the beer scenes in Quebec and Colorado. The Beer Wench posts frequently, so check back often. www.BeerWench.info

Here's a link to Owen's photos from his Quebec City pub walk with the Beer Wench. Quebec City ranks a beautiful town with an old European feel - and the craft beers are pretty impressive as well.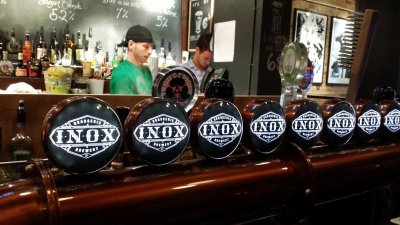 - Free ride with our Brewtopia UBER code!

- Collab Ales at Porter Beer Bar, Atlanta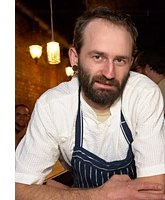 Porter Beer Bar's Nick Rutherford has been a busy guy, doing collaboration ales with some local craft breweries. Get to the Porter in Atlanta's funky Little Five Points neighborhood on August 12 to sample a few of Nick's brews. A portion of the proceeds supports the efforts of the Georgia Craft Brewers Guild. Photo: georgiaorganics.org
On tap for August 12...
Creature Comforts

​

BA Athena

​​
aged
in
red wine barrels for six
months
with tart Michigan cherries and
house Brett yeast.

Wrecking Bar Hassel
Hoffenweisse -
brewed
to celebrate David
Hasselhoff's
birthday, this pa
le wheat beer was kettle-soured,
then
fermented with a Frenc
h saison yeast.
Twain's S.O.B. IPA ​​​​- A s

ession o

atmeal b

lack IPA that's

hoppy

, aromatic and

silky

smooth. H

opped

with Simcoe, Amarillo, Citra, Columbus and Nelson

Sauvin

.

Orpheus

Sirens

​​

​

​ -
Saison that was
kettle-soured, open air fermented then
finished with
500 pounds of
green strawberries.
Terrapin

H

opsecutioner c

ask

​ was
dry-
hopped with Pacific Jade and
Motueka and contains
tropical
fruit and citrus notes galore.

Max Lager's

De R

egulation

​​ - T
his
saison went through a partial kettle-sour to create a tart counterpoint to the spicy notes from traditional French saison yeast and a finish from sweet orange peel
, chamomile
, grains of paradise
and coriander.
- Sierra Nevada Visit: Asheville Beer Bloggers & Writers Conference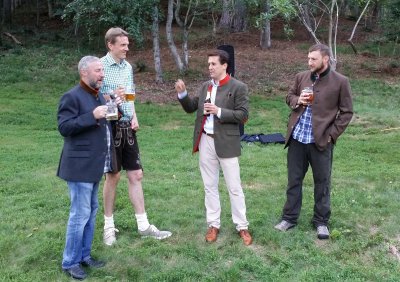 Text and photos by Owen Ogletree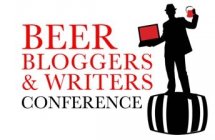 A stand-out among the numerous memorable experiences at last month's Beer Bloggers & Writers Conference in Asheville, NC had to be the epic tour, tasting and picnic at Sierra Nevada's massive new facility located in Mills River, NC.

Dressed in a traditional Bavarian jacket, Sierra Nevada owner/founder Ken Grossman met our tour bus in the parking lot and shook every blogger's hand before leading us through his sparkling new brewery. Ken worked tirelessly to make sure that this facility came out as close to perfection as possible, and pride oozed from his pores during his tour.

After the brewery visit, Ken led the substantial group of beer bloggers down a nature trail behind the brewery to a green festival site located on the river. We were met with an oompah band, German food buffet, a tent pouring Sierra Nevada's remarkable Oktoberfest lager, and a handful of guest German brewers, also in traditional garb.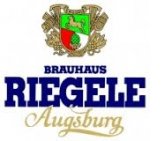 Sierra Nevada looks to explore the roots of Germany's fest beers each year by teaming up with a different German brewery in the production of a traditional Oktoberfest lager. This year, Ken chose the award-winning Brauhaus Riegele of Augsburg, Germany for the collaboration. Sierra Nevada's website explains, "Together we created an authentic Oktoberfest beer, true to the roots of the festival, that's deep golden in color and rich with complex malt flavor from the use of traditional German Steffi barley."

The blogger group could have stayed at Sierra Nevada for the rest of the evening, nibbling sausages and sipping the luscious Oktoberfest beer. Everyone was extremely impressed. Be certain to try the beer this fall.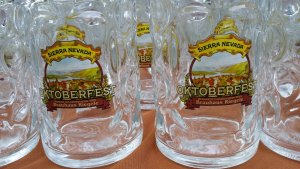 Guest Beer Blog from The Craft Beer Factory's Richard Heaver...
I think we all know that the major national breweries are losing market share to craft beer brewers. Very few of them are embracing craft beer, choosing to continue with the same product lines that have lead them to this point. I wonder how much longer they will sit on the sidelines and ignore the threat to their business.
We can all help in growing the craft beer market to even greater levels, no matter what sector of the three tier system we are involved with.
My question is this: "Are Growler stores doing enough to convert the mass produced beer drinker?"
As the owner of a very successful growler store, it is my quest to convert as many customers as possible to craft beer. Some of my new customers feel uncomfortable and sometimes think we just cater to beer snobs. This is certainly not true.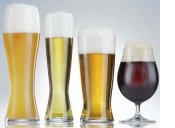 This type of consumer is very welcome at my store, The Craft Beer Factory in Marietta, GA. We go out of our way to make them comfortable, whilst educating them in a friendly manner -- remembering we were "newbies" once too. Because of this, we do carry what we call "platform beers." These are craft beers such as blondes, pilsners, lagers and/or wheats. These are easy conversion beers, and it is our theory that we will gain a new repeat customer once we have their confidence. It certainly does not hurt that we are helping their taste buds mature at the same time.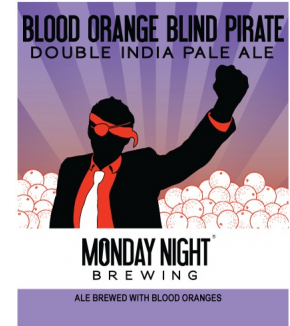 Monday Night
Blood Orange Blind Pirate
RECIPE INFORMATION:
Columbus




Cascade




Magnum

Blood oranges

6.5% ABV




65 IBUs
BREWER'S NOTES:
Pirates love citrus fruits almost as much as they love blood. If the phrase "you are what you eat" is true, then pirates are blood oranges. If the phrase "you are what you drink" is true, you're about to be an incredibly delicious, juicy hop bomb of an IPA. We added bits of real blood orange to every beer, so you know it's gonna be good.
- Featured Links & Events

08/16/2015 - HOToberFest Barrel-Aged Ball, Atlanta, GA. Click here for tickets.
09/13/2015 - Bark & Brew free mini beer fest and dog show at Mutty Paws pet resort, Watkinsville, GA. Reserve your spot here.
10/17--10/24/2015 - Owen's group tour of the best breweries and cask ale pubs in Yorkshire and London. Why not come along? Cost is only $1395 and includes hotel, ground transportation, tours and most food and beer. Reply to this email, if interested.
01/23/2016 - ATLANTA CASK ALE TASTING. Tickets are on sale NOW.
- Like Brewtopia Events on Facebook & Follow on Twitter

CLICK HERE and hit the Brewtopia Events "like" button on Facebook to see live photos and news posts as we sip, quaff and sniff craft beer around the world.

Also follow Brewtopia Events on Twitter.
COMING UP...
.
Owen Ogletree and Ian Meents wade across the pond next week to check out the elegant cask ales at London's Great British Beer Festival. We'll also pop into the trendy London Craft Beer Festival that features kegged selections of the city's best craft beers. Which fest will be best? We'll let you know.
Owen is excited to be attending the upcoming Beer Bloggers & Writers conference in Brussels, Belgium. Bloggers will explore the history, styles and complex flavors of classic and newfangled Belgian brews. Owen will be participating in special excursions to Belgium's lambic region and other historic breweries.