10/16-10/18
Lisa/Craig (Citronelle, AL)
251-866-7204

10/17-10/18
Lemia/Josh (Irvine, CA)
949-677-3700

10/23-10/25
Leila (Irvine, CA)
917-273-6530

10/24-10/25
Lindsey (Eagle, CO)
970-331-3750

10/23-10/25
Kat (Blanco, TX)
970-366-0963

10/23-10/25
Lemia/Josh @ WOTE
Sedona, AZ
949-677-3700

10/24-10/25
Lisl (Canton CT)
860-480-0015

10/24-10/26
Tresa (Mt Pleasant, WI)
262-902-2271



10/30-11/1


Liza... New Britain, PA
267-688-6227



11/6-11/8


Kat... Carbondale, CO
970-366-0963



11/6-11/8


Iru... Sedona. AZ
Japanese language only
928-254-9492



11/13-11/15


Lynn... Portland, OR
971-322-8444



11/15-11/16


Dr Barb... Wynnewood, PA
610-642-8142

11/21-11/23
Izumi... Tokyo, JP
mother-earth-aroma.com


For a complete listing of all of our offerings click here

We are now taking registration for our next Level II Sacred Aromatherapy Retreat April 12-17, 2016.
If you are interested in attending, please read the information on our website so that you can be sure of your commitment to the process.
Click here for more information.

Words of Wisdom Newsletter #59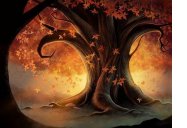 Greeting to all our WOTE Family and Friends,

We are in the process of gearing up for our fall Level II Sacred Retreat which starts tomorrow. We are excited to be introducing our new curriculum to our advanced students. Extending the retreat an extra day has allowed more space for our students to delve deeper into the secrets of the plant and tree kingdom, as well as reaching even deeper into their own knowing. The weather will be absolutely perfect for us to be experiencing the Earth in her changing landscape.

The "Words of Wisdom" newsletter, editor Audre is our periodic mini-magazine that WOTE used to mail to their clientele. We no longer use snail mail, except for those who have requested it. We now send it via this e-news and we post it on the WOTE website for easy viewing. This newsletter has in-depth accounts of the experiences that our students and clients have had with our essences. It also includes Barry's editorial, his Medicinal Angel, as well as columns written by Audre and myself.

I have put a few teasers in the articles below. We hope you will click and read the wonderful stories and experiences that our WOTE family has to share. Let me know what you think!

A Blessed Fall to you all.

From Deep Within Mystery of the Plants and Trees,
Cynthia and the WOTE team

Mugwort "Patient Persistence in its Purest Form"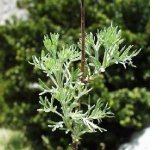 Spirit can always speak to me thorough song, and Mugwort was not different. She began her message to me though these Cyndi Lauper lyrics "If you're lost, you can look…And you will find me, time after time. If you fall, I will catch you. I will be waiting, time after time". Mugwort knows that, before we can write and welcome the rewards of our new story, we must first let go of the old one. There are terrifying times when we must take that leap of faith to release the old paradigm, even before the new vision for ourselves has revealed itself fully. In those moments, we are suspended in the space in between the old and the new, the known and the unknown, armed only with our faith that we will make it safely to the other side. Read More

Getting to the Heart of Things with Goldenrod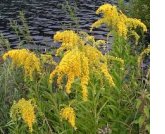 Goldenrod is used for heart health. Rutin, one of Her chemical constituents, is an antioxidant that is especially beneficial for the heart, increasing capillary strength and supporting circulation. She helps heal issues of pericarditis, endocarditis and high blood pressure. Spiritually, Goldenrod helps with all
issues of the heart. This is the realm She and I have been working in. The moment I smelled her, I knew her strength and no-nonsense nature. She is helping me shed the armor that has both protected my heart and has prevented me from letting in all the love that is available to me. She is helping me shed the armor that has both protected my heart and has prevented me from letting in all the love that is available to me. I have noticed how my throat chakra has been opened by her to let out the story of my heart. I have had to chuckle to myself on two very specific occasions when Goldenrod and I have spoken together. Read More

St John' Wort -- Essence of Sunlight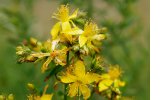 Let me share some of what I learned. St. John's Wort has been the leading anti-depressant in Germany. It contains several chemicals thought to be major sources of anti-depressant activity: Hypericin, hyperforin and
psuedohypericin. These chemicals appear to delay or decrease reabsorption of
neurotransmitters: nopamineneuropinepherin, serotonin. St. Joh's Wort has been used in treating anxiety, obsessive-compulsive disorder (OCD), and mood swings. It as been noted that the hypericin in St. John's Wort may be active in combating crtain brain cancers. During the Middle Ages, St. John's
Wort was known as Fuga Daemonium. She protected against demons and evil spirits. That certainly sounds like a good description of cancer.
Read more

Barry, Donna, Susie and I recently went to a Tom Kenyon weekend on Orcas Island. We got to play in a magical old growth forest. Here's a couple of pictures of this beautiful pristine forest.