Art Serves as Inspiration for
High School Short Story Contest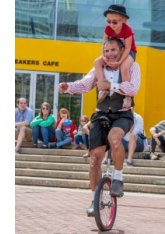 Art will serve as inspiration for literature in the Gaithersburg Book Festival's sixth annual short story contest for Washington, D.C., area high school students. Entrants will be challenged to draw their storylines from photographs (at right) taken by current and former Montgomery County students: Azalea Coste from Montgomery Blair High, Cameron Garland from Northwest High School and Lindsey Levy from Winston Churchill High School.
Members of the Gaithersburg Book Festival committee reviewed more than 100 photographs, drawings and paintings submitted by MCPS high school students for the 2015 Johns Hopkins University Montgomery County Campus annual art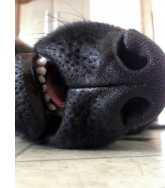 show, and selected three works of art to serve as inspiration for the 2016 short story contest.
To participate in the short story contest, individuals must be enrolled in grades 9-12 at a public or private school, or in a homeschool program, for the 2015-16 school year, and reside in Maryland, Virginia or the District of Columbia. Stories must be no longer than 1,000 words and must be inspired by one of the three photographs posted on the Gaithersburg
Book Festival website.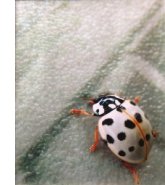 Stories must be submitted by midnight ET on Friday, February 19, 2016.
Up to 12 stories will be selected as finalists and posted on the Gaithersburg Book Festival website prior to the Book Festival. The first-, second- and third-place winners and the fan favorite will be announced at the Festival on Saturday, May 21, 2016, and will be awarded $100, $75, $50 and $25 gift certificates, respectively, courtesy of the Johns Hopkins University Montgomery County Campus.
Complete rules and submission guidelines for the contest can be found on the website.
Calling All Authors: Applications to Present in 2016 Now Online
Have you dreamed of being among the elite group of authors who are alumnus of the Gaithersburg Book Festival? You could add your name to this list i
f you are an author who will publishing a book in the coming year, and it will be out by May 2016.
We are now accepting applications for authors interested in presenting at the 7th annual Gaithersburg Book Festival, taking place on Saturday, May 21. If selected, you could present individually, be paired with other featured authors, or be featured in a panel discussion.
To apply, you must submit the following:
Completed Application – Download it here

Resume or description of speaking experience

A copy of the book you'll be promoting
Get Noticed: GBF Now Seeking Sponsors for 7th Annual Festival
Sponsoring the Gaithersburg Book Festival is a highly visible way to show that you support the community and value the arts, while gaining visibility with our attendees, who are among the region's best-read and most well-educated individuals.
Because of the sheer scope of the Festival, the City of Gaithersburg is able to fund only a modest portion of the event's expenses. We rely on the generosity of corporate partners, foundations and individual donors to help us deliver the world-class event that our attendees have come to expect.
We offer sponsorships to fit a variety of budgets, or we can tailor a sponsorship plan to fit your needs.
Find out more on our website, e-mail Carolyn Crosby or call 301-258-6350 to discuss these opportunities, or download the 2016 Sponsorship Opportunities form.
To ensure that your company name is included on all Festival materials, we recommend that you secure your sponsorship by January 31, 2016.
GBF Draws Big Crowd to Gaithersburg for Evening with Frederick Forsyth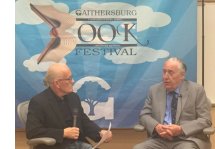 On October 7, the Gaithersburg Book Festival and Politics & Prose Bookstore hosted "An Evening with Frederick Forsyth." The master storyteller talked to an audience of more than 100 people at the Gaithersburg Library about his new memoir, "The Outsider: My Life in Intrigue."
Forsyth is the author of 15 internationally best-selling novels and two short story collections. A former pilot and print and television reporter for Reuters and the BBC, in 2012 he won the Diamond Dagger award from the Crime Writers' Association for a career of sustained excellence. Five of his books, starting with "The Day of the Jackal," have already been made into successful films, and a major motion picture based on "The Kill List" is currently in the works. But what most people don't know is that some of Forsyth's greatest stories of intrigue have been in his own life. During this event, Forsyth talked about his life, revealing that his adventures and personal experiences have been as gripping as any twisting plot line found in his collection of blockbuster novels.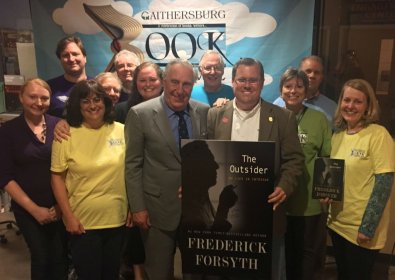 Relive GBF 2015 Through Video
If you missed the 2015 Gaithersburg Book Festival, or didn't get a chance to see some of our featured authors, you can revisit their presentations on video, courtesy of C-SPAN Book TV and City of Gaithersburg TV. Video presentations include:
Congrats to Survey Contest Winner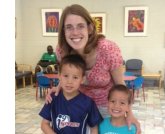 Congratulations to Jennifer Chen, who won an iPad in our survey drawing. Her boys, Kai (age 8) and Micah (age 5), are particularly happy about the win, since they get to share the iPad. Jen said of her experience in 2015, "We love the Gaithersburg Book Festival because you get high quality authors and vendors but it is small enough to enjoy in a day and very accessible for adults and children. It's a fun celebration of reading and we look forward to it each year!"
7th Annual Gaithersburg Book

Festival

Saturday

May 21, 2016

On the Grounds of

City Hall in

Olde Towne Gaithersburg, Md.

The Gaithersburg Book Festival thanks the newest organizations to pledge
their support of our
7th annual event.

For more information on how GBF sponsorships
can provide a highly visible way to show that you support the community and value the arts, and to position your organization in front of some of the region's best-read and well-educated people, please visit our
website.
Want to be one of the first to know about

the latest news from the Gaithersburg Book Festival and our featured authors?
Share the GBF News with your friends, family and book club members so they can see what we're up to for 2016.
Simply click the "Send to a Friend" button at the top of the newsletter to pass along this issue.
To become a regular GBF News subscriber, visit the Festival website and click "Join Our Mailing List."
Subscriber contact information will be used solely for the newsletter and will not be shared or sold to other parties.