Classical Conferences and Meetings in 2016

NB: Check www.bolchazy.com for conference presentations.
2016
CAMWS—The Classical Association of the Middle West and South
March 16–19, 2016
Williamsburg, VA
Representatives: Laurel Draper and Allan Bolchazy
Presentations:
Thursday, March 17, 2016
8:15–10:00 am
"Portrait of a Nude Woman as Cleopatra" Gregory N. Daugherty, coauthor, To Be a Roman
"Testing Tools for Ancient Greek on Digital Platforms" Wilfred E. Major, coauthor, Plato: A Transitional Reader
10:15–12 noon
"The Latin Teacher Shortage" Ronnie Ancona, author, Horace: Selected Odes and Satire 1.9 and Writing Passion: A Catullus Reader; coauthor, A Horace Workbook and Horace: A LEGAMUS Transitional Reader
1:30–3:15 pm
"The Bobbio Scholiast's Sources for his Commentary on Cicero's Speeches" Jane Crawford, coauthor, A Cicero Workbook
Friday, March 18, 2016
10:00–11:25 am
"Why is Valerius Flaccus a Quindecimvir?" Jeffrey Tatum, author, A Caesar Reader: Selections from Bellum Gallicum and Bellum Civile, and from Caesar's Letters, Speeches, and Poetry
3:30–3:15 pm
"When a (Canine) Gesture Was Expected" Kenneth Kitchell, author, The Other Middle Ages (forthcoming); coauthor, Catullus: A LEGAMUS Transitional Reader
Saturday, March 19, 2016
11:10–12:40 pm
"Intertextuality between Friends: Martial and Juvenal in Epigram 12.18" Catherine Keane, author, A Roman Verse Satire Reader: Selections from Lucilius, Horace, Persius, and Juvenal
3:45–5:30 pm
"On the Autonomy of Ovid's Tristia 5.2b" Helena R. Dettmer, coauthor, Latin for the New Millennium, Level 3; Latin for the New Millennium Latin 3: Select Latin Enrichment Readings; A Catullus Workbook
CANE—Classical Association of New England
March 18–19, 2016
Smith College
Northampton, MA
Representative: Connor Hart
51

st

International Congress on Medieval Studies
May 12–15, 20016
Kalamazoo, MI
Representatives: Laurel Draper and Adam Velez
ACL—American Classical League
69

th

Annual Institute
June 25–28, 20016
University of Texas
Austin, TX
Representatives: Allen Bolchazy, Laurel Draper, and Donald Sprague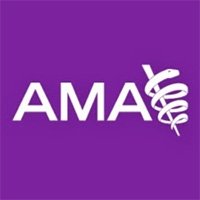 The new president of the American Medical Association is a proud classics major from the College of the Holy Cross, Worcester, MA.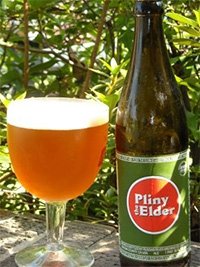 B-C vice president Allan Bolchazy discovered Russian River Brewing's Pliny the Elder while visiting northern California prior to the AIA/SCS meeting. He enjoyed the beer and learned that Pliny the Younger beer is available in the summer. From the company's website, "According to our brewing references, he and his contemporaries either created the botanical name or at least wrote about Lupus Salictarius, or hops, currently known as Humulus Lupulus."
Congratulations to Adam Blistein, who will retire this spring after seventeen years as Executive Director of the Society for Classical Studies, on being recognized for distinguished service. Among his many accomplishments, we salute his support of outreach efforts, his collaboration with the American Classical League, and his respect and support of precollegiate classics programs.
---
We salute fellow Illinoisian Antony Augustakis who received a SCS award for outstanding collegiate teaching. Augustakis has reenergized the classics programs at the University of Illinois Urbana-Champaign. We especially salute him for his support of the Illinois Classical Conference and his colleagues who teach secondary and middle school classics.

---
Since 1999, the Society for Classical Studies and the American Classical League have recognized outstanding precollegiate teachers. Bolchazy-Carducci salutes this recognition and this year's recipient, Dr. Brandtly-Jones of St. Anne's-Belfield School in Charlottesville, Virginia.

Tuesday, February 9, 6:00 –7:00 pm EST
What Do Latin Students Want? Needs Analyses Based on the National Latin Survey
Presenter: Elliott Goodman, MEd, principal investigator for the National Latin Survey and graduate student in Applied Linguistics at Teachers College, Columbia University, New York City

Goodman recruited some 10,562 Latin students and 1,649 Latin teachers to participate in the National Latin Survey. The survey queried the middle and high school students about their expectations and reasons for studying Latin in the 21st century. Teachers supplied their reasons for undertaking the teaching of Latin. Goodman's webinar will share analytical results from this groundbreaking study. Webinar attendees will be empowered to apply the survey's insights on curriculum, instruction, and assessment to their own teaching.

Tuesday, February 23, 6:00 –7:00 pm EST
The Art of Translating Latin
Presenter: Robert Cape, PhD, Professor of Classics, Austin College, Texas

The current AP Latin Exam expects students to "translate" using different approaches to translation. This webinar explains those different ways translation works and equips teachers with strategies to help students express their comprehension of Latin texts as specifically directed. The strategies are relevant for students in all Latin courses and help them understand how and why teachers do, indeed, sometimes require a "literal" translation.

Tuesday, March 1, 6–7:00 pm EST
From Economic Crisis to Spiritual Crisis? Ostia and Rome in Late Antiquity
Presenter: Douglas Boin, PhD, Assistant Professor, St. Louis University

This webinar will share new research on city life before and after the "Fall of Rome" by looking at evidence from Rome's old harbor town, Ostia Antica, a city famed in Late Antiquity for the role it plays in St. Augustine's Confessions Archeological evidence suggests the city was a much more diverse one than Augustine's story suggests. This presentation will give participants a sense of Ostia's economic and religious diversity during the later empire. Boin's scholarly Ostia in Late Antiquity has established him as an authority on Ostia in the late empire.

Tuesday, March 8, 6:00 –7:00 pm EST
How Latin for the Millennium Addresses the Five Competencies
Presenter: Donald Sprague, Editor, Bolchazy-Carducci Publishers; faculty, Kennedy-King College

LNM Editor Donald Sprague leads participants through a visual tour of the pedagogical principles and the student- and teacher-friendly features of Latin for the New Millennium. In providing this overview of LNM, Sprague will delineate how the series addresses the five competencies outlined in the national standards.

This presentation is ideal for those wishing to learn more about Latin for the New Millennium and for those considering its adoption for their school or classes.

Tuesday, March 15, 6:00 –7:00 pm EST
The Death of Caesar
Presenter: Barry Straus, author The Death of Caesar, Bryce and Edith M. Bowmar Professor in Humanistic Studies and Department of History Chair, Cornell University, New York

You think you know the life of Julius Caesar. You think you know the story behind his assassination. But the events on the Ides of March did not occur as they were taught in high school or in Shakespeare's play. In Strauss's The Death of Caesar, the true events of that fateful day come to light with a new analysis of the primary sources and the central characters surrounding the man and the legend that was Caesar. Moreover, this is hardly just a book about what happened on March 15, 44 BCE; it goes into great detail about key events leading up to the Ides as well as those taking place during the bloody aftermath that followed.
Professor Strauss's webinar will present an overview of the assassination of Julius Caesar.

---
What Equipment Do I Need for B-C Webinars?

To participate in Bolchazy-Carducci Publisher sponsored webinars you will need high-speed internet access, computer speakers/headphones, current web browser, and the link to the webinar virtual meeting space, which is provided in your webinar invitation.
Webinars Make for User-Friendly Professional Development

Participation is free. All webinars provide opportunity for participants to ask questions. Learn lots—attend as many presentations as you can. Bolchazy-Carducci Publishers provides documentation for your participation. You can share this with your supervisors. Many webinar presenters provide handouts, etc.
Bolchazy-Carducci Publishers provides eTextbooks on a variety of eBook platforms. Bolchazy-Carducci textbooks are available through VitalSource,

GooglePlay

,

Chegg

, Copia, RedShelf, Adams Book, Follett,

MBSDirect Digital

, and ESCO. Each eBook platform offers a variety of tools to enhance the learning process. eBooks have the same content as our traditional books in print.
eBooks are purchased from the eBook provider. For direct links to purchase Bolchazy-Carducci eTextbooks, visit the title's product page on Bolchazy.com. Just above the product description there is a list of the eTextbook providers and a direct link to purchase the eTextbook. Some eBook providers sell directly to schools—check with your school to make these purchases.
You can read eBooks on a Mac, PC, iPhone, iPad, Android, or a variety of eReaders. Review the eBook providers specifications.
The eyeVocab software leverages human memory for distinctive affective images* presented in isolation to radically improve the speed, depth, and permanence of second language vocabulary acquisition. Images are drawn from classical art, both western and eastern, from photojournalism and historical photography, great book illustration, and other sources.

*Learn how images are chosen.

Far more than a set of electronic flashcards, the multimodal vocabulary program facilitates a significantly deeper learning and retention. Students will readily master the frequent Vergil and Caesar vocabulary for the AP® Latin Exam and thereby devote far more of their study time and energy to reading and discussing De Bello Gallico and the Aeneid.

eyeVocab programs correspond to the following B-C books.

Caesar: Selections from his Commentarii De Bello Gallico
(Mueller)
(218 words)

Vergil's Aeneid: Selected Readings from Books 1, 2, 4, and 6
(Boyd)
(162 words)



Vergil's Aeneid: Books I–VI


(Pharr)
(292 words)

Latin for the New Millennium Level 1


(423 words)





(329 words)


Introductory rate for each of the AP® Latin programs is $14.95. The LNM 1 introductory rate is $24.95. For site licenses, contact Miles Becker at sales@eyeVocab.com.




Click on each title to learn more.
The Pompeiiana Newsletter created and edited by Bernard Barcio ran from 1974 through 2003. The newsletter offered a place for Latin students to publish comics, stories, games, and articles, and was a beloved resource for Latin teachers. In 2008, Barcio granted Bolchazy-Carducci Publishers the rights for all of the Pompeiiana Newsletter. B-C is proud to serve as curator for this archive and has made the issues available for teachers, students, and friends of the classics. Check out http://pompeiiana.blogspot.com/
Each fall, Bolchazy-Carducci mails its Roman Calendar to Latin teachers across the nation. Folks on that mailing list should have received their copy by now. The calendar is also available in a digital format.

Preview Bolchazy-Carducci Titles

Preview Bolchazy-Carducci titles before you purchase using Google Preview.
---

Downloadable Products
iPodius - Bolchazy-Carducci Publishers online shop for: audio, software, video, and a treasure trove of teacher-created materials in the Agora.
---
BCP Facebook Fan Page
Become a FAN of Bolchazy-Carducci Publishers, visit our Facebook Fan page for the latest news from BCP.
---
BCP Blog
Visit the BCPublishers Blog for BCP news and information.
Check out the Halloween costume contest winners.
---
BCPublishers on Twitter
Follow us on Twitter

---
AP® is a trademark registered and/or owned by the College Board, which was not involved in the production of, and does not endorse, this site.



These products have been developed independently from and are not endorsed by the International Baccalaureate (IB).



All of us at Bolchazy-Carducci wish you and your students a spring semester full of triumphs!

The New Year by tradition calls us to the annual meeting of the Archaeological Institute of America and the Society for Classical Studies. The B-C team takes this opportunity to congratulate Adam Blistein on the success of the seventeenth annual meeting mounted during his tenure as Executive Director of the Society for Classical Studies. Once again, a job well done!

While San Francisco drew Allan and Marie Bolchazy and myself to the AIA/SCS meeting, Austin, Texas drew Jody Cull and Connor Hart to the annual convention of the Modern Language Association. Check out our conference reports in this issue.

Rick LaFleur's translation of Maurice Sendak's beloved Where the Wild Things Are into Latin marks B-C's latest contribution to the responsible popularization of Latin. The response to Ubi Fera Sunt has been wild—copies at both the AIA/SCS and the MLA flew off the shelves! For special insight into LaFleur's fascination with this children's tale and his delight in translating it into Latin, see the interview in this issue.

We're very excited about our spring webinars! Check them out!

Again, we at B-C wish you a wonderful spring. May it be wildly successful!
Donald Sprague
Editor
Archaeological Institute of America/Society for Classical Studies 2016 Conference
The San Francisco Hilton Union Square hosted the AIA/SCS conference January 6–9, 2016. Marie and Allan Bolchazy and Don Sprague represented B-C at the book exhibit.

B-C had a double booth nicely within the sightline of the door, adjacent to an open break area. We had Ubi Fera Sunt prominently displayed, sold out all 20 copies, and took orders for more. Ubi elicited quite a few responses. For many people, their first response was to laugh. One woman mentioned that it was her son Max's favorite book. (Max is the name of the child in the book.) Joel Christensen, Book Review Editor of The Classical Journal, came by to tell us that not only did he love the book, but when he set it down on his table, his five-year-old daughter quickly picked it up and loved it.




The BC Latin Readers attracted significant attention and various professors pointed out which titles they had used or planned to use in their classes. The drawing for the entire set of the nineteen BC Latin Readers saw a very pleased Edward Middleton, grad

student at Brock University in Ontario, Canada win the prize.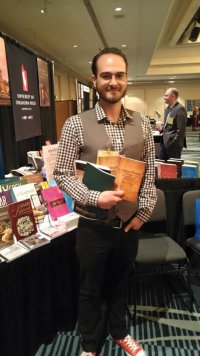 Congratulations to Edward Middleton from Brock University! He won the entire set of BC Latin Readers at AIA/SCS.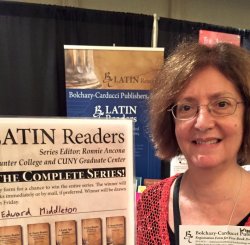 Series Editor Ronnie Ancona offers her congratulations.
Friday morning, B-C hosted a breakfast at the hotel for our authors. We were delighted that Larissa Bonfante, Catherine Keane, Judy Hallett, Willie Majors, Tom Sienkewicz, Ronnie Ancona, Barbara Weiden Boyd, William Dominic, Mary Jaeger, and James May were all able to join us. Other invitees had to decline because of meetings, interviews, and other conflicts. Those who joined us appreciated the breakfast and we enjoyed the opportunity to catch up with them While many conversations covered matters classical, others included such subjects as making wine, a hobby for James May and Mary Jaeger.
Being in San Francisco afforded Allan and Marie the opportunity to visit with relatives from both the Bolchazy and Carducci families. Don Sprague similarly seized the opportunity and met up with several former students.
Modern Languages Association Convention 2016

The 2016 Modern Languages Association Convention took place in Austin, Texas, January 7–10. Production and eLearning Manager Jody Cull and Social Media and Editorial Assistant Connor Hart represented Bolchazy-Carducci Publishers. Although they escaped the sub-freezing temperatures and light snowfall in Illinois, Jody and Connor did see highs as low as 50 degrees during their time in Texas.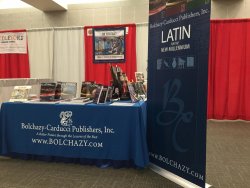 The B-C booth was located right next to the convention cafe providing plenty of foot traffic. Although it was about as far from the entrance as possible, the display was right on the corner of an aisle, and people could see the tall Latin for the New Millennium banner from all the way across the exhibition hall.
Bolchazy-Carducci was the only Latin textbook publisher attending the convention but many of the attendees who stopped at the booth had studied Latin and/or Greek at some time during their education.
Ubi Fera Sunt brought a lot of attention to the booth. The Ubi Fera Sunt banner made everyone smile and drew many to look at the book and to talk about it. Several people complimented B-C on providing a Latin translation of this award-winning children's book. Ubi Fera Sunt sold out at the convention and several customs placed orders for copies to be shipped. One gentleman ordered a copy and shipped it as a gift to his mother in Northampton, MA. The other B-C children's books and the buttons also sold well at MLA.
At least five conferees came to the booth exclaiming, "We see you at the Kalamazoo conference (Medieval Congress), great to see you here." Attendees expressed great interest in the sample of The Other Middle Ages, which is scheduled for publication later in the spring.
Interview with Adam Velez
Senior Graphic Designer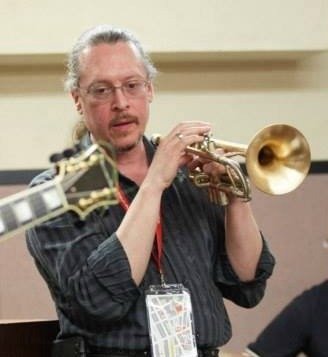 Adam Velez on the trumpet!
DES: Give us a little overview of your time with B-C. How long have you been working for B-C? How did you find this job? What are your principal responsibilities?
APV: I've been with B-C over thirteen years, now: since April of 2002—I had responded to an ad in our local classified circular. Originally, I was brought on to help with a backlog of projects and basic IT support, but my responsibilities grew quickly. I'm now responsible for the art direction, design, and layout of all of our books and other print materials, as well as creating an array of graphics for our website and growing body of eProducts. I work closely with editing and production, too—working as a team, and understanding all the aspects of the publishing process really helps me to create the best possible and most attractive products I can for us. I continue to oversee our IT needs as well.
DES: What previous work experiences have enriched your service at B-C?
APV: I got my (design) start in the music industry, back in the early days of self-created mail order catalogs and print ads: from paste-up and working with the first wave of desktop publishing programs, through all the advances in design and layout software. I created everything from ads, catalogs, flyers, rental contracts, teaching materials, sheet music, pamphlets, logos, business forms—you name it. That vast variety really helped prepare me to be able to meet any new design and layout challenge without flinching too much. [Adam laughs!]
DES: What do you enjoy most about your work at B-C?
APV: I'd say the freedom I'm allowed to be creative, but I think even more so the challenge of melding that creativity with the imperative of creating the best possible experience for the users of our books and other materials, especially in aiding comprehension and overall usability. A bad design or layout can render an otherwise excellent manuscript to be nearly unusable—finding that balance of form and function definitely drives my work.
DES: When not at B-C, how do you like to spend your time?
APV: As a musician, foremost. I'm a trumpet player in several area bands—jazz and classical; and I also sing and play guitar in a traditional folk music duo called "Tourdion," along with my wife Chris. Aside from music, I'm also a longtime student, researcher, and instructor of the Historical European Martial Arts (HEMA), where my main focus of interest is in the Italian sword fighting/fencing systems of the 16th and 17th centuries. I occasionally spend time as a reenactor, too, and have participated in many different time period recreations and events, from the 15th through the 18th centuries. Wow, I'm pretty busy—it's all good, though.
DES: Is there a special anecdote about your time so far at B-C that you'd like to share?
APV: I'll never forget my interview for the job, especially meeting Lou Bolchazy for the first time. After the expected paperwork, introductions, tour, and queries, I was finally introduced to Lou, and he invited me into his office—first being offered a cup of coffee, of course. He proceeded to start up a discussion with me on philosophy—nothing specifically in regard to the job or company, mind you—simply a discussion about life, its meaning, the depth and importance of critical thinking, etc. I knew right away that this was going to be a very different and special place to work.

This month's tip is Transpose. Transpose is a web-based tool that allows the user to create custom templates for note-taking. I came across a write-up of Transpose over the summer and thought that it might help me with a couple of organizational tasks. I decided to use Transpose to communicate the week's lesson plan and homework assignments to my students. My school requires teachers to post homework online for students. Prior to my using Transpose, I typed up my weekly plan and then loaded it into the learning management system used at Bellarmine. At the start of the semester, I created a template on Transpose that had fields for the week of the school year, a drop-down list of my class names, in-class activities for each day of the week, and homework for each day of the week. It was very quick and easy to make the template with exactly the information that I wanted. Each week, when I sat down to do lesson planning for the following week, I opened up a new template and typed up my plans. I could then share the plans with my students by posting the link to them. I particularly like that if I needed to make adjustments to my plans, I could do so to the Transpose file and my students would see the updated version. There are no additional steps needed to make sure that the students have the most up-to-date version.

When I log in to Transpose, I am able to see the archive of all my lesson plans for the semester in an easily searchable and very organized view. After using Transpose for my lesson plans for just over a month, I decided to see how it might help me with grading a project. This time, I set up the online template as my rubric. It was also a very straightforward process. Once I had the rubric template set up, I was able to use it during each student's presentation to grade on the spot. Then, after adding a few additional comments to the form, I simply emailed the completed rubric to each student. It was very efficient and paperless!

It's free to set up a Transpose account and, while they do offer a paid version of the product, the free account has served me very well over the last semester. In addition to being accessible from your web browser, there are also iPhone, iPad, and Mac apps available that allow offline work. To take a closer look at Transpose, check them out at www.transpose.com.
Lynne West
Bellarmine Jesuit Prep
San Jose, CA
Editor's Note: Congratulations to Lynne who is spending the spring semester in the Netherlands studying second language acquisition thanks to a Fulbright.


Resources & Teaching Tips

√ The following links provide articles of interest to teachers and their classes.
√ Planning your spring classes? Don't forget to include Martia Dementia, B-C's seasonal contest that this year pits ancient authors against historical figures from the classical world. Stay tuned for announcements on Facebook and Twitter.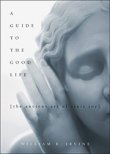 A Guide to the Good Life: The Ancient Art of Stoic Joy
by William B. Irvine
This book truly can make a difference in your life. It is clearly written and compelling. In part one of the book, Irvine discusses the first Stoics, who focused on both virtue and tranquility. Socrates, for example, was one of the first Stoics. Zeno the Greek Stoic believed that we were designed to be reasonable and that we have certain social duties, like being agreeable to our friends. The common perception that being stoical means being grim and unfeeling misses the mark completely. In covering the Roman Stoics, Irvine summarizes the ideas of Seneca, the former slave Epictetus, and the emperor Marcus Aurelius.
My suggestion to the reader is not to read this book all at once but instead read one or two chapters at a time, then stop to reflect on the messages those chapters contain, and consider the guidance they provide for one's personal life. I read the chapters out of order, starting with the chapters that I thought would resonate the most for me. From the chapters on old age and dying, I reflected on the idea that an old person knows she is close to death and therefore appreciates each day—in contrast to a healthy young person who takes everything for granted. One amusing advantage to dying suggested by the Stoic philosopher Marcus Aurelius is that, after death, we will no longer have to deal with annoying people. Each chapter I read offered me ideas that would lead to tranquility.
For example, the chapter on negative visualization was actually positive. By envisioning the worst that could happen, e.g., the death of a son or daughter, there are two possible outcomes: (1) the worst doesn't happen and so we appreciate what we have, or (2) the worst does happen, but we are ready to face it better. In my reflection about envisioning the worst, I thought about how my husband and I had discussed the idea that one of us would die before the other. When he did die, I felt I was more prepared to deal with his death than I would have been had I not already considered the possibility.
The chapter on the dichotomy of control I found especially intriguing. We all know it is best not to try to change the things over which we have no control and to focus instead on the things over which we do have control. This is what the Stoics preach. However, how about those things over which we have partial control, like winning a game of tennis? We can't guarantee that we will win—so would the Stoics say we should not set winning the game as a goal? Irvine suggests that the solution is to reframe our goal. Instead of having winning the game as a goal, we would have a goal of practicing to improve our tennis game. We do have control over setting that revised goal.
In the chapter covering insults, the Stoics suggested strategies for achieving tranquility. For example, (1) we can ignore the insult, especially if we don't respect the source of the insult or (2) we can use humor to deflect the insult. The Stoics also welcomed some discomfort in their lives in order to appreciate better the comfort they usually enjoyed. For example, we could choose to be cold or hungry on occasion; by doing so, we will appreciate being in a warm room or having a nice meal. Irvine has a section devoted to the rise of Stoicism and another on Stoicism for modern lives. He provides a chapter covering follow-up readings, starting with the essays of Seneca. He also recommends reading Musonius Rufus (known for his practical advice), Epictetus, Marcus Aurelius, and even some essays by Schopenhauer.
This is a book I will return to again and again. Stoic wisdom is relevant today and very helpful for achieving a good and joyful life.
Marie Carducci Bolchazy, EdD
President, Bolchazy-Carducci Publishers
Interview with Richard A. LaFleur PhD, translator Ubi Fera Sunt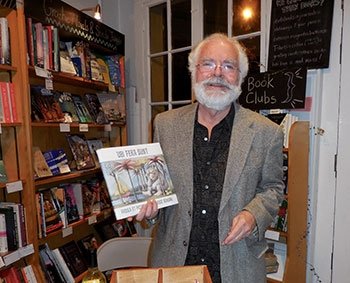 Dr. LaFleur beams with pride at a special book signing and reading event at Avid Bookstore in his hometown of Athens, GA. The event drew a capacity crowd and culminated with all copies on hand sold.
DES: Rick, what first inspired you to translate Where the Wild Things Are into Latin? How long ago was that? When did you actually begin to work on the translation?

RAL: Good questions! My interest in Latin goes way back to a childhood mania for those "sword and sandal" flicks like Ben Hur and Spartacus and that whole delightful batch of 1950s/60s Steve Reeves movies—Hercules, Hercules Unchained, The Last Days of Pompeii, The Trojan Horse, and The Avenger, with Reeves as Aeneas! Watching my children's and grandchildren's predilections evolve over the years, I suspect that genetics also played a part in my becoming a Latinist, but I was adopted as an infant and know almost nothing of my family history—so I like to give Kirk Douglas and Charlton Heston some credit! Maurice Sendak's Where the Wild Things Are was published in 1963, the year I graduated from high school (with five years of Latin under my belt) and the same year Elizabeth Taylor's Cleopatra hit the wide screen: I was equally fascinated by both. Later on I discovered that some of my, and ultimately my son's and daughters', favorite children's books had been translated into Latin, including of course the New York Times best-seller Winnie Ille Pu, first published in 1960, Tela Charlottae (1991), and more recently the delightful Dr. Seuss books from Bolchazy-Carducci, Cattus Petasatus and Quomodo Invidiosulus Nomine GRINCHUS Christi Natalem Abrogaverit. And so, given also my ever-growing penchant for turning all things English into The Mother Tongue, the question quite naturally popped into my head one day, a few years back, Why NOT a Latin Wild Things?!
DES: Why do you think Where the Wild Things Are works especially well in Latin?

RAL: You know, Wild Things is a miniature epic, an epyllion of sorts, with an ocean voyage, a year-long journey to unknown lands, and an encounter there with TERRIBLE beasts. The young hero, undeterred, rises above all these perils, mesmerizingly makes his mark in the densely forested world of the Wild Things, becomes their king, then sails safely home, to bed and a family feast, an archetypal nostos—what about this tale is NOT classical? Moreover, Sendak's language is at once magical and musical and thus perfectly suited to the melodious mystique of lingua Latina!

DES: What did you find most challenging in rendering Sendak's prose into Latin?

RAL: I discuss a number of these issues in "About the Translation" on our Digital Content page. My foremost concern was to use lively and authentic classical Latin in a manner that would make the text as accessible as possible to a reader who knows and loves Sendak's story and may be what I call a "semi-Latinist"—someone who studied a bit of Latin somewhere along the way, maybe twenty years ago in high school or college, who loves the language and remembers at least a little. All the Latin in my translation is arguably "correct," word order is varied in ways that were common in ancient Rome, and my word choice was based on such considerations as intelligibility to those semi-Latinist readers (i.e., I would choose one word over another because it had more familiar English derivatives) or sound effects (I chose turba for "rumpus" when my wife Alice, unprompted, confirmed my sense that the disyllabic ur/ru equivalents were "turbulently" assonant). Occasionally English idiom required a touch of translational creativity, an example of which is seen when Max "waved goodbye" to the Wild Things, a gesture not attested in classical Latin literature and apparently not customary in ancient Rome. I have Maximus wave his hand (manum iactāvit), "having said his farewells," with recourse to Apuleius's valefactō (Metamorphoses 4.18; Oxford Latin Dictionary s.v. valefaciō), an impersonal ablative absolute, rarely attested but obviously correct and clear to Apuleius's readers and, since both vale- and fac- are such common stems, reasonably intelligible to our readers as well.
DES: Discuss what types of readers you believe would enjoy Ubi Fera Sunt.

RAL: The prime audience I envision are folks who know and love Sendak's enchanting tale of boyhood mischief and imagination and who know at least a modicum of Latin and are equally in love with that marvelous language. That group ranges all the way from the very youngest readers learning some Latin from their parents or studying the language in school, even at first-year level, all the way to my fellow oldsters whose first encounter with the language dates back to the days of Spartacus and Ben Hur. But I've also found, as I had hoped and expected, that even completely Latin-less readers who are familiar with Where the Wild Things Are, and possibly have a copy at hand, can read and comprehend much of Ubi Fera Sunt and enjoy the mindgame of figuring out the meanings of the individual Latin words—something literate readers can manage with a degree of ease, since so many of those words have English derivatives. The Latin vocabulary list <hotlink> I created for the Web Resources page provides not only English equivalents but also derivatives, always a help with comprehending and recalling meanings.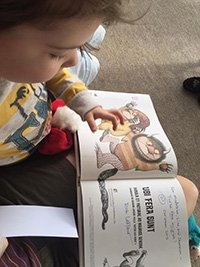 3-year-old Madeleine enjoying Ubi Fera Sunt and joyfully awaiting the TURBA (RUMPUS)!!

DES: What insights can you share as to how a high school teacher might use Ubi Fera Sunt with her Latin students?

RAL: As suggested earlier, I think Ubi Fera Sunt can be used at any level of Latin instruction, even with beginners, so long as they are already familiar with Sendak's story, and it certainly would also be a fun and effective activity for intermediate or advanced learners. Even students reading Vergil in AP Latin will enjoy comparing Maximus's epic adventures with those of Aeneas! As award-winning Latin teacher Robert Patrick has remarked, "(the fact) that the translation makes use of about 120 distinct words . . . a nice, tight vocabulary . . ., plus the fact that many students will already be familiar with the story, makes this a good candidate for easy, compelling reading." Digital Content on the Bolchazy-Carducci website include a full vocabulary, with English derivatives and useful comments, a set of QUIA quizzes (forthcoming), a pronunciation refresher, and more.
DES: Is there a special anecdote about your work with Ubi Fera Sunt that you'd like to share?

RAL: In lieu of an anecdote, I'd offer a heartfelt MAXIMAS GRATIAS (!) to Marie and Allan Bolchazy, and to their wonderfully intelligent, assiduous, and devoted editors and other staff—Bridget, Laurel, Jody, Linda, Donald, Connor, et al.—who labored so diligently and effectively to birth this little book despite the Herculean labors required. Thanks go also to Mr. Sendak's estate, the Wylie Agency, and HarperCollins Publishers for their cooperation and support in this complex collaborative project; to the late Maurice Sendak himself and the late Lou Bolchazy, each for his own uniquely creative genius; to my wife Alice, for her constant loving support and ever artful insights; and to our five children and eight grandchildren for their affection and patience in awaiting the inception of this particular wild rumpus. To one and all, Turba fera incipiat!

DES: What's the next project you have in mind, professor emeritus?

RAL: Well, I'd certainly love to do another children's book, but will wait just a while to see how well (or not) Ubi Fera Sunt is received by readers and teachers. In the meantime, I joyfully continue with my online teaching (at http://www.wheelockslatin.com/tutorials/home.html), writing newspaper columns (in particular my series on "The Secret Lives of Words" for the Apalachicola [FL] Times), growing our lunch and dinner in the tiny hortus I tend at our lakeside home, and, with my dear Alice and our French bulldog Ipsa (named for a pup in one of Martial's epigrams), strolling the trails of North Carolina's Blue Ridge Mountains and the sugar-white beaches of Saint George Island, Florida. Vita est bona (et FERA)!
---
Editor's Note: Click the "Digital Content" tab on the Ubi Fera Sunt webpage to access the following related materials: Why NOT a Latin Wild Things, About the Translation, Pronouncing the Latin, Vocabulary and to hear Dr. LaFleur reading Ubi Fera Sunt.
eLitterae Subscribers Speical Discount

Paperbacks
Price: $19.00 $15.00 each
The Series Is Now Complete!
These readers, written by experts in the field, provide well annotated Latin selections to be used as authoritative introductions to Latin authors, genres, or topics, for intermediate or advanced college Latin study. Their relatively small size (covering 500–600 lines) makes them ideal to use in combination.
Each volume in the nineteen-volume series includes a comprehensive introduction, bibliography for further reading, Latin text with notes at the back, and complete vocabulary.
Apuleius • Caesar • Cicero • Latin Epic • Livy • Lucan
Martial • Ovid • Plautus • Propertius • Roman Army
Roman Verse Satire • Roman Women • Sallust
Seneca • Suetonius • Tacitus • Terence • Tibullus
This offer is valid for single copies of the BC Latin Readers, prepaid, no returns.
Discount is not available to distributors or
on products distributed by Bolchazy-Carducci Publishers.
This offer expires 02/22/16.
(Please note that there will be no adjustments on previous purchases.
Offer is non-transferable and subject to change without notice.)
Enter coupon code eLit0116
on the payment page. The special

eLitterae offer pricing will be charged at checkout.