Subscribing to the IHR's Website

We invite practitioners to join our web site community with a listing of your holistic gifts and offerings for an investment of only $60 a year. With this investment y
ou will receive:
A listing on the web site for each modality or resource that you provide

A listing by the City that you practice in

Classes or events that you offer throughout the year can be posted

Your classes or events will be listed in this monthly newsletter
New Practitioners Added to IHR's Web Site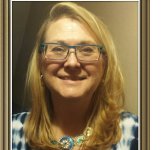 Rhonda Carmi
I'm extremely grateful to have an opportunity to serve you! I am committed to helping you support every aspect of health, wellness and abundance that you are seeking. Young Living Essential Oils is the oldest, most respected essential oil company in the world. Young Living provides a huge distinction in quality of essential oils by owning their own farms and partnering farmers and villages as established in the 'Seed to Seal' guarantee of purity. Each drop of essential oil has 40 million trillion molecules all specifically designed by the divine to work together. Every molecule is critical to the effectiveness you experience. Essential Oils can provide you with the tools you need to take charge of your health in many ways. Physical well-being, emotional support, releasing emotional patterns, increasing your vibrational energy. Additionally, for those seeking abundance, you can find an amazing purpose filled opportunity to build your own business! I look forward to serving you and helping you create your own miracles.
Des Moines, IA
515-556-1657
rhondacarmi8117@msn.com
http://yldist.com/oiloveu/
Iowa Holistic Resources is a website community for people looking for services

AND

for practitioners to list their services. Over 20,000 people have gone to the website looking for services.

The IHR web site provides a compilation of varied holistic approaches to wellness.
The web site is listed by: 86 cities at this time,

122 modalities, retreats and centers, and by monthly classes and events.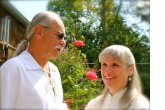 Cinda & Greg Morey
Certified Body Code and Certified Emotion Code Practitioner, Certified ThetaHealing Practitioners, Healing Touch Practitioners, Reiki Master/Teachers,
Ho'oponopono,

Ordained Ministers, Detoxification Footbath Treatments, Young Living Essential Oils Distributors, Nikken Wellness Consultants.
"Your web site has been great and I've received several good clients from it. Thanks again!
"Cinda does such a great job p

osting

my classes to her website and newsletter. She's able to take all the information I provide, place it into the proper categories and format, plus even offers links to separate flyers. I am very impressed with her "techie" abilities. Wonderful! And THANK YOU!!!!" Email and Web
"I joined the IA

Holistic network

in January, 2009 and in February I was contacted by someone who lives in Marshalltown for information for one of my services. We met for a series of classes and I feel confident that she is in a much better place in her spiritual life as well as in accepting her hectic personal and

business life

. Without the networking and good work of the Iowa Holistic association, this wonderful opportunity for growth for both the client and my work in the world, I would not be in the place I am today. Thanks Cinda and Greg for our efforts on behalf of the entire healing community! Namaste!
2016 Yearly Classes Listings

CLICK HERE TO VIEW UPCOMING CLASSES & EVENTS THROUGHOUT THE YEAR!
How To Send Classes to Put in Newsletter
If you have a subscription to the web site CLICK HERE to learn how to send classes for the web site and newsletter.

Iowa Holistic Resources FACEBOOK page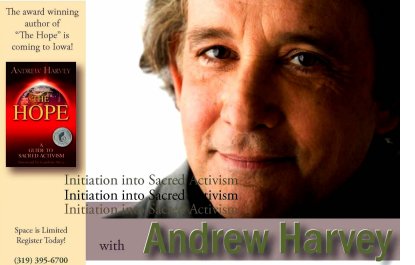 Initiation into Sacred Activism

March 4-6, 2016

Hiawatha, IA

Please welcome Andrew Harvey, mentor, spiritual teacher, renowned mystic, and best selling author to Iowa. During this workshop you will learn how to navigate the awakening during this evolutionary time and be inspired to become a transformational force of love-in-action through discovering, embracing, and sharing your authentic self; becoming centered in Divine love, peace, and justice; and learning how to be a powerful agent of change. For more information contact 319-241-9679 or kalasacredactivism@gmail.com.
Website

www.illuminationshealingarts.com

. Location Prairiewoods Spirituality Center 120 Boyson Rd Hiawatha Iowa 52233. Register by calling Prairiewoods 319-395-6700 additional meals and lodging available. $250 includes Saturday lunch. Friday March 4th 6 pm to 9 pm, Saturday March 5th 9 am to 5 pm, Sunday March 6th , 9 am to noon.
February 2016 Classes Throughout Iowa

Click on Class Title for Details










DATE




CLASS




CITY













February 2016 to December 2017



Two Year Shamanic Healing Program


Des Moines

, IA




February 1, 2016



Intuitive Tarot Group


Cedar Rapids

, IA




February 1, 2016



Reiki Healing Energy Night


Cedar Falls

, IA




February 1, 4, 8, 11, 15, 18, 22, 25 & 29, 2016



Hatha Way Yoga


Hiawatha

, IA




February 2 & 16, 2016



Seeing IS Believing: Visio Divina at Prairiewoods


Hiawatha

, IA




February 3, 2016



Wednesday Women at Prairiewoods


Hiawatha

, IA




February 3, 2016



Hearing Your Guides and Trusting Your Journey


Independence

, IA




February 3, 10, 14, 17, 24 & 28, 2016



Adult Contemplative Coloring


Hiawatha

, IA




February 3, 10, 17, 2016



Reiki Level I


Des Moines

, IA




February 3 & 17, 2016



Drumming for Healing


Hiawatha

, IA




February 4 -6, 2016



Private Sessions with Shaman Debbie Dionne-ZOOK


Windsor Heights

, IA




February 5, 2016



Journey to Your Soul's Sacred Garden with Shaman Debbie Dionne-ZOOK


Windsor Heights

, IA




February 5–7, 2016



Life = Change. Transitions: Rediscovering the Spark Within


Hiawatha

, IA




February 6, 2016



Conscious Breathing for Health, Harmony & Spiritual Growth


Hiawatha

, IA




February 6, 2016



Shamanic Workshop Series with Shaman Debbie Dionne-ZOOK


Windsor Heights

, IA




February 6, 2016



Valentine's Traditional Dreamcatcher Class


Independence

, IA




February 6 & 7, 2016



Reiki Level I & II class


Cedar Falls

, IA




February 7, 2016



Spirited Artists' Coffee Chat


Hiawatha

, IA




February 7, 2016



Dances of Universal Peace


Des Moines

, IA




February 8, 2016



Munay Ki - Wisdomkeeper Rite


Cedar Rapids

, IA




February 9 & 23, 2016



Lectionary-Based Faith Sharing at Prairiewoods


Hiawatha

, IA




February 10, 2016



Your Chakra System Part 4: Solar Plexus


Independence

, IA




February 12, 26, 2016



Energy Share


Cedar Rapids

, IA




February 13, 2016



Energy Clearing Workshop #1 of 4


Des Moines

, IA




February 13, 2016



Astrology Readings with Lenore Hamill


Windsor Heights

, IA




February 15, 2016



Day of Self Renewal


Hiawatha

, IA




February 17, 2016



Intuition Development


Cedar Rapids

, IA




February 17, 2016



Working With Your Totem Animals


Independence

, IA




February 18, 2016



Metaphysical Crystal Group


Cedar Rapids

, IA




February 19–21, 2016



Embracing the Eternal Now Retreat: Taming the Tyranny of Time


Hiawatha

, IA




February 19–21, 2016



Circling Mid-Life Retreat: The Final Question


Hiawatha

, IA




February 20, 2016



Monthly Reiki Share


Independence

, IA




February 20, 2016



Astrology School with Cathy Lindsey & Lenore Hamill


Windsor Heights

, IA




February 20, April 9, June 11 or September 17, 2016



Beginning Shamanic Journeying: Partnering with Compassionate Helping Spirits


Des Moines

, IA




February 20-21, 2016



Usui/Holy Fire Reiki Level 1 & 2


Coralville

, IA




February 20-21, 2016



Usui/Holy Fire Reiki I & II


Windsor Heights

, IA




February 20-21, 2016



Level 1 Touch Drawing Workshop – Art from the Heart


Independence

, IA




February 21, 2016



Our Common Home Sunday Afternoon Movie & Discussion Series: I Am


Hiawatha

, IA




February 22, 2016



Energy Share


Cedar Rapids

, IA




February 24, 2016



Wednesday Women


Hiawatha

, IA




February 24, 2016



Eclectic Light Book Club: The Traveler's Gift


Hiawatha

, IA




February 24, 2016



Drum Circle


Independence

, IA




February 26-27, 2016



Extraction: Removing Misplaced Energy


Des Moines

, IA




February 27, 2016



Not Your Average Crystal Class


Independence

, IA




February 27, 2016



Auras and Chakras with Robin


Windsor Heights

, IA




February 28, 2016



Shamanic Extraction & Soul Retrieval; Addictions & Behavioral Modifications Energy


Des Moines

, IA




February 29, 2016



Reflexology Meet and Treat


Cedar Rapids

, IA