Camp Creative Thunder with Jill Badonsky July 17 -21, 2018
Time: Dinner on Tuesday through lunch on Saturday

Where: Mabel Dodge Luhan House, Taos, New Mexico

Greetings Campers

!

If you went to summer camp as a kid, you already know that the experience of putting yourself in a new environment can be both empowering and inspiring. You can be whoever you want to be. You get to bond with other campers, expand your creative repertoire of ideas, restore your sanity — and sometimes— you create lifelong friendships in the process.
In adulthood, however, we often forget to take that time to turn-off and explore our creative sides like we did as children. We make professional contacts through networking events and conferences, but we often fail to make deeper connections with a tribe that "gets" us.

Guess what? Now you are invited to come to camp again OR for the first time in the enchanted town of Taos, New Mexico.

Former camp counselor, current artist and illustrator, author, yoga teacher, performance poet, and creativity coaching trainer, Jill Badonsky, M.Ed., will take care of all the details, so just like a kid, all you have to do is show up for activities, eat DELICIOUS gourmet meals THREE times a day (not counting tea-time treats), go on a field trip into town and have fun for four nights and five days at the Mabel Dodge Luhan House in Taos, New Mexico. (Thursday we will imbibe in local flavor at Guadalajara Grill, an inexpensive, popular restaurant).

10 Reasons to Sign-up for Camp Creative Thunder:
Designed both so you have a finished product AND a more liberated approach for both and living life:

1. Reclaiming Your Creative Self through Writing and Expressive Art
If you don't think you're a writer or an artist, you will go away inspired and filled with possibility. If you are a writer and/or an artist, you will find restoration and new inspiration. With over 20 years as a creativity mentor and consultant, I will show you new ways to access your creative vein of gold and finally find solutions to perfectionism, overwhelm, procrastination, and resistance.
2. Free Range Art, Doodling and Wobbly Watercolor painting
This painting experience is not only designed to give you a souvenir of Taos but the process will also get you out of your head, your resistance, fears, and your immobilizing perfection and into the child-like freedom of embellishing upon reality without the inner tyrant keeping you caged. We will do a variety of drawing exercises that are both a lot of fun and something you will want to keep.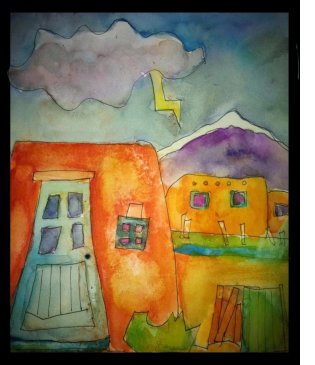 3. Intuitive Writing Under the Influence of Jill (and Mabel)
The Awe-manac: A Daily Dose of Wonder, The Muse is In: An Owner's Manual to Your Creativity and The Nine Modern Day Muses and a Bodyguard: 10 Guides to Creative Inspiration are Jill's prompts that make writing easy. She devises new ones annually (and some returning favorites) for this retreat.

Mabel is known for her audacious lifestyle and emphasis on art and writing. The Mabel Dodge Luhan house was a creative oasis for D.H. Lawrence, Willa Cather, Georgia O'Keefe, Ansel Adams, Dennis Hopper, Natalie Goldberg and countless other artists and poets. Come feel why - write among the nooks and crannies. Write using Jill's multi-media prompts, walks in the labyrinth and at the sculpture pond, we will even write at a local hang-out called Wired! Cafe.
4. Daily Yoga Melts
Morning yoga combined with the metaphor of creativity will not only melt tension from life's stresses, but also stretch you past limitations that keep you stuck in one position creatively. Jill has been teaching yoga since 1993 at corporations, hospitals, spas, and most recently for eight years at a military brig.This is gentle, wake-up to Taos-wonder yoga for anyone.

5. Improv Theater Games
Theater games are no brainer-way to get back into your child-like self. We play them in groups so no one is on the spot, unless you want to be. It's a way to be present and feel like a kid again.

6. Smart Camera Challenges and Snapseed instruction

There will be photo challenges to awaken your attention, so bring your smart phone mainly to capture some fun and quirky art instructions given daily to help you see the creative possibilities everywhere. I'm also teach i-phone and Droid owners how to use the amazing photo app, Snapseed.No worries if you don't have one - we have back-up plans.

7. Evening Salons
Just like Mabel Doge Luhan did, we will have salons in the evening. You can bring readings, performances, art you've done, or share some of the art and writing that we do while we are there. Kate Mann and Mark Dudrow, local singer/songwriters will join us for an evening of song and stories about creative inspiration (brought back the 5th year because they dazzle people with their music)

8. Free time to Roam Through Taos
There will be time after lunch to walk just down the street to gift stores, salons, the Pueblo and all the character Taos has to offer. We will have dinner on Thursday evening at one of Taos' favorite restaurants.
9
. I know I keep mentioning

the Gourmet Meals

but they truly ARE a memorable draw and we sit around a table and bond. Wine from neighboring wineries is invited at your desire.
10. I WANT TO MEET YOU!
I keep coming back every summer (and winter) because of the energy of Mabel's, the quality of people who show up, the magic of TAOS, and I have to admit, I'm addicted to the food they serve - everyone asks for the recipes. When was the last time someone cooked you three gourmet meals a day... that are healthy AND delicious (including gluten-free, vegetarian options)? Mabel's is a popular, desired location. The cost is all inclusive: