Time: Dinner on Tuesday through lunch on Saturday


Where: Mabel Dodge Luhan House, Taos, New Mexico
Why? Why not?





Greetings Campers

!




If you went to summer camp as a kid, you already know that the experience of putting yourself in a new environment can be both empowering and inspiring. You can be whoever you want to be. You get to bond with other campers, expand your creative repertoire of ideas, restore your sanity — and sometimes— you create lifelong friendships in the process.





In adulthood, however, we often forget to take that time to turn-off and explore our creative sides like we did as children. We make professional contacts through networking events and conferences, but we often fail to make deeper connections with a tribe that "gets" us.




Guess what? Now you are invited to come to camp again OR for the first time, in the enchanted town of Taos, New Mexico. This time for the spirit of fun and creativity, even if you're an introvert like me.




Artist and illustrator/author, yoga teacher, performance poet, and creativity coaching trainer, Jill Badonsky, M.Ed., (that would be me) will take care of all the details, so just like a kid, all you have to do is show up for activities, eat DELICIOUS gourmet meals THREE times a day (not counting tea-time treats), go on a field trip into town and have fun for four nights and five days at the Mabel Dodge Luhan House in Taos, New Mexico. (Thursday we will imbibe in local flavor at Guadalajara Grill, an inexpensive, popular restaurant).




A few responses:
"I thought your workshop was going to be great - I just didn't know HOW great. I've been to tons of workshops and retreats, have facilitated some myself, and yours far exceeded any expectations I had. Your ability to help us open up, use our inner demons (and joy) to expand our creativity, and grow community in only 5 days is quite amazing."

~Marilyn Venegas, President at Look No Hands



"Wow, what can I say about an ordinary girl who thought she didn't have any creativity going to a "Creative Workshop!" In my mind, I would think "Are you crazy!" My journey through this workshop had opened a door to a world I would never have found. Thank you for unlocking my door."

~Nancy Fox



I'm still coming down from the high of the retreat. The place is without a doubt magical, but it would not be the same without Jill's careful shepherding of the group, holding space for tapping into the parts of ourselves where the gold is, along with all of the other things we carry, keeping us focused on moving through to a place of creative fire. This was a mining expedition, a simultaneous refilling of and pulling from the well. In so much gratitude for walking alongside Jill, as our mentor, and the multitudes of wonderful, brave and talented women with whom this week was spent, and all the ghosts of the past who continue to whisper as we gather in their collective spirit, "you are a maker, so make, make!" ~Adriane Giberson, Artist, Workshop Leader, Writer

"WOW!!! I feel a change in so many ways. I would not change a thing. Your gracious gifts you shared and the gifts of others will linger for a long time to come. 'WAY COOL' ;-)" ~Carol Baker

What you will get:

1. The Creativity Contagion - The creative activities you will get lost in are designed to unleash your passion about the creativity you love, learn to make more time for them, as well as turn you on to new methods of creating art, photos, and writing.

2. A Creative Voice deepened or awakened from your authenticity in collaboration with irresistible, odd-ball creative prompts that trick you into going places you may not have been before.

3. Easy Tools that make it easy to get started when you've been experiencing resistance, stifling perfectionism, fear, difficulty finding the time, being unfocused, or captivity to habits that don't serve your creativity. Permission to do bad art and writing to get through to the other side.


4. Proof you are creative even if you think you're not. If you're a writer you will find a new flow and discover yourself as an artist. If you're an artist you will find out how easy it is to discover words. If you are an artist you will discover new freeing techniques. If you are neither, you will have a bonanza of fun.

5. The Inspiration, Enchantment and Rejuvenation of being in Taos at Mabel's where many creative greats came to do the same. You will have space and time to wander creatively and physical in

6. A lot of Laughter and New Friends. My retreats attract authentic, down-to-earth, fun, unpretentious people. Several long-term friendships have started at these retreats including some of my own.

8. Pampering and nourishment with some of the most memorable gourmet healthy food of your lifetime. A cozy room with lots of character and views of the Taos plains and mountains.
8 More Reasons to Sign-up for Camp Creative Thunder:
Designed both so you have a finished product AND
a more liberated approach for both and living life:

1. Free Range Art, Doodling and Wobbly Watercolor painting
This painting experience is not only designed to give you a souvenir of Taos but the process will also get you out of your head, your resistance, fears, and your immobilizing perfection and into the child-like freedom of embellishing upon reality without the inner tyrant keeping you caged. We will do a variety of drawing exercises that are both a lot of fun and something you will want to keep.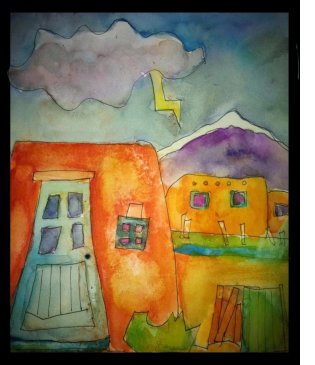 2. Intuitive Writing Under the Influence of Jill (and Mabel)
The Awe-manac: A Daily Dose of Wonder, The Muse is In: An Owner's Manual to Your Creativity and The Nine Modern Day Muses and a Bodyguard: 10 Guides to Creative Inspiration are Jill's prompts that make writing easy. She devises new ones annually (and some returning favorites) for this retreat.

Mabel is known for her audacious lifestyle and emphasis on art and writing. The Mabel Dodge Luhan house was a creative oasis for D.H. Lawrence, Willa Cather, Georgia O'Keefe, Ansel Adams, Dennis Hopper, Natalie Goldberg and countless other artists and poets. Come feel why - write among the nooks and crannies. Write using Jill's multi-media prompts, walks in the labyrinth and at the sculpture pond, we will even write at a local hang-out called Wired! Cafe.
3. Daily Yoga Melts
Morning yoga combined with the metaphor of creativity will not only melt tension from life's stresses, but also stretch you past limitations that keep you stuck in one position creatively. Jill has been teaching yoga since 1993 at corporations, hospitals, spas, and most recently for eight years at a military brig.This is gentle, wake-up to Taos-wonder yoga for anyone.

4. Improv Theater Games
Theater games are no brainer-way, no-scare to get back into your child-like self. We play them in groups so no one is on the spot, unless you want to be. It's a way to be present, to return to the fun of feeling like a kid again.

5. Smart Camera Challenges and Snapseed instruction

There will be photo challenges to awaken your attention, so bring your smart phone mainly to capture some fun and quirky art instructions given daily to help you see the creative possibilities everywhere. For an extra cost: I also teach smart phone owners how to use the amazing photo app, Snapseed and Waterlogue. No worries if you don't have one.

6. Evening Salons
Just like the wild woman, Mabel Dodge Luhan did, we will have salons in the evening. You can bring readings, performances, art you've done, or share some of the art and writing that we do while we are there. Kate Mann and Mark Dudrow, local singer/songwriters will join us for an evening of song and stories about creative inspiration (brought back the 5th year because they dazzle people with their music)

7. Free time to Roam Through Taos
There will be time after lunch to walk just down the street to gift stores, salons, the Pueblo and all the character Taos has to offer. We will have dinner out one evening at one of Taos' favorite restaurants to get a feeling of the local flavor.
8. Because I want to meet my tribe
You may want to do that too. There's nothing like a bunch of creative type people (or even people who don't think they are creative but want to be) gathering together to immerse ourselves in the process. This is a non-competitive, non-pressure, non-comparison environment.
I keep coming back every summer (and winter) because of the energy of Mabel's, the quality of people who show up, the magic of TAOS. Mabel's is a popular, desired location. The cost is all inclusive:
Three meals a day (except one night out).

Accommodations in one of Mabel's endearing rooms for four nights and five days (a really good deal): Note when you go to the site- all rooms are reserved - I assign rooms, first come first serve.

Some materials for art and craft workshops


Yoga classes

A personal concert from local singer/songwriter, Kate Mann and cellist, Mark Dudrow (always the one of the hits of the retreat!)

Trinkets and surprises to take home.
Taos fills up quickly so if you want to join us, jump in. I limit it to 16 people to keep it intimate. Rooms are assigned on a first come basis when you register; (you can't reserve them on-line so don't try ;).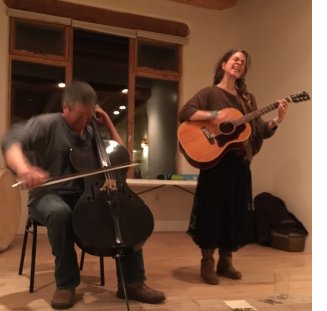 The retreat begins with an optional class at 4:30pm Tuesday night for an informal welcome before our 6pm dinner and goes through lunch Saturday at 12pm. (If your travel plans make it difficult to be there at 4:30, just try to make it for dinner).

This is for 5 days and 4 nights.. divide the cost by 4 and you'll see what a deal it is. This is a historical landmark and a highly desirable destination. Dinner is catered by gourmet chefs that keep health in mind and are a $35 value included in your cost- and WORTH it


Single Room with Private Bath $380 x 4


Double Room with Shared Bath $355 x 4



PAID in FULL
Companion who's not in the Workshop but joins us at meal time $650 Includes three meals a day except for the night we go out, and four nights with companion. Plus the concert and salons in the evening which are great fun.

OR FOUR PAYMENTS
Companion who's not in Workshop $157.50 x 4 Includes three meals a day except for the night we go out, and four nights board with companion. Plus the concert and salons in the evening which are great fun.

Commuter Rate: Also available if Mabel's is full.

Additional Services Limited to 4 people:
One-on-one smart camera instruction $35 (45 minutes)
Pair up with someone for smart camera instruction $17.50 a piece
Creativity Coaching session with Jill 45 minutes $55 (regularly $125)


PAID in FULL





OR FOUR PAYMENTS





Also available:

Retreat without lodging but with gourmet meals: inquire at info@themuseisin.com
IF YOU HAVE TO CANCEL

If you cancel after March 30 and we can fill your place, we will refund everything minus $150. If we cannot fill your spot, we cannot refund any monies due to our contract with the Mable Dodge Luhan House.

Payment Terms
Refund less $50 by March 30, 2019

After that partial refund only if space is filled.
Balance due 8 weeks before retreat.
Some exceptions may apply
Travel arrangements:
To get to Taos you can fly into Albuquerque and take a shuttle
but often rental cars are almost as reasonable as shuttles in New Mexico so you may want to check into that. People team up and share the cost.
Mabel's is walking distance to the center of Taos.
Also, many people return around the same time to Albuquerque so may be able to get a ride back.