Follow our craft beer adventures...
Get your early-bird discount tickets before March 1...
- We thank these fantastic businesses for their support of Brewtopia...

- Savannah Craft Beer Guide

By Owen Ogletree

Article published originally in Southern Brew News.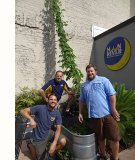 Savannah, Georgia in 1986:
No brewpubs, no breweries, no craft beer bars. With this picturesque and historic coastal city's Celtic heritage, many visitors often remarked that Savannah would be an ideal spot for a few traditional pubs. Alas, about the only option 30 years ago was
Kevin Barry's
Irish pub on touristy River Street that sold
Guinness
alongside a limited variety of bland lagers.
Savannah in 2016: The city houses an award-winning brewpub, three craft microbreweries and some of the finest craft beer bars in the state. Still crave a Celtic theme? Savannah now boasts English-style pubs and a Scottish tavern. Even the patrons at Kevin Barry's can now enjoy a variety of craft beers to sip during live Irish music.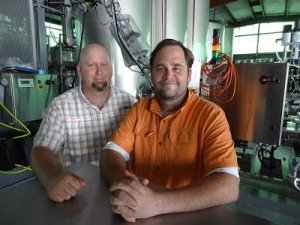 - Classic City Brew Fest Early-Bird Discount Tickets Go Up on March 1!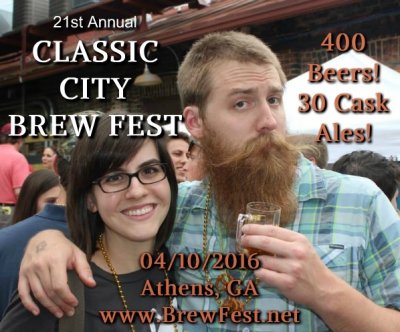 400 World-Class Beers, 30 Unique Cask Ales & Live Music for only $39.99?

Nope, we're not crazy, but tickets do increase to $43.99 on March 1!
Meet local craft beer celebs!
Every ticket is a VIP ticket!
No long beer lines - tickets sales are limited!
Join us on April 10 and see why so many people call the

the BEST craft beer event in the Southeast!


2016 Brew Fest ticket buyers get a FREE one-year, online subscription to Beer Connoisseur - a $15 value!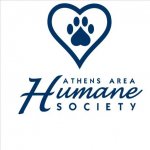 - FIVE POINTS BOTTLE SHOPS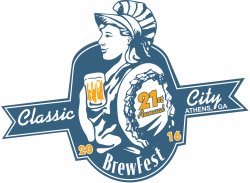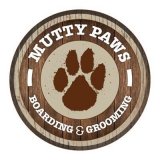 Mutty Paws sponsors the Brew Fest's draft patio!
- 2016 Atlanta Cask Ale Tasting Winners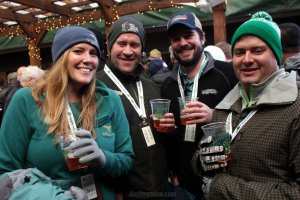 Even though last January's Atlanta Cask Ale Tasting went on without a hitch, fear of icy roads forced us to cancel our traditional early morning expert judging panel this year. The winners below are based solely on votes by attendees for their favorite cask of the day. The casks this year were absolutely jaw-dropping, and every beer received multiple votes...


FIRST PLACE SPECIALTY BEER: Cherry Street O.A.S.I.S. (Old As Sh** Imperial Stout). This 10.1% ABV ale was made originally for our brewer Chris' 40th birthday and contains sarsaparilla whiskey-soaked cocoa nibs and vanilla beans, with cherries and extra vanilla beans added to the cask.
SECOND PLACE SPECIALTY BEER: Wrecking Bar Almond Joy Jemmy Stout is our Jemmy Stout cask-conditioned on toasted almonds, coconut and cacao nibs. The chocolate and roasted malts of the base beer support layers of decadent flavors.
THIRD PLACE SPECIALTY BEER: 5 Seasons Prado Hot Nuts Scotch Ale. The beer's complex malt character is enhanced with toasted pine nuts and Moroccan spices during secondary fermentation in the cask. The subtle spice and pine notes create an appealing allure in this malty, 8.5% ABV ale.
FIRST PLACE CLASSIC STYLE: Wild Heaven Blackberry is Not a Planet Either- An extremely rare wild ale fermented with Drie Fonteinen Brettanomyces, then aged in Bordeaux barrels for 16 months with 40 pounds of blackberries per wooden barrel.
SECOND PLACE CLASSIC STYLE: Blue Tarp Last Place Stout aged in a bourbon barrel from Independent Distilling in Decatur, GA. This big, bold imperial stout is as black as night, with hoppy bitterness and rich coffee notes up front that fade into a delicate, dark chocolate sweetness. 11.3% ABV.
THIRD PLACE CLASSIC STYLE: JailHouse "I Was With Peaches!" Alibi Alewith peaches, vanilla, cinnamon and nutmeg. Alibi is our elegant and quaffable cream ale brewed with Georgia stone ground grits.
PEOPLE'S CHOICE WINNER: Machupu's Coffee MAZURT RIS. His report was due. Machupu needed coffee but also craved a big beer. MAZURT stepped in with their super tasty blend of brandy and whiskey barrel-aged Russian imperial stout heavenly infused with deep roasted high-grade Kenyan coffee, Vermont grade-B maple syrup, Madagascar vanilla, organic Peruvian cocoa nibs and GA wildflower honey. He should have been fired for missing the deadline, but after sharing his MAZURT with his bosses, Machupu received a promotion and the coveted corner office. Machupu is a Kenyan name for "one who likes to drink." 13.6% ABV. Guest brewed at Burnt Hickory.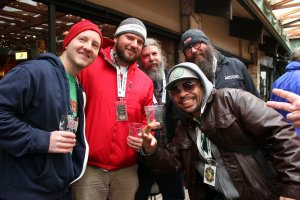 ACAT was a spectacular event!

- Brewtopia's Beer Trips are the BEST!


Many of you followed the posts from our recent Brewtopia beer journey to Italy with a hint of jealousy. The group traveled from Rome to Florence to Milan, hitting all the best craft breweries and brewpubs in the region. Italian craft beer is on fire, so watch for photos and a report in the next Brewsletter!

If you are jealous and ready for a world-class beer trip, why not come along with Owen Ogletree in October to Belgium? This is our most popular beer trip ever, and only eight slots remain. Come along, relax, enjoy great company and amazing beer, and let Owen take care of all the planning and logistics. Similar trips go for over $3000!



BREWTOPIA'S "BEST OF BELGIUM" TRIP


$1495 per person (double occupancy - airfare not included) - add $299 for a single room - Our most popular trip! Sign up here.

We will stay at a nice hotel in central Brussels each night and take our charter bus out to the different corners of the country each day.

Brussel's best beer pubs will highlight our evenings.

Our TWO-DAY sour lambic adventure includes Cantillon, Oud Beersel, 3 Fonteinen, De Cam, lambic cafes, the De Lambiek Visitors Center and MORE.

Journey to Bosteels, Duvel, Orval, Achouffe and Westmalle.

Savor Trappist ales at Westvleteren, lunch at the amazing Hommelhof gastropub for beer cuisine, and visits to the new Bruges Beer Museum and Bruges' best beer bars.

St. Feuillen, Dupont, Dubuisson are all possibilities.

Adventure into the Ardennes to experience Orval, Brewery InterPol and Achouffe.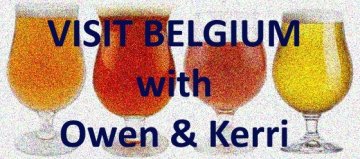 -

CraftBeer.com

's Great American Beer Bars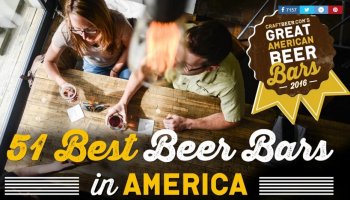 With more than 4,100 small and independent craft brewers operating in the country, there are more options than ever to enjoy great beer. To help beer lovers navigate their way to the best places they can take advantage of this phenomenon, CrafBeer.com -- the Brewers Association website for beer lovers -- recently polled readers for its annual Great American Beer Bars competition. New this year, a winner has been named in all 50 states and

Washington D.C.
"CraftBeer.com readers know craft beer and 9,000 of them took the time to cast their vote rewarding their favorite beer bar in each state," said Julia Herz, publisher of CraftBeer.com. "Cheers to each of the winners and the ever-increasing diversity of our local beer movement here in the U.S."
- Temptations from Terrapin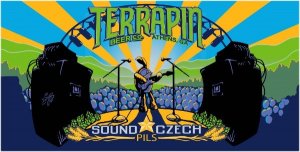 Exciting beers are in the works at Terrapin Beer Company in Athens, GA. Sound Czech Pilsner, featuring Czech Saaz hops and pilsner malt, becomes available year-round in 12 ounce cans. Hop Selection also returns in four packs, this time featuring the single hop Vic's Secret - a new Australian hop named after the state of Victoria, not the lingerie store.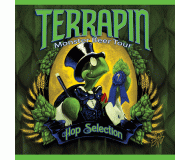 Be sure to check out Hopsecutioner Tangerine Lemon - a draft-only special treatment of Hopsecutioner. Finally, Terrapin's Single Origin Coffee Stout Jittery Joe's collaboration hits shelves in four packs with a bottle each of Guatemalan, Hawaiian Kona, Ethiopian Hambela and Sumatran Wahana coffee accents.



- Southeastern Craft Beer Spotlight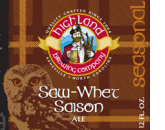 Highland Brewing Saw-Whet Saison Ale

This farmhouse ale boasts a malt bill that includes Bolander Munich, pils, white wheat and caramel 60. The complex malts blend with Summit and Ahtanum hops, along with a spicy, Belgian-style yeast to create a dry, crisp, citrusy ale that pairs well with Thai food and roasted chicken.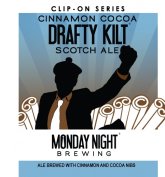 Monday Night Cinnamon Cocoa Drafty Kilt

An elegant character of cocoa nibs balances a mild malty, fruity, chocolately character that ends in a slightly sweet, tongue-coating, pleasing mouthfeel. Hints of cinnamon enhance the dark malts and light fruity esters, creating a delicious, satisfying, complex, dark ale.




Southbound Clusterflies

This beer ranks as a Belgian-style saison aged in red-wine barrels. The fruity, spicy saison character melds well with grape-like tannins from the barrels and creates a unique marriage of clove, citrus, malt and merlot notes. This beer would be a delight alongside a dish of lamb stew.






Starr Hill Little Red Roostarr

A medium-bodied, creamy, slightly sweet milk stout that contains coffee from Red Rooster Coffee Roasters in Floyd, VA. This black ale offers notes of cocoa, crystal malts, light espresso and mild fruity esters. Try a bottle with a plate of pork enchiladas or Camembert cheese.




SweetWater Hash Session IPA


This 4.2% ABV session ale utilizes the resiny, sticky hop oil and fine hop leaf residue from hop pelletizer machines to create a light, sessionable ale that packs an appealing, earthy, slightly piney hop character balanced by a mild malt background. Hopheads can get their lupulin fix without the beer going to their heads.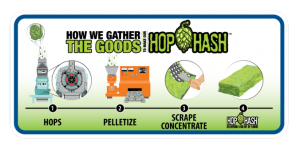 - Brewsletter Beer of the Month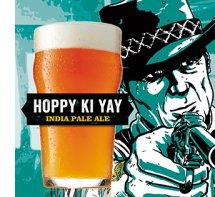 LONERIDER


BREWER'S NOTES:

India Pale Ale
OG: 14.6 Plato (1.060 OG)
IBU: 76; SRM: 5.7
ABV: 6.6%

We've rounded up some great malts and hops for Hoppy Ki Yay, our year round IPA. This straw-colored ale is hopped with piney, citrusy Columbus and Amarillo and rounded out by a mild body from the juicy malt backbone.




03/05/2016 - TINYPALOOZA craft beer celebration at Lincoln Fill Station in Snellville, GA. Website.
04/09/2016 - TERRAPIN'S 14th ANNIVERSARY FEST at their Athens brewery.
04/10/2016 - CLASSIC CITY BREW FEST, Athens, Georgia. Get your TICKETS today before the March 1 price increase!
- Like Brewtopia Events on Facebook & Follow on Twitter

CLICK HERE and hit the Brewtopia Events "like" button on Facebook to see live photos and news posts as we sip, quaff and sniff craft beer around the world.

Also follow Brewtopia Events on Twitter.
COMING UP...
.
Owen Ogletree and Mark Hall jump across the pond to check out the CAMRA Bristol Beer Festival and SIBA BeerX in Sheffield, UK.
Owen and Nick Allen head out a beer road trip on March 25 from Georgia through Baltimore, Richmond and Philadelphia.