DKI APCSS workshop a step in evolution of regional MARSEC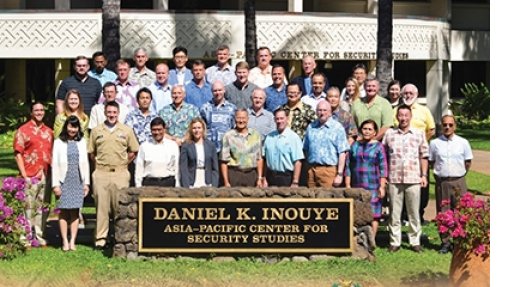 Thirty academic and defense education leaders from 12 nations gathered at the Daniel K. Inouye Asia-Pacific Center for Security Studies for a Feb. 3 to 5 workshop to help the Center's faculty form a maritime security cooperation course. DKI APCSS conducted the event titled "Maritime Security Cooperation: Engagement through Education" in response to the U.S. government's increasing emphasis on building international cooperative capacity for shared maritime security. The workshop served as the first step in development of a curriculum that will facilitate a common understanding of the Asia-Pacific region's maritime issues and promote collaboration among the region's security practitioners. To read more, click here.

Center honors Alumnus and Alumni Association of Year
| | |
| --- | --- |
| | Police Col. Zaw San (pictured at left) is DKI APCSS' Alumnus of the Year for 2015. Zaw San is recognized for his role in developing the security plan for Myanmar's first open elections at the national level in more than five decades. The colonel used lessons learned in CCM 15-1 to enhance the nation's security plan, leading to safe elections despite internal and external concerns about potential violence. To read more, click here. Mongolia earned the Center's 2015 Alumni Association of the Year award. Among its noted achievements are co-hosting several DKI APCSS workshops on issues such as transnational security challenges and peacekeeping. The association also assisted Mongolia's government in formation of its National Security Concept, Foreign Policy Concept and National Defense Policy. To read more, click here. |
Crisis management course in session at DKI APCSS
| | |
| --- | --- |
| One hundred twenty Fellows are attending the Comprehensive Crisis Management course (CCM 16-1) in session from Feb. 11 to March 16. CCM focuses on developing leader skills in areas such as understanding crisis complexity, strategic assessment, cooperation and collaboration, and communication. Offered once a year, the course is ideal for practitioners whose current or future responsibilities lie in the field of crisis management, response and recovery. Pictured at right is Adriane Duaine, who instructed Fellows in "Civil-Military Coordination During Crises." Duaine is with the Center for Excellence in Disaster Management and Humanitarian Assistance, Joint Base Pearl Harbor-Hickam. | |
Center welcomes two new faculty members
Dr. Imes Chiu and Dr. Deon Canyon are the newest members of the DKI APCSS faculty. The two join other faculty members in leading plenary topical discussions, conducting elective courses and serving as seminar facilitators for in- resident courses and regional workshops. Chiu brings 20 years of professional and academic experience related to stability and support operations in the United States and Asia. Canyon brings knowledge in crisis management, humanitarian action and disaster risk reduction with a particular emphasis on public health issues, to include vector-borne diseases and bioterrorism. To read more, click on Chiu or Canyon.


Faculty publications and media
U.S. Navy Cmdr. Jonathan Odom

has a new opinion piece in

The Diplomat

entitled: "FONOPs to Preserve the Right of Innocent Passage?" Odom looks at the U.S. Freedom of Navigation (FON) program and reviews other recent commentaries on the subject, especially in relation to "innocent passage."



U.S. Army Lt. Col. Thomas Matelski

published a commentary titled "America's Micronesia Problem" in the

The Diplomat

. The article addresses the implications of non-renewal of the Compact of Free Association between the Federated States of Micronesia and the United States. It also provides a background on this relationship and how it came about, and outlines possible consequences of the association coming to an end.

Our latest edition of Currents magazine, published Dec. 11, 2015, is available here.
If you have a new e-mail address, please update your subscription to ensure you are getting the latest DKI APCSS updates. Mahalo.
If you have any questions please contact the editor at hallj@apcss.org

.