Follow our craft beer adventures...
Get your tickets today...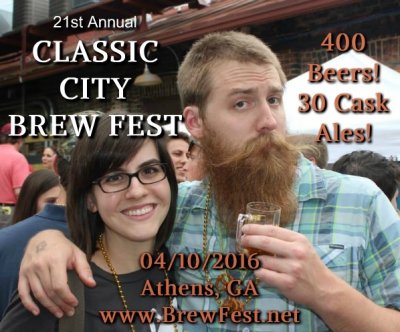 400 World-Class Beers, 30 Unique Cask Ales & Live Music!
There's no way you can miss this!
TOP TEN REASONS NOT TO MISS THE 21st CLASSIC CITY BREW FEST...
10. It's a benefit for the Athens-Area Humane Society.
9. It's the most friendly, fun and atmospheric beer fest anywhere.
8. A phenomenal range of around 400 of the best beers from around the world.
7. Exclusive Cask Ale Pavilion with almost 30 special cask ales - sponsored by Catch 22 Gastropub. The casks alone are worth the ticket price!
6. Super special beer treats that will blow you away!
5. Live music from Athens' own The Big Smooth.
4. Every ticket is an all-access VIP ticket!
3. The event is spread around all areas of the gorgeous Graduate Hotel Athens and Foundry music hall.
2. It's the culmination of Athens Beer Week.
1. It's one of the Southeast's longest-running and most loved beer festivals.
Join us on April 10 and see why so many people call the

the BEST craft beer event in the Southeast!


GET TICKETS BEFORE THEY SELL OUT
!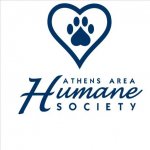 - FIVE POINTS BOTTLE SHOPS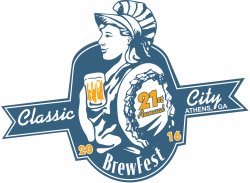 Sunday, April 10

Graduate Hotel & Foundry Music Hall

Downtown Athens, GA

Discounted hotel rooms are available at The Graduate Hotel on the night of the Brew Fest. CLICK HERE.
- Athens Beer Week Update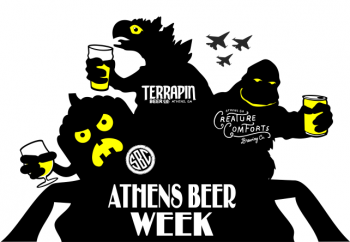 Athens Beer Week is an exciting seven days of spring beer events in the beautiful college town of Athens, Georgia on April 4-10. Come out and support local craft beer! Enjoy brewery tours, beer dinners, craft beer celebrations, special tappings and MORE during Athens Craft Beer Week that culminates on Sunday, April 10 with the 21st annual Classic City Brew Fest!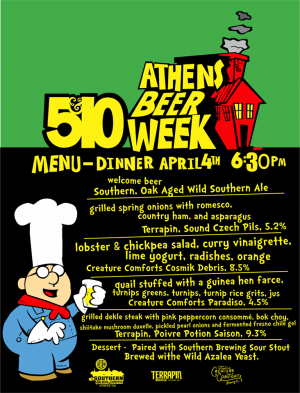 List of Athens Beer Week events so far...

MONDAY, 4/4


06:30 PM - FIVE & TEN / TERRAPIN, CREATURE COMFORTS & SOUTHERN BREWING Blow-Out Beer Dinner to kick off Athens Beer Week. Food by chef Hugh Acheson! Call 5&10 at (706) 546-7300 for reservations.

BLUE SKY pint night with Monday Night Brewing.

BRIXX PIZZA - $1.95 craft drafts (23 taps) all day long.


TUESDAY, 4/5


BRIXX PIZZA - $3 local drafts (13 taps) all day long.

05:00 PM - CREATURE COMFORTS brewery tour.

06:30 PM - Optional preview VOLUNTEER meeting for the Classic City Brew Fest at Trappeze Pub.

08:30 PM - HI-LO LOUNGE Terrapin trivia with host Caitlin Wilson. Vintage French Toast Wake-n-Bake, a special cask and other Terrapin drafts. Schwag and tickets to the brewery will be given out throughout trivia.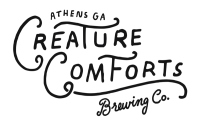 WEDNESDAY, 4/6


05:00 PM - CREATURE COMFORTS brewery tour.

05:30 PM - TERRAPIN brewery tour.

06:30 PM - TRANSMET West (on Oglethorpe) Beer Dinner and tap takeover with Southern Brewing Company.

THE PINE - Monday Night Brewing pint night and food pairings.


THURSDAY, 4/7


04:00 PM - HI-LO LOUNGE Reformation Brewery tap takeover.

05:00 PM - CREATURE COMFORTS brewery tour.

05:00 PM - SOUTHERN BREWING COMPANY tour.


05:30 PM - TERRAPIN brewery tour.

06:30 PM - TRAPPEZE PUB taps amazing Terrapin barrel-aged beers.

06:00 PM - HI-LO LOUNGE Reformation tap takeover.

07:00 PM - CHOPS & HOPS JailHouse Brewing / Southern Brewing Company dinner.



FRIDAY, 4/8


11 AM - 4 PM - THE PINE offers Terrapin pints and taco specials.

01:00 PM - TERRAPIN brewery tour.

04:30 PM - SOUTHERN BREWING COMPANY cookout with Chops & Hops at the brewery. Live music from Scarlet Stitch, special brews and grilled items from Chops & Hops.

05:00 PM - CREATURE COMFORTS brewery tour.



SATURDAY, 4/9


11:00 AM to 01:00 PM - Catch 22 Beer Brunch - 3 courses, 4 beers, $35.

12:00-04:00 PM - SOUTHERN BREWING COMPANY. Crawfish boil & pig picking with Champy's Famous Fried Chicken at SBC.


01:00 PM - CREATURE COMFORTS brewery tour.

04:30 PM - TERRAPIN 14th Anniversary Fest at the brewery with live music and special brews. A benefit for Nuci's Space.

SUNDAY, 4/10


12:00 PM - SOUTH KITCHEN & BAR Brunch.

02:30 PM - 21st annual CLASSIC CITY BREW FEST, Graduate Athens Hotel. 400 beers to sample, Cask Ale Pavilion and live music!


06:00 PM - POST-BREWFEST GATHERINGS at COPPER CREEK brewpub and TRAPPEZE PUB. HI-LO LOUNGE will offer beer-related food specials and $1 off all drafts. BRIXX PIZZA will tap Bell's Hopslam after the festival and offer BOGO pizzas with a Classic City Brew Fest ticket.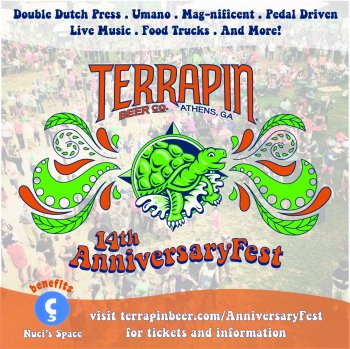 - Southeastern Craft Beer Spotlight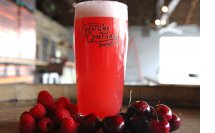 Creature Comforts Athena Paradiso with cranberry, cherry & raspberry

This Berliner Weisse ranks as a fruited treatment of regular Athena dosed with real fruit puree during fermentation. This brew is superbly refreshing, with impressive fruit notes backed by clean, lactic sourness. It's craft beer and yummy fruit antioxidants - all in one can!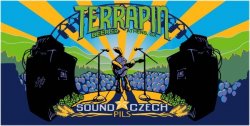 Terrapin Sound Czech Pils
An elegant, quaff-able golden lager loaded with noble Czech Saaz hops and pilsner malt. A world-class Bohemian-style pilsner. Sound Czech is now available year-round in 12 ounce cans.

Starr Hill Daily Grind

This piquant saison contains a mild dose of peppercorns, providing enhanced aromas and flavors of citrus and earthy spice. 6.2% ABV with wheat and Munich malts and Saaz and East Kent Goldings hops.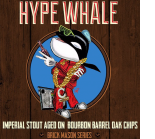 Red Brick Hype Whale

This rich, 10% ABV imperial stout offers balanced notes of dark cocoa and espresso beans with a pleasant bourbon oak character, achieved by aging the beer for months on chipped bourbon barrels prior to bottling.




- I Feel The Need, The Need for MEAD

Owen Ogletree gathered fellow beer lovers Sachin Patel, Ian Meents, Ashton Smith, Dean Graves, The Beer Wench, Mark Hall and Lizz Berstein to sample and comment on ten different meads. Meads are a type of wine made from fermented honey, and they offer a surprising range of aroma and flavor components...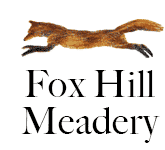 1. Fox Hill Meadery Special Reserve
Marshall, NC
Off-dry with buckwheat honey, 16% ABV
- Offering a deep amber, bourbon-like color, this mead provides hints of cereal, spicy rye, honeycomb, alcohol, golden raisins and toast with butter and honey. With a rich, honey flavor with hints of cinnamon, sherry and apricot jam, this selection comes across as warming but not extremely complex.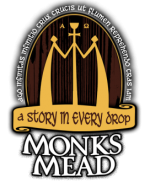 2. Monks Mead
Avondale Estates, GA
Carbonated mead with wildflower honey, 12.9% ABV
This local mead contains a hint of CO2 sparkle and is a bit reminiscent of a light sparkling wine in the aroma. Notes of cane syrup, muscat grapes, demi-sec champagne and slight spices give way to a somewhat bitter, but pleasant, finish. Color is golden, and the mead is quite clear.


3. St. Ambrose Meadery Rosé Ambrosia
Beulah, MI
Medium-dry with 33% grapes, 67% honey, 12% ABV
This mead pours a deep ruby red color with aromas of Pinot grapes, butter and grape jam on toast. Sweet red wine notes on the palate lead into an overall character of mixed berries, jam, red currants and pomegranate.


4. Redstone Meadery Pumpkin Nectar
Boulder, CO
Melomel with pumpkin, 8% ABV
The nose picks up French vanilla, clove, plastic, higher alcohols and light solvents. Flavor notes of nori seaweed and phenolic honey produce a unique profile in this clear, light straw colored mead.


5. Preissl Neuburger Met Extra Spezial
Imkermeister Preissl - Neuburger, Austria
Mead with cherries, 13.5% ABV
Chosen as SECOND PLACE (tie) by our panel.
This mead offers deep, dark amber/copper hues that are almost brown. Aroma and flavor tones of oak, wood, brown sugar, sorghum, vanilla, sweet port, dark cherries, nuts and papaya make for an extremely complex, satisfying dessert mead.


6. Nectar Creek Honeycone
Corvallis, OR
Hop session Mead, 6.9% ABV
There's a definite hoppy note and resiny hop profile to this slightly earthy, medium-sweet mead with flavors of floral hops, kiwi, light tropical fruit and mild hop bitterness. Quite quaff-able and refreshing. It sports a pale straw color with a hint of fizz.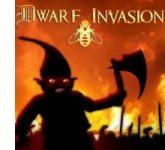 7. B. Nektar Dwarf Invasion
Ferndale, MI
Cherries and hops, 6% ABV
Chosen as SECOND PLACE (tie) by our panel.
Slight sour cherries and hops highlight the rustic fruit wine character of this mead, along with notes of strawberries and a clean, lactic acidity. Hops come through more in the aroma than the flavor in this dark red honey wine.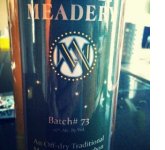 8. Alaska Meadery Batch #73
Anchorage, AK
Clover honey mead, off-dry, aged in bourbon barrels for nine months, 15% ABV
Chosen as THIRD PLACE by our panel.
This mead is packed with flavors of honey, vanilla, oak, alcohol, butter, clove, nutmeg, biscuit crust, rum and clover flowers. The appearance is clear, golden and attractive, and the overall impressive seems like a vanilla butter cookie dipped in honey.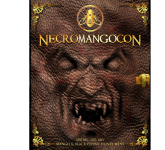 9. B. Nektar Necromangocon
Ferndale, MI
Mango, black pepper, 6% ABV
Chosen as FIRST PLACE by our panel.
Mango, black pepper, cantaloupe, peppercorns and honeysuckle nuances highlight the lingering, pleasant pepper zing of this light golden mead with just a hint of carbonation. Also look for notes of blood orange zest and pine turpentine.


10. B. Nektar Black Fang
Ferndale, MI
Blackberry, clove, orange zest, 6% ABV
Notes of clove, ozone, sulfur and fruit mingle in the earthy aroma. Flavors of sangria, blackberries, gunpowder and rose hips are balanced by hints of black cherries, smoke and light citrus. This warming mead offers ruby/garnet hues and is brilliantly clear.



- Brewsletter Beer of the Month

04/04/2016 - 5&10 ATHENS BEER WEEK KICK-OFF DINNER with Terrapin, Southern Brewing and Creature Comforts. Call 5&10 at (706) 546-7300 to reserve your spot(s).
04/09/2016 - TERRAPIN'S 14th ANNIVERSARY FEST at the Athens brewery.
04/10/2016 - CLASSIC CITY BREW FEST, Athens, Georgia. Get your TICKETS today!
04/16/2016 - CREATURE COMFORTS 2-YEAR ANNIVERSARY TOUR. 14+ special beers at 1 pm.
- Like Brewtopia Events on Facebook & Follow on Twitter

CLICK HERE and hit the Brewtopia Events "like" button on Facebook to see live photos and news posts as we sip, quaff and sniff craft beer around the world.

Also follow Brewtopia Events on Twitter.
COMING UP...
Owen and Nick Allen head out a beer road trip on March 25 from Georgia through Baltimore, Richmond and Philadelphia. Watch for photos and beer reviews!