Follow our craft beer adventures...
Get your tickets today...
- CASK Lineup for Classic City Brew Fest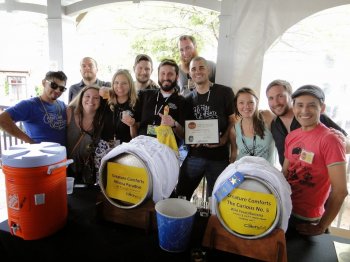 Here's the mouth-watering list of unique cask ales coming up at April 10's CLASSIC CITY BREW FEST in Athens, GA. You can't miss this! Please make plans to join us!

First 100 to use promo code TINY get $5 off!

Black Diamond Mogaltra - An intense West Coast IPA dry-hopped with an obscene amount of Mosaic, Galaxy and Citra. 6.3% ABV, 70 IBUs.
Blue Tarp Brett IPA - A new, funky, hoppy ale fermented with 100% Brettanomyces yeast and dry-hopped with Calypso in the cask.
Burnt Hickory Feeling Gravity's Pull. A 10% ABV, boisterous take on our Big Shanty graham cracker stout. With maple bacon coffee seared with a hit of habanero, this ale is a tribute to a song by Athens rock legends R.E.M.
Cedar Creek Dankosaurus IPA was created with dinosaur bones. After some serious science, we discovered that this type of dinosaur ate grapefruit and pineapple. So, we decided to dose this cask with grapefruit and an experimental hop that imparts pineapple notes. Meet the "Dankfruitahops!"
Cherry Street Belgo Ruskie Imperial Stout. Fermented with Belgian abbey yeast, aged in rye whiskey barrels for 11 months, and then dosed in the cask with rum-soaked oak spirals and vanilla beans. 9.5% ABV.
Coastal Empire Coco Piña Gose is a tropical take on the cult-classic, sour German Gose style brewed with pineapple, coconut, pink Himalayan salt and sea salt.
Creature Comforts Double Koko Buni (8.7% ABV) is a rich, velvety, indulgent imperial milk porter with toasted coconut, cocoa nibs, 1000 Faces coffee and vanilla. Decadent, yet balanced.
Eagle Creek River Street Praline Brown Ale. This Classic City Brew Fest cask ale has been aged in bourbon barrels with Madagascar vanilla, hazelnuts and maple syrup.
Eventide Fruit Kölsch-Tail - Eventide's authentic Kölsch made with fresh mango, papaya, banana, pineapple and strawberry. The perfect way to kick off spring!
Fannin Brewing Farmhouse Toccoa Brown Ale aged in a red wine barrel from Cartecay Vineyards with a dose of succulent Greek figs.
Fonta Flora - This extra special cask will be announced soon.
JailHouse Mr. McGee says "Hold on to Your Raspberry." Hints of pineapple and spice, and a punch of tart raspberry highlight this fruited cask of Saison Reprieve. Keep it guarded.
Max Lager's Hopsplosion!!! IPA - We stuffed this special cask full of Azacca, Citra and Galaxy dry-hops to make your hop-head explode! 8.1% ABV, 100 IBUs.
Monday Night Brett Michaels is our award-winning, malty Drafty Kilt Scottish ale aged with Brettanomyces yeast for an unexpected funky, earthy complexity.
Moon River Wild Georgia Belgique IPA (8.9% ABV) - After a four-month metamorphosis in barrels with Brett Trois, Georgia Belgique emerged with strong notes of tropical funk that intertwine with hoppy, floral, citrus flavors.
Red Brick Hoplanta IPA dry-hopped with Nelson Sauvin hops and blackberries for a bright, tart, tropical flavor twist.
Red Hare Cafe au Coconut is our Long Day Lager infused with cold-brewed coconut coffee. This beer offers an extremely smooth mouthfeel with a blast of coffee flavor and hints of coconut.
Reformation Pinot Noir-Aged Cadence with golden raisins and dates. Rich dark fruits and complex caramel notes mesh with oaky, fruity and dry Pinot Noir flavors.
Second Self Maverick & Gose - A sour, salted golden ale dry-hopped with tropical Wakatu hops and infused with papaya and kiwi fruit for additional tropical flavors and acidity.
Service Brewing Compass Rose with organic pineapple (6.6% ABV) - A refreshing IPA with intense aromas of grapefruit and pear, this special cask was conditioned with a whole organic pineapple. It finishes with notes of passion fruit, orange peel and bold pineapple.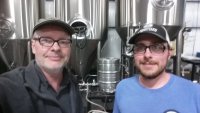 Southern Brewing's Owen's Citra-licious Session IPA - A collaboration ale made with Classic City Brew Fest founder/director Owen Ogletree, this quaffable, hoppy, 4.2% ABV golden ale contains English 2-row malt, cara-pils, wheat and 100% Citra hops.
Southern Sky Frosted Orange Varsity is a cream ale fermented with lactose and orange peel. This cask is then conditioned with vanilla and even more orange peel for a delicious finish.
SweetWater Wake Up Pils - German-style pilsner infused with light roasted coffee (a type of blonde roast). Pours golden in color with a subtle coffee aroma and flavor.
Terrapin Cherry Rhubarb Pie - We took our Terrapin 14-year anniversary tart Belgian red ale and added cherry and rhubarb juice for a uniquely fruited cask.
Thomas Creek Deepwater Dopplebock is our full-bodied, German-style dark lager with rich, creamy flavors, roasted nut tones and hints of coffee and chocolate. This rare cask was conditioned with Reese's Peanut Butter Cups!
Three Taverns Kick In The Head is our 10.5% ABV Old Ale matured in Pedro Ximenez sherry barrels for deep layers of earthy, malty, alcohol complexity.

Twain's Galactic Flight Double IPA. Taste upon this juicy, 8% ABV hop rocket as you blast off into another galaxy! Big aromatics of Galaxy and Falconer's Flight dry-hops make this cask a hop-lover's delight.
Wild Heaven Oud Bruin has been aged in Bordeaux barrels for a year and then re-fermented in the cask firkin with Westmalle Trappist ale yeast. 10% ABV.
Wrecking Bar Neopolitan Jemmy Stout - Our decadent and chocolate-forward Jemmy Stout cask-conditioned on toasted cacao nibs, Tahitian vanilla beans and strawberries.
400 World-Class Beers, 30 Unique Cask Ales & Live Music!
Join us on April 10 and see why people call the

one of the BEST craft beer events in the Southeast!


GET TICKETS BEFORE THEY SELL OUT
!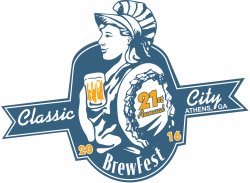 Sunday, April 10

Graduate Hotel & Foundry Music Hall

Downtown Athens, GA

Discounted hotel rooms are available at The Graduate Hotel on the night of the Brew Fest. CLICK HERE.
Along with a ton of other SPECIAL TREATS,

here are just a few of the 400 amazing beers at our Classic City Brew Fest on April 10...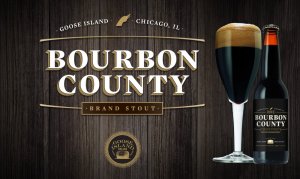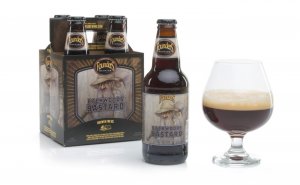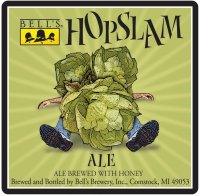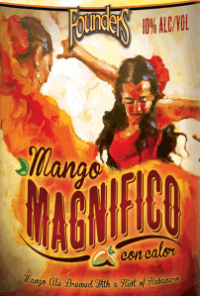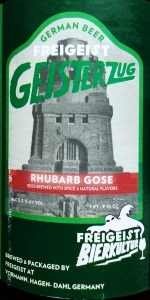 Premier of Freigeist Rhubarb Gose

from Germany!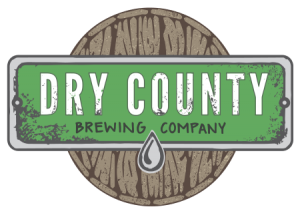 The Roll-Out of Dry County's Beers in Athens!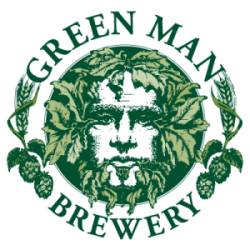 Green Man Finally Makes it to Athens!

- FIVE POINTS BOTTLE SHOPS
- MUTTY PAWS BOARDING & GROOMING
- Athens Beer Week Update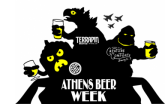 Athens Beer Week is an exciting seven days of spring beer events in the beautiful college town of Athens, Georgia on April 4-10. Enjoy brewery tours, beer dinners, craft beer celebrations, special tappings and MORE during Athens Craft Beer Week that culminates on Sunday, April 10 with the 21st annual Classic City Brew Fest!





SPECIAL EVENTS FOLLOWING THE CLASSIC CITY BREW FEST ON SUNDAY, APRIL 10...
TRAPPEZE PUB will be tapping rare beers all evening.

COPPER CREEK brewpub will offer house flights and tasty menu items.

HI-LO LOUNGE serves up beer-related food specials and $1 off all drafts.

BRIXX PIZZA will tap Bell's Hopslam after the festival and offer BOGO pizzas with a Classic City Brew Fest ticket.
Join Owen & The Beer Wench at this special Athens Beer Week kick-off dinner. Call Five & Ten at (706) 546-7300 to reserve...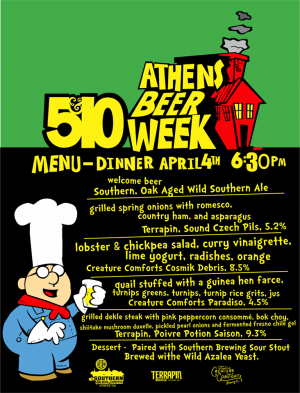 Everything you think you know about craft beer is about to be turned on its "head!"
It's illegal for American breweries to talk about the health benefits of beer or place this information on labels, but this doesn't stop us non-brewers. Beer may just about qualify as a "superfood" but only when consumed in moderation...
Craft beer contains more vitamins than wine.

Most beers contain the same or less calories than other alcoholic drinks. Beer contains more water than wine or spirits.

Beer has zero fat and zero cholesterol.

Beer has essential trace nutrients like silicon and vitamins such as niacin, vitamin B, choline, pantothenic acid and flavonoid antioxidants.

Researchers in Spain found that the bones of women who drink beer regularly were stronger, making them less likely to suffer from osteoporosis.

Beer has been shown to perhaps slow the onset of Alzheimer's and dementia.

Beer is one of the few alcoholic drinks where you can reduce the alcohol content and still make an enjoyable drink with great flavors. Look at session IPAs for example.

Moderate beer consumption with friends lowers stress.
Light to moderate consumption of craft beer does not contribute to weight gain - especially when combined with a healthy diet and exercise. UC Davis professor Charlie Bamforth recently reported, "A UK study claimed that wine drinkers were healthier than beer drinkers. Upon looking into other aspects of the subjects' lifestyles, especially diet, this study was flawed. In grocery stores, wine drinkers were also buying salads, whole grains, vegetables, lean meats, olive oil and vitamins. Many beer drinkers were buying sausages, bacon, chips, desserts, fried foods and cigarettes. The beer was the only thing keeping them alive!"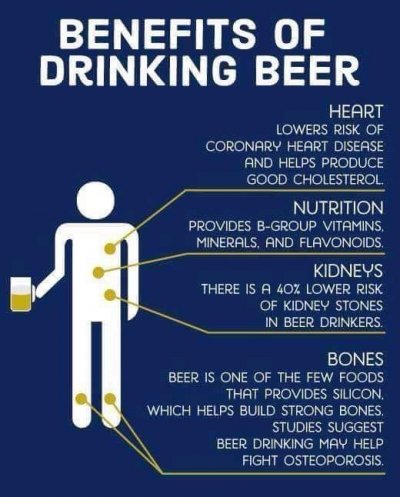 Source: hubpages.com

- Visit Five Points Bottle Shops During Athens Beer Week

If you are coming to Athens, GA's Beer Week or Classic City Brew Fest, be sure to stop by one of the locations of Five Points Bottle Shop for the greatest selection of craft beers in town. Their array of products is astounding.

Both locations offer growler fill stations, and the Westside store also has a large, in-store, walk-in cigar humidor and a superb homebrew shop around back.

Five Points has also opened their luxurious 5 Points Cigar Shop & Lounge. You MUST check this place out for fine cigars, tobacco, pipes and a beautiful membership lounge.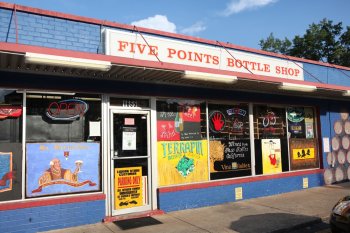 Five Points Bottle Shop & 5-Points Growlers
1655 S. Lumpkin St. Athens, GA · (706) 543-6989
Five Points Bottle Shop & 5-Points Growlers & Brew Supply
3685 Atlanta Hwy. Athens, GA · (706) 316-2337
5-Points Cigar Shop & Lounge
1720 Epps Bridge Pkwy, Athens, GA · (706) 549-3100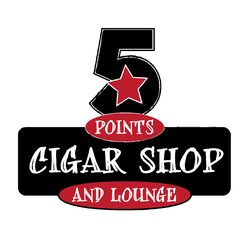 04/04/2016 - 5&10 ATHENS BEER WEEK KICK-OFF DINNER with Terrapin, Southern Brewing and Creature Comforts. Call 5&10 at (706) 546-7300 to reserve your spot(s).
04/09/2016 - TERRAPIN'S 14th ANNIVERSARY FEST at the Athens brewery.
04/10/2016 - CLASSIC CITY BREW FEST, Athens, Georgia. Get your TICKETS today!
04/16/2016 - CREATURE COMFORTS 2-YEAR ANNIVERSARY TOUR. 14+ special beers at 1 pm.
- Beer Guys Radio to broadcast live from Classic City Brew Fest

The dudes from the popular Beer Guys Radio will be in Athens on Sunday, April 10 to broadcast live from the 21st annual Classic City Brew Fest.

LISTEN TO THE RECORDED BROADCASTS ON AIR:
Atlanta, GA:
Saturdays 1-2 pm AM 920 The Answer (WGKA)
Sundays 6-7 am biz 1190 AM (WAFS)

Or head to BeerGuysRadio.com for live-streaming and on-demand.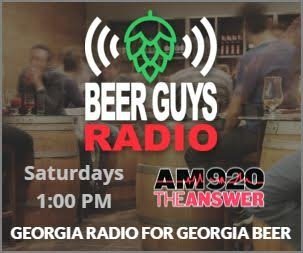 - Special Event from Fannin Brewing in Blue Ridge, Georgia

- Like Brewtopia Events on Facebook & Follow on Twitter

CLICK HERE and hit the Brewtopia Events "like" button on Facebook to see live photos and news posts as we sip, quaff and sniff craft beer around the world.

Also follow Brewtopia Events on Twitter.
COMING UP...
Owen Ogletree and The Beer Wench post fun photos from all the happenings during Athens Beer Week.