Follow our craft beer adventures...
Get your tickets today...
- Meet Craft Beer Celebrities at the Classic City Brew Fest on Sunday!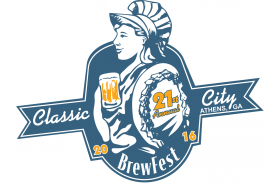 21st Annual
CLASSIC CITY BREW FEST
Sunday, April 10, 2016
Athens, GA
Graduate Hotel & Foundry Music Hall
A benefit for the Athens-Area Humane Society


Meet these craft beer celebrities at the Classic City Brew Fest on Sunday...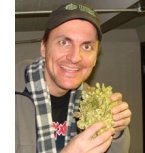 Brian "Spike" Buckowski:
co-owner and brewmaster of Terrapin Beer Company in Athens. Spike will be glad to talk about his new sour ales, Sound Czech Pilsner and Wake-n-Bake coffee varieties.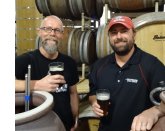 Brian Roth and Rick Goddard: co-owners and founders of Athens' Southern Brewing Company. Experimenting with wild, local microbes, creative ingredients and fermentation vessels is the way SBC rolls. Look for these awesome guys at the big SBC booth on Sunday!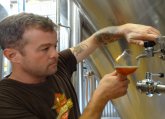 Eric Johnson: co-owner and brewer for Wild Heaven in Avondale Estates near Decatur, GA. Be sure to try Eric's cask of Oud Bruin on Sunday that's been aged in Bordeaux barrels for a year and then re-fermented in the cask firkin with Westmalle Trappist ale yeast.





Chase Medlin: brewer at the popular Twain's Brewpub & Billiards in Decatur, Chase now has plans to open the exciting new Locomotion production brewery in Chamblee, GA. Come talk to Chase about what he has in store for Locomotion.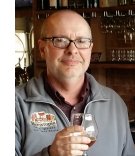 Owen Ogletree: beer writer, beer traveler, editor for Brewtopia.info, columnist for Beer Connoisseur Magazine, and founder/director of the Classic City Brew Fest and Atlanta Cask Ale Tasting. Owen put together the first Brew Fest way back in 1996 after a trip to the Great American Beer Fest in Denver.





Tim Dennis: Tim's the voice of Beer Guys Radio and ranks as a talented homebrewer and enthusiastic advocate for craft beer in Georgia. Shake Tim's hand at the Beer Guys Radio booth at Classic City Brew Fest.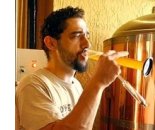 Matt Buley: Matt got his start at Blind Man Ales in the mid-90s and now runs the much-loved brewery at Athens' Copper Creek brewpub in downtown. Stop by the Copper Creek booth on the Brew Fest's outdoor Terrace to see what tasty local brews Matt has on tap.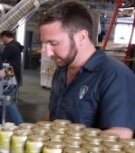 David Stein: founder and co-brewer at Athens' popular Creature Comforts Brewing Company located in downtown's old Snow Tire building. Creature Comforts is also experimenting with barrel-aging and local, wild yeast and bacteria strains.







Sachin Patel: Everybody loves Sachin, who owns Athens' Five Points Bottle Shops and The Pine gastropub. Five Points Bottle locations offer Athens' greatest selections of craft beer, fine drinks, growlers, cigars and homebrew supplies. If you like cigars, you have to check out Sachin's beautiful 5-Points Cigar Shop & Lounge.




Richard Miley: co-owner and rock star chef of Athens' popular Catch 22 Gastropub. Richard hosts amazing beer dinners and bottle shares at the restaurant. Head to Catch 22 soon to try superb food and a craft beer sampler served on an art pallet.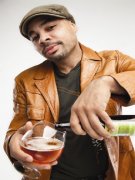 Ale Sharpton: Atlanta-based beer writer, travel journalist, editor, sports and music fanatic. Ale also just launched AllWays Open Creative agency. Look online for his beer show too! @AleSharpton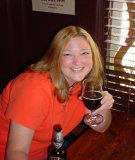 Georgia's Beer Wench: Kerri is a beer writer, beer traveler, food and beer pairing enthusiast and assistant director of the Classic City Brew Fest. Check out her blogs at BeerWench.info and on Twitter @BeerWenchGA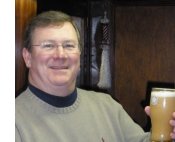 Rob Nelson: the regional rep for Merchant du Vin beer importers, Rob is passionate about old world beer styles such as those from MDV's Samuel Smith, Lindemans, Ayinger, Rochefort and Orval. Rob has been in the craft beer biz for ages, so check out his impressive MDV booth on Sunday!




Here's just a handful of the 400 rare, exceptional beers at our 21st annual Classic City Brew Fest on Sunday...


Founders KBS
Founders Backwoods Bastard
Bourbon County Stout 2014 & 2015
Burnt Hickory Feeling Gravity's Pull
Cherry Street Belgo Ruskie Imperial Stout
Fonta Flora Micro Flora
Moon River Wild GA Belgique IPA
Creature Comforts Double Koko Buni
Creature Comforts King's Ransom
Reformation Pinot Noir-Aged Cadence
Bell's Hopslam
New Belgium 2014 La Folie
Freigeist Rhubard Gose
Ritterguts Gose
Trou du Diable Apocalypso
Left Nut Mighty Banyan DIPA
Southern Brewing Warpig IPA
Southern Brewing Foeder Sour
Terrapin Wine Barrel-Aged Peotch
Southern Sky Schwarzchild Porter
Blackberry Farm Spring Saison
Founders Magnifico
Wrecking Bar Grapefruit/Cedar Victor IPA
The full list of 2016 Classic City Brew Fest beers will be published Friday night around 10 PM at this link.

Stay Sunday night in a smartly remodeled, discounted hotel room at Graduate Athens.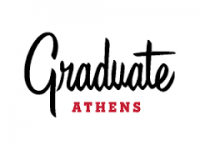 There is NO WAY you can miss out on trying the 28 unique cask ales and the almost 400 other amazing beers!
It's FOUR days away! Why are you waiting?
Tickets are ONLY $43.99!!!

Want to save money and still attend the Brew Fest? Why not have fun on Sunday as a VOLUNTEER? Volunteering is just as enjoyable as attending, and you get a free t-shirt, fest mug and post-fest beer party. Sign up to volunteer at www.BrewFest.net.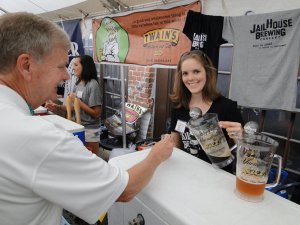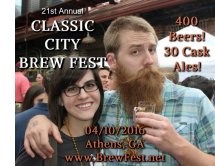 - Athens-Area Humane Society
- Brewtopia Events LLC
- Terrapin Beer Co.
- Goose Island
- Five Points Bottle Shops
- Trappeze Pub
- Chops & Hops
- Catch 22 Gastropub
- Mutty Paws
- The Beer Wench Reports on Athens Beer Week Dinner

The Beer Wench hangs with chef Hugh Acheson


Out of the food scene in Athens, GA a star has shone in the form of Hugh Acheson. Owner of Five and Ten, The National, Empire State South, and The Florence, Hugh has made a national and international name for himself with television appearances on Top Chef, Master Chef and many more accomplishments.

On Monday, April 4, 2016 which marked the official start to Athens beer week, beer brewers, brewery owners, writers, judges, and general beer lovers broke bread together at what, I hope is a new Athens Beer Week tradition. At Hugh's first Athens' restaurant, Five and Ten (new location), we enjoyed a dinner designed by Hugh himself and paired with beer from our three local breweries, Terrapin, Creature Comforts, and Southern Brewing Company.









04/09/2016 - CATCH 22 BEER BRUNCH - 3 courses, 4 beers - $35, 11:00 AM to 01:00 PM.
04/09/2016 - SOUTHERN BREWING COMPANY. Crawfish boil & pig picking with Champy's Famous Fried Chicken at SBC. 12:00 to 04:00 PM.
04/09/2016 - TERRAPIN'S 14th ANNIVERSARY FEST at the Athens brewery.
04/10/2016 - CLASSIC CITY BREW FEST, Athens, Georgia. Get your TICKETS today!
04/16/2016 - CREATURE COMFORTS 2-YEAR ANNIVERSARY TOUR. 14+ special beers at 1 pm.
- Like Brewtopia Events on Facebook & Follow on Twitter

CLICK HERE and hit the Brewtopia Events "like" button on Facebook to see live photos and news posts as we sip, quaff and sniff craft beer around the world.

Also follow Brewtopia Events on Twitter.
COMING UP...
Owen Ogletree and The Beer Wench post fun photos from all the happenings during Athens Beer Week.