Start Planning Today with the Interactive Author Schedule Online
The List Keeps Growing: More than 100 Authors Attending in 2016
The 2016 Gaithersburg Book Festival will feature a record number of top authors this year, with more than 110 on our schedule. Our most recent additions include:
~ Non-Fiction
~

Amby Burfoot won the 1968 Boston Marathon, and has been a Runner's World Magazine editor since 1978, currently serving as editor at large. Burfoot has run 110,000 miles in his life, and has completed the Manchester, Conn., Thanksgiving Day 5-Mile 53 years in succession. Burfoot's new book, "First Ladies of Running," traces the contributions of 22 pioneering women runners from the period spanning 1958 to 1984, when Joan Benoit won the first Olympic Marathon for women. The book concludes with a chapter on Oprah Winfrey, since Burfoot ran the 1994 Marine Corps Marathon with Winfrey.

Mei Fong, an author and journalist, covered Hong Kong and China for The Wall Street Journal, where she won a shared Pulitzer, as well as awards from the Society of Professional Journalists, Society of Publishers in Asia and Amnesty International. After leaving China, she was on faculty at the University of Southern California's Annenberg School of Communications. She is currently a fellow at D.C.-based think tank New America. Her first book, "One Child: Story of China's Most Radical Experiment," debuted with "impeccable timing" (Los Angeles Review of Books) just as Beijing announced a shift to a nationwide two-child policy. "One Child" explores the origins of the policy and some of its unintended consequences through a narrative-rich story that is "evocatively rendered and peppered with quirky characters, including a sex-doll salesman and a dating guru who claims that overly assertive women contract breast cancer." "One Child" was selected as a BBC Radio 2 book club pick, as well as one of top 5 books to read by The Economist's new lifestyle and ideas publication, 1843. It has also received critical praise from The New York Times, Guardian, Independent, Ms., The Economist, and Financial Times, and was called "a searing, important, and eminently readable exploration of China's one-child policy," by Nick Kristof in the New York Review of Books.

Jeffrey J. Selingo has reported on higher education for two decades as an award-winning journalist and author of three books. He is a regular contributor to The Washington Post, where he writes weekly about college and universities, their future, and how students can succeed in a fast-changing economy. Jeff is the former editor of The Chronicle of Higher Education, where he worked for 18 years in a variety of reporting and editing roles. At the Chronicle, he covered many of the pressing issues facing higher education, including admissions, student debt and university finances. In 2013, he published "College (Un)Bound: The Future of Higher Education and What It Means for Students," a New York Times best-selling education book, and in 2014 he authored a follow-up book, "MOOC U: Who Is Getting the Most Out of Online Education and Why." His latest book is "There is Life After College." He lives with his wife and two daughters in Chevy Chase, Md.
~ Fiction ~

Debbiann Holmes lives in the Hampton Roads area of Virginia. Her first book, "Unforeseen Circumstances," was printed and available for purchase the summer of 2010. The book was a finalist in the 2010 USA Best Books of the Year award. The sequels, "Compromises" and "Surrender," followed shortly after. Her newest short story, "Murder in the Name of Love," is available in the book, "Virginia is for Mysteries II."

Sarah Pekkanen is the internationally best-selling author of "Catching Air," "The Opposite of Me," "Skipping a Beat," "These Girls" and "The Best of Us," as well as a series of linked short stories for eReaders. Her newest book is "Things You Won't Say." Her work also has been published in numerous magazines and newspapers. She lives with her family, including a rescue dog and cat, in Chevy Chase, Md.

Donna Drew Sawyer spent more than three decades advancing the creativity of others as a Madison Avenue advertising executive; a public relations manager for Big Bird, Elmo and the gang on Sesame Street and as a senior administrator for national arts organizations including the Smithsonian's Hirshhorn Museum and Sculpture Garden. She and her husband, Dr. Granville M. Sawyer, Jr., a university professor and also an author, have two grown daughters of which they are immensely proud. They live happily in an empty nest near Washington, D.C. "Provenance" is Donna's first novel. Her second novel, "Promise," is scheduled for publication in 2017.
New in 2016: Brew & Vine Café
Hosted by Dawson's Market

Festival attendees will have a new option for refreshments and entertainment at the 2016 Gaithersburg Book Festival: the Brew & Vine Café from Dawson's Market. Café patrons can relax with a gourmet snack and a cup of coffee, pint of beer or glass of wine while enjoying live performances by singer-songwriters and poets.
"Dawson's is thrilled to be a part of the Gaithersburg Book Festival and to bring locally sourced and healthy foods to an amazing literary event," said Mike Houston, manager of Dawson's Market, which is located in Rockville Town Center.
Open during Festival hours, 10 a.m. to 6 p.m. on Saturday, May 21, the Brew & Vine Café will be located beside the Concert Pavilion Stage, adjacent to the book signing tents. Dawson's will offer specialty-brewed coffee; bagels, wraps, antipasto and cheese plates; and a handpicked selection of beverages from local wineries and microbreweries. Patrons must present their IDs and wear wristbands in order to purchase beer and wine. Consumption of wine and beer is allowed in the Café area only; it is not permitted in other areas of the Festival.
Throughout the day, a variety of local singer-songwriters and poets will perform on the Marvin Gaye Café Stage, including
Anthology Readings by the Gaithersburg Teen Writing Club

Limestone Connection, featuring Holly Morse-Ellington and Jason Tinney

Doug Roberts

Alexandra Day

Dale Holmes

Kevin Stanley

Bob Klein
Coming from Out of Town? Homewood Suites Has a Deal for You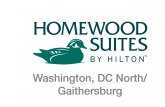 The Gaithersburg Book Festival is partnered with the Homewood Suites Washington DC North–Gaithersburg for the 2016 festival.
Festival attendees are offered a special rate of $99 per night for a spacious king or double queen studio suite. This includes the daily Homewood hot breakfast.
Make your reservation today!
Support Young Readers:
Donate a Featured Author's Book
While you are enjoying the great selection of children's books in the Politics & Prose Bookstore onsite at the Festival, take a minute to select one of the the featured children's authors' titles to donate to a child in need in the Gaithersburg community.
Donating is simple and rewarding. Politics & Prose staff will accept orders at the Festival on May 21. They then will deliver all donated books to Gaithersburg Elementary School Principal Stephanie Brant, who in coordination with the Festival, the City of Gaithersburg, and the Kentlands Hand and Stone Massage and Facial Spa, will get them into the hands of the Gaithersburg students.
Look for a special display table in the Politics & Prose tent, which will feature instructions on how to donate and the books available for donation, including:
"A Beetle is Shy" by Dianna Hutts

"Out of Bounds" by Fred Bowen

"Chasing Secrets" by Gennifer Choldenko

"Eden's Wish" by Tara Crowl

"Monster Needs Your Vote" by Paul Czajak

"Melonhead and the Later Gator Plan" by Katy Kelly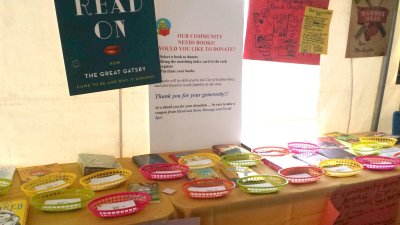 7th Annual Gaithersburg Book

Festival

Saturday

May 21, 2016

On the Grounds of

City Hall in

Olde Towne Gaithersburg, Md.

The Gaithersburg Book Festival thanks the newest organizations to pledge
their support of our
7th annual event.
~ Literary Sponsor ~

~ Book Lovers ~

Want to be one of the first to know about

the latest news from the Gaithersburg Book Festival and our featured authors?
Share the GBF News with your friends, family and book club members so they can see what we're up to for 2016.
Simply click the "Send to a Friend" button at the top of the newsletter to pass along this issue.
To become a regular GBF News subscriber, visit the Festival website and click "Join Our Mailing List."
Subscriber contact information will be used solely for the newsletter and will not be shared or sold to other parties.