Take Your Festival Info On the Go
Want to check out the Gaithersburg Book Festival schedule, read author bios or find out when a workshop is taking place, but you're not near your computer? Never fear – you can get all the information you need in the palm of your hand – no matter where you are – with the Gaithersburg Arts and Event App.
Download the app from the Apple or Android app stores, click on the Gaithersburg Book Festival logo and start exploring.
Are You Ready for May 21?
Last Minute Logistics for Your Festival Game Plan
As you're downloading the festival app, perusing the schedule and figuring out your game plan for this year's Festival, here are some last-minute logistics and information that can help make your day at the Gaithersburg Book Festival even more spectacular.
~Transportation~
Shuttles will begin running from Lakeforest Mall and the Shady Grove Metro Station at 9:15 a.m., so you can get to the Festival grounds early, enjoy snacks at the Brew & Vine Café from Dawson's Market and purchase works by your favorite authors from the Politics & Prose book sales tent.
~Hotel Accommodations~
The Gaithersburg Book Festival has partnered with Homewood Suites Washington DC North–Gaithersburg. Festival attendees are offered a special rate of $99 per night for a spacious king or double queen studio suite. This includes the daily Homewood hot breakfast. Make your reservation today!
~Information Centers~
The Festival Information Centers are located at the main entrance to the Festival along Summit Ave., beside City Hall and by the Children's Village. There you will find Festival programs, surveys and answers to all of your questions. Our Festival staff and volunteers are in the berry-colored shirts. They can help you with anything you need.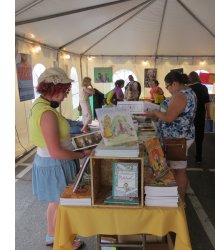 ~Book Sales~
Did you hear an author, and now you can't wait to read his or her book? Visit the Politics & Prose book sales tent, prominently located in the center of the Festival grounds. The book sales tent will open at 9:30 a.m. There you'll find books by most of the authors who are making presentations. These books are only available for sale inside the Book Sales tent, and will not be available at the Speaker Pavilions or at the Author Signing tables. While you're at the book sales tent, consider purchasing books for donation to children in need in the Gaithersburg community. Look for a display table with specially designated books and information on how to donate them.
~Book Signings~
Signings by this year's featured authors will take place immediately following their presentations in the Author Signing areas. Children's authors will be in a signing tent in the Children's Village, while all other authors can be found adjacent to the City Hall Concert Pavilion stage.
~Food Vendors~
The Festival's Food Court is located along Summit Avenue, at the front entrance of the Festival. Please enjoy a variety of delicious cuisines from our many vendors. And this year, don't forget to check out the new Brew & Vine Café from Dawson's Market, where you can sit down with a gourmet snack and a cup of coffee, pint of beer or glass of wine while enjoying live performances by singer-songwriters and poets.
~Survey~
Did you have a great time? Was there something that you think we could improve? If so, you can tell us what you think, and be entered to win a $100 Visa gift card! We encourage you to fill out our online survey on Survey Monkey. You can find a link to it on the Festival website or on our mobile app, or pick up a paper survey onsite at the Festival. Survey participants will be entered into a random drawing to be held on Monday, June 20.
Program Note: Teen Workshop
The Teen Writing Workshop, From Memory to Fiction: Finding Inspiration in Your Memories by Carol Solomon, will take place from 3-4 p.m. in the Adult/Teen Workshops Tent, in place of the listing in the program (Creating a Memorable Character, a workshop for middle schoolers, taking place in the Children's Workshops Tent earlier in the day).
For a description of From Memory to Fiction, please visit the workshops page on the Festival website.
Multilingual Story Time Returns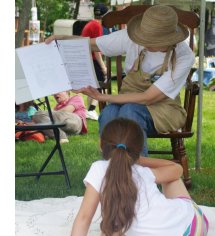 The Universities at Shady Grove (USG) is once again hosting the Multilingual Story Time tent. The tent will focus exclusively on stories in multiple languages, with stories read by students and educators. Each reading will last about 20 minutes:
Amharic - 11 a.m.

Arabic - 4 p.m.

French - 11:30 a.m., Noon, 2 p.m.

Korean - 2:30 p.m. Russian - 1:30 p.m.

Spanish - 10:30 a.m., 12:30 p.m., 1 p.m., 3 p.m. and 3:30 p.m.

Performances for Kids Abound
at Imagination Station
Kids not only have the chance to meet and hear from their favorite authors, but they can be entertained by storytelling and performances at the Festival's Imagination Station stage. The schedule for the day includes:
10:15 a.m. – Performances of "The Gingerbread Boy" and "Sam Who Never Forgets" by Penny Theater

11 a.m. – The Mayor's Book Club celebration and awards presentation with Mayor Jud Ashman and the Gaithersburg Elementary School Chorus

11:40 a.m. – "Tales of Magic and Adventure" by Twinbrook Tellers of the Dogwood Dogs 4H Club

12:20 p.m. – "Book Club for Kids" Podcast, with Host Kitty Felde

1:30 p.m. – Story Teller Noah Baum

2:15 p.m. – Dr. Ilona Holland's "Buddy Bison's Yellowstone Adventure"

3:05 p.m. – Fizzical Fairy Tales!

4 p.m. – The Nicolo Whimsey Show with Nick Newlin

4:40 p.m. – The Giggling, Wiggling Book Worm with Arianna Ross
Youth Club Book Drive Supports Middle School Students
Gaithersburg Youth Club (GYC) representatives will be at the Festival on May 21 collecting used and new books for the GYC's two middle school facilities.
Help "build a library" for GYC participants to enjoy by donating age-appropriate books (young adult, ages 11-17) at the Community Services/GYC Booth in the Children's Village.
Each book donated enters you in a drawing for terrific prizes, including free passes to Gaithersburg Mini Golf, Water Park and more!
Poets, Singer/Songwriters Take Stage at the Brew & Vine Café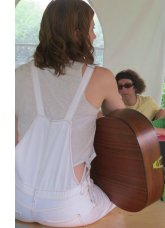 Take a few minutes to relax between author presentations with a gourmet snack and a cup of coffee, pint of beer or glass of wine from the Dawson's Market Brew & Vine Café, while enjoying live performances by singer-songwriters and poets on the Marvin Gaye Performance Stage. The Café is located at the Concert Pavilion, adjacent to the author signings tents.
The performance schedule includes:
10:30 a.m. – Anthology Readings by Gaithersburg Teen Writing Club Students

11 a.m. – Limestone Connection featuring Holly Morse-Ellington and Jason Tinney

Noon – Doug Roberts

1 p.m. – High School Short Story Contest Awards

2 p.m. – Alexandra Day

3 p.m. – Dale Holmes

3:40 p.m. – Kevin Stanley

4:15 p.m. – Alexandra Day

5:15 p.m. – Bob Klein
Just Added: College Admissions Essay Writing Workshop
We've added another workshop in the adult/teen workshop tent. Starting at 10 a.m. is "
College Admissions Essay Writing: Writing Your Way into College!," which will be led by
Mason Henderson from Writopia.
In this workshop, Writopia will help college bound high schoolers identify unique and meaningful personal stories and tell them in their authentic voices. Instructors will provide guidance on structure and editing and will help students explore themes, expand on ideas and create drafts.
Activity Rocket Brings the
Fun to the Children's Village
Don't miss awesome literary activities from Activity Rocket's BEST partners including Kid Museum, Language Stars of Gaithersburg, Huntington Learning Center, Tiny Chefs and McLean Summer's Edge in The Children's Village during the Festival.
Looking for reading, story time, writing, book and paper arts, drama/theater, language, public speaking, journalism, animation, podcasting, scrapbooking, cartooning, debate, printmaking camps or summer fun?
Check out Activity Rocket - and find it all ONE-STOP. Plus the best parenting advice, deals, concierge help and more!
7th Annual Gaithersburg Book

Festival

Saturday

May 21, 2016

On the Grounds of

City Hall in

Olde Towne Gaithersburg, Md.

Your #GBF on Can Be Worth $50
Are you excited about the upcoming Gaithersburg Book Festival? Use #GBF on when you post on Facebook or tweet about the Festival from Wednesday, May 18 to Monday, May 23, and have the chance to win a $50 Visa gift card.
We'll compile all of our fans who used #GBF on social media during that time, and do a random drawing to select our lucky winner. And your pictures and video could be part of our Storify package after the Festival.
The Gaithersburg Book Festival thanks the newest organizations to pledge
their support of our
7th annual event.
Want to be one of the first to know about

the latest news from the Gaithersburg Book Festival and our featured authors?
Share the GBF News with your friends, family and book club members so they can see what we're up to for 2016.
Simply click the "Send to a Friend" button at the top of the newsletter to pass along this issue.
To become a regular GBF News subscriber, visit the Festival website and click "Join Our Mailing List."
Subscriber contact information will be used solely for the newsletter and will not be shared or sold to other parties.