Follow our craft beer adventures...
- Southern IPA Elite 8 Results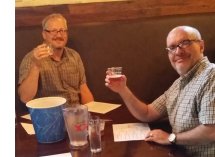 Owen Ogletree set up eight American IPAs that were poured at last April's Classic City Brew Fest in Athens in an "IPA Elite Eight" blind tasting bracket. All the IPAs were produced in breweries from the Southeast, and the beer judges chose a beer from each pair that seemed to have the most impressive IPA character and hop profile.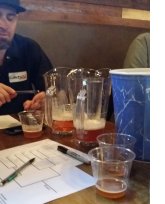 The tasting panel was comprised of Owen Ogletree, Steve Holzman, Aaron Wallace of Highwire Lounge and Trappeze Pub, Daniel Pittard, Richard Miley from Catch 22 Gastropub, Dean Graves, Gail Graves, Pete Dasher and Ian Meents of Southern Brewing Company.


From the BJCP American IPA style description...

American IPA: A decidedly hoppy and bitter, moderately strong American pale ale, showcasing modern American or New World hop varieties. The balance is hop-forward, with a clean fermentation profile, dryish finish, and clean, supporting malt allowing a creative range of hop character to shine through.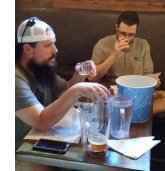 Vital Statistics:
OG: 1.056 – 1.070
IBUs: 40 – 70
FG: 1.008 – 1.014
SRM: 6 – 14
ABV: 5.5 – 7.5%
Here's how the blind brackets went down, with Southbound Brewing's Hop'lin IPA taking "best in show"...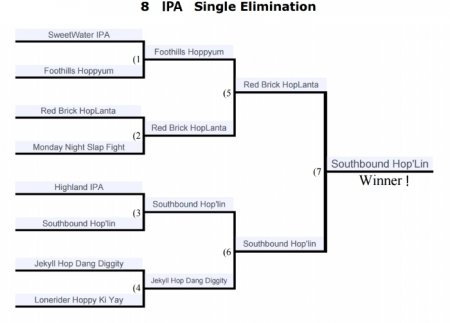 Our Bling Tasting Notes:


SweetWater IPA
Light hop aroma; citrus; kiwi; a hint of lemon; well-balanced; light, lingering bitterness; pleasant; subtle.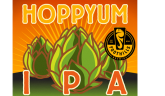 Foothills Hoppyum
Piney; hops are upfront; hoppy finish; good malt balance; hint of pepper; hint of malt sweetness; hop flavor is restrained; woody hops; citrus and grapefruit emerge after a bit; tasty.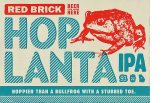 Red Brick HopLanta

- RUNNER UP


Slight fruit nose; metallic hint; pine-like bitterness; citrus hops; spicy hops; grassy; herbal hint; bright and crisp; bold hops.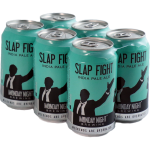 Monday Night Slap Fight
Earthy hop note; nice, lingering bitter finish; herbal, tannin-like hops; hints of citrus; hops are in background behind malty character.










Highland IPA
Light pine tannin hops; very drinkable; a touch earthy; great color for style; hops are pleasant but light; soft, appealing, moderate carbonation.






Southbound Hop'lin IPA

- WINNER OF THE CHALLENGE


Sweet, malty notes; pineapple; hint of alcohol warmth; balanced malt/hop profile; guava; fruity; wonderful after-taste; light piney hop note; medium body; a touch murky with chill haze; delicious.








Jekyll Hop Dang Diggity
Clear and bright; tropical fruits; kiwi; earthy hint; light bitterness in the finish; smooth hop notes; mild bitterness; pleasant balance.







Lonerider Hoppy Ki Yay
Hop aroma is mild; slight metallic flavor; hops and malt seem restrained; lots of fruity esters; seems malt-forward with interesting fruit complexity.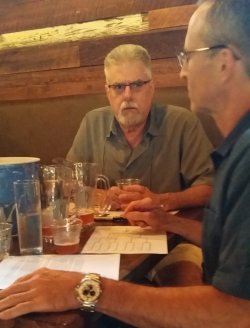 05/28-30/2016 - Orpheus Brewing Year Two - Special releases at the Atlanta brewery.
06/17-19/2016 - Wrecking Bar 5th Anniversary Weekend, Atlanta, GA.
06/18/2016 - 9th Annual Sour Beer Fest - Cajun Cafe on the Bayou, Pinellas Park, FL. Over 100 breweries will be showcasing tasty sour beers, Berliners and lambic-styles.
07/14/2016 - Owen Ogletree takes over the taps at Chops & Hops in Watkinsville, GA. Join Owen for a celebration of some of his favorite brews.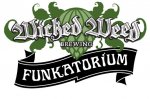 07/16/2016 - WICKED WEED FUNKATORIUM INVITATIONAL 8-11 pm, Asheville, NC. An exciting gathering of sour and wild ales from 50+ breweries around the country. Details here.
08/20/2016 - Southern Brewing Company's First Anniversary Celebration with music from Cracker. 5 pm.
10/8-15/2016 - OWEN OGLETREE'S AMAZING GROUP BEER TRIP TO BELGIUM. Get more details and sign up here.
- Owen's Top Moments from the 2016 Craft Brewers Conference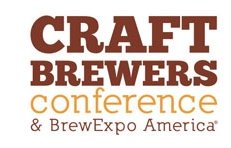 Text and photos by
Owen Ogletree

The 2016 Craft Brewers Conference (CBC) & BrewExpo America took place May 3-6 in Philadelphia, PA. The event attracted 13,000+ attendees and almost 1,000 exhibitors from the world of craft beer, making this the biggest CBC in history.

I was in attendance this year as beer media and was impressed with the excellent quality of the workshops, seminars and professional brewing resources that were available. It was a terrific experience.



Here are my top moments from the 2016 CBC in Philly...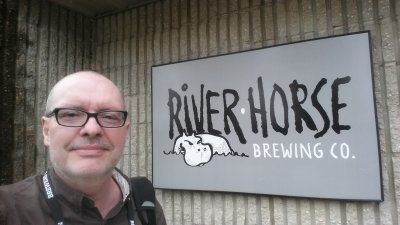 The day before the conference, I went on a bus tour of several fantastic craft breweries just across the river in New Jersey. I had no idea that New Jersey's brewery scene had taken off to this extent, but explosive craft beer growth seems to be the norm across America these days. I enjoyed all these spots in New Jersey:

Spellbound Brewing
Third State Brewing
River Horse Brewing Company
Forgotten Boardwalk
Flying Fish Brewing Company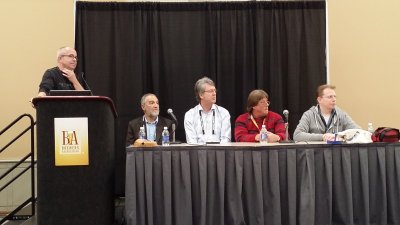 New Belgium's Peter Bouckaert and Charlie Papazian of the Brewers Association led an intensely interesting round-table discussion of historical beer styles and steps needed to promote, revive and preserve these little-known styles.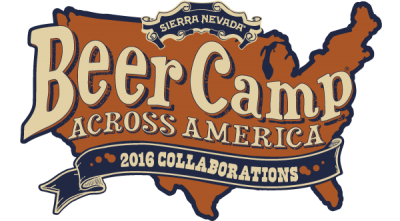 Sierra Nevada's Ken Grossman hosted a food and beer pairing that premiered 2016's lineup of delicious Beer Camp Across America collaborations that teamed up Sierra Nevada with other craft breweries across the country. Here's a recap of the mouth-watering pairings:

Sweet Sunny South Table Beer with coconut fried shrimp.
West Latitude Session Rye with curried chicken meatballs.
Pat-Rye-Ot Revolutionary Pale Ale with a cheese board.
Moxee-Moron Imperial Session IPA with citrus-braised pork sliders.
Family Values Imperial Brown Ale with smoked pork kielbasa.
Stout of the Union Robust Stout with truffle mushroom flatbread.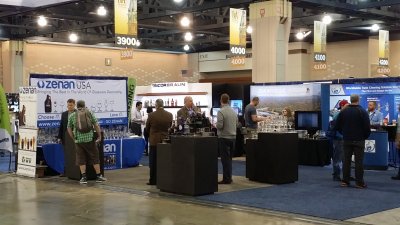 Craft brewers in attendance at CBC were quite pleased with the event's BrewExpo America trade show that featured hop growers, malt producers, brewery equipment companies, glass manufacturers and more. The craft beer industry has spawned a huge number of jobs and supporting companies in America.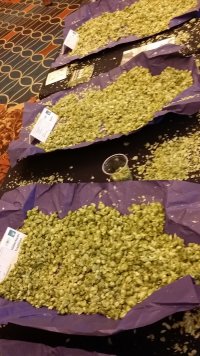 I adore hops and enjoyed sniffing all the new hop varieties at CBC and sampling a wide range of single hop beers made to showcase the aroma and flavor profiles of different strains of hops.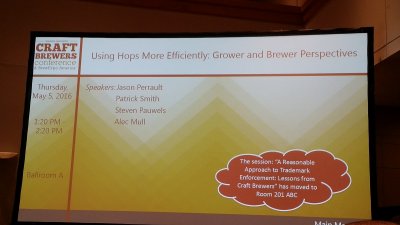 CBC included an excellent panel discussion on strategies to use hops more efficiently in the brewing process. With the rapidly growing number of craft breweries, everyone agrees that another hop shortage may be on the way soon.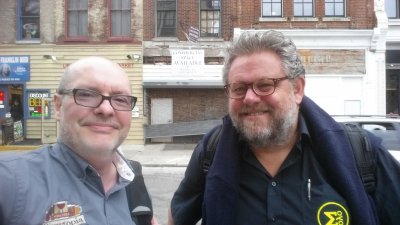 I always run into old beer friends from around the world at CBC. Here I am with former Nøgne Ø brewer Kjetil Jikiun who is now working on bringing craft beer and other beverages to Greece.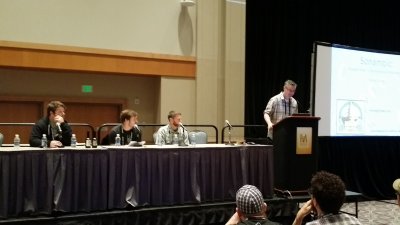 Russian River's Vinnie Cilurzo led a popular panel for a packed auditorium regarding sour beer production and spontaneous fermentation.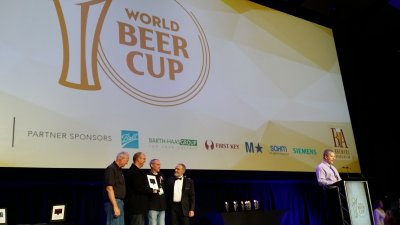 The World Beer Cup awards ceremony, held at the conclusion of the CBC, is an evening full of recognition for the world's best brewers. Charlie Papazian presented the awards on stage.



- Classic City Brew Fest Photo Album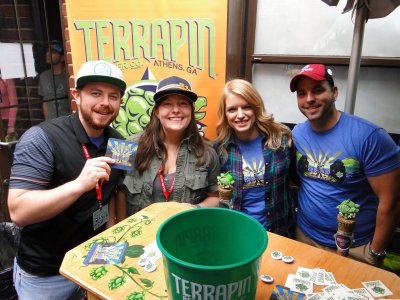 Thanks go out to everyone who came out to make our recent Classic City Brew Fest the best ever! The range of almost 500 beers was totally amazing, and volunteers, brewers and attendees had a blast. Here's a LINK to Phil "Chicken Man" Farrell's photo album from the 2016 Classic City Brew Fest. Check out the cool pics from the whole day!

- Owen Ogletree Guest Judges in Manhattan, Kansas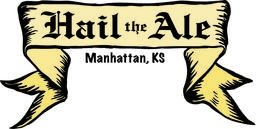 Beer Judges Wanted! Owen Ogletree invites you to join him for an amazing weekend of homebrew judging, beer tasting and socializing on July 30, 2016 in Manhattan Kansas for the Hail the Ale homebrew competition.

Organizers are also planning a fun "Evening with Owen" at Tap House on Friday, July 29 from 7:00-8:30 pm. Tap House is owned by Jeff Gill, microbrewer owner of Tallgrass. All BJCP judges are welcome to judge… the more the merrier. To RSVP for judging, please email Marcia Rozell at Marcia@Manhattan.org.

More from the competition organizers…

Hail the Ale is still a mere toddler in the BJCP world at three-years-old. Our first year 77 entries were carried into the Tallgrass Brewery tasting room to be judged by six BJCP judges and three guest judges. Year two, we increased the entries to 117 and moved the competition to the Manhattan Area Chamber of Commerce office with six BJCP judges and seven guest judges. This year, we welcome guest BJCP National judge and craft beer writer Owen Ogletree to assist in growing this young competition. We hope to have 150+ entries.



Hail the Ale judging is set for July 30, 2016, and all home brewers are welcome to enter their products, if they are willing to drive to The Little Apple®. Mail-ins are accepted by only Kansas residents. Awards will be given on August 6 at our Rhythm & Brews event in City Park.

www.rhythmandbrewsmhk.org/hail-the-ale.html has competition details.

Please drive over to the event or grab an inexpensive airline ticket and hang-out and judge with Owen Ogletree. Remember to email Marcia Rozell at Marcia@Manhattan.org to RSVP for a judging spot. See you in Manhattan, Kansas! Cheers!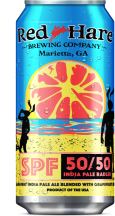 Red Hare


SPF 50/50




"India Pale Radler"



Availability: Draft & Cans
ABV: 4.2%, 38 IBU

From the guys at Red Hare...

SPF 50/50 is a light, refreshing blend of Gangway IPA and our house-brewed sparkling grapefruit soda. Sweet grapefruit zest mingles perfectly with citrusy hop notes, making this the perfect can to take with you everywhere this summer.


- Some Georgia Brewpubs FINALLY Get Growler Sales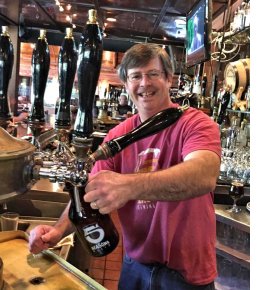 In regard to long-awaited growler sales at some Georgia brewpubs, 5 Seasons' Crawford Moran reports, "The details are still getting worked out at different municipal levels. We'd been trying for years to get an answer from the Georgia Department of Revenue as to why Georgia brewpubs couldn't do growlers, and Lynne Riley, the head of the DOR, finally said that regulation of growlers is a local thing. Not coincidentally, I had to change the name of our IPA up at 5 North from This Legislative Session Sucks IPA to Lynne Riley is a Saint IPA! So, we worked with Brandon from Hop Alley directly with the City of Alpharetta, and the city unanimously passed an ordinance that allows 5 Seasons North and Hop Alley to sell growlers. It's a small step but a big deal for us."

5 Seasons chef David Larkworthy also sees growler sales in Georgia brewpubs as a tremendous development. "It's a giant step forward for the brewing community, the local economy and the state of Georgia," he says. Nearly all our brewpub growler efforts at the Capitol have been countered by special interest groups who prevented the common sense change needed to sustain Georgia's breweries and offer residents and visitors something that should have always been available. This small change enables us to be a more sustainable business and offer more unique products for more customers to enjoy in more places."

Brewpubs all over the state are working with city officials in making growler sales a reality. Growlers are now also flowing at Slice & Pint in Decatur and on the way in the city of Atlanta for downtown brewpubs like Max Lager's. All we can say is "it's about time."




Creature Comforts' seasonal pale ale, Automatic, returns for summer and will be premiering in cans around mid-June. Automatic comes in at 5.2% ABV as a hop-forward, yet balanced pale ale with complex aromas of berries, citrus, herbs and pine notes. Look for it on draft in early June and in cans in mid-June.




SweetWater Goin' Coastal combines an IPA with pineapple, creating a malty ale loaded with fruity, hoppy flavor from five citrus-focused hops. This Catch & Release seasonal contains 6.1% ABV and 50 IBUs and is available on draft and in bottles and cans.




Terrapin Watermelon Gose, a 4.3% ABV sour ale, uses Vanguard for a hint of hop balance, along with salt, coriander and watermelon concentrate. Subtle, refreshing notes emerge like a slice of watermelon with a dusting of light salt.





Fort Collins Kettle-Sour Dark Cherry Imperial Red Ale offers a nose of robust dark cherries, rich malt and a hint of acidity from kettle souring. The beer pours with a gorgeous pink head and fruity flavor notes of clean lactic acid, alcohol warmth and a mild mineral-like complexity. 8.3% ABV, 35 IBUs.





Starr Hill The Hook Grapefruit Session IPA provides the quaffable quality of a hoppy, low alcohol session ale with a pleasing hint of grapefruit that complements the citrusy hops that include Apollo, Citra, Mosaic and Sorachi Ace. 4.9% ABV, 38 IBUs.





Samuel Adams Rebel Raw Double IPA. Check out the tall cans of this 10% ABV malt and hop bomb. At 100 IBUs, this rich, warming, malty brew offers a sweet malt backbone highlighted by underlying hop character ranging from grapefruit, citrus, wood resins, spice and flowers. With seven pounds of hops in each barrel of this brew, the brewers urge customers to drink it while it's fresh and bright.


- Brewtopia Events on Facebook & Twitter

CLICK HERE and hit the Brewtopia Events "like" button on Facebook to see live photos and news posts as we sip, quaff and sniff craft beer around the world.

Also follow Brewtopia Events on Twitter.
COMING UP...
Owen Ogletree and The Beer Wench travel to France to explore the craft beers of Brittany and the ciders of Normandy.