Follow our craft beer adventures...
- Reserve your spot at Bark & Brew FREE beer event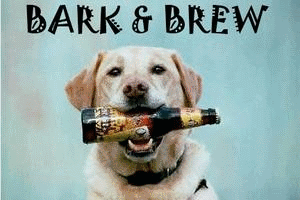 Athens Area Humane Society's (AAHS)
Bark & Brew
Sunday, August 21, 4-7 PM at Mutty Paws in Watkinsville, GA
Sponsored by Brewtopia.info, Chops & Hops and Mutty Paws

A FREE mini beer tasting at the new Mutty Paws pet resort in Watkinsville, Georgia. Expect 30+ craft beers to sample, live music from Tre Powell and an informal dog show with awesome Terrapin prizes (mixed breeds are welcome to enter). AAHS will be accepting donations, and a $10 to $20 AAHS optional donation per person is suggested. You must reserve your spot(s) at the mini-fest through this EventBrite site. Free spots will go fast, so sign up today!



- Gate City in Roswell, GA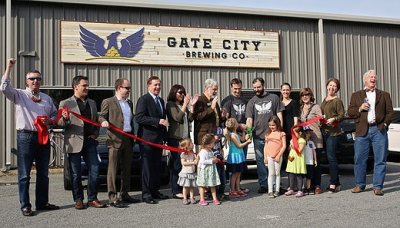 Gate City Brewing's air-conditioned 3,000 square-foot taproom is housed in an old German auto repair shop in Roswell - complete with roll-up bay doors. This summer, look for Gate City's Mosaic'in Me Crazy - a 4.2% ABV, 30 IBU session pale ale with a tropical fruit nose, subdued bitterness and appealing Mosaic hop flavor.

Gate City co-founder Brian Borngesser adds, "July saw the tasting room premier of our West Coast Style IPA with Columbus, Summit and Simcoe. Other summer taproom exclusives include our Bohemian Pilsner - a crisp, 5.1% ABV, traditional lager hopped exclusively with noble hops. Also come by to taste our Amunicha Dunkelweisse - an American version of the traditional Munich dunkel with an interesting blend of Munich malt and American hops."


- Craft Beer Movie Screening at Lincoln Fill Station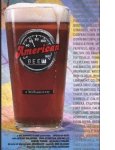 Join Owen Ogletree and The Beer Wench at Lincoln Fill Station beer bar, growler shop and cigar store in Snellville, GA on Saturday, August 27 at 5 pm for a special, FREE screening of a classic craft beer documentary film.

American Beer: A Bockumentary shares the hilarious tale of four Brooklyn film school buddies who set out across the country in a mini-van to visit almost 50 breweries in a little over a month. Along with the hangovers, they experience a new appreciation for the world of craft beer.

Lincoln Fill Station features a huge range of craft beer taps and a walk-in humidor with an amazing selection of cigars. Join us!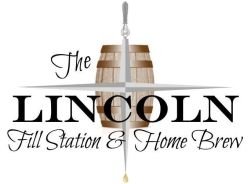 - The Beer Wench Reflects on Brittany & Normandy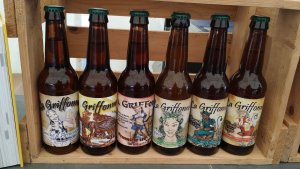 Georgia's Beer Wench traveled to France this summer to sample the new craft brews in Brittany and the classic French ciders of Normandy...

Normandy, France carries a strong tradition of cider-making that goes back centuries. Although, for most people, the WWII D-Day invasion is the first thing that come to mine when they think of Normandy and for good reason, there are other reasons to visit this area. After reliving history, marveling over the effort that went into saving the world from disaster, and shedding a tear or two over the individual sacrifices made, a person really could use a drink of classic French cider. What better than immersing yourself in a a piece of history that is also very tasty?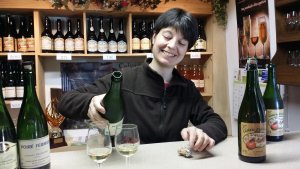 - Atlanta Beer Lover Wins Trip to Belgium with Owen!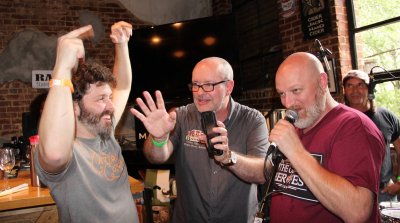 Photo by Mary Fiorello



Kyle Soard won a spot on our Brewtopia October Belgium beer trip at Max Lager's awesome Old 320 Fest last Saturday! As you can tell from the photo above, Kyle (left) was enthused!

There are still TWO spots left on the trip, and we'd love to have you along. Sign up HERE. The registration deadline is August 1.

Highlights of the upcoming trip...

BEST OF BELGIUM - October 8-15, 2016
$1495 per person (double occupancy) - add $299 for a single room - Our most popular trip!

We will stay at a nice hotel in central Brussels each night and take our charter bus out to the different corners of the country each day.
Brussel's best beer pubs will highlight our evenings.
Our TWO-DAY sour lambic adventure includes Cantillon, Oud Beersel, 3 Fonteinen, De Cam, lambic cafes, the De Lambiek Visitors Center and MORE.
Journey to Bosteels, Duvel, Orval, Achouffe and Westmalle.
Savor Trappist ales at Westvleteren, lunch at Hommelhof and visits to the new Bruges Beer Museum and Bruges' best beer bars.
St. Feuillen, Dupont, Dubuisson are all possibilities.
Adventure into the Ardennes to experience Orval, Brewery InterPol and Achouffe.
- Savannah Beer Week Coming Up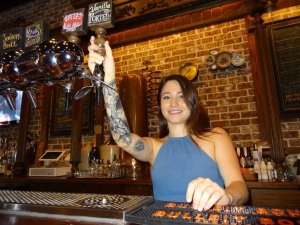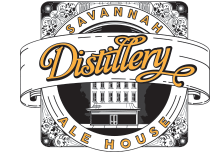 The Distillery Ale House celebrates Savannah Craft Beer Week in a big way with events that include a Georgia Brew Night on 8/28, high gravity dark beer day on 8/30, IPA day on 8/31, sour and funky brews for 9/1, and Savannah Distributing's special "Night of the Beer Geek" on 9/2 that will be loaded with rare and eccentric selections. The week culminates on 9/3 with the Savannah Craft Brew Fest and the notorious Distillery after-party where patrons with a fest ticket get $1 off a draft of their choice.


- Beer Bloggers Conference in Tampa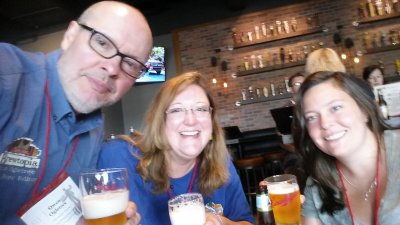 Owen and The Beer Wench had the good fortune to share a weekend in Florida with a crowd of other beer journalists from around the country at the Beer Bloggers & Writers Conference in Tampa on July 8-10.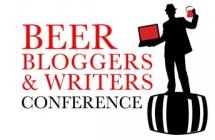 Highlights of the annual event included a stirring introductory address from the Brewers Association's Julia Herz, an update on the craft beer industry in Florida, a delicious reception hosted by Green Flash, seminars on increasing engagement in social media, a writing discussion from Bob Townsend and Carla Jean Lauter, visual content tips from Deschutes' Gina Schauland, and a sour beer tasting with the guys from Petrus in Belgium.

Live, speed rotation beer blogging is always a blast at the event, along with Sunday's seminars on building a beer community and growing beer tourism. The post-conference bus excursion to St. Pete and Clearwater was filled with amazing beer and useful networking.

If you dabble in beer blogging, consider attending next summer's conference to be held in the classic beer town of Milwaukee! Here's the LINK for more information.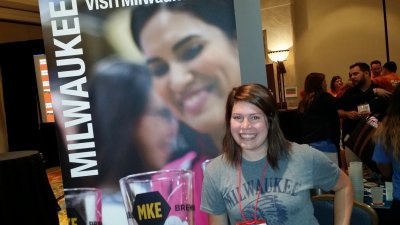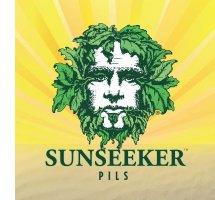 Green Man




Sunseeker Pils



From the folks at Green Man in Asheville...

This German-style Pilsner comes in at 5.2% ABV and delivers rays of shining refreshment. Opal and Vanguard hops join crisp pilsner malt to quench your thirst and illuminate your taste buds. Sunseeker is the perfect beer for hot summer days in the South.



08/20/2016 - Southern Brewing Company's First Anniversary Celebration with music from Cracker. 5 pm.
08/21/2016 - BARK & BREW free mini-beer fest and dog show at Mutty Paws in Watkinsville. Sign up here before all spots are filled.
08/27/2016 - AMERICAN BEER: A BOCKUMENTARY free screening with Owen Ogletree at 5 pm at Lincoln Fill Station in Snellville, GA.
09/24/2016 - Terrapin's Hop Harvest celebration with the release of So Fresh & So Green, Green, other rare beers and casks.
- Brewtopia Events on Facebook & Twitter

CLICK HERE and hit the Brewtopia Events "like" button on Facebook to see live photos and news posts as we sip, quaff and sniff craft beer around the world.

Also follow Brewtopia Events on Twitter.
COMING UP...
Owen Ogletree hits the streets of Paris seeking out the best craft beer spots. Stay tuned!
Owen Ogletree and Jeff Rapp head across the pond to judge the champion cask ales at London's Great British Beer Festival.