Follow our craft beer adventures...
- The Guys Behind Southern Brewing Company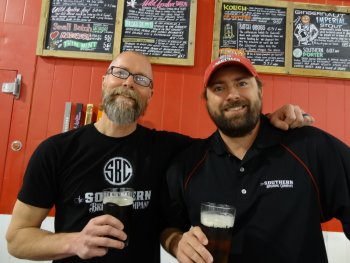 SBC's Brian Roth & Rick Goddard




Southern Brewing Company


Keepin' It in the South





Story and photos by Owen Ogletree



It's fair to say that Southern Brewing Company's co-founder and brewer Brian Roth has suffered from an intense craft beer obsession for the past several years. He's toured 515 breweries, homebrewed since 1993 and produced almost 400 test batches of beer on his impressive home system known lovingly as "Gratis Brewing." Many of these early recipes can now be tasted during a tour of SBC's popular facility in Athens, Georgia, and the Gratis equipment currently serves as the pilot system at SBC.

Brian, along with co-founder Rick Goddard, began construction of SBC in July of 2014. Rather than install a brewhouse in an existing building, the business partners made the ballsy decision to build an 11,000 square feet brewery from scratch on 15 acres of purchased land near Athens Technical College. SBC opened its doors on May 14, 2015 with a sparkling new 30 barrel brew kit. "We're the first modern craft brewery in Georgia to actually construct its building," notes Brian. "We wanted a large brewhouse that would allow for future growth, and the land around our brewery makes a great space for art, gardens, our bike trail, amphitheater and building expansion."

Homebrewing History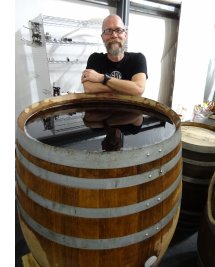 Brian's passion for personable beer began in his days as Craft Beer Manager for the Leon Farmer beer distributor in Athens. 15 years ago, when Brian found it difficult to instill an appreciation of craft beer in the distributor's salespeople and drivers, he started a program of taking the employees on brewery trips around the country. Brian recalls, "During these trips, I took about a billion photos of grain handling, piping, taste sheets, lab sheets, brew systems, brewery layouts - just about everything. I used these photos for ideas for SBC."

Leon Farmer employees were also invited to Brian's home to brew on the Gratis system. The strategy worked extremely well and had the fortunate side effect of creating a desire in Brian to brew on a larger scale. "We've taken some of the crazier moments at Gratis and are revisiting the recipes at SBC," Brian explains. "Look for playful stuff like Green Tomato Carrot Kolsch, Maple Bacon Coffee Imperial Stout, Beet Kolsch, Watermelon Tart and Gingernaut with chocolate and gingerbread."

A Southern Flare

Rick Goddard served in Washington, DC as an advocate for commercial breweries and met Brian Roth at a wholesaler's meeting. The two became fast friends, and Rick soon brought up the idea of creating a craft brewery with a Southern personality. "12 years ago, many Georgia drinkers were just learning about craft beer, and I wanted to come up with interesting beers that people in the South would definitely embrace."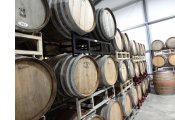 With a desire to include true southern DNA in their beers, Brian and Rick isolated wild yeast strains from Georgia wild azalea and Cherokee Rose blossoms that are now actively fermenting at SBC. Brian adds, "We've worked with 35 scientists from local colleges, cultured 42 wild yeasts and even ran the genetics on eight strains. Wild yeasts change with each generation, and the wild azalea strain lost its sour properties after ten generations, so we had to figure out a new propagation process to create a starter from the original yeast in three days rather than 16 weeks."

Both Brian and Rick point out that one of the most rewarding aspects of owning SBC comes from having great relationships with neighboring breweries. "When our glycol chiller broke down in June when it was 110 degrees outside, we called our brewer buddies for help," notes Brian. "If we ran a car dealership, I couldn't call the dealer down the street for advice. The guys at Terrapin, Creature Comforts, Wild Heaven, Max Lager's, JailHouse and many others have been huge friends to SBC. We're not competitors - we're all part of a craft beer community."

Thinking Outside the Six-Pack

More than 20 innovative beers flow from the taps in the SBC tasting room where touring visitors also enjoy live music and spicy boiled peanuts. The gorgeous tasting room bar, a collaboration with a local carpenter who's also a craft beer fan, is made from reclaimed wood and a few scorched boards from Athens' burned Georgia Theatre. The Georgia blue granite countertops were donated by a local geologist who had them in storage for 30 years.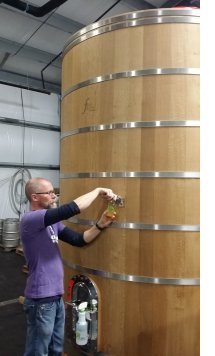 SBC acquired a handsome oak foeder from Missouri's Foeder Crafters of America. Brian explains, "Right now we have 50 barrels of saison aging in the foeder for three months. 30 barrels will be released, then new beer will be fed on top of the remainder to keep the microbes going. We primary ferment with a saison yeast, then six different yeasts go into the foeder."

An extensive barrel-aging program is underway with a wide array of beers now "in the wood." SBC also installed a 113-gallon puncheon barrel and four 60-gallon, hand-thrown, clay amphoras for fermentation. "Some breweries work on one basic beer style for years shooting for perfection, but I like variety," Brian relates. "I never homebrewed the same beer twice, and this taught me creativity. Without creativity, what's the point of perfection?"

Rick adds, "Brian and I came into this business as two friends, and now we're family. Our greatest reward for all our hard work is seeing people enjoy our beer at local pubs and restaurants. We love the South, and it just wouldn't make sense to sell SBC beers in California, New York or Canada, so we'll keep it local and keep it in the South."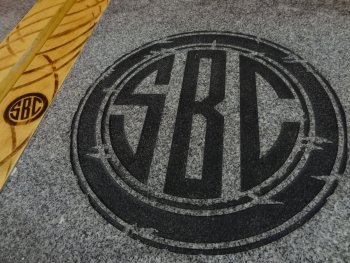 - Southern Brewing Co. Beer Dinner at The Foundry in Athens, GA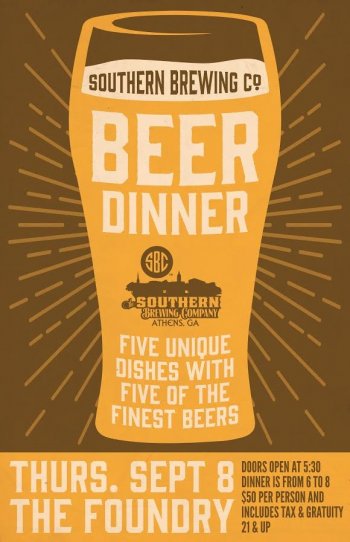 Use code word BREWTOPIA for $5 OFF!

Join us at The Foundry on

Thursday, September 8

for a fabulous evening of brews and bites. Our culinary team has paired five unique dishes with five of Southern Brewing Company's finest beers for the first of many beer dinners coming to the Foundry this year. Tickets are $50 per person and include all taxes and gratuities (use the discount code above for $5 off). Doors open at

5:30 pm

.
Pairings will include:
1st -- IRONMAKER BLUEBERRY KOLSCH [Corn Elote]
2nd -- WILD AZALEA SAISON [Meatball Marinara stuffed cremini mushrooms with basil Parmesan Reggiano]
3rd -- SOUTHEASTERN BERLINER [Gouda, Brie, Carmelized peach Chicken Ballotine with Cider Reduction over Snow Peas]
4th -- SOUTHERN PORTER [Charred Hanger with Gremolata over smoked cauliflower mash]
5th -- CHEROKEE ROSE [Bacon Banana Pancakes with maple & pecan syrup]
• All attendees will get a free SBC glass & frisbee
• 21 & up only allowed
- Atlanta Cask Ale & Classic City Brew Fest advance tickets on sale NOW

Get advance tickets before they sell out!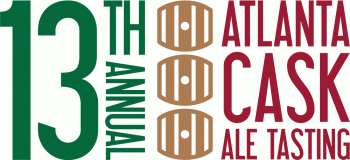 Saturday, January 21, 2017
5 Seasons Brewing & Taco Mac Prado
~50 one-off cask ales from the USA & UK!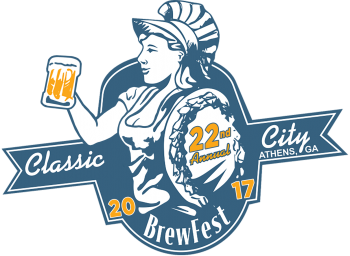 Graduate Hotel / The Foundry - Athens, GA
400+ Beers, 30 Cask Ales & Live Music!
Early-bird discount tickets are only $39.99 before the price increase! Save money - don't delay.
- Wayne Wambles Comments on Classic UK Cask Ale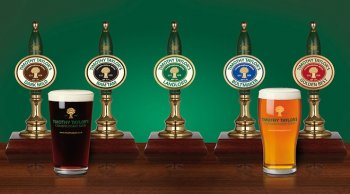 By Wayne Wambles
Head Brewer at Tampa's Cigar City Brewing

Seeing all of Owen Ogletree's recent posts from London and the Great British Beer Festival, I have to confess that I initially disliked imported English beer after tasting the diacetyl and oxidized notes in bottles that traveled all the way here from the UK.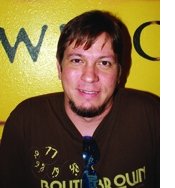 I didn't understand what diacetyl was in the beginning but I began to dislike it after having fresher American-made beers from independent breweries that were fermented with yeast less likely to produce diacetyl.

Finally, I spent time drinking in London and Oxford a few years ago. It would be great if we in America could only execute cask ales the way that they do. The beer is naturally carbonated in the cask and is usually quite fresh because of not having to travel great distances to get to the pub. This is really not feasible for us in the U.S. because the demand for cask is not that great and some brewers execute it poorly.

I fear that the volume of cask ale sold in England has been decreasing over time. The last number that I heard was that cask ale accounts for only 15% of total package in the UK now. This makes me sad because cask beer has two advantages in my opinion. The first is that it has less carbonation, which means less carbonic bite on the tongue, and this allows the malt and hop expression of the beer to be softer. The decreased carbonation level also has a direct impact on alcohol metabolism. Higher levels of carbonation increase the absorption of alcohol into the bloodstream and inhibit water absorption, and lower levels of carbonation have the opposite effect.

Today, England is one of my favorite places to drink, and Timothy Taylor Landlord is one of my favorite cask ales. There are many other great cask beers, but Landlord is a stand-out for me. Owen, one day can we sit in a UK pub and get through a few pints of Landlord and just catch up?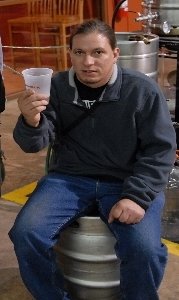 Wayne - just after winning first place at the 2009 Atlanta Cask Ale Tasting for his first cask of Hunahpu's Imperial Stout.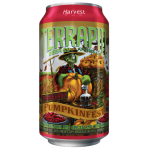 Terrapin Cranberry Pumpkinfest includes cranberry juice, cinnamon, nutmeg, ginger, allspice, cloves and real pumpkin. The subtle flavors blend on the palate, creating a pleasant, mild acidity backed by hints of fruit, spice and German malts. 5.5% ABV / 20 IBUs.





Highland Clawhammer Oktoberfest Lager shines with a deep golden/orange color and flavors of toasted bread crust, mildly sweet malts and just a hint of spicy, floral German hops for a great balance. 5.0% ABV / 25 IBUs.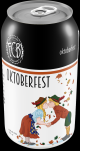 Fort Collins Brewery Oktoberfest - Notes of light caramel emerge in the aroma, while flavors of 100% German ingredients make for a notable example of the classic Bavarian style. Expect notes of bread, toast, mild brown sugar and just a hint of German noble hops in this 2015 GABF gold medal winner. 6.0% ABV / 24 IBUs.







Southbound Picture of Nectar is a Savannah-made double IPA that includes a touch of elderflower and peaches. The rich, malty, warming mouthfeel is balanced by citrusy, resiny hops and added complexity from the two special ingredients. Pairs well with Asian BBQ. 9.3% ABV / 90 IBUs.






Starr Hill Basketcase American Helles. Following the current lager revival in the USA, Starr Hill has premiered a golden, refreshing, German-style helles with the twist of American Cascade hop additions that work well with the light German malt character. This all makes for a very quaffable beer that's part of the Starr Hill Fall Tour Variety Pack. 5.4% ABV.


Jekyll Brewing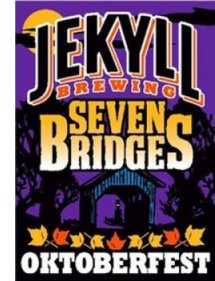 Seven Bridges




Oktoberfest



Jekyll's true lager, this beer falls into the classic Oktoberfest/Märzen category. It's medium/full bodied, malty sweet and bready - with rich, toasty Munich malts and floral Tettnang hops.

Sip a bit of Bavaria right here in Georgia! This deep amber lager pairs well with bratwurst, fried chicken and mushroom pizza.



08/27/2016 - AMERICAN BEER: A BOCKUMENTARY free screening with Owen Ogletree at 5 pm at Lincoln Fill Station in Snellville, GA.
08/31/2016 - Catch 22 R.J. Rockers beer dinner. Athens, GA.

09/07/2016 - Catch 22 Wicked Weed beer dinner. Athens, GA. Part of a week-long series of events celebrating the Wicked Weed kick-off in Athens, GA.
09/08/2016 - Southern Brewing Co. beer dinner at The Foundry. Athens, GA.
09/24/2016 - Terrapin's Hop Harvest celebration with the release of So Fresh & So Green, Green, other rare beers and casks.
- Craft Beer Movie Screening at Lincoln Fill Station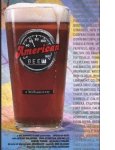 Join Owen Ogletree and The Beer Wench at Lincoln Fill Station beer bar, growler shop and cigar store in Snellville, GA on Saturday, August 27 at 5 pm for a special, FREE screening of a classic craft beer documentary film.

American Beer: A Bockumentary shares the hilarious tale of four Brooklyn film school buddies who set out across the country in a mini-van to visit almost 50 breweries in a little over a month. Along with the hangovers, they experience a new appreciation for the world of craft beer.

Lincoln Fill Station features a huge range of craft beer taps and a walk-in humidor with an amazing selection of cigars. Join us!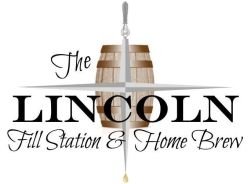 - Brewtopia Events on Facebook & Twitter

CLICK HERE and hit the Brewtopia Events "like" button on Facebook to see live photos and news posts as we sip, quaff and sniff craft beer around the world. Also be sure to "friend" Owen Ogletree on Facebook.

Follow Brewtopia Events on Twitter.
COMING UP...
Owen Ogletree hikes the Bavarian Alps in search of little-known beer taverns and then hits opening day of Munich's Oktoberfest celebration! Be sure to friend Owen Ogletree on Facebook to see his live video posts from Munich.