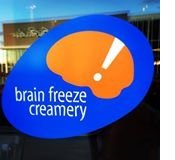 Every Friday in September, Brain Freeze Creamery (all locations) in honor of Childhood Cancer Awareness Month will donate $1 from every regular scoop and .50 from every kids scoop to ACCOIN.
They even have a new flavor, "Hearts of Gold" named by childhood cancer survivor Hannah Baumann.
When ACCOIN, Executive Director, Sarah Jane Brown, asked Hannah how she came up with the name, "Hearts of Gold,"she said, "I just thought about all of the kids who go through cancer. It's not their choice obviously, but they do it and they fight through it every day and that shows a 'Heart of Gold' to me. Cancer kids are one of a kind."
And so are you, Hannah - Adorable. Read Hannah's story here.