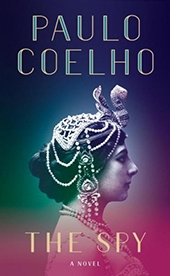 SPY (THE): A Novel (Hardcover)
by Paulo Coelho
$22.00, ISBN13:9781524732066

In his new novel, Paulo Coelho, best-selling author of The Alchemist and Adultery, brings to life one of history's most enigmatic women: Mata Hari. The story of her celebrated yet mysterious life as an exotic dancer and courtesan, and her controversial execution as a spy during the First World War unfolds as a fascinating first-person narrative of self-creation and bravery. Her only crime was to be an independent woman: "I do not know if the future will remember me, but if it should, may no one ever view me as a victim, but as someone who moved forward with courage, and paid the price she had to pay." On the occasion of the centenary of Mata Hari's execution for espionage in 1917, Paulo Coelho reconsiders her life and character in a fictional memoir.
Publisher: Knopf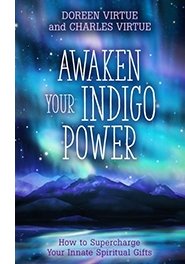 AWAKEN YOUR INDIGO POWER: How To Supercharge Your Innate Spiritual Gifts
by Doreen Virtue & Charles Virtue
$15.99, ISBN13:9781401943868





The generation of Indigos–the bright, intuitive, strong-willed children born from the mid-1970s on–are now adults, and they have fresh healing information to teach! Doreen Virtue and her Indigo son Charles Virtue (co-authors of the Indigo Angel Oracle Cards) explain the Indigos' group purpose of bringing truth and integrity to our planet, and show how this new energy is beneficial to us all. You will learn how to: • Harness the Indigo intensity for positive healing purposes • Overcome fears related to leadership and being authentic • Superpower your life by hearing, speaking, and living your inner truth Doreen and Charles discuss how the new energy that the Indigos have brought to our planet enables all of us to heal physically and emotionally at a faster rate. Whether you're an Indigo yourself or a parent or caretaker of one, this book will usher into your life new levels of understanding, peace, and purpose.
Publisher: Hay House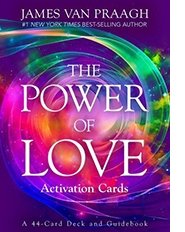 POWER OF LOVE ACTIVATION CARDS: A 44-Card Deck & Guidebook
by James Van Praagh
$15.99, ISBN13:9781401951412

Your goal while inhabiting human form is to manifest love in this physical dimension. Yet, like many a courageous soul who has chosen to tackle this difficult task, you may need to be reminded to activate this innate force that dwells inside you. This 44-card deck–a labor of love created by internationally renowned medium James Van Praagh–prompts you to remember that love is the reason why you are here. Just pull one card each morning for you to focus on that day, or follow the instructions in the companion guidebook and become adept at creating "Activation Spreads" for yourself, friends, or clients. Love knows no limits–it is the power that holds everything together. Be empowered with love . . .
Publisher: Lifestyles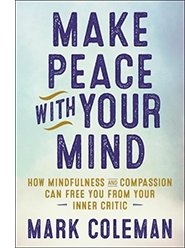 MAKE PEACE WITH YOUR MIND: How Mindfulness & Compassion Can Free You From Your Inner Critic
by Mark Coleman
$15.95, ISBN13:9781608684304

Many of us are well acquainted with our "Inner Critic." This is the voice that says not enough, not good enough, or sometimes too much. It's the voice that makes every step we take subject to criticism. The Inner Critic is inner because it knows our history, our feelings, how we tick. This might make the Inner Critic seem invincible, but it is not. In fact, our disparaging mental voices reflect profound sources of suffering. They didn't come out of nowhere and they can be addressed, not with anger or panic but with compassion and deep understanding. Mark Coleman helps readers understand and address their inner voices. Each chapter offers easily digestible insights into what creates, drives, and disarms the Critic, real people's journeys to inspire and guide, and simple meditations anyone can immediately put into practice to invite, cultivate, and nurture their best, most free, and most fulfilled selves.
Publisher: New World Library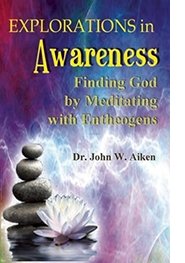 EXPLORATIONS IN AWARENESS: Finding GodBy Meditating With Entheogens
by John Aiken
$17.95, ISBN13:9781579512323

John Aiken and his wife Louise, both M.D.'s by profession, have a significant place in the psychedelic chronicles, but their story has been poorly documented. After both sons died by drowning in separate accidents, they retired to New Mexico for spiritual research, with and without psychedelics. Art Kleps, author of The Boo Hoo Bible, has credited their Church Of Awakening as being the very first non-Native American psychedelic church to be registered in the U.S. in 1963, predating both Kleps' and Tim Leary's Millbrookers by a couple of years. Aiken's 1966 Explorations in Awareness, draws on a vast array of ancient and modern sources, presenting an esoteric doctrine of self-realization and ultimate transcendence, told in a pure, stripped-down style that displays self-confidence. It is a delight to read because it was a new psychedelic path with vedic-yogic along with Christian and Native American influences, and not a rehashed insight of Hippy "trips." The book includes trip reports, including one from an Indian guru, who does a respect-worthy attempt to interpret the cosmologic-metaphysic experiences of an acid trip into plain English. Aiken's early discussion of LSD vibe is very different from what followed during the Hippy years, and deserves much greater recognition than received.
Publisher: Ronin Publishing


•
Check Out This Month's Special Deals!
•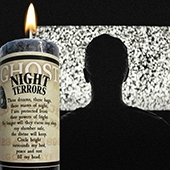 CANDLE, PILLAR GHOST: Night Terrors (limited edition, smoky black, 2x4")
by Coventry Creations
$9.90, UPC:819470013980
LIMITED EDITION A shadow black candle with a green spicy scent 2"x4" pillar with a 40 hour burn time. Soothe your nightmares by calling for protection and bring light into your dreams. These candles are particularly helpful for young ones, helping them clear the air and drift off to a peaceful sleep free of terror. Blessing: These dreams, these hags, these mares of night. I am protected from their powers of fright. No longer will they curse my sleep, my slumber safe, the divine will keep. Circle bright surrounds my bed, peace and rest fill my head.
Publisher:Coventry Creations Ent Inc.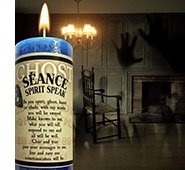 CANDLE, PILLAR, GHOST: Seance-Spirit Speak (limited edition, blue, 2x4")
by Coventry Creations
$9.90, UPC:819470013997
LIMITED EDITION CANDLE A brilliant blue candle with a breath of lavender. 2"x4" pillar with a 40 hour burn time. The Seance Ghost candle will help you talk to the spirits around your life. Help attune yourself to hear their messages and lessons they have for you. The Blessing reads: Be you spirit, ghost, haunt or shade, with my words you will be swayed. Make known to me, what you will tell, respond to me and all will be well. Clear and true pass your message to me, free and easy our communication will be.
Publisher:Coventry Creations Ent. Inc.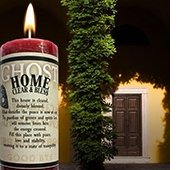 CANDLE PILLAR, GHOST: Home Clear & Bless (limited edition, red, 2x4")
by Coventry Creations
$9.90, UPC:819470013973
LIMITED EDITION A redwood color candle scented with warm rose & myrrh blend. 2"x4" pillar with a 40 hour burn time. Clear out the past energy from your house be it spirits or former tenents. Clear the air and make room for your well being with the Home Clear and Bless Ghost candle. Blessing: This house is cleared. Divinely blessed. What disturbs the peace is now at rest. The guardian of graves and spirits lost, will remove from here the energy crossed. Fill this place with peace, love and stability, returning it to a state of tranquility.
Publisher: Coventry Creations Ent Inc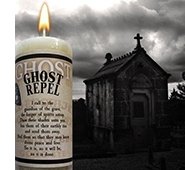 CANDLE PILLAR GHOST: Ghost Repel (limited edition, white, 2x4")
by Coventry Creations
$9.90, UPC:819470013966
LIMITED EDITION A spiritual white candle with an uplifting cypress blend. 2"x4" pillar with a 40 hour burn time. Send away stray spirits interrupting your life. Help them to heal and find divine peace and love. Blessing: I call to the guardian of the grave, the keeper of spirits astray. Draw these shades unto you, free them of their earthly ties and send them away. Heal them so that they may know divine peace and love. So it is, so it will be, so it is done. Publisher:Coventry Creations Ent Inc.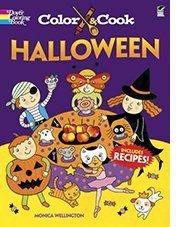 COLOR & COOK: Halloween--Dover Coloring Book
by Monica Wellington
$4.99, ISBN13:9780486481067
Join Molly and Jack as they carve pumpkins, go trick-or-treating, and have a party with their friends and family. Then follow the kids into the kitchen, where they'll whip up all sorts of spooky fun foods–with grown-up help, of course. Children of all ages will enjoy coloring these 30 lively illustrations and sampling the easy-to-follow recipes. Publisher:Dover Publications, Inc.
Friday,

October 7th, 2016

Vol. 31, No. 41


October
New Leaves Update Catalog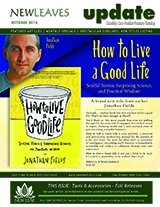 Feature Issue

Leaves are turning! Time for Updates Fall Tools & Accessories issue. Find great deals inside as well as some great articles.


Our monthly
catalog
New Leaves
Update
features
Available At Quality Paperback Prices.

Also

ads for

New Products!
The printed issue will ship to you.

Log-in and

view the latest PDF,
New Leaves Update catalog.

It'

s searchable, printable and includes links to our web site for all advertised products.
Visit our website

Log-in
to view the latest digital New Leaves Update catalog
Items recently received in our warehouse

Our best-selling products, updated monthly

eLeaves is published every Friday at 6pm eastern time. It features ANNOUNCEMENTS of interest to our customers, COMING ATTRACTIONS featuring frontlist items expected within the next month and FRESH STOCK which focuses on items newly received in our warehouse.

eLeaves is only one of the email communications available to New Leaf customers. To view the full list, subscribe to more options, or unsubscribe, please click

here

.