We Want You! Apply Now to Become a 2017 Featured Author
Are you a published author who dreams about joining the impressive list of award-winning and best-selling authors appearing at the Gaithersburg Book Festival each year? If so, now's your chance to be considered for the 2017 festival, which takes place Saturday, May 20.
We are now accepting featured author applications for those interested in participating in solo presentations and panel discussions. The deadline to submit is Saturday, December 31, 2016.
Download the application from the festival website. Once completed, mail the application, and a galley or finished copy of the book you wish to promote, to:
Gaithersburg Book Festival Presenter
506 S. Frederick Avenue
Gaithersburg, MD 20877
Please note that preference is given to books released in either hardback or paperback in the year since the previous festival (May of each year). Books must be available for sale as of the day of the festival to be considered.
Applicants will be notified of participation decisions by the end of February 2017.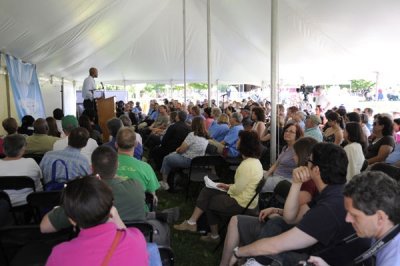 High School Students - It's Time to Embrace Your Creativity for
the GBF Short Story Contest
High school students will have the chance to express their creativity in the seventh annual Gaithersburg Book Festival short story contest. The 2017 contest marks the first time that students have the freedom to write about whatever they want, with no opening lines or artwork to serve as inspiration.
"We've read some pretty amazing writing by some very talented young people during the past six years," said Jud Ashman, festival chair and Mayor of the City of Gaithersburg. "This year we are changing up the contest and look forward to seeing what students can produce when there are no limits, no constraints."
To participate in the short story contest, students must be enrolled in grades 9-12 at a public or private school, or be in a homeschool program, for the 2016-17 school year, and must reside in Maryland, Virginia or the District of Columbia. Stories cannot exceed 1,000 words and must be emailed to contest organizers as a Word document by midnight ET on Friday, February 17, 2017.
Up to 12 stories will be selected as finalists and posted on the Gaithersburg Book Festival website prior to the Book Festival. The first-, second- and third-place winners and the fan favorite will be announced at the Festival on Saturday, May 20, 2017, and will be awarded $100, $75, $50 and $25 gift certificates, respectively, courtesy of the Johns Hopkins University Montgomery County Campus.
GBF Puts Gaithersburg on Map as Great Small Town for Book Lovers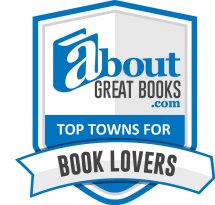 In recognition of its nationally acclaimed Gaithersburg Book Festival, the City of Gaithersburg earned a spot as one of the "30 Great Small Towns for Book Lovers."
The list, assembled by AboutGreatBooks.com, recognizes towns that have strong connections to literature, either through individual books and authors or with programs that encourage reading and a love of books.
The website recognized Gaithersburg for having one of the top literary events in the country, noting that, "The Gaithersburg Book Festival attracts hundreds of award-winning and best-selling authors, poets, and songwriters from across the country."
"This is great validation for what we've built over the past seven years," said Gaithersburg Mayor and Book Festival Founder Jud Ashman. "Residents of the D.C. metropolitan area are among the most well-read in the country. National recognition as a Great Small Town for Book Lovers just reinforces what we already know – that Gaithersburg is a rising star on the literary map."
Gaithersburg Offers Write-In
Space During NaNoWriMo
November – which is also known as National Novel Writing Month (NaNoWriMo) – is nearly upon us. This year the Gaithersburg Book Festival and the Gaithersburg Community Museum are offering write-in space in the train station on Saturdays in November from 8 a.m. to 3 p.m. to area participants.
If you need a change of scene to get those creative juices flowing, our location just might be the place for you! For those of you who haven't heard of NaNoWriMo, it's a month long challenge to write a novel, 50,000 words for adults and shorter pieces for young writers.
Congrats to Sharon Bernstein, Winner of 2016 Survey Drawing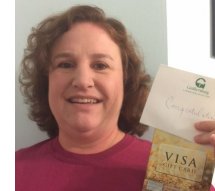 Congratulations to Sharon Bernstein, a North Potomac resident, for being the lucky recipient of the Gaithersburg Book Festival survey participant drawing. Bernstein was selected by random drawing and won a $100 Visa gift card.
"I get excited to read a book from its synopsis. Multiply that by 10, when I hear about the book straight from the author," said Bernstein, who also served as a volunteer at this year's festival. "I love the Gaithersburg Book Festival! Thank you for putting all of these wonderful authors and their stories into one, wonderful day."
Gaithersburg Second Grader
Wins Waldo Backpack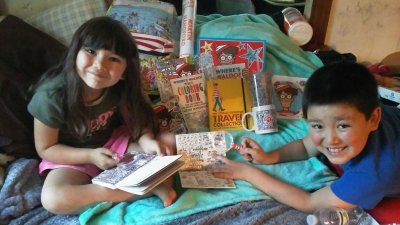 Seven-year old June Jones, who attends Rosemont Elementary School, was the winner of the Where's Waldo Backpack. She shared it with her 11-year old brother Frank (pictured here) and her six other brothers and sisters.
Sign Up for the Newsletter and
Stay in the Know for #GBF 2017

Share the GBF News with your friends, family and book club members so they can see what we're up to for 2017.
Simply click the "Send to a Friend" button at the top of the newsletter to pass along this issue.
To become a regular GBF News subscriber, visit the Festival website and click "Join Our Mailing List."
Subscriber contact information will be used solely for the newsletter and will not be shared or sold to other parties.
8th Annual Gaithersburg Book

Festival

Saturday

May 20, 2017

On the Grounds of

City Hall in

Olde Towne Gaithersburg, Md.

Let Yelp Know How Much
You Love the GBF


If you had a great time at the 2016 Gaithersburg Book Festival, let the world know.
We're now on Yelp.
Write your review today!
Want to be one of the first to know about

the latest news from the Gaithersburg Book Festival and our featured authors?