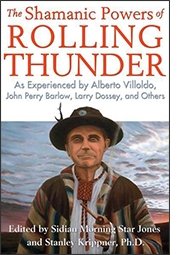 SHAMANIC POWERS OF ROLLING THUNDER: As Experienced By Alberto Villoldo, John Perry Barlow, Larry Dossey & Others
by Sidian Jones & Stanley Krippner
$16.00, ISBN13:9781591432272

One of the most celebrated and controversial Native American medicine men of the 20th century, Rolling Thunder (1916-1997) was known for his remarkable healings and for his ability to call on the forces of nature, typically in the form of thunder clouds. He was also a passionate activist who worked to trigger social change on behalf of Native American tribes. Sought after as a lecturer and workshop leader, he used the money he earned from teaching to construct Meta Tantay, a community in the Nevada desert. In this book, edited by his grandson Sidian Morning Star Jones and longtime friend Stanley Krippner, we hear directly from people profoundly changed by Rolling Thunder, whether through direct experience or through his teachings. Revealing his trickster teachings, his legendary shamanic powers, his devotion to the Earth, and how his impact did not stop with his death, these stories of Rolling Thunder from a variety of sources demonstrate how transformation can come even while walking gently on the Earth.
Publisher: Bear & Company Inc.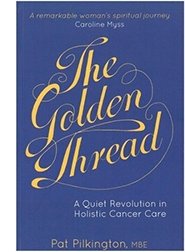 GOLDEN THREAD: A Quiet Revolution In Holistic Cancer Care
by Felicity Biggart
$22.95, ISBN13:9781785921735





Written by the late Pat Pilkington, the co-founder of the Bristol Cancer Help Centre (now Penny Brohn Cancer Care, this book shares 30 years' experience of working holistically for those with cancer. This deeply spiritual work aims to show how we can all find life's meaning and purpose, and come to a true and lasting sense of peace and fulfillment. Pat Pilkington was co-founder of the Bristol Cancer Help Centre, the first charity to offer a truly holistic approach to cancer care. In this memoir, completed when she knew she was approaching death, Pat tells her story; starting with her childhood, through the early days of the Centre to its growth into Penny Brohn Cancer Care, the globally influential institution it is today. Above all, she shares her own spiritual journey, her deep exploration of faith, love, and what lies at the core of each human life and each human death. She speaks to life, not just to cancer, and shows how the restoration of the human spirit is an essential part of holistic healing. The Golden Thread of the title is the transcendent nature of love that runs though everything, awakening the potential to uplift, inspire, overcome and create anew, even in the face of severe adversity.
Publisher: Jessica Kingsley Publishers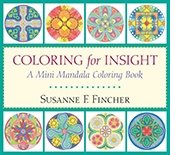 COLORING FOR INSIGHT:
A Mini Mandala Coloring Book
by Susanne Fincher
$9.95, ISBN13:9781611804249

Coloring mandalas is a creative activity that can help us feel connected to ourselves and the world. The forty-two designs in this book focus on using mandalas as a way to claim our own truths and to find our way in the world. Balancing forms that evoke a steady, centered being–through designs that represent integration and self-realization–with forms that evoke active, skillful doing–through designs that represent action and functioning in the world–Coloring for Insight provides a creative and insightful path toward self-knowledge.
Publisher: Shambhala Publications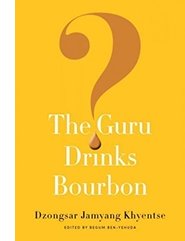 GURU DRINKS BOURBON?
by Dzongsar Jamyang Khyentse
$18.95, ISBN13:9781611803747

The humility and compassionate activity of the Dalai Lama is something many people can connect with, but how can one understand the stories about some other Buddhist teachers' unorthodox behavior? The centrality of and reliance on a guru is one of most misunderstood elements of Tibetan Buddhism–and one that is most often veiled in mystery. Dzongsar Jamyang Khyentse here rips the veil off the role of the guru, revealing it to be nothing other than a skillful means for enlightenment, and a practical one at that. By envisioning one's guru as the Buddha and uniting one's mindstream to his or hers through practice, the profoundest kind of insight becomes attainable by the student. Though this path of devotion may not be the best route for everyone, it may be useful for many, and he provides priceless guidance here not only for determining if it's the path for you, but also for finding the right teacher and for relating to the teacher properly once you've established the relationship. The book is useful not only for those interested in Tibetan Buddhism, but also for anyone seeking insight into student-teacher relationships in any spiritual tradition, for which Dzongsar Jamyang Khyentse provides much wisdom along with a good deal of humor.
Publisher: Shambhala Publications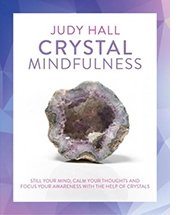 CRYSTAL MINDFULNESS: Still Your Mind, Calm Your Thoughts & Focus Your Awareness With The Help Of Crystals
by Judy Hall
$12.95, ISBN13:9781780289731

Have you heard about mindfulness and want to practice it but find it challenging? Crystals can help in so many ways. They have been around for millions of years and in their terms the passing of decades is merely the blink of an eye, so they offer new ways of perceiving your life. Gazing into the depths of a crystal offers you instant clarity and stillness of mind. Providing a point of soft focus, crystals help you to stay attentively in the present moment without judging it or needing it to change. The unique qualities of each crystal assist in switching off your mind's chatter or compulsive thinking. Crystals can ease your anxieties, dispel your anger, show you how to forgive and let the past be, and so much more. Flick through he pages until a picture catches you eye and work with the crystal as suggested, or target your crystal mindfulness practice more specifically using the book's headings. Then tune into the crystal you need and the magic will happen.
Publisher: Watkins/Duncan Baird Publishers



•
Check Out This Month's Special Deals!
•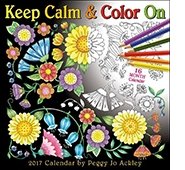 KEEP CALM & COLOR ON WALL CALENDAR 2017: The Art Of Peggy Jo Ackley (12" x 12")
by Peggy Ackley & Sellers Publishing Inc.
$14.99, ISBN13:9781416243335
Coloring isn't just for kids anymore. Many adults find coloring a form of meditation, a way to reduce stress and enhance focus. Keep Calm & Color On offers a simple and relaxing way to slow down and enjoy fun and creative self-expression. Rediscover one of life's simple pleasures - coloring!
Publisher: Sellers Publishing, Inc. (Calendars)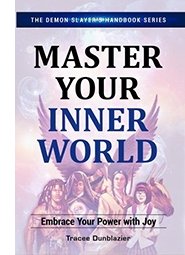 MASTER YOUR INNER WORLD: Embrace Your Power With Joy--The Demon Slayer's Handbook Series, Vol.1
by Tracee Dunblazier
$16.95, ISBN13:9780996390743
In Master Your Inner World: Embrace Your Power with Joy, Tracee covers many relevant topics such as: Discovering your spirit guides and defining the different types of other dimensional entities while gaining the tools to effectively manage them. You'll see the spiritual purpose of anger, grief, and depression and how to transform other strong emotions. You'll activate your awareness of the spiritual process by building a home altar. Through this book, you will gain access to a new framework for healing, from the soul to the body in a format that adjusts your perspective of the underworld and shows you the magnitude of your power in any situation. This book is a game changer for anyone who suffers.
Publisher: GoTracee Publishing LLC.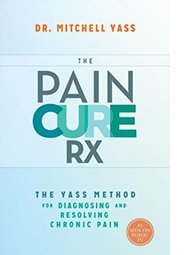 PAIN CURE Rx: The Yass Method For Diagnosing & Resolving Chronic Pain
by Mitchell Yass
$16.99, ISBN13:9781401947255
Are you struggling with chronic pain? You're not alone: an estimated one billion of us across the globe suffer chronic pain every day. And what Dr. Mitchell Yass has found over his 20-year career is that many of us suffer needlessly. While the current medical model for treating pain isn't helping, there is hope. The Pain Cure Rx presents an alternative model of treatment–the Yass Method–that can resolve pain quickly and effectively without surgery or medication. In the medical community today, most chronic pain is attributed to a structural problem, such as a herniated disc, a meniscal tear, or arthritis. But Dr. Yass has found that in about 90 percent of cases, the cause is actually a muscular weakness or imbalance–a condition that's easy to treat on your own. The Yass Method, developed through his work with more than 14,000 patients, focuses on finding the true source of the pain and then using simple exercises to find lifelong relief.
Publisher: Hay House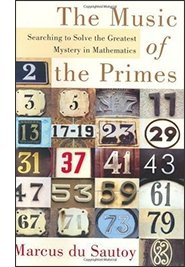 MUSIC OF THE PRIMES: Searching To Solve The Greatest Mystery In Mathematics
by Marcus du Sautoy
$14.99, ISBN13:9780062064011
In 1859, German mathematician Bernhard Riemann presented a paper to the Berlin Academy that would forever change mathematics. The subject was the mystery of prime numbers. At the heart of the presentation was an idea that Riemann had not yet proved–one that baffles mathematicians to this day. Solving the Riemann Hypothesis could change the way we do business, since prime numbers are the lynchpin for security in banking and e-commerce. It would also have a profound impact on the cutting edge of science, affecting quantum mechanics, chaos theory, and the future of computing. Leaders in math and science are trying to crack the elusive code, and a prize of $1 million has been offered to the winner. In this engaging book, Marcus du Sautoy reveals the extraordinary history behind the holy grail of mathematics and the ongoing quest to capture it.
Publisher: Harper Perennial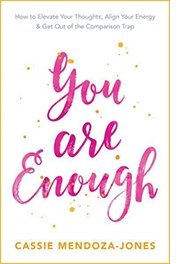 YOU ARE ENOUGH: How To Elevate Your Thoughts, Align Your Energy & Get Out Of The Comparison Trap
by Cassie Mendoza-Jones
$15.99, ISBN13:9781401950668
You are Enough explores why we have become so worried about what other people think of us, and what our infatuation with comparison can cause on physical, mental, emotional and spiritual levels. If you are sick of striving, or feeling like a perfectionist comparer, here are the practical tools for getting out of the comparison trap, so that you can learn to accept yourself as you are, and revel in the sense of peace and ease that this brings. Are you sick of giving yourself a hard time? Have you had enough of comparing yourself to others? Do you feel that nothing you do is good enough? It doesn't have to be this way. Because guess what? Your worth is innate–you can't earn it with accomplishments or by hitting your goals – which means you can't lose it when you think you haven't done enough. It's time to let go of the negative thoughts that keep telling you that you'll only be more when you work harder – that keep you stuck, constantly comparing yourself to those around you. It's time to understand what your body is trying to tell you when you're burning out, pushing yourself to your limits, and chasing self-worth, achievements and perfectionism. You are enough. Knowing this starts with accepting yourself. And the shift to true self-acceptance is realizing you're already enough.
Publisher: Hay House Australia
Friday,

October 21st, 2016

Vol. 31, No. 43


October
New Leaves Update Catalog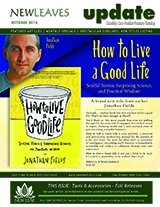 Feature Issue

Leaves are turning! Time for Updates Fall Tools & Accessories issue. Find great deals inside as well as some great articles.


Our monthly
catalog
New Leaves
Update
features
Available At Quality Paperback Prices.

Also

ads for

New Products!
The printed issue will ship to you.

Log-in and

view the latest PDF,
New Leaves Update catalog.

It'

s searchable, printable and includes links to our web site for all advertised products.
Visit our website

Log-in
to view the latest digital New Leaves Update catalog
Items recently received in our warehouse

Our best-selling products, updated monthly

eLeaves is published every Friday at 6pm eastern time. It features ANNOUNCEMENTS of interest to our customers, COMING ATTRACTIONS featuring frontlist items expected within the next month and FRESH STOCK which focuses on items newly received in our warehouse.

eLeaves is only one of the email communications available to New Leaf customers. To view the full list, subscribe to more options, or unsubscribe, please click

here

.