Follow our craft beer adventures...
- Top Ten Moments from Belgium


By guest columnist

Ransome Sheets
Years ago, I realized that the beer that I wanted, was not the beer that I was drinking. While I had enjoyed my time with the typical American light lager titans, I knew that there had to be something better. Sitting at the bar of The Globe in Athens, Georgia,
I stared at a selection of unfamiliar bottles and asked the bartender if they had anything from Belgium. From the selection came a tall dark vessel that was opened by a cork instead of a cap. "This one's called Chimay Grande Reserve," the bartender advised, "and it's brewed by Trappist monks!" As the bartender poured this dark carbonated beverage into a glass goblet of all things; I already recognized that there would be no going back.
Since that first taste of Belgian beer I have been searching for anything to which it can compare. I fell in love with American beer and everything that it brings to the table… which is just about everything! My girlfriend and I like to travel whenever possible, and we often plan around our favorite breweries so that we can stop by to learn their history, take in their process, and enjoy the beer. When we stumbled across Owen Ogletree's Brewtopia newsletter and found that there were spots available for a trip to Belgium, we quickly jumped on board. After years of homebrewing, brewery tours, beer festivals, and thousands of tasting flights, I was finally headed to the source of my obsession.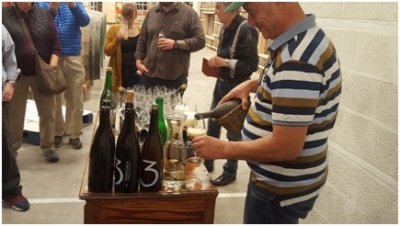 This trip was truly the pinnacle of my beer exploration. From the massive commercial brewery of Duvel, to the smallest brewery in Belgium (Interpol), we learned where these unique and incredible tastes were born. Outside of creating and hosting the Classic City Brew Fest and Atlanta Cask Ale Tasting, Owen is devoted to teaching all who are interested in learning about beer. Owen and his many friends in Belgium provided our group with behind-the-scenes tours, rare tastings, and a wealth of knowledge.
Caught in the enthusiasm of the trip, I was excited to volunteer to provide Owen with a top ten write-up after our return. With everything that we did in this one week, naming only ten events turned into a true challenge! So with much difficulty, and another beer or two, here are my top ten moments from the trip:
Achouffe Brewery

- The Achouffe Brewery stood unique from the rest with a single caveat: gnomes! From the tiny chairs in the brewing rooms to the mushrooms around the pond, we found these little sprites and related paraphernalia all over the pristine, green grounds. The brewery boasts that the gnomes are the reason for the taste behind the beer, and I would have trouble arguing that the complexity found in their classic Belgian styles weren't produced from something outside of the normal.
Hommelhof

- a three-course beer lunch with some of the best beer gastronomy imaginable. Owen's friend Stefaan paired excellent beer selections from the area with some of the best food, to create a meal fit for royalty.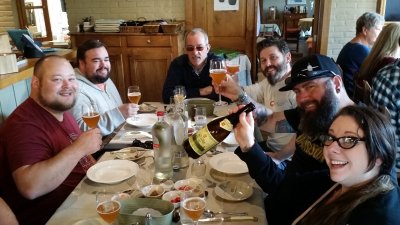 Brewery Interpol -

A good ways away from the fast-paced city of Brussels, we went to meet Pol and his wife Tine. These two run a comfortable looking B&B and the smallest brewery in Belgium! Pol (Inter-Pol get it?) took us around their brewery where we tried each of their astonishingly delicious brews. Stepping outside into the sun and watching the beautifully green countryside while sipping good beer with good friends definitely made me want to pack up my things back home and join this heavenly setting.
Westvleteren's Café

- Visiting the grounds of the grotto at St. Sixtus Abbey was a captivating precursor to the beer at Westvleteren's Café in De Vrede. The Westvleteren 12 might just be the best Belgian quadrupel I have ever tasted! The beers are almost impossible to get anywhere else in the world, so I was extremely excited when we were able to snag a few to take home!
De Cam

– I loved the tasting and personal tour of De Cam's lambic blending facility from the enthusiastic Master Blender, Karel. He taught us everything we could want to know about real lambic blending - from the history of De Cam's location to the specifics of lambic fermentation. As this was one of the first stops in the trip, it certainly set the pace for the exciting week ahead. Karel ended the tour by playing his Flanders bagpipes!
Cantillon Brewery

- When our trip started, I may have been one of the only members who wasn't already familiar with this famous lambic brewery; but by the time we visited, I already felt like an expert. Several floors, filled with barrels layered in history were shown to us by our animated guide, Cedric Jamar. While our group was already prepared for what we expected to be one of the highlights of our trip, Cedric broke through our expectations and proved that these brews had even more depth than imaginable. While we lined up to take home a few of these rare bottles, we drank in the taste of "real" lambics and experienced what a passionate process can produce.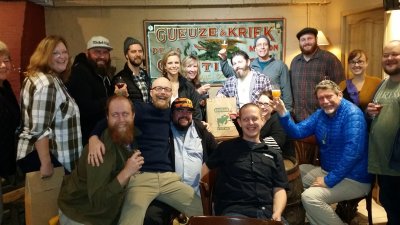 Orval Ruins and Tavern

- Orval's Cistercian ruins were more picturesque than anyone could imagine. While still caught in a haze of awe from viewing the ruins, we tasted the Trappist table beer which can only be found at the A l'Ange Gardien Orval Tavern. While enjoying this incredible beer, we also spoke with the general director of Orval,

Philippe Henroz.
Bruges

- With a short walk from our bus, we reached the historic town of Bruges. With age-old buildings, this place took me straight into a period movie. As we visited breweries and pubs that were hidden around every corner and in every alleyway, I am forced to compress the entire town into one top ten item. I could have spent months walking around the canals and chocolate shops trying to find every good pub in the area and still come up short.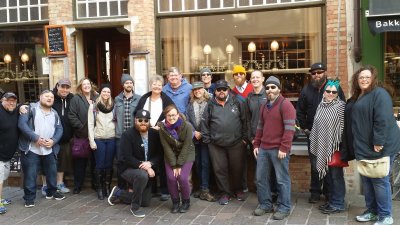 3 Fonteinen

-

Visiting 3 Fonteinen and meeting owner and master blender Armand DeBelder as the last stop of our scheduled week must have been strategically planned, as it would be impossible to leave this visit without experiencing the feeling of a renewed and revitalized perspective on Belgian beer. Armand takes passion and his love for blending to an unthinkable level that encompasses everyone around him. Despite only visiting Armand for a short period, we all felt as if we were sharing astounding beer with a longtime friend.
Belgian Beer -

In every brewery, blending facility, abbey, and beer enthusiast in Belgium, a common theme was present: time. While the United States is quickly becoming one of the beer centers of the world with its innovative experimentation and incredible array of hop varieties, Belgium has been focusing on the same styles that they have always done, and are continuing to do it better than anyone else. Much of the beer that I tasted in Belgium stood out as having an overall complexity that was astounding. From the quadruples brewed by Trappist monks, to the lambics produced in the same methods for hundreds of years; Belgian beers will forever exude the tastes that all others wish to aspire.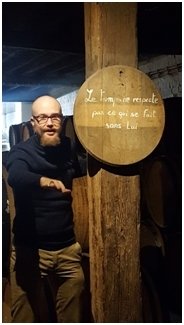 Cedric Jamar at Cantillon. French text translation:
"Time does not respect what is done without him."


Our next Brewtopia beer trip with available slots will take place in October of 2017 to amazing Bavaria and Franconia, Germany. To see more information and register, CLICK HERE.
- Get Holiday Deals on Our Two Outstanding Beer Festivals!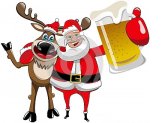 Tickets to our Atlanta Cask Ale Tasting and
Classic City Brew Fest make perfect holiday gifts for the beer lover in your life!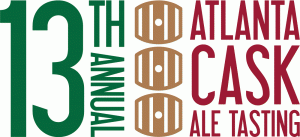 Saturday, January 21, 2017
5 Seasons Brewing & Taco Mac Prado
~50 one-off cask ales from the USA & UK!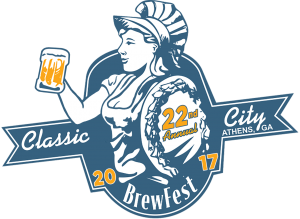 Graduate Hotel Complex - Athens, GA
400+ Craft Beers - 30 Casks - Live Music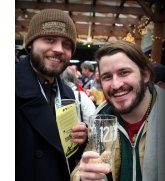 Come see why so many people call ACAT and the Classic City Brew Fest

their favorite craft beer events!

- Former Stone Brewer Coming to Atlanta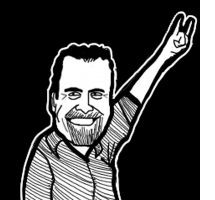 Atlanta beer lovers were overjoyed with the news that the celebrated former Stone brewer
Mitch Steele
plans to launch a new brewery/brewpub on the Beltline at Ralph McGill Boulevard. Blueprints call for a rooftop bar, outdoor patio and creative kitchen. "I've enjoyed a wonderful career in craft brewing and I am excited for this next chapter in Atlanta," says Steele.
- Atlanta Rye Whisky Release on Saturday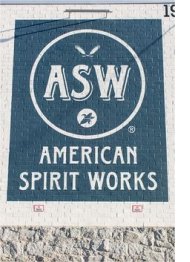 Join Atlanta's ASW Distillery for a bottle release of Atlanta's first rye - which just so happens to be one of Atlanta's first single malt whiskies too - on

Saturday, December 3

from

2-5 pm

. With Athens native Justin Manglitz as head distiller and an incredible label by local artist David Hale - who you may know from his commissions for the likes of The Avett Brothers and the City of Athens, GA - ASW's Resurgens Rye showcases the full potential of this flavorful grain.

ASW is pairing this bottle release (and the three pours of whiskey you can receive as part of each tour) with two of Atlanta's other well-known fixtures: Fox Bros BBQ and live music. Other whiskies available as part of your tour include Fiddler Bourbon and a mild silver whiskey called American Spirit Whiskey.



Tickets can be purchased

HERE

.

Use code BREWSLETTER for an exclusive discount!




- Monday Night Brewing Expansion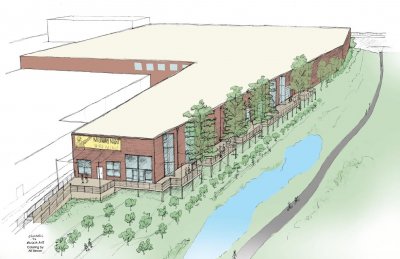 The big news from Monday Night Brewing focuses on 2017 plans to open a new barrel-aging and sour beer facility with tasting room and orchard on the Atlanta Beltline's Westside Trail. Monday Night's barrel-aged beers have won several awards, but the brewery has been frustrated with limited barrel space. The additional 22,000 square-feet facility will house multiple barrel and souring rooms, along with open fermentation vessels to employ wild yeast strains. "Spontaneous fermentation opens up a world of possibilities for our limited release beers," explains co-founder Joel Iverson. "The orchard we're planting next to the new building will not only provide raw ingredients for our new beers, but it will also help with wild fermentation."


- Owen's Beer Report from the Bavarian Alps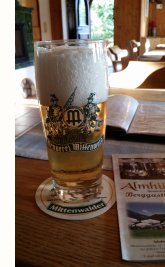 Munich ranks as a delightful beer city - filled with personable taverns, beer gardens and scrumptious Bavarian lagers and wheat beers, but to experience the true soul of Bavaria, rent a car at the Munich airport and venture south into the Alps. Along with the touristy Neuschwanstein Castle, southern Bavaria boasts breath-taking mountain views, terrific hiking and small breweries and brewpubs - all dripping with character, traditional German food and some of the world's best classic beer styles.
The small ski resort town of Garmisch-Partenkirchen makes the perfect central base for exploring the gorgeous Bavarian Alps by rental car, and the city houses some of the best beer halls and restaurants in the region.

CLICK HERE
to see more details and use my
map
to navigate around the area and find the best beer spots. Photos are included that highlight a few of the outstanding destinations in the area. Prost!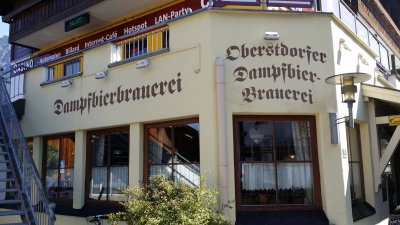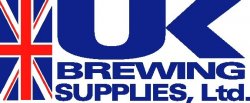 Homebrewers or pub owners who want to try cask ale should look no further than UK Brewing Supplies. Here's a message from our friend Paul at UK Brewing...




"UK Brewing was formed in 1997 with the purpose of bringing you "everything you need for cask conditioning, including the know-how!" Since that time we have expanded our product range and our association with companies in the UK to the extent we can offer you the all the equipment you need to dispense cask ale. We sell only the finest British casks. And you're going to want to keep your beer at the proper temperature, that's why we offer a complete line of cask cooling and handling supplies from Filton Brewery Products."
CLICK HERE
for new low pricing on casks and 10% off British hand-pumps.
- Georgia Craft Beer Spotlight


Pick up cans of Southbound Brewing's Moonlight Drive imperial coffee stout this winter. With 8.5% ABV and Savannah-roasted PERC Ethiopia Guji Cheri coffee, this opulent, dark ale offers notes of espresso beans, roasted malts, pleasant fruity esters, milk chocolate and caramelized malts.

Red Brick's Divine Bovine chai spice milk stout fills glasses again this winter with notes of cocoa, lactose sugar and spicy ginger, cardamom, black pepper, coriander and cinnamon. Next up in Red Brick's popular Brick Mason Series, Vanilla Gorilla imperial porter with Ugandan vanilla beans offers silky, dark malts and rich chocolate and vanilla tones.

Mama's got a squeeze box, and now everyone can enjoy a Squeeze Box IPA with grapefruit from SweetWater. It's a malty, fruity IPA with Chinook, Columbus, Cascade, Simcoe, Goldings and Centennial hop additions along with a shot of natural grapefruit flavor. At 6.1% ABV and 45 IBUs, Squeeze Box's malt bill includes Munich, wheat, crystal malt and Midnight Wheat.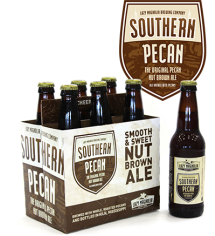 Lazy Magnolia
Southern Pecan
From our friends at Lazy Magnolia Brewing...
To our knowledge, Southern Pecan Nut Brown Ale is the first beer in the world made with whole roasted pecans. The pecans are used like grain and provide a nutty characteristic and a delightful depth to the flavor profile. This beer is very lightly hopped to allow the malty, caramel, and nutty flavors shine through, and the color is dark mahogany.
Mark is the crazy, creative force behind Lazy Magnolia. He comes up with ideas that often seem to have no chance of succeeding. One of those ideas was to make a beer with pecans. Many attempts at nut-beers have resulted in failure due to the high oil content. Mark was determined, so Leslie designed the recipe to work around the problem of nut oil. Even so, she had very little faith in the creation until they poured the first perfect pint. Southern Pecan has been a hit ever since.
- Greater Yellowstone Multisport & Beer Adventure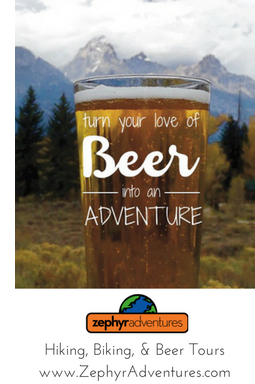 From our friends at Zephyr Adventures...

Journey through America's first (and probably favorite) national park all while sipping on some seriously tasty suds. Who wouldn't want to hike, bike, horseback ride, and raft their way through the incredible greater Yellowstone ecosystem, meeting with local brewmasters and tasting local beers?





Join Zephyr Adventures on the Greater Yellowstone Multisport & Beer Adventure, July 22 – 26, 2017. CLICK HERE for more details.


- Brewtopia Events on Facebook & Twitter

CLICK HERE and hit the Brewtopia Events "like" button on Facebook to see live photos and news posts as we sip, quaff and sniff craft beer around the world. Also be sure to "friend" Owen Ogletree on Facebook.

Follow Brewtopia Events on Twitter.
COMING UP...
Owen Ogletree heads to Budapest, Hungary next week to scope out the country's new craft beer culture! Be sure to friend Owen Ogletree on Facebook to see his live video posts from Budapest.


Budapest loves its craft beer!