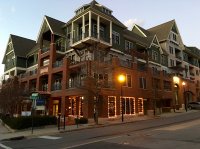 Asheville CBD. 1,517 SF second level office condo in this mixed use building. Walk to downtown Asheville. Turn-key.
Main level NNN lease. 1,893 SF one block from Pardee Hospital, fully renovated and near downtown Hendersonville.
If you or someone you know needs more information on
real estate in Asheville and
the surrounding areas, contact:

Paula Marzella
www.realty828.com
Hot Trends in Home Building for 2017
To stay up to date on current trends in the building industry, REALTY 828 attended the International Builders Show (IBS) and the Kitchen & Bath Industry Show (KBIS) in Orlando, FL on January 10-12. In the show's past, automation of home living products was a small part of the show. They are now being perfected and taken to a new level with phone apps, touch technology and remote control.
The design industry is finally putting function before form to create a more user-friendly experience and efficiency in the way we live. Remote-control options for cabinets, windows and blinds; touch-tap operation for sinks, cabinets and toilets, and compact, modern European-style storage for kitchens and closets were all on display. NanaWall was just one of many companies offering customizable glass wall solutions for opening up flex spaces in homes to bring the outside in. Sleek lines, contemporary style, with low maintenance is on its way to be the standard of living. LED lighting has taken over. You will find the lights in all cabinets and backlighting everything from floors, ceilings, bathrooms, and closets. Read more...
See something fun? Forward to a friend
Tax Tips For Home Sellers
Whether you're expanding or downsizing and plan to sell your home this year, you may be able to avoid paying taxes on some of the proceeds. Determining credits and deductions can be tricky, so be sure to consult a tax professional to maximize on your investment. Get the 411 on your 1040 form irs.gov, and the tips below.
Cashing in on the sale of a home can cost you at tax time, however, proceeds up to $250,000 in sales gain ($500,000 for married, filing jointly) is tax-free as long as you owned the property for two years and lived in it for two of the five years before the sale.
Learn more here...
Get the latest information from
Advantage
, Buncombe County School District's school and family magazine. Check out the
flip book
for details.
Got snow? Click
here
for information on school closures the next time you need to know.
REALTY 828 - Our brokerage name pays homage to the area code for all of Western NC. We take pride in engaging our amazing community, as well as providing unparalleled representation as a full-service real estate brokerage. We strive to be current, relevant, and in the Here and Now.
Visit our website, the hub of real estate and everything Asheville, REALTY828.com. K
eep up with us on your favorite social media platform.





If you missed any of our previous newsletters since October, you can catch up on past issues at the 828 Update.