1) Support Raising Wages in NC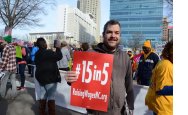 Tomorrow, Wednesday 3/8, Raising Wages NC will host a press conference with the bill sponsors of a state bill to raise the minimum wage in North Carolina. JOIN US!
Nearly 1 in 3 workers is living below the federal poverty line (2nd worst in the nation) and it is time for North Carolina to join the 29 other states that have raised their minimum wage.
ACTION: Sign up for our Thunderclap by 9am on Wednesday and help us make some noise on International Women's Day on social media:
https://www.thunderclap.it/projects/53922-raising-wages-nc
For more information about the statewide campaign and to sign the petition, you can also visit https://raisingwagesnc.org
2) Support Transit Funding Increase in the AVL City Budget

Tell Asheville City Council to Prioritize Funding for ART
So many of you have responded to our Action Alerts to ask City Council to support increased funding for transit and we can't let up now. Asheville City Council members will be going into their first budget work session on March 14th.
Take ACTION: Tell City Council to prioritize increased funding for the Asheville transit system! Specifically, tell them to support Sunday service on all routes, evening service until 10, and the reinstatement of 3 critical stops!
You can write all of City Council at this address: AshevilleNCCouncil@ashevillenc.gov
3) Attend Comp Plan Input Session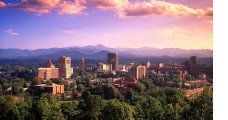 Asheville Comprehensive Plan Public Input Session
Thursday, March 9th 5:30-7:30
This plan will guide the City for the next 20 years and we need to make sure that all voices are heard in this process. Come make your voice heard.
4) Share our Voices for Economic Justice program info on social media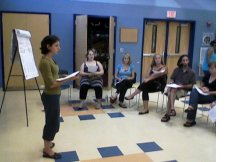 Voices for Economic Justice
Begins March 27th
-Monday Nights

-8 week community organizing training for self identified low income people
Please share this information with anyone potentially interested in community organizing, and sharing our stories to move forward the work of living wages, affordable housing, and better transit!
Voices takes place on Monday nights.
Contact Amy Cantrell at 828-505-7466 or amy@justeconomicswnc.org for more info or to sign up.
5) Support Affordable Housing and learn more about Land Trusts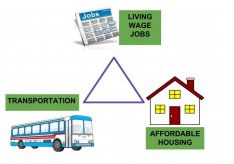 Community Land Trust 101
Dr. Wesley Grant Sr Southside Center
The City of Asheville's Community and Economic Development Department is presenting the first of a public education series about permanently affordable homeownership opportunities on March 16, 2017, at 6 PM at the Dr. Wesley Grant Jr. Southside Center. This session will be the first of two aimed at creating an understanding of affordable home ownership models, particularly through the development of a Community Land Trust. These public sessions will focus on fostering a discussion of Asheville's affordable housing needs, and what options might be most successful at helping open homeownership opportunities and stabilize and strengthen neighborhoods.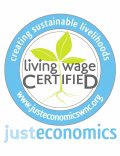 Welcome Newly Certified Employers (from Dec. 2016)
Asheville Hardware
Dry Ridge Family Medicine
East Fork Pottery
Also in Transylvania County
Brevard Academy
Gaia Herbs
Healthy Harvest
Consider how you spend your money and how that contributes to a just and sustainable local economy. Shop Living Wage Certified! Vote with your dollars... For a list of certified employers click
here