Follow our craft beer adventures...
- Classic City Brew Fest tickets on sale NOW

Get advance tickets before they sell out!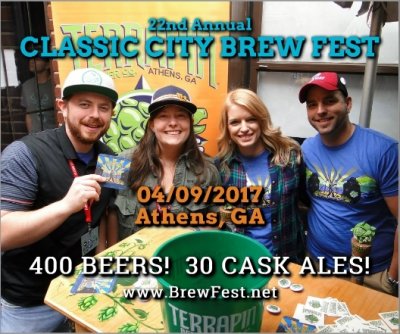 One of the Southeast's Favorite & Longest-Running Craft Beer Events!
Live Music from The Welfare Liners!
Part of the amazing Athens, GA Beer Week!
Rare, super-special beers and cask ales!
Come see why so many say the Classic City Brew Fest is their favorite beer event!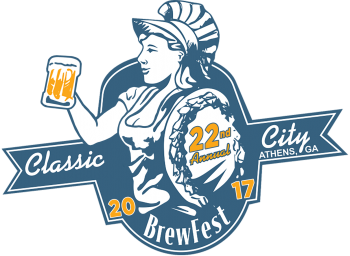 Graduate Hotel / The Foundry - Athens, GA

- Take a Walk on the Craft Beer Side

Story and photos by Owen Ogletree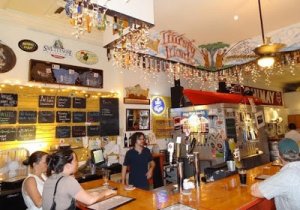 The busy upstairs bar at Asheville's downtown Thirsty Monk


Forget Pokémon Go. It's much more fun and delicious to venture out on foot in a new city to collect new friends, beers and experiences while searching out the best craft beer spots. With the current craft beer craze taking solid hold in the Southeast, and new breweries, brewpubs and pubs springing up like kudzu, every state in the region offers areas where the concentration of craft beer outlets makes for a pleasant day out on foot. Here are five places to start…

South Slope - Asheville, North Carolina



Once home to rows of derelict warehouses, Asheville's "South Slope" now pulses with new condos, shops and restaurants, but beer is the real reason people flock here. Start in the morning, or there's no way to complete this walk in one day. From the center of downtown, walk west on Patton Avenue, eventually heading downhill on Coxe. Stroll five blocks south to Tasty Beverage Company to peruse the range of packaged beer on offer and try a few samples from the taps to rouse the palate. Next, get in line across the street at Wicked Weed's Funkatorium a few minutes before opening to insure a prime seat at the bar to taste a massive range of sour, funky, fruited and barrel-aged brews.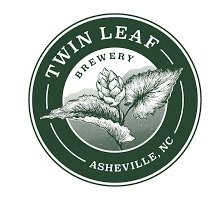 Just across Coxe from Wicked Weed, Twin Leaf Brewery offers a pleasant atmosphere in which to sip through an extensive assortment of classic beer styles. Nothing beats pizza on a pub crawl, so walk a little over a block north to check out Asheville Brewing Company and pair a slice with one of their perennial favorite house brews.

Around the corner sits Hi-Wire Brewing, where a flight of solid lagers, European styles and barrel-aged tart beers is in order. Also pop next door to Ben's Tune Up to experience their regional craft beer selection and house-made sakes.

Head back south on Coxe for visits to the gorgeous Catawba Brewing tasting room and the eccentric Burial Beer Company for a flight labeled with a coroner's toe tag. Next, compare the fun, crusty, original Green Man Brewing facility with the shiny, multi-story, new brewery just a few doors down.

Lastly, hike back uphill to the corner of Coxe and Patton for a cask ale at Jack of the Wood pub and late night snacks at Thirsty Monk where craft beer flows upstairs and classic Belgian ales reign in the cellar.

Nashville's Craft Beer Mile

Nashville's got country music, spicy hot chicken and marvelous craft beer. After lunch, start at Hops & Craft near the corner of 12th Avenue South and Pine Street for a warm-up beer, then walk east to Nashville's pioneering Yazoo Brewing for a tour and a couple of flights of brewer/owner Linus Hall's solid, popular recipes.


Linus Hall, Yazoo's owner/brewer


Just for a change of pace, continue walking east to Pour House Burgers, Bourbon & Brews to try a dram from the expansive whisky list before hitting Jackalope Brewing just a block or so north. Standouts from Jackalope's talented lady brewers include Leghorn Rye IPA, Thunder Ann American Pale and Snowman Mocha Stout.

About two blocks east from Jackalope, across the train tracks, sits Tennessee Brew Works - a two-story craft brewery with outstanding ales and lagers, a sparkling brewhouse, live music and yummy small plates. Finally, meander a few blocks north to the casual and cozy Czann's Brewing to chat with loyal locals and meet brewer/owner Ken Rebman, who always seems to be there.

New Orleans' St. Charles Avenue

Board a rickety streetcar and take the scenic ride through the lush Garden District down St. Charles Avenue all the way past Audubon Park. When the streetcar makes a sharp right on Carrollton Avenue, hop off and duck into the classic Cooter Brown's Tavern to check out the "Snooty Cooter" back bar that's loaded with craft beer. For sustenance for the day, munch on fresh oysters, boudin balls or a savory shrimp po-boy.

Jump on the streetcar, heading back toward downtown, and exit at Louisiana Avenue. Walk five blocks south and two blocks east to The Bulldog pub on Magazine Street where patrons sit in the outdoor patio with a local beer and relax to the sounds of the decorative beer tap fountains. Want a beer to go? Nab a plastic cup before leaving, as it's perfectly legal (and encouraged) to walk the streets of New Orleans with a drink.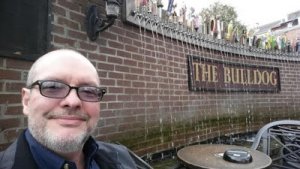 Owen Ogletree relaxes on the patio of The Bulldog Pub


Turn right out of Bulldog and walk down Magazine to take a right at Seventh Street. After about six blocks, look for NOLA Brewing that offers enjoyable tours and an impressive, two-story taproom with upstairs balcony. NOLA really jump-started craft beer in the city a few years ago.

Head back north on Seventh Street to catch another streetcar toward downtown and disembark at the Euterpe stop for a bite and a mind-blowing beer menu at Avenue Pub - THE 24-hour Big Easy craft beer destination run with love by beer fanatic Polly Watts.

Before or after Avenue Pub, seek out beer flights at Courtyard Brewery and the new Urban South Brewery - both just a few blocks away by foot or taxi. Check brewery opening hours to decide which to visit first.

Decatur, Georgia - Atlanta's Craft Hotspot

For this walk, be sure to visit on a Saturday and start with an early lunch and beer sampler at the neighborhood's much-loved Twain's Brewpub & Billiards, then summon a taxi or make the 30 minute walk on East College Avenue toward Avondale Estates to My Parents' Basement to enjoy a pint and poke around the pub's comic book shop. It's where craft beer geeks and comic book nerds collide.

When exiting My Parents' Basement, take a right to head back toward Decatur, turn right on Maple Street and look for Wild Heaven Beer where brewer Eric Johnson crafts a range of phenomenal and unconventional ales.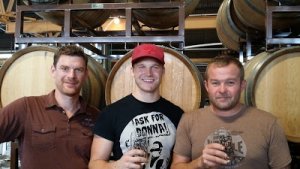 From Wild Heaven, walk west on East College Avenue for more beer sampler gratification at the laid-back Blue Tarp Brewing and the beautiful, Belgian-themed Three Taverns Craft Brewery before ending the night with pints and plates in downtown Decatur at Brick Store Pub, Square Pub and/or Leon's Full Service gastropub.

Sunny St. Pete

Start the morning in downtown St. Petersburg, Florida soaking in avant-garde art at The Salvador Dalí Museum before seeking out lunch at the amazing Z Grille just north of the gallery.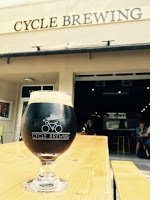 Now the brewery visits begin! Walk west on Central Avenue North or 1st Avenue North to find Cycle Brewing and St. Pete Brewing for succulent local brews, then continue west about six blocks to the award-winning Green Bench Brewing for an exceptional range of hoppy, dark and sour ales.

Beer sampler trays are pouring a bit farther west at Pinellas Ale Works and Cage Brewing - just across from each other. Next, trek three blocks to 2nd Avenue South for 3 Daughters Brewing, where the idea of making beer began when the owners, who are former chefs, brewed an original beer for their fish batter. Today, 3 Daughters' tasting room offers 14 taps of outstanding ales and lagers.

Finish the night at the Urban Comfort Restaurant & Brewery location that once housed a gas station along St. Pete's "Automotive Alley." Pair a house-made brew with fried green tomatoes, "hott" chicken or meatloaf with smoked gouda and bacon gravy.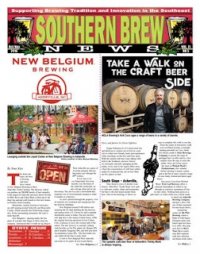 - Experience Germany with Owen Ogletree

October 7-14, 2017

$1595 per person - add $399 for a single room.
Includes hotel, ground transportation, tours and most of your food and beer.
This is too affordable to pass up!
Fall in love with delicious German beers and Bavarian beer culture!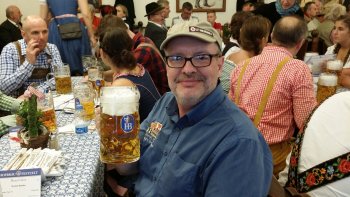 Experience Munich's best beer taverns and beer gardens.
VIP lunch and beer at the grand Hofbrauhaus.
Stroll through the impressive Neuschwanstein Castle and enjoy lunch and beer at the Ettal Abbey brewery.
After a brewery tour, enjoy dinner and a night at the Ayinger Guesthouse.
Visit to the perennial Weihenstephan brewing school and brewery facility.
See the personable beer halls of scenic Bamberg - home of the region's famed smoked lager.
Tour the Weyermann maltery and test brewery.
See the Hallertau hop region and visit the Hop Museum.
Tour and lunch at the Schneider Brewery in Kelheim.
Bavarian feast and beer celebration at the Ayinger beer tavern in Munich.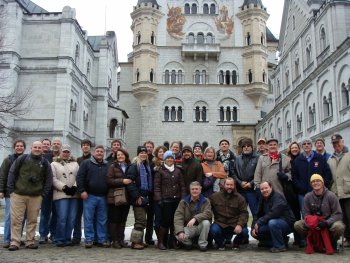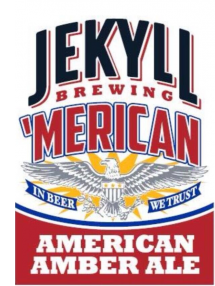 Jekyll Brewing




'Merican Amber Ale



BITTERNESS: 49 IBU
ABV: 5.8%

Jekyll's American-style amber ale offers pleasant flavors of caramel malts combined with a wonderful, supporting background of aroma, flavoring and bittering hops. Light fruity esters mingle with citrusy, resiny hops, providing a delicious and appealing balance in this quaffable brew. Try it alongside fried foods or a slice of Asiago cheese.


- Monday Night / ASW Whiskey Collaboration

From our friends at Atlanta's Monday Night Brewing...

Monday Night Brewing is proud to announce a Scottish-Style Single Malt Whiskey, brewed and distilled in partnership with ASW Distillery, less than 5 miles from the brewery in our home of Atlanta, GA.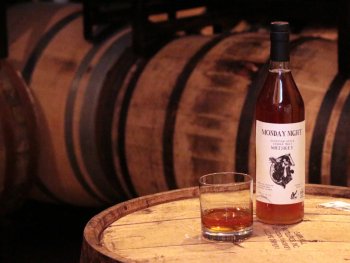 Our brewmaster Adam Bishop met ASW's Head Distiller, Justin Manglitz, before ASW opened their doors. The two quickly hit it off, as both have an adorably obsessive love of all things chemistry and alcohol. As you may or may not know, the first half of the distilling process is essentially the brewing process. Given our love of smoked beers (evidenced in our popular Drafty Kilt Scotch Ale) and ASW's love of whiskey (Atlanta's only whiskey and brandy distillery) we decided to partner up to produce a smooth, smoky whiskey.



After months of planning, we brewed a mash rich in Cherrywood-smoked malt, the same malt used in Drafty Kilt. We then transferred this mash to ASW by a process called "renting a Penske truck." It was distilled at ASW in traditional Scottish-style twin copper pot stills before being transferred into new American white oak quarter casks. In all honesty, the hardest part of the process was waiting on it to age. Fortunately, our patience has paid off. Like the mighty Scottish badger, this Scotch-style Whiskey has a pleasant bite and will burrow into your belly with a smooth, slightly sweet, and delightfully smoky finish.

We will be releasing this whiskey to the greater Atlanta area beginning in early March, with an expected retail price of $59 per 750 ml bottle. If you can't wait till then, we are doing a small release party on Monday, February 27 at ASW. Advance tour tickets are on sale now.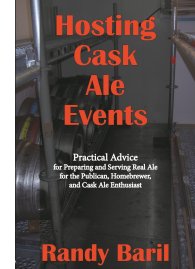 Review by Owen Ogletree

Everyone loves to see cask-conditioned ale being served at a pub or beer festival, but because of yeast sediment in the cask and the need for venting excess carbon dioxide, cask ale poses a range of challenges for anyone looking to serve a perfect pint. Pub owners, brewers, homebrewers and festival organizers looking for easy and common sense tips on serving the best cask ale should be sure to grab a copy of Randy Baril's handbook Hosting Cask Ale Events.

Randy's approachable guidebook provides useful insights on cask ale procedures, tools, equipment, cleaning, carbonation, dry-hopping, cooling, cellaring, venting, tapping and serving.



Hosting Cask Ale Events also goes into adding spices, fruit, juices, honey and other flavorings to the cask - as well as methods of obtaining oak character. Cask-conditioned ale does present challenges, but the soft carbonation and elegant flavor components often highlighted in great casks makes it all worthwhile. Find the book on Amazon or at www.maydaycask.org.



03/01/2017 - Catch 22 (Athens, GA) Lagunitas Beer Dinner, 6:30-8 PM with special beers and menu items from chef/owner Richard Miley. $45 for four beers and three courses. Call for reservations - 706-549-6333.

03/25/2017 - TINYPALOOZA at Lincoln Fill Station in Snellville, GA. Details here. Come check out the line-up of extra special, rare beers at this fun event! Owen Ogletree will be there.
04/08/2017 - TERRAPIN'S 15th ANNIVERSARY FEST at the Athens brewery.
04/09/2017 - CLASSIC CITY BREW FEST. With 400+ beers, 30 one-off cask ales and live music, BrewFest is the culmination of Athens Beer Week. Get TICKETS.
10/07-14/2017 - OWEN'S GERMANY GROUP BEER TRIP. Explore the best beers of Bavaria and Franconia with Owen Ogletree and The Beer Wench. Reserve your spot HERE.
- Brewtopia Events on Facebook & Twitter

CLICK HERE and hit the Brewtopia Events "like" button on Facebook to see live photos and news posts as we sip, quaff and sniff craft beer around the world. Also be sure to "friend" Owen Ogletree on Facebook.

Follow Brewtopia Events on Twitter.
COMING UP...
Next week, Owen Ogletree and The Beer Wench take a group of 32 American brewers, beer writers, pub owners and craft beer enthusiasts on a week-long Irish beer trek from Dublin to Wexford to Galway to taste an amazing array of new Irish craft beers.