By the time this issue of e-news reaches you, the 54th Annual Clay Meeting in Edmonton, Alberta (June 2–8, 2017) will be just around the corner. The Annual Conference is the very essence of CMS activity and its principal goal. We may say without exaggeration that the Society exists to organize conferences for its members and the CMS meeting is older than the Society itself and indeed our journal Clays and Clay Minerals, which was founded in the 1960s.

The annual CMS meetings have always been small with fewer than 300 delegates. In my experience this is their great advantage: you do not feel lost in a crowd of thousands people. After a few years you know many of the attendees personally. I have been attending the annual meetings since the time of my postdoc (Corvallis, Oregon in 1976) and I cannot imagine my professional life without them.

Conferences obviously do not happen by themselves! Behind each is a team of hard-working volunteers. Hundreds of people over 54 years have devoted their time and energy to keep the conferences going. All of these organizers deserve our thanks, particularly these days when there is significant pressure on scientists and finding time for such volunteer work has become increasingly difficult.

Our annual meetings often have a dominant or special topic which makes them even more attractive. This year in Edmonton the traditional connection of clay science with the oil industry is highlighted; the CMS meeting will be held in conjunction with the Oil Sands Clay Conference, organized biannually by the Centre for Oil Sands Sustainability.

See you in Edmonton. Do not miss the deadlines (the Abstract Deadline has just been extended, so make sure to submit yours on time, before 31st March)!

Jan Środoń (ndsrodon@cyf-kr.edu.pl)
President, The Clay Minerals Society



The first Clay Minerals Society Conference to be held in conjunction with the Oil Sands Clay Conference will take place June 5th–8th, 2017 in Edmonton, Alberta, Canada. View the conference program, workshop and social events on the conference website.



Important date

Early Bird Registration deadline: Monday, May 1, 2017


Four questions to a Clay Scientist – Prof. Dave Bish of Indiana University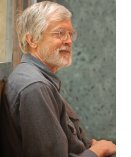 David Bish is Professor and Haydn Murray Chair of Applied Clay Mineralogy at Indiana University. He has received numerous awards in the field of mineralogy and crystallography including the Marion L. and Chrystie M. Jackson Mid-Career Clay Scientist Award from the CMS in 1995 and the Brindley Lecture Award from the CMS in 2002. He was President of the CMS (1998–1999) and also served as an Associate Editor of Clays and Clay Minerals.

1.Why/how did you start working on clay minerals?
I first became interested in clay minerals as an undergraduate when working on sediments from the East Pacific Rise at Woods Hole Oceanographic Institution. I began working on these materials with Dr. C. C. Woo of the U. S. Geological Survey in Woods Hole, and he introduced me to the wonders of these sediments. I had been fascinated by the X-ray diffraction behavior of minerals since measuring my first XRD pattern in September of 1970, but by this point in my undergraduate career, I had not had the opportunity to work with anyone who understood clay minerals. Independently, I had several opportunities to study field occurrences of secondary Ni-phyllosilicates during undergraduate field trips. So, when Professor Brindley at Penn State offered me the opportunity to work with him on Ni-silicates, I jumped at the chance. Penn State in those days was like a dream come true for someone interested in mineralogy. You could study just about any aspect of rocks and minerals and I had the opportunity to work closely with Dr. Brindley. Fortunately, at that time, he was retired, so we met every day for half an hour over coffee (and occasionally over tea in the afternoon), in addition to routine research meetings, where discussions centered on X-ray diffraction data measured with strip-chart recordings. Thus began my thorough introduction to clay mineralogy.

2. If you had to tell us one success study and one which completely failed so far in your career, what would they be?
I believe that I've been very lucky in my professional career, in terms of jobs (Los Alamos National Lab and Indiana University), colleagues, and research. The combination of these three has kept me excited about mineralogical research for many years. So I feel that I've had a number of success stories. I've had several exciting successful projects involving X-ray diffraction, including development of the Rietveld quantitative analysis methodology and application of Rietveld methods to clay minerals. I continue to be disappointed that I have been unable to learn more about the Å-level details of the surfaces of smectites (and other fine-grained clay minerals), in spite of a large amount of research on the subject. No matter how hard I hit this problem, I don't get much beyond the basic treatment in van Olphen.

3. With the background that you have now, in what field of clay science would you go into if you had to envisage again a PhD?
I vividly recall as a graduate student inquiring about the possibility of analyzing for organic compounds in clay minerals; at that time this was very difficult and rudimentary. I remain interested in clay–organic interactions, and I also believe that the surfaces of clay minerals (and other fine-grained materials) are critical in determining their behavior in Nature. If beginning today, I would probably focus more on surface chemistry, throwing in a good amount of organic chemistry.

4. What would you tell a student starting a career in clay science?
Focus on studying the fundamentals of chemistry, physics, and perhaps biology. Clay mineralogy has, in many ways, drifted away from the geological sciences, and it is taught at fewer and fewer places in the U.S. A geological background will help, if one is interested in natural materials, but the fundamental sciences are more important in my opinion. But you will always need to understand the crystal structures. I would recommend that students become very familiar with X-ray powder diffraction, as this probably remains the most definitive means to understand clay mineral structures, although electron optical methods are very powerful. And although this is a bit out of the subject of the question, multidisciplinary scientific studies involving teams can be quite satisfying. Being part of a larger team can allow one to move farther along in the study of big questions.




Social me

dia efforts are a continued success. The Facebook page has grown from 200 to 240 likes since the last newsletter. In the same amount of time the Twitter account has topped 300 followers, growing to 327 followers. The ability to share information has never been easier. Messages from the list serve reach a larger audience, as they are shared on Facebook as well. Job openings can be spread to more interested prospects, articles can be shared and discussed, and pictures can be distributed to many interested society members. I do stress, once again, that continued success depends greatly on the community we have and the users. The 54th Annual Clay Minerals Society Conference is fast approaching. Twitter and Facebook afford us the opportunity to popularize the meeting and discuss openly. A hashtag can be created for Twitter, so that a searchable tag is available for anyone interested in any news related to the conference. A hashtag is like a 'button' we can create to make a topic easily searchable. Simply type in the hashtag on the Twitter search and all tweets with the hashtag will appear. An event can be created on the Facebook page which enables people to discuss when they will arrive, what sessions they are interested in, if roommates are needed, or arrange meetings with friends. Some sessions have been shared on the Facebook feed already, but if you are a session organizer feel free to reach out on the Facebook community about sharing any information you wish. Remember, social media is a tool. You just have to use it! I encourage members to reach out if you have any ideas about a hashtag, session posting, or an event posting related to the 54th Annual Clay Minerals Society Conference.

Shane Butler

@ClayMinSociety on Twitter
fb.me/TheClayMineralsSociety on Facebook or search @TheClayMineralsSociety


Clays and Clay Minerals latest....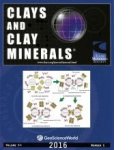 The most recent issue of Clays and Clay Minerals is now available from GeoSciencWorld and from Ingenta.
Papers published include:
EFFECTIVE DYE REMOVAL FROM WASTE WATER USING A NOVEL LOW-COST NaOH-MODIFIED FLY ASH




Xiaoming Gao, Yuan Dai, Yu Zhang, Xiang Zhai, Feng Fu





ICE-BENTONITE POWDER MIXING METHOD TO IMPROVE THE HOMOGENEITY OF COMPACTED BENTONITE IN AN INITIAL SAMPLE PREPARATION STAGE


Yu Peng, Huyuan Zhang, Bingzhuo Yang, Xuewen Wang, Xianxian Shao, Ping Liu



CHARACTERIZATION OF NATURAL CLAYS FROM ITALIAN DEPOSITS WITH FOCUS ON ELEMENTAL COMPOSITION AND EXCHANGE ESTIMATED BY EDX ANALYSIS: POTENTIAL PHARMACEUTICAL AND COSMETIC USES


Valentina Iannuccelli, Eleonora Maretti, Francesca Sacchetti, Marcello Romagnoli, Alessia Bellini, Eleonora Truzzi, Paola Miselli, Eliana Leo



TOLERANCE OF CLAY MINERALS BY CEMENT: EFFECT OF SIDE-CHAIN DENSITY IN POLYETHYLENE OXIDE (PEO) SUPERPLASTICIZER ADDITIVES




Hongbo Tan, Xin Li, Min Liu, Baoguo Ma, Benqing Gu, Xiangguo Li


Clays and Clay Minerals, v. 64, i. 6, p. 732-742



INTERACTION OF MAGNESIUM CATIONS WITH DIOCTAHEDRAL SMECTITES UNDER HLRW REPOSITORY CONDITIONS


S. Kaufhold, R. Dohrmann, K. Ufer



CRUDE KAOLIN DISSOLUTION IN THE ABSENCE AND PRESENCE OF SODIUM POLY(ACRYLIC ACID), SODIUM HEXAMETAPHOSPHATE, AND SODIUM SILICATE UNDER DIFFERENT EXPERIMENTAL CONDITIONS


Feridun Demir



APPLICATION OF MULTIVARIATE ANALYSIS IN THE ASSESSMENT OF CERAMIC RAW MATERIALS




José V. Lisboa, Fernando Rocha, Daniel P. S. de Oliveira
And read our

pre-published

content here. This allows open access by any member or non-member to the full text of these papers before they are formally published.
Recently added papers include:
Characterization of the second parcel of the alternative buffer material (ABM) experiment - I mineralogical reactions
Authors: Kaufhold, S. ; Dohrmann, R. ; Götze, N. ; Svensson, D.


Removal of Co(II), Ni(II), and Pb(II) by manganese oxide coated zeolite: equilibrium, thermodynamic, and kinetics studies
Authors: Irannajad, Mehdi; Kamran Haghighi, Hossein


Controllable preparation of Zeolite P 1 from the metakaolin-based geopolymers via hydrothermal method
Authors: Wang, Yuanhui ; Chen, Jieyu ; Wu, Hongdan ; Lei, Xinrong


The penetration of organic compounds into the sepiolite tunnels
Authors: Karatas, Deniz ; Tekin, Adem ; Sabri Çelik, Mehmet


Adsorption of pyrene from aqueous solutions onto sepiolite
Authors: Sabah, Eyüp ; Ouki, Sabeha

New Associate Editors for Clays and Clay Minerals


Two new Associated Editors have joined the editorial team at Clays and Clay Minerals. They are Jinwook Kim (left) and Xiandong Liu (right). Dr. Kim specializes in evolution of pelitic rocks over the range of burial diagenesis to low-grade metamorphism, clay mineralogy, clay mineral–microbe interactions, and the microstructure of shale. He discovered the neoformation of illite phase in bio-reduced smectite at room temperature, indicating that microbes play a significant role in promoting the smectite-to-illite (S-I) transformation.
Taking first-principles simulation as a tool, Xiandong Liu's group focuses on clay–water interfaces including atomic-scale structures, acid chemistry and ion complexation.


Please pass a copy of CMS-e-News to a colleague. They can read about CMS membership here. For those members still to pay their 2017 membership dues, please do so now.

The CMS 2017 Election for 2018 CMS Officers & Councillors is now open. The deadline to vote is midnight, May 12, 2017 and you must have an up to date 2017 membership. Messages about voting were sent recently to all current members. If you did not receive one you can vote using the instructions below:

To vote you will need your Username (the e-mail address we have for you) and password (CMS member ID#).

You can vote at https://cms.clays.org/electionstart2017.html

You can also reach the electronic Ballot from the CMS home page by selecting the "Election 2017" link. <http://www.clays.org/>