Some weeks it seems not a thing is happening and I either must dig a bit for something news worthy or send you all an edition that well....is a fast read. One new item this week is an article about changes to the rules Blues Foundation Affiliates must follow as they host their local Blues Challenge competitions. Another new item is the announcement of a Gospel Brunch that will raise funds for 7Hills Homeless Shelter. Next, if you missed it last week, there is an article about the wonderful opportunity we have here in Northwest Arkansas explore a wide range of music presented by the University of Arkansas Music Department. Read on below to find more information about upcoming concerts and recitals. Lastly, you will find an article with information on the Blues Foundation's 2017 Blues Music Awards. It's time to que up for those tickets if you want to go.
And don't forget...if you have some cool blues news...a great story about a neat event...a review of a favorite band or album...or some aspect of blues history you find fascinating, here's your opportunity! Drop me a note and let me know what you want to share. (Sandy's E-mail)

If you don't feel you want the "full" responsibility then send me a link to something you feel readers would enjoy reading in the newsletter and I will put an article together for you. Please do remember that OBS reserves the right to edit articles for space. So, hit me up!
Gospel Brunch


Benefit for 7Hills Shelter

Join your favorite local blues and gospel artists for not only some great music, but also a chance to support local homeless in our community.
Flying Signs Gospel Brunch benefiting 7 Hills Homeless shelter of Northwest Arkansas is being presented by Ozark Mountain Records. Read on for all the info.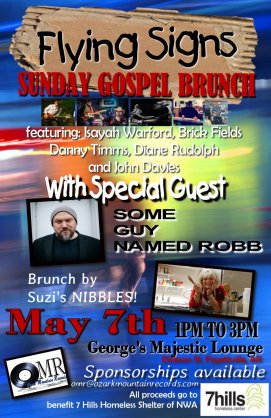 When: Sunday, May 7, 2017

Where: George's Majestic Lounge 1-3 pm
Music by The Flying Signs which inludes: Isayah Warford, Brick Fields, John Davies and Diane Rudolph with special guest, singer/ songwriter/ speaker

"SOME GUY NAMED ROBB"
Brunch: George's will be serving Mimosa's and Bloody Mary's.Suzie's Nibbles will be serving brunch. (menu to be announced)
$5 suggested Donations at the door
For reserved tables, call: (479) 527-6618
Blues Foundation

announces
Rule Changes

for

Local Blues Challenges
In the last ten years, the Blues Foundation's International Blues Challenge, held every year near the end of January, has grown exponentially. The Foundation has made many changes in rule structure to accommodate this growth. Some of the past rule adjustments have been added to limit the number of times an act may participate (after all, the event is designed to help discover new talent,) and to require acts to participate in a local/regional pre-IBC competition. For the 2017 pre-IBC competition cycle a very important rule addition has been made.
Each act wishing to compete

MUST

enter the local/regional affiliate sponsored competition

GEOGRAPHICALLY CLOSEST

to their listed home location

FIRST

before they may enter other regional contests. Failure to follow this rule puts acts at risk being disqualified. Once an act competes in the closest competition, if they don't win, they may enter up to two additional competitions WITHIN a 250 MILE RADIUS.
Acts considering entering local/regional blues challenges leading up to the 2018 International Blues Challenge are encouraged to contact their LOCAL Blues Foundation Affiliates with any questions.
Ozark Blues Society of Northwest Arkansas (
please use our official Bentonville address for reference
) will hold their 2017 local Blues Challenge in late October.
There are a number of related minor rule changes. Please visit our website www.ozarkbluessociety.org for a chance to review the complete document.

Concert and Recital Season
Each year as we approach the end of the school year, I like to take a moment to direct our music loving readers to a wonderful resource we have here in Northwest Arkansas. We have the unique opportunity to experi
ence a wide range of music thanks to the
presentations available through the University of Arkansas Department of Music. Most of these concerts and recitals are free and open to the p
ublic. Check out the link below for more information and to view the schedule.
The Blues Foundation in Memphis presents...
The 38th Blues Music Awards



THURSDAY, MAY 11, 2017
Memphis Cook Convention Center
5:30pm: Party
7:00pm: Seated Dinner, Nominee Performances, and Awards
$150 per person / Tables of 10 for $1,500

And don't miss out on the Blues Hall of Fame Induction Ceremony!

WEDNESDAY, MAY 10, 2017
Halloran Centre for Performing Arts - Memphis, TN
5:30pm: Cocktail reception
6:30pm: Induction Ceremony
$100 per person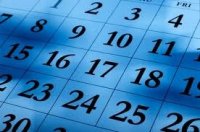 4/07- 4/15

Please enjoy the following listings comprised of bands, venues, and/or organizations supportive of Ozark Blues Society. Always check with individual venues for event details and schedule changes.
4.07
Waylon Jennings Tribute and Boss Tweeds for Happy Hour at Georges Majestic Lounge in Fayetteville

Keith Nicholson at After 5 Bar and Grill in Rogers

Roger Thomas at Ramo 'd Olivo in Bentonville

Route 358 at Bike Rack Brewing in Bentonville
4.08
Weatherfolk at at Ramo d' Olivo in Bentonville

Chris Cameron Trio at Founders Room in Alma
4.10
UA Percussion Ensemble Concert at Faulkner Performing Arts Center/UA in Fayetteville
4.11
Richard Burnett at JJ's Grill and Chill in Fayetteville
4.12

Brick Fields Blues Therapy at Bears Place in Fayetteville

Richard Burnett at Mojos Pints and Pies in Fayetteville
4.13
4.14
Brick Fields and Brad James for Happy Hour at Georges Majestic Lounge in Fayetteville

Los Lobos at the WAC in Fayetteville

Jim Mills at JJ's Grill and Chill in Fayetteville
4.15
Justin Kauflin Trio at the Starr Theater/WAC in Fayetteville

Route 358 at Ramo d' Olivo in Bentonville

Mary Heather and the Sinners at Bike Rack Brewing in Bentonville

Matt and Bryan at Blu Fish House in Bentonville
Mark Your Calendar
4/21 Dr. NOLA and the Soul Shakers at Meteor Guitar Gallery in Bentonville

4/27 The Power of Music Festival at the Meteor Guitar Gallery in Bentonville

4/28 Cas Haley at The Founders Room in Alma

5/7 Flying Signs Gospel Brunch/Benefit at George's Majestic Lounge in Fayetteville

5/13 Lucious Spiller Band at The Founders Room in Alma

Today's show features music performed by Billie Holiday, Bessie Smith, The Crows, and Little Richard
Read more at: http://www.brainyquote.com/quotes/quotes/s/sonnyterry211910.html
You have to open your mind. I like the ability to express myself in a deep way. It's the closest music to our humanity - it's like a folk music that rises up out of a culture.
Read more at: http://www.brainyquote.com/quotes/quotes/s/sonnyterry211910.html

"Somebody once said we never know what is enough until we know what's more than enough."
I was always singing the way I felt, and maybe I didn't exactly know it, but I just didn't like the way things were down there-in Mississippi.
Read more at: https://www.brainyquote.com/quotes/quotes/m/muddy
(April 7,1915 – July 17,1959)
professionally known as Billie Holiday
Blues Education Supporters
Thanks to the following for their support of blues education.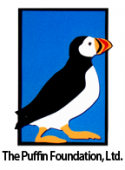 Check Out these regular local radio programs

"The Generic Blues Show" hosted by Paul Kelso airs every Friday night at 9pm on KUAF 91.3FM
Rockin' Hog Radio presents "Sunday Morning Blues" from 8am to 10am every Sunday
LINK
Get Involved with the Ozark Blues Society

Annual membership levels begin at $15 and give you so much in return, including meeting new friends while enjoying the best blues artists in the area.
By being a member of The Ozark Blues Society of Northwest Arkansas, you are helping to support the Arts and to preserve the Original American Art Form known as The Blues.
Membership Benefits Include:
Weekly E-newsletter
Opportunities to win tickets to events
VIP seating at events (when available)
Discounts on OBS merchandise
Social networking – meeting other people who also love the blues
Opportunities to volunteer on OBS committees and at events
Ability to attend board meetings and vote on upcoming organizational issues and elections
Visit our Website to renew or join! Ozarkbluessociety.org