With Easter upon us it is a time of reflection and renewal for many. As our weather has shifted to finally give us a clear vision of upcoming summer outdoor activities, it seems the music community is blossoming as well. Along with the annual Blues Music Awards in Memphis in early May, we are being treated here in NWA to CD release parties, awesome local musicians hosting fundraisers for local homeless folks, as well as the beginnings of patio season sprinkled around. Read on below for all the dates for these events. Also, if you are a local/regional musician interested in the International Blues Challenge, don't skip the article below about changes to the rules Blues Foundation Affiliates must follow
as they host their local Blues Challenge competitions.
And don't forget...if you have some cool blues news...a great story about a neat event...a review of a favorite band or album...or some aspect of blues history you find fascinating, here's your opportunity! Drop me a note and let me know what you want to share. (Sandy's E-mail)

If you don't feel you want the "full" responsibility then send me a link to something you feel readers would enjoy reading in the newsletter and I will put an article together for you. Please do remember that OBS reserves the right to edit articles for space. So, hit me up!
Giving Community Partners a Hand

How did Ozark Blues Society end up with a huge bundle of bath towels and wash cloths? John Lee Hooker Jr. requested them at our blues festival a few years ago and they were never used. Our board decided they should be donated and voted to give them to Saving Grace in Rogers. Cherri Rodriguez, their spokesperson, explained that "Saving Grace provides transitional housing for young women who are aging out of the foster care system or who have been orphaned by their critical supports. We are a privately funded, faith based ministry, with a big focus on mentorship, education, and life skills training. Our main objective is to equip these young women with the relationships, skills and resources that they often lack, so that they can break the cycle of poverty (and reliance on government programs) in their families." (Along with the towels we donated Ozark Blues Society T shirts. )
Our primary mission is about promoting blues. Our board members also are involved with many other projects and organizations focused on supporting and improving North West Arkansas.
If you are a member of our society Thank You for your support ! If not, please consider joining us by going to www.ozarkbluessociety.org ! You will find all of our membership benefits on the web site.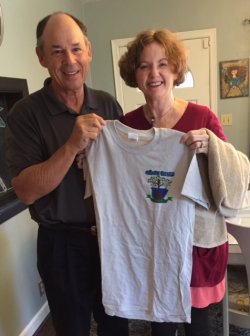 Picture – Bill Baird, OBS President, presenting towels and shirts to LaDonna Shub,volunteer at saving Grace.
Buddy Shute and the Motivators are hosting a CD release party on Saturday, April 22, 2017. Please join them at Bear's Place in Fayetteville next Saturday from 6-9 to help them celebrate.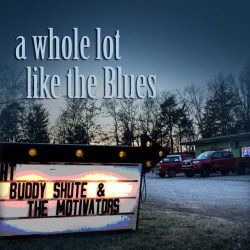 Gospel Brunch


Benefit for 7Hills Shelter

Join your favorite local blues and gospel artists for not only some great music, but also a chance to support local homeless in our community.
Flying Signs Gospel Brunch benefiting 7 Hills Homeless shelter of Northwest Arkansas is being presented by Ozark Mountain Records. Read on for all the info.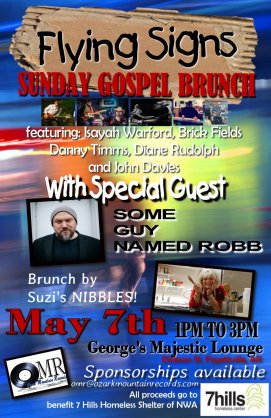 When: Sunday, May 7, 2017

Where: George's Majestic Lounge 1-3 pm
Music by The Flying Signs which inludes: Isayah Warford, Brick Fields, John Davies and Diane Rudolph with special guest, singer/ songwriter/ speaker

"SOME GUY NAMED ROBB"
Brunch: George's will be serving Mimosa's and Bloody Mary's.Suzie's Nibbles will be serving brunch. (menu to be announced)
$5 suggested Donations at the door
For reserved tables, call: (479) 527-6618
Blues Foundation

announces
Rule Changes

for

Local Blues Challenges
In the last ten years, the Blues Foundation's International Blues Challenge, held every year near the end of January, has grown exponentially. The Foundation has made many changes in rule structure to accommodate this growth. Some of the past rule adjustments have been added to limit the number of times an act may participate (after all, the event is designed to help discover new talent,) and to require acts to participate in a local/regional pre-IBC competition. For the 2017 pre-IBC competition cycle a very important rule addition has been made.
Each act wishing to compete

MUST

enter the local/regional affiliate sponsored competition

GEOGRAPHICALLY CLOSEST

to their listed home location

FIRST

before they may enter other regional contests. Failure to follow this rule puts acts at risk being disqualified. Once an act competes in the closest competition, if they don't win, they may enter up to two additional competitions WITHIN a 250 MILE RADIUS.
Acts considering entering local/regional blues challenges leading up to the 2018 International Blues Challenge are encouraged to contact their LOCAL Blues Foundation Affiliates with any questions.
Ozark Blues Society of Northwest Arkansas (
please use our official Bentonville address for reference
) will hold their 2017 local Blues Challenge in late October.
There are a number of related minor rule changes. Please visit our website www.ozarkbluessociety.org for a chance to review the complete document.

The Blues Foundation in Memphis presents...
The 38th Blues Music Awards



THURSDAY, MAY 11, 2017
Memphis Cook Convention Center
5:30pm: Party
7:00pm: Seated Dinner, Nominee Performances, and Awards
$150 per person / Tables of 10 for $1,500

And don't miss out on the Blues Hall of Fame Induction Ceremony!

WEDNESDAY, MAY 10, 2017
Halloran Centre for Performing Arts - Memphis, TN
5:30pm: Cocktail reception
6:30pm: Induction Ceremony
$100 per person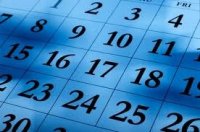 4/14- 4/22

Please enjoy the following listings comprised of bands, venues, and/or organizations supportive of Ozark Blues Society. Always check with individual venues for event details and schedule changes.
4.14
Brick Fields and Brad James for Happy Hour at Georges Majestic Lounge in Fayetteville

Los Lobos at the WAC in Fayetteville

Jim Mills at JJ's Grill and Chill in Fayetteville

The Blacklisted at The Meteor Guitar Gallery in Bentonville

Latin Dance Night a Crystal Bridges in Bentonville
4.15
Justin Kauflin Trio at the Starr Theater/WAC in Fayetteville

Route 358 at Ramo d' Olivo in Bentonville

Mary Heather and the Sinners at Bike Rack Brewing in Bentonville

Matt and Bryan at Blu Fish House in Bentonville
4.18
Candy Lee and Melody Pond at Bike Rack Brewing in Bentonville

Keith Nicholson at JJ's Grill and Chill in Bella Vista
4.19

4.20
4.21
Leah and the Mojo Doctors and Full House for Happy Hour at Georges Majestic Lounge in Fayetteville

Dr. NOLA and the Soul Shakers at Meteor Guitar Gallery in Bentonville

Voxana at Bike Rack Brewing in Bentonville

Choir, Choir, Choir at Walmart Museum Roof in Bentonville
4.22
Buddy Shute and the Motivators CD release at Bear's Place in Fayetteville

Junction 80 at Ramo d' Olivo in Bentonville

Eric Mathews at Warren's Rec Room in Alma
Mark Your Calendar
4/27 The Power of Music Festival at the Meteor Guitar Gallery in Bentonville

4/28 Cas Haley at The Founders Room in Alma

5/7 Flying Signs Gospel Brunch/Benefit at George's Majestic Lounge in Fayetteville

5/13 Lucious Spiller Band at The Founders Room in Alma
Today's show features music performed by Pink Anderson, Fats Domino, and Huey Piano Smith
Read more at: http://www.brainyquote.com/quotes/quotes/s/sonnyterry211910.html
You have to open your mind. I like the ability to express myself in a deep way. It's the closest music to our humanity - it's like a folk music that rises up out of a culture.
Read more at: http://www.brainyquote.com/quotes/quotes/s/sonnyterry211910.html

"Everybody started calling my music rock and roll, but it wasn't anything but the same rhythm and blues I'd been playing down in New Orleans."
I was always singing the way I felt, and maybe I didn't exactly know it, but I just didn't like the way things were down there-in Mississippi.
Read more at: https://www.brainyquote.com/quotes/quotes/m/muddy
Blues Education Supporters
Thanks to the following for their support of blues education.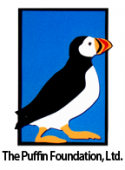 Check Out these regular local radio programs

"The Generic Blues Show" hosted by Paul Kelso airs every Friday night at 9pm on KUAF 91.3FM
Rockin' Hog Radio presents "Sunday Morning Blues" from 8am to 10am every Sunday
LINK
Get Involved with the Ozark Blues Society

Annual membership levels begin at $15 and give you so much in return, including meeting new friends while enjoying the best blues artists in the area.
By being a member of The Ozark Blues Society of Northwest Arkansas, you are helping to support the Arts and to preserve the Original American Art Form known as The Blues.
Membership Benefits Include:
Weekly E-newsletter
Opportunities to win tickets to events
VIP seating at events (when available)
Discounts on OBS merchandise
Social networking – meeting other people who also love the blues
Opportunities to volunteer on OBS committees and at events
Ability to attend board meetings and vote on upcoming organizational issues and elections
Visit our Website to renew or join! Ozarkbluessociety.org