Maritime Safety within the Asia-Pacific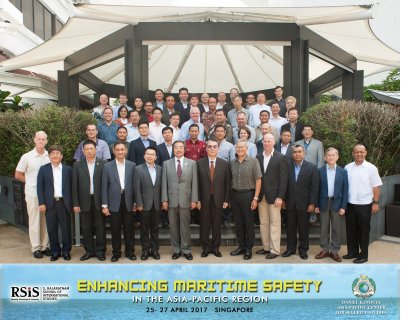 The Daniel K. Inouye Asia-Pacific Center for Security Studies co-hosted a workshop in Singapore on "Enhancing Maritime Safety in the Asia-Pacific Region" April 25-27, 2017. Co-hosted with the Nanyang Technological University's S. Rajaratnam School of International Studies, or RSIS, the workshop focused on looking for ways to improve maritime safety between vessels operating in the Asia-Pacific region and build confidence among the participating nations.

Advanced Security Cooperation (ASC 17-1)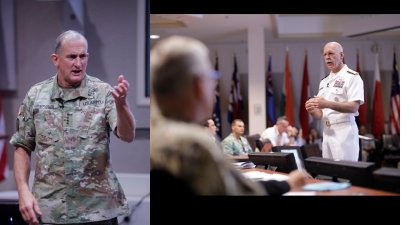 (left) Gen. Robert Brown, Commanding General, U.S. Army Pacific, and (right) Admiral Scott H. Swift, Commander, U.S. Pacific Fleet, served as keynote speakers during the Advanced Security Cooperation Course in April 2017. The ASC17-1 course was in session with 109 Fellows from 38 locations until May 3, 2017. See photos here.

Pacific Area Security Sector Working Group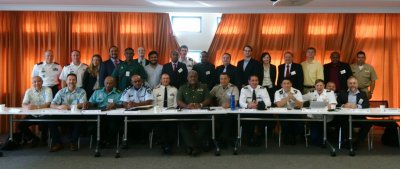 Several faculty members including Dr. Deon Canyon, Dr. Al Oehlers and Dr. Bill Wieninger participated in the New Zealand/US PACOM Pacific Area Security Sector Working Group 2017. A number of alumni and some former faculty were also present.

In Session:
Advanced Security Cooperation (ASC) course

Mar
. 30 - May 3
Upcoming:
Workshop: Maritime Security Awareness III
May 15-18
Transnational Security Cooperation (TSC) course
May 21-26
Hon. Robert Riley, U.S. Ambassador to the Federated States of Micronesia
Hon. Karen Stewart, U.S. Ambassador to the Marshall Islands
Hon. Matt Matthews, U.S. Ambassador for APEC
STAFFDEL Gandhi
STAFFDEL Lin
STAFFDEL Sterling
STAFFDEL Terry
Amb. Karl Eikenberry and Stanford University delegation
State Senator Kalani English
Foreign Defense Attache Operations Orientation program

If you have a new e-mail address, please update your subscription to ensure you are getting the latest DKI APCSS updates. Mahalo.
If you have any questions please contact the editor at pao@apcss.org

.
You can find past issues of the DKI APCSS Activities Report online
here.