Senior regional leaders complete transnational cooperation course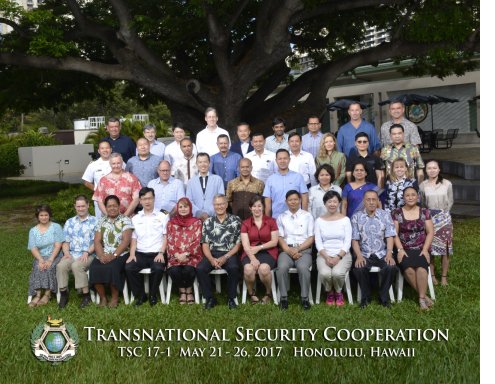 Thirty-two senior leaders from 29 locations and two regional organizations participated in the Transnational Security Cooperation course (TSC 17-1) from May 21-26 at the Daniel K. Inouye Asia-Pacific Center for Security Studies (DKI APCSS).

TSC 17-1 examined the nexus between traditional and non-traditional elements of security to highlight the importance of a broader understanding of security. The 'trinity' of plenary lectures, elective presentations and a tabletop exercise kept senior leaders actively engaged in a shared learning experience during the course of the week. Read more at this link.

148 Fellows gain an expanded understanding of regional issues in APOC 17-2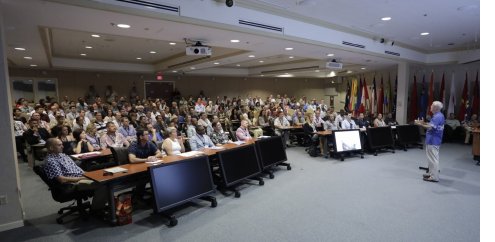 One hundred and forty-eight U.S. and international Fellows completed the Asia-Pacific Orientation Course (APOC) 17-2 June 23 at the Daniel K Inouye Asia Pacific Center for Security Studies in Honolulu. The five-day course included Fellows from Australia, Canada, Hong Kong, Japan, Malaysia, New Zealand, the Republic of Korea, Singapore, and Taiwan.

APOC is designed to provide an overview of regional states and trends in the security, economic, political, defense, environmental arenas. Faculty members address these areas in the context of the major sub-regions: Northeast Asia, Southeast Asia, South Asia and Oceania. Read more at this link


DKI APCSS employees recognized at Federal Executive Board awards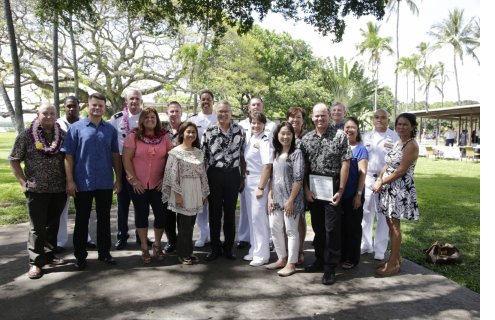 Twelve Daniel K. Inouye Asia-Pacific Center for Security Studies employees were recognized for Excellence in Federal Government service at the 2017 Honolulu-Pacific Federal Executive Board (FEB) Awards ceremony in May. Read more for the list of awardees.

Fellows complete Advanced Security Cooperation Course 17-1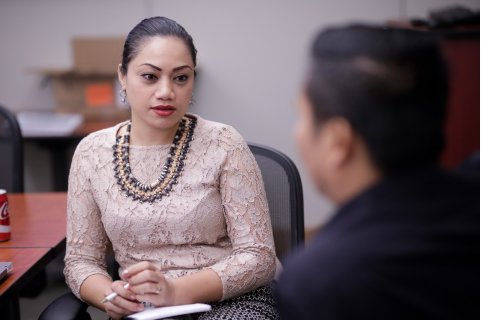 The Advanced Security Cooperation Course (ASC17-1) concluded May 3 with 109 Fellows from 41 locations around the world. The flagship course for the Daniel K. Inouye Asia-Pacific Center for Security Studies began on March 30.

The five-week ASC is an executive education program enabling mid-level military and civilian leaders to deepen their understanding of security issues within political, socio-economic, defense and environmental contexts. The course's primary intent, according to course manager Dr. Virginia Bacay Watson, is to help "Fellows develop a common understanding of the security threats and challenges in the region and to find ways to enhance networks of cooperation."

"[It] has been a rather exciting, fulfilling, very interesting, and very important five-week dialogue of advanced security cooperation," said Ms. Elsie Fukofuka, a senior assistant secretary in the Ministry of Foreign Affairs, Kingdom of Tonga. "Before I came to Hawaii…I associated security with 'hard' issues: military, war, and nuclear proliferation. So I was genuinely pleased when I arrived to find that this course encompasses wider security issues that relate to our Asia-Pacific region included non-traditional security threats such as transnational crime, economic and maritime security, and the single most important security threat to the pacific islands: climate change. This is crucial because these affect each of our countries."
Read more here.

See more photos at: https://www.facebook.com/pg/DKIAPCSS/photos/?tab=album&album_id=10155179844338913


In Session:
Comprehensive Security Responses to Terrorism (CSRT) course

Jul
. 13 - Aug. 10

Upcoming:
Course
: Asia-Pacific Orientation Course 17-3
Aug. 21-15
Workshop
: ASEAN National Security Coordination in Southeast Asia
Aug. 29-Sept. 1
Gen. Rajendra Chhertri, Nepalese Army Chief of Staff (DKI APCSS RT10-01)

Air Vice Marshal Alan Clements, Head Australian Defence Staff Washington, DC


Lt. Gen. Datuk Azizan bin Md Delin , Army Field Commander West, Malaysian Army.


Maj. Gen. M.N. Rouleau, Commander, Canadian Special Operations Forces Command

Maj. Gen. Roger Noble, Deputy Commanding General – North, Australian Army

Rear Admiral Mark C. Montgomery, PACOM J3

Rear Admiral (L) Donna Cottrell, USCG, Director, Joint Interagency Task Force West (JIATF West)

The Honorable Karena Lyons, Consul General, New Zealand

Mr. Daniel Bischof, Deputy Chief of Mission, US Embassy Dili

NDU International Fellows
ASEAN Journalists
CAPSTONE 17-3
Thai National Security Council


Major General Daniel Yoo, Commander, Special Operations Command, Pacific

The Honorable Mohammed Jan Rumi, Honorary Consul of Bangladesh and Morocco (SP16-1)

Dr Rouben Azizian, Director, Centre for Defence and Security Studies Massey University, New Zealand

Mr. Nate Nathanson, World Food Programme

RADM (Ret) Lee Singleton, Defense Governance and Management Team (DGMT) Lead for Logistics, Center for Civil-Military Relations (CCMR)

Ms. Susan Stevenson, Acting Assistant Secretary, Bureau of Public Affairs, U.S. Department of State
If you have a new e-mail address, please update your subscription to ensure you are getting the latest DKI APCSS updates. Mahalo.
If you have any questions please contact the editor at pao@apcss.org

.
You can find past issues of the DKI APCSS Activities Report online
here.