DKI APCSS hosts workshop on national security coordination in Southeast Asia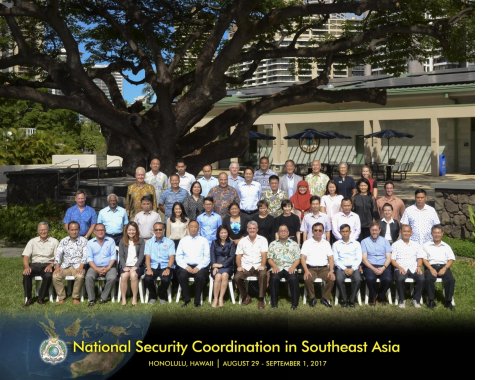 The Daniel K. Inouye Asia-Pacific Center for Security Studies (DKI APCSS) hosted a four-day workshop entitled "National Security Coordination in Southeast Asia" from Aug. 29 to Sept. 1 in Honolulu, to strengthen mutual understanding of national security priorities and coordination processes and explore opportunities for cooperation among the national security coordination agencies in Southeast Asia. Read more at this link.

101 Fellows complete Comprehensive Security Responses to Terrorism course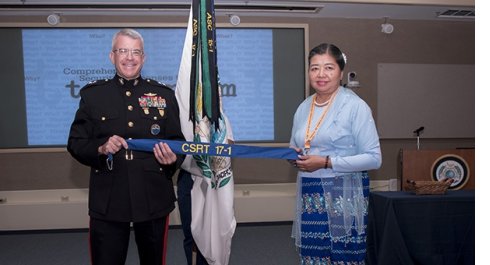 One hundred one Fellows from 47 different locations graduated Aug. 10 from the Asia-Pacific Center for Security Studies' Comprehensive Security Responses to Terrorism (CSRT) course in Honolulu. Of the 101 participants, 63% were from military organizations and law enforcement agencies, with others representing various government ministries, foreign affairs departments and intelligence services and academic institutions. Just over half of the course participants were from the Asia-Pacific region, with five continents represented.
Read more at this link.

144 Fellows complete third successful APOC of 2017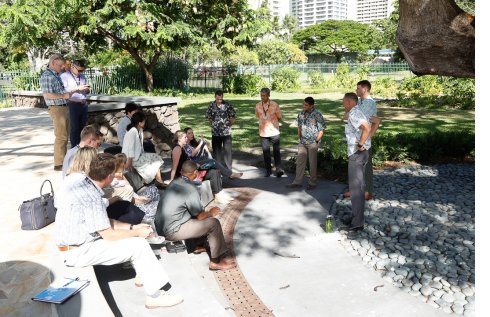 In August 144 U.S. and international Fellows participated in the Asia-Pacific Orientation Course (APOC) 17-3 at the Daniel K Inouye Asia Pacific Center for Security Studies in Honolulu. The five-day course concluded on Friday, Aug. 25, and included Fellows from Australia, Canada, China, France, Japan, Malaysia, New Zealand, the Republic of Korea, Singapore, and Taiwan.
Read more at this link.

New papers, articles and/or OpEds by DKI APCSS faculty members:

"North Korea Policy: Changed Regime" by Col. James Minnich is online at this link

"Women's role in disaster management and its implications for national security" by Prof. Jessica Ear is online at this link.

"The Role of History and Law in the South China Sea and Arctic Ocean" is an article written by Dr. Justin Nankivell for the Maritime Awareness Project (MAP). It can be read online at this link

"Showing the Appropriate Level of Concern About Navigational Safety" is an OpEd written by Cmdr. Jonathan Odom for the Straits Times.

DKI APCSS is featured in the recent Military Review journal in an article written by one of our former staff members, Maj. Michael Carvelli. Read the article online at this link or on APCSSLink here.




DKI APCSS welcomes several new faculty members including: Dr. Ben Ryan

Dr. Miemie Winn Byrd l

ectured at Myanmar Command and General Staff College in Kalaw on July. Her lecture on " Collaborative governance and leadership" was a first as n

o foreign experts or speakers have been allowed to speak directly to the students at the Myanmar CGSC. This event signifies the continuing transformation of the Myanmar Armed Forces and its desire to increase its contribution towards international and regional security. The CGSC Commandant, Maj Gen Aung Thu, is a TSC 15-2 Alumnus. Dr. Byrd also provided a seminar on this same topic to 22 member of parliament.

Dr. Jim Campbell participated in a Pacific Area Special Operations (PASOC) conference where he moderated a panel discussion on "

Lessons Learned on Insurgency through the Lens of Malaysia, Colombia and the Philippines."



Dr. Kristie Govella departed the Center for an opportunity to pursue post-doctoral research at Harvard University.

Cmdr. Jonathan Odom discusses "The Role of International Law in Countering Terrorism" in a new DKI APCSS podcast. It's available to GlobalNet/APCSSLink subscribers at this link.

Prof. Shyam Tekwani participated in a panel on "Going Behind Misinformation and Fake News" at the Asia Journalism Forum 2017. The panel discussion is available online on Facebook at this link.

Dr. Alex Vuving recently appeared on "ChinaPower" Podcast where he discusses ties between China and Vietnam and their implications for regional stability. You can listen to the podcast online at: https://www.csis.org/podcasts/chinapower

Dr. Saira Yamin was recently selected to the be a Senior Fellow at the Center for Global Policy. CGP is a US-based think tank working on policy issues pertaining to Political Islam, Violent Extremism and American Muslims. Dr. Yamin also recently participated in a podcast with CGP's Kamran Bokhari discussing "civil-military dynamics in emerging democracies and autocracies, especially those of Pakistan, Egypt and Turkey, Myanmar."
Listen to this podcast online at: https://www.cgpolicy.org/multimedia/civil-military-relations-in-south-asia/

In August, Dr. Saira Yamin and Lt. Col Danny Makalena helped conduct a conference jointly organized by Japan Joint Staff and US Special Operations Command Pacific. The conference addressed a range of themes including Counter Terrorism, Transnational Threats, and Crisis Response to Chemical, Biological, Radiological, Nuclear, Explosive Threats. During the program, DKI APCSS faculty facilitated critical thinking exercises and delivered presentations on Interagency Cooperation encompassing whole-of-government and whole-of-society approaches; and Humanitarian Assistance and Disaster Response.

Disaster Response Regional Architectures: Assessing Future Possibilities

In July, DKI APCSS and the S. Rajaratnam School of International Studies (RSIS) cohosted the workshop on "Disaster Response Regional Architectures: Assessing Future Possibilities" in Bangkok, Thailand.

The co-hosts convened 33 humanitarian assistance and disaster response (HADR) professionals, to include serving military and civilian government officials, educators and civil society representatives from four sub-regions: Northeast Asia, South Asia, Oceania and Southeast Asia to share varying perspectives. Participants identified trends, challenges, best practices, opportunities and recommendations for improved disaster response regional cooperation within adaptable and resilient regional response architectures.

Read more at this link.

Director Hartsell speaks at ASEAN & the World
@ 50th Anniversary

DKI APCSS Director James "Hammer" Hartsell recently spoke a the the "ASEAN and the World @ 50th Anniversary" event held in Bangkok, Thailand. His presentation was recorded by one of our alumni and is available online at this link.

While in the region, Director Hartsell and Dr. Al Oehlers also met with alumni in Indonesia at a DKI APCSS Indonesia Alumni event.

Courses
:
Mobile Asia-Pacific Orientation Course
(Korea)
Sept. 11-15
Advanced Security Cooperation

Sept.. 21 - Oct. 25
Workshops
:
ASEAN National Security Coordination in Southeast Asia
Aug. 29-Sept. 1
ADMM+ EWG HA/DR Workshop
Sept 11-15
Maritime Capacity Quad Workshop
(Japan)
Sept. 26-28

Amb. Scott Brown, U.S. Ambassador to New Zealand and Samoa.
Amb. Ted Osius, U.S. Ambassador to Vietnam
DCM Kathy Reimondez, U.S. Embassy Majuro
DCM Jennifer Nehez, U.S. Embassy Koror, Palau
CAPSTONE 17-4
International Visitor Leadership Program (Okinawa)
Maj. Gen. James O. Eifert, Air National Guard Assistant to Commander, U.S. Pacific Air Forces.

Ben Burdon, Asst. Sec. Department of Foreign Affairs and Trade, Australia
If you have a new e-mail address, please update your subscription to ensure you are getting the latest DKI APCSS updates. Mahalo.
If you have any questions please contact the editor at pao@apcss.org

.
You can find past issues of the DKI APCSS Activities Report online
here.
The 2018 DKI APCSS Calendar is now online: Click Here