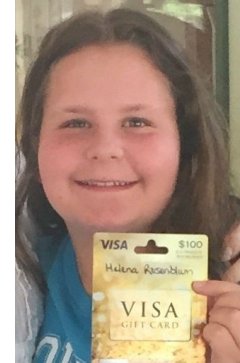 ~ Survey Drawing ~
Ten-year-old Helen Rosenblum of Gaithersburg, Md., is the winner of a $100 Visa Gift Card in the 2017 Gaithersburg Book Festival survey prize drawing. Helena's survey was randomly selected from among hundreds of survey entries. This past year's Festival is the first Helena has attended.
When asked what she enjoyed most, she said she really liked the presentation on "I Dissent: Ruth Bader Ginsburg Makes Her Mark" by Debbie Levy and was excited about buying "The Day I Brought a Blue Alien to Homeroom" by exhibiting author Brian Bichy. She also liked spinning a prize-wheel to win temporary book tattoos at a vendor booth. Helena told us that
"the night before [the Book Festival organizers] emailed me that I was the winner, I went out to dinner at a Chinese restaurant. After dinner I got a fortune cookie, and the fortune said 'luck is coming your way.'"
~ School with the Most Students Visiting the Festival ~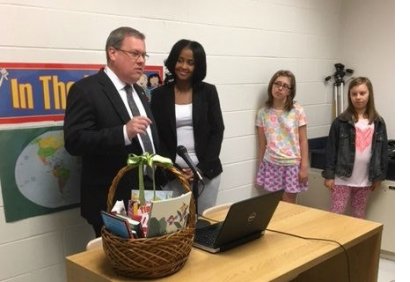 Rosemont Elementary School in Gaithersburg, Md., won a basket of books by having the most students visit the Festival and the Love of Language and Reading booth, which was coordinated by the Gaithersburg Educational Enrichment Committee, the Judy Center, Montgomery County Public Schools, Spanish Catholic Center, Gaithersburg Rotary and Montgomery Coalition for Adult English Literacy (MCAEL). Here Gaithersburg Book Festival Founder and Gaithersburg Mayor Jud Ashman presents books to Rosemont Principal Keely Cooke, while students leading the morning announcements look on.
~ Where's Waldo Gift Basket ~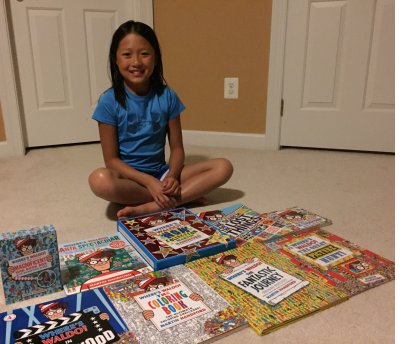 Where's Waldo celebrated his 30th anniversary at the Gaithersburg Book Festival. Candlewick Press sponsored a Where's Waldo Scavenger Hunt and provided a selfie station and a prize pack full of books, stickers and activities. Twelve-year-old Jasmine Truong from Clarksburg, Md., found the three hidden Waldos, completed the registration card and was the lucky winner of the prize pack out of more than 250 children who participated in the Scavenger Hunt.