Authors Already Lining Up to Come to 2018 Gaithersburg Book Festival
With a few months of summer break behind us, the Gaithersburg Book Festival committee is now hard at work recruiting authors for May 19, 2018. Here's a look at the early birds who have already made plans to join us.
~ Non-Fiction ~

Meryl Gordon is the author of The New York Times best-selling "Mrs. Astor Regrets" and "Phantom of Fifth Avenue," a Wall Street Journal best-seller. She is an award-winning journalist and a regular contributor to Vanity Fair. She is on the graduate journalism faculty at New York University's Arthur L. Carter Journalism Institute. An expert on "elder abuse," Meryl has appeared on NPR, CNN and other outlets whenever there is a high-profile case. Her latest book is "Bunny Mellon: The Life of an American Style Legend."

Sam Kean is The New York Times best-selling author of "The Tale of the Dueling Neurosurgeons," "The Disappearing Spoon" and "The Violinist's Thumb," all of which were also named Amazon top science books of the year. "The Disappearing Spoon" also was a runner-up for the Royal Society of London's Book of the Year for 2010, while "The Violinist's Thumb" and "The Tale of the Dueling Neurosurgeons" were nominated for the PEN's literary science writing award, Wilson Literary Science Writing Award, as well as the AAAS/Subaru SB&F prize. His stories have appeared in The Best American Science and Nature Writing, The Atlantic, The New York Times Magazine, Mental Floss, Slate and Psychology Today, and his work has been featured on shows like "Radiolab" and NPR's "All Things Considered." His latest book is "Caesar's Last Breath: Decoding the Secrets of the Air Around Us."

S. L. Price, a senior writer at Sports Illustrated since 1994, has written four books—including his most recent release "Playing Through The Whistle: Steel, Football and an American Town," a biography of Aliquippa, Pa. His other books include "Heart of the Game;" "Pitching Around Fidel," which was a finalist for The Los Angeles Times Book Prize; and "Far Afield." Along with his more than three dozen cover stories for SI, Price has also written for Vanity Fair, The New York Times, TIME and The Oxford American. Assignments have propelled him all across the U.S. and Canada, as well as to Colombia, Argentina, Liberia, Cuba, Jamaica, Kenya, France, Pakistan, Brazil, Australia, Greece, Japan, Korea and China. He has covered 10 Olympic Games, two World Cups and countless Grand Slam tennis championships; interviewed Presidents George W. Bush and Bill Clinton, and played Barack Obama one-on-one in an Iowa YMCA. He also has written about competitive Scrabble, Hurricane Andrew, an Italian soccer riot, the 1989 Bay Area earthquake, and the enduring importance of the movie "Diner." He lives in Washington, D.C., with his family.
~ Fiction ~

Greer Hendricks is the co-author of "The Wife Between Us," her first novel. She spent more than two decades as an editor. Prior to her tenure in book publishing, Greer worked at Allure magazine and earned her master's in journalism from Columbia University. Her writing has been published in The New York Times and Publishers Weekly. Greer lives in Manhattan with her husband, two children, and one very needy dog, Rocky.
Sarah Pekkanen is the international and USA Today best-selling author of seven novels. Her most recent novel is "The Wife Between Us," which she co-authored with her former editor Greer Hendricks. Sarah is a former investigative journalist and feature writer, with published work featured in The Washington Post, USA Today and many others. She is the mother of three sons and lives just outside Washington, D.C.
~ Children's ~

Winifred Conkling is an award-winning author of fiction and non-fiction for young readers, including her most recent, "Votes for Women!: American Suffragists and the Battle for the Ballot," as well as "Radioactive!: How Irène Curie & Lise Meitner Revolutionized Science and Changed the World," "Passenger on the Pearl: The True Story of Emily Edmonson's Flight from Slavery," and the middle-grade novel "Sylvia and Aki," winner of the Jane Addams Children's Literature Award and the Tomás Rivera Mexican American Children's Book Award. She studied journalism at Northwestern University and received an MFA in writing for children and young adults from the Vermont College of Fine Arts.
Gaithersburg Book Festival Launches Eighth Annual Short
Story Contest with Bigger Prize Pot
For the second year in a row, the Gaithersburg Book Festival is giving high school students the freedom to explore their writing creativity, with no opening lines or artwork to serve as inspiration, for its short story contest.
The festival is also giving winners more money. Prizes for first- and second-place winners will increase to $250 and $100, respectively, for the 2018 contest. Third-place and fan favorite prizes remain $50 and $25, respectively.
"Last year's decision to remove all limits and constraints on topic paid off," said Jud Ashman, festival chair and Mayor of the City of Gaithersburg. "The breadth of submissions and quality of work was impressive."
To participate in the short story contest, students must be enrolled in grades 9-12 at a public or private school, or be in a homeschool program, for the 2017-18 school year. Additionally, entrants must reside in Maryland, Virginia or the District of Columbia.
Stories cannot exceed 1,000 words and must be submitted electronically via web form by midnight ET on Thursday, February 22, 2018.
Up to 12 stories will be selected as finalists and posted on the Gaithersburg Book Festival website prior to the Book Festival. The first-, second- and third-place winners and the fan favorite will be announced at the Festival on Saturday, May 19, 2018.
Prizes are provided courtesy of the Johns Hopkins University Montgomery County Campus. Complete rules and regulations can be found online.
Renowned Novelist Chimamanda Ngozi Adichie Visits Gaithersburg For One Maryland One Book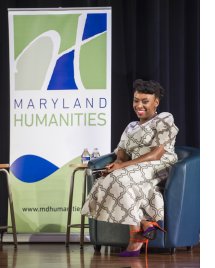 The Gaithersburg Book Festival was honored to welcome internationally renowned novelist Chimamanda Ngozi Adichie to Gaithersburg on September 26 as part of the One Maryland One Book program produced by the Maryland Humanities Council and co-hosted by Montgomery College, Montgomery County Public Libraries and Montgomery County Public Schools.
Nearly 800 people attended the event at Gaithersburg High School, where Adichie spoke about her debut novel "Purple Hibiscus."
See more from her presentation in this Facebook Live video.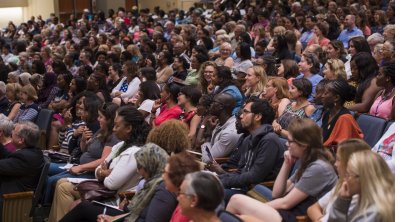 Photos by Pete Vidal
Local Author Event October 19:
Tree Planting to Combat
Climate Change, End Poverty
Author and Gaithersburg native John Leary will host a discussion on Thursday, October 19, from 7-8 p.m., about how planting trees can combat climate change and end poverty. Leary is the author of "One Shot: Trees as Our Last Chance for Survival."
Leary, who is executive director of Trees for the Future, draws on 15 years of humanitarian work with communities on the verge of collapse. In his book, Leary conveys how restoring agricultural lands, with a diverse combination of trees and crops, is the answer to reversing desertification, water scarcity, hunger, poverty, climate change and forced migration.
The discussion takes place at the Kentlands Clubhouse, 485 Tschiffely Square Road in Gaithersburg, Md. The event is hosted by the City of Gaithersburg Environmental Affairs Committee and the Kentlands Community Foundation GO GREEN group.
Admission is free, but registration is required.
Stay Informed about #GBF 2018
Share the GBF News with your friends, family and book club members so they can see what we're planning for next year!
Simply click the "Send to a Friend" button at the top of the newsletter to pass along this issue.
To become a regular GBF News subscriber, visit the Festival website and click "Join Our Mailing List."
Subscriber contact information will be used solely for the newsletter and will not be shared or sold to other parties.
9th Annual Gaithersburg Book

Festival

Saturday

May 19, 2018

On the Grounds of

City Hall in

Olde Towne Gaithersburg, Md.

Applications Now Being Accepted for 2018 Featured Authors
Interested in being a featured author at the 2018 Gaithersburg Book Festival? If so, we're now accepting applications.
Applications and associated materials are due by December 1, 2017.

A lot of people love the Gaithersburg Book Festival!
If you had a great time at the Festival, let the world know.