Coyote Medicine Healing Intensive
with
Lewis Mehl-Madrona, MD, PhD
Our Beloved Coyote Family
Join us for a Special Two-Day Medicine Weekend
Exploring the Re-Mapping the Mind
& Coyote Storytelling Healing Circle
Exploring the Re-Mapping the Mind
with Lewis Mehl-Madrona, MD, PhD
Sat. Jan. 27 * 10 am - 5pm
Combined Weekend Special: $220
Join us for a day of exploring our inner worlds. We'll find some of the characters who dominate, distract, deconstruct, and otherwise drive our lives. We can explore other worlds for lives we may have led in them, and characters we like to visit or bring back with us.
We may play with puppets and theatre and masks and other devices for telling those stories. We'll look for the silent characters and give them voices. We'll see who's ganging up on whom and alter some of these coalitions and alliances.
We'll consider some of the difficult situations of our lives and look for some characters who can contribute to addressing those problems.
We'll finish by drawing some maps of these beings who live within our minds so as to better remember them and be able to call upon them in the future.
Coyote Storytelling Healing Circle
with
Lewis Mehl-Madrona, MD, PhD
Sunday, Jan. 28th * 11 am - 3:30pm
Cost: $77 or Combined Weekend Special: $220
Story Circle/Healing Circle. We'll discover our hidden healing stories. We begin with a traditional Talking Circle focused on our group experience and telling stories to contribute to the group psyche.
There are so many stories from so many of our heritages that are shouting to be told. Some of them will emerge. These stories will move us toward discovering how we can be healing for each other.
There's always a way. Everyone knows a way to be healing for others.
Then we'll do some healing. Sometimes we call this a "healing free for all."
About Dr. Lewis Mehl-Madrona,
O
ur Coyote Medicine person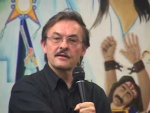 Lewis Mehl-Madrona, M
.D., Ph.D.
, is a physician, associate professor at the University of New England College of Osteopathic Medicine, and executive director of the Coyote Institute for Studies of Change and Transformation. The author of several books, including
Narrative Medicine
and Coyote Medicine, he lives in Orono, Maine.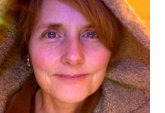 Barbara Mainguy, M.A.,
is a psychotherapist and education director for the Coyote Institute for Studies of Change and Transformation. She lives in Orono, Maine.