2018 Author List Keeps Growing
More new authors have been added to the 2018 list in the past month. Check out the latest in children's, young adult and fiction:
~ Children's ~

Sarah Albee is The New York Times best-selling author of more than 100 books for kids, ranging from preschool through middle grade. Her forthcoming titles include"Martin Luther King Jr: A Peaceful Leader," "Dog Days of History" and "Alexander Hamilton: A Plan for America" (July 2018). Her other non-fiction titles include "Poison: Deadly Deeds, Perilous Professions, and Murderous Medicines," "George Washington: First President," "Why'd They Wear That?," "Bugged: How Insects Changed History" and "Poop Happened: A History of the World from the Bottom Up." Her recent non-fiction titles have been Bank Street College of Education Best Books selections, Notable Social Studies Trade Books and winners of Eureka! Nonfiction Children's Book Awards. Prior to becoming a full-time writer, Sarah worked at Children's Television Workshop (producers of Sesame Street) for nine years. She played basketball in college, and then a year of semi-professional women's basketball in Cairo, Egypt. She lives in Connecticut with her husband, who is a high school history teacher and administrator, their three kids, and their dog, Rosie.

Dr. Howard Bennett is a pediatrician with 35 years of clinical experience. He has contributed medical advice columns for Parents Magazine, Contemporary Pediatrics, iParenting.com and HealthyChildren.org. He has provided online pediatric content for his own site howardjbennett.com, as well as GreatDad.com. Dr. Bennett also wrote health and science-based articles for the KidsPost section of The Washington Post from 2008 to 2017. "The Fantastic Body" is his ninth book. Dr. Bennett's first picture book, "Lions Aren't Scared of Shots," was featured in a story about pain control on The Today Show.

Deron R. Hicks is author of two award-winning children's books: "Tower of the Five Orders" and "Secrets of Shakespeare's Grave." His latest book is "The Van Gogh Deception." Deron was born in Athens, Ga. He earned a B.F.A in 1990 (honors program) from the University of Georgia, followed by a J.D. from Mercer Law School (cum laude) in 1993. Formerly the inspector general for the State of Georgia, Hicks is now associate general counsel for TSYS (Total Systems) in Columbus, Ga. He lives in Warm Springs, Ga., with his wife, two children, three dogs, five

cat and three guinea pigs. During his free time he enjoys painting, Star Wars, photography and long walks with his wife every evening.
Megan Wagner Lloyd is the author of "Finding Wild" and "Fort-Building Time," as well as the upcoming picture books "Building Books," "Paper Mice" and "The ABCs of Catching Zs." She lives with her family in the Washington, D.C., area.

Jonathan Roth is an author-illustrator and public elementary school art teacher in Montgomery County who likes reading, writing, drawing, cycling and napping. His humorous sci-fi chapter book series, "Beep and Bob," debuts spring 2018. It is set aboard an elementary school in space, where children are forced to go on field trips to such hazardous destinations as dwarf planets and black holes. Any resemblance to his own school is purely coincidental. Though Jonathan has never left Earth himself, he has met four of the astronauts who have gone to the moon. He lives in Rockville, Md., with his wife and two cats.
~ YA ~

Alyssa Schwartz is a screenwriter and author. She has sold multiple television pilots to NBC, Fox, CW and ABC, and written films for major studios including Paramount, New Regency and MGM. Books have always been Alyssa's first love, though, so she and her writing partner, Jessica Koosed Etting, recently expanded into young adult fiction, channeling their inner teen with the four-book "Georgetown Academy" series. Their new young adult thriller, "The Lost Causes," was released in September 2017 and edited by Kate Egan (of The Hunger Games trilogy). Alyssa currently resides in Bethesda, Md.

James L. Swanson is the award-winning author of the best-seller "Manhunt: The 12-Day Chase for Lincoln's Killer." His other books include "Chasing Lincoln's Killer," an adaptation of Manhunt for young adults, and his follow-up, "The President Has Been Shot!: The Assassination of John F. Kennedy," which was a finalist for the YALSA-ALA Excellence in Young Adult Non-Fiction award. His latest YA book is "Chasing King's Killer: The Hunt for Martin Luther King, Jr.'s Assassin." James serves on the advisory council of the Ford's Theatre Society. He has degrees in history and in law from the University of Chicago and UCLA and has held a number of government and think-tank posts in Washington, D.C., including at the U.S. Department of Justice.
~ Fiction ~

Stephanie Dray is a New York Times and USA Today best-selling author of historical women's fiction, whose work includes "America's First Daughter." Her latest book is "My Dear Hamilton: A Novel of Eliza Schuyler Hamilton," which she co-authored with Laura Kamoie. Her earlier award-winning series about Cleopatra's daughter was translated into eight languages. A frequent panelist and presenter at national writing conventions, Stephanie lives near the nation's capital. It's her mission to illuminate the stories of women in history and inspire the young women of today.

Laura Kamoie is a New York Times, Wall Street Journal and USA Today best-selling author of historical fiction. Her latest book is "My Dear Hamilton: A Novel of Eliza Schuyler Hamilton," which she co-authored with Stephanie Dray. Laura earned a doctoral degree in early American history from The College of William and Mary, published two non-fiction books on early America, and most recently held the position of associate professor of History at the U.S. Naval Academy before transitioning to a full-time career writing fiction. Laura lives among the colonial charm of Annapolis, Md., with her husband and two daughters.
Writing Workshop Proposals
Due Thursday, February 1
Each year, the Gaithersburg Book Festival hosts fun and informative writing workshops for adults, teens and children. If you are a professional teacher, writing coach or author and would like to teach at this year's Festival, consider submitting a workshop proposal.
In years past, workshops ranged from classes about poetry and building suspense in a mystery story to college essay tips and comic book basics. Workshops are free to our attendees and led by professionals from around the region.
Workshop proposals will be evaluated on criteria, including experience of the leader, how the topic fits in with the overall line-up of workshops, and logistical needs. Proposed workshops should be 30 to 60 minutes long
Submit your proposal no later than Thursday, February 1. Those selected to present workshops will be notified by email in early March.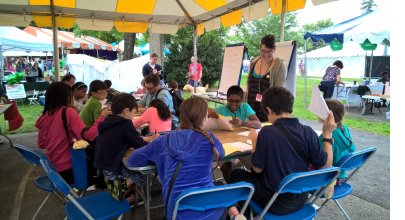 Stay Informed about #GBF 2018
Share the GBF News with your friends, family and book club members so they can see what we're planning for next year!
Simply click the "Send to a Friend" button at the top of the newsletter to pass along this issue.
To become a regular GBF News subscriber, visit the Festival website and click "Join Our Mailing List."
Subscriber contact information will be used solely for the newsletter and will not be shared or sold to other parties.
9th Annual Gaithersburg Book

Festival

Saturday

May 19, 2018

On the Grounds of

City Hall in

Olde Towne Gaithersburg, Md.

H.S. Short Story Contest Entries Due February 22
High school students in Maryland, Virginia and Washington, D.C. have a little over a month to put finishing touches on their 2018 short story entries for the 8th Gaithersburg Book Festival writing contest.
February 22 is the deadline for submitting stories, no longer than 1,000 words. Full guidelines are on the Festival website.
Prizes for first- and second-place winners are $250 and $100, respectively, with third-place place garnering $50 and the fan favorite $25. Prizes are provided courtesy of the Johns Hopkins University Montgomery County Campus.
Consider a Festival Sponsorship
A Gaithersburg Book Festival sponsorship is a great way to make your company shine in front of some of the region's best-read and well-educated individuals, as well as show your support for the community and the arts.
There are a variety of sponsorships to fit every budget, and we can tailor one to specifically meet your needs. Learn more about available sponsorships or download the application today!
The Gaithersburg Book Festival thanks the newest organizations that have pledged their support of our 9th annual event.
~ Festival Sponsor ~

~ Book Lover ~

~ Festival Friend ~

National Federation of the Blind of Maryland, Sligo Creek







~ Featured Sponsor ~


~ Festival Sponsors ~