Blues, Meetings, and Benefits

Probably most of you are already in on the plan, but if not, be aware there is a lot going on in the upcoming week. The week kicks off with a huge benefit concert to show some love to local musician extraordinaire, Darren Ray. Read on below for the details. Next we roll into the new week with the Ozark Blues Society annual meeting and elections on Tuesday. Please consider joining us...and remember, membership gives you a vote! The week wraps up with concerts by amazing local and national/international artists performing in our area. Read on below to find out more about the
local performance of an powerhouse
Israeli Blues woman, KALO.


Even with the busy week, the event calendar is still showing the signs of winter. Still some awesome opportunities to catch some fun live events in NWA. Please k
eep me posted about events and shows in our area and ideas of what you would li
ke
to
see
in this Newsletter.
TUESDAY!

Annual Meeting/Elections

The OBS nominating committee has presented their candidates and voting (open to all current members) will occur at our annual meeting.
Please consider joining us
on

Tuesday, February 13, 2018
at 6:15 pm at the Springdale Holiday Inn.
In addition to board officers we are regularly accepting applications to serve on the OBS Board of Directors, member's dues must be current and they must be in good standing
with the society. Interested candidates can email BILL BAIRD for more information.

OBS is responsible for a number of events in Northwest Arkansas including an active Blues in The Schools program, Blues Jams (when available), various Blues concerts and special events, as well as an annual
regional competition for acts desiring to compete in the
International Blues Challenge .

OBS is a member of Downtown Bentonville Inc. and The Blues Foundation.
OBS is a 501 (c) 3 non-profit.
SUNDAY!

Darren Ray Benefit

With a little help from his friends: a benefit for Darren Ray
Sunday, February 11, 2018 at 3pm
Darren Ray has been a Fayetteville area music icon as much as anyone over the past 30 years+. With his time in Great Southern Railroad, Arkansas, Big Bad Bubba, The Darren Ray Band, Big Uns, and most recently, The Uncrowned Kings, he has been touted as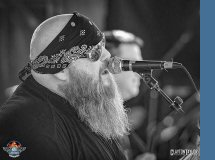 one of the best male vocalists in the region. Both a NAMA and OMA Hall of Famer...
But most importantly, he is a great and kind human who has given to all that will listen.
He has a huge heart and has been there countless times for others. I would like to
see us give for him in his time of need.
Everyone loves Darren Ray and he could
use his friends right now.
A GoFundMe account has been established in Darren's name. Visit it at the link below. Thank you all in advance for any generosity
LIVE at the Meteor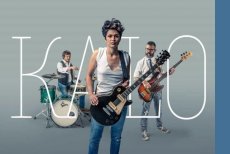 Join your NWA friends on February 16th at the Meteor Guitar Gallery in Bentonville for an evening with KALO!
Kicking the evening off for KALO will be the 2017 Ozark Blues Society Blues Challenge Winners, THE DOWNTOWN LIVEWIRES! Don't miss this world-class night of LIVE blues happening in Northwest Arkansas.

Doors open at 4:30pm for Happy Hour specials at the Cash Bar, followed by the Show starting at 7:00pm.

7:00pm-8:30pm The DOWNTOWN LIVEWIRES
9:00pm-10:30pm KALO

~Read on for more about KALO~
KALO

KALO is groovesome rhythm and blues ...meets fiery rock 'n' roll.
Israeli guitarist, singer and songwriter Bat-Or Kalo fronts her eponymous trio and also travels and tours the U.S. and Israel solo (wearing only her last name and her vintage Gibson electric guitar). Fiery, unbridled and electrifying, KALO's guitar chops and contralto voice belie her
small frame with a sound like Howlin' Wolf
or Muddy Waters on steroids. KALO
also comprises drummer Mike Alexander
Within the past two years, KALO has opened for Los Angeles-based rocker Andy Frasco,
the godfather of British blues John Mayall, Texas guitar phenom Chris Duarte and others. KALO has shared billing with acts like the
Avett Brothers, Robert Randolph & the
Family Band and many more.
In the summer of 2017, KALO released the funky, guitar- and rhythm-laced studio album, Wild Change to much acclaim. It was fresh on the heels of Live in NYC, recorded at the renowned The Bitter End music club in New York City and released in late 2016.
Based in the Midwest for the past three years as she zigzags the country, KALO's roots run deep and trace back to her home an ocean away in Israel. A cassette tape of Jimi Hendrix's Are You Experienced set KALO on a musical path when she was 16 years old. In 2009, that path stretched across the Atlantic when KALO left Israel to soak herself in American music, the sounds of Hendrix, Jim Morrison, John Lee Hooker, Nina Simone and Elvis calling.
After completing her classical and jazz guitar studies in Oklahoma, she briefly returned home to record her jazz-imbued Flesh & Bones in Tel-Aviv. Afterward, KALO moved to New York to hone her skills as a live performer, frequenting stages like The Bitter End, Arlene's Grocery, Rockwood Music Hall and others.
In 2012, KALO left The Big Apple to strum her guitar and write in the heart of Dixie. Her sophomore album took root in the Mississippi Delta and other southern states, where the blues tinge of Dear John began to grow. Released in 2013, the album received much critical acclaim from media around the world.
Over the next several years, KALO developed a loyal following with fevered stage shows and raw energy. Brandishing a unique and genre-bending interpretation of the blues and rock 'n' roll, everything about KALO is unexpected … and infectious. As Skope Magazine put it, "There's a truth, pure and simple ... that leaves you wanting more."
The Spa City Honors

Sheree Hughes

Blues in the Schools Advocate


A Memphis born blues lover, Sharon 'Sherree' Hughes was born into this world January 21, 1956. She left this world January 27, 2018, unexpectedly, surrounded by loving family.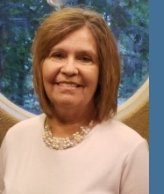 Sherree was an instructor at National Park Technology Center, teaching Health Science Technology to young, aspiring future medical personnel. She continued her love for teaching even in her death by requesting that her family donate her body to medical science.
Sherree was involved in numerous activities, charities and organizations. She served as an officer at the state and national levels in many of the groups she was a part of. Her work in these organizations continues to impact the lives of students and health care.
One of her passions was music, whether playing it, listening to it or teaching it. She most recently worked with the Spa City Blues Society's Blues In The Schools program, teaching young men and women the history of the genre and how to perform.
As a teacher, Sherree made a difference everywhere she went. She had a way of bringing out the best in her students, and she beamed with pride any time one of her students was recognized with an award or achievement. Her beautiful smile and unconquerable spirit will live on in her work, her students and her family.
A memorial service is scheduled for 3:00 p.m. Friday at National Park College, Eisele Auditorium in Hot Springs. Everyone is welcome to attend and celebrate her life,
and encouraged to bring a story to share with her loved ones.
In lieu of flowers, the family requests that donations be made to the Spa City Blues Society's Blues In The Schools program.
Support of Blues in the Schools programs
in Northwest Arkansas may be made by donating to Ozark Blues Society.
Please go HERE to read Sheree's complete obituary.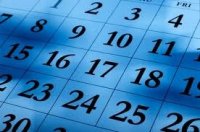 2/09- 2/17

Please enjoy the following listings comprised of bands, venues, and/or organizations supportive of Ozark Blues Society. Always check with individual venues for event details and schedule changes.
2.
09
Uncrowned Kings and Filthy Habit for

Happy Hour at George's Majestic Lounge in Fayetteville

Bill Dollar and Loose Change at Mojo's Pints and Pies in Fayetteville

Serpents of Eden at Ramo d' Olivo in Bentonville
2.10
Donny McCaslin (Saxophone) at WAC in Fayetteville

Steve Dimmitt at JJ's Grill and Chill in Rogers

Roby Pantall Jazz Duo at Ruth Chris Steakhouse in Rogers
2.11
House of Songs Ozarks Live Music at Record in Bentonville
2.12
House of Songs Ozarks Artist Showcase at Dickson Street Pub in Fayetteville

Richard Burnett at JJ's Grill and Chill in Bella Vista
2.13
Crescent City Combo at George's Majestic Lounge in Fayetteville

Jazz Jam with Jake Hertzog Trio at Stage 18 in Fayetteville

Dr NOLA and the Soulshakers at Bike Rack Brewing in Bentonville
2.15
2.16
Gary Hutchison 15th annual 50th Birthday for

Happy Hour at George's Majestic Lounge in Fayetteville

Tony Redman at Mojo's Pints and Pies in Fayetteville

KALO and The Downtown Livewires at Meteor Guitar Gallery in Beentonville

Route 358 at Ramo d' Olivo in Bentonville
2.17
Brandon Santini at Warren's Rec Room in Alma
3/3 Royal Wade Kimes at Sunrise Stage in Fayetteville

3/17 JP Soars and the Redhots at Warren's Rec Room in Alma

Today's show features music performed by Mary Flower and Lloyd Price

"I merely took the energy it takes to pout and wrote some blues."
Blues Education Supporters
Thanks to the following for their support of blues education.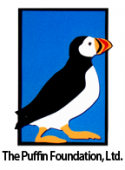 Check Out these regular local radio programs

"The Generic Blues Show" hosted by Paul Kelso airs every Friday night at 9pm on KUAF 91.3FM
Rockin' Hog Radio presents "Sunday Morning Blues" from 8am to 10am every Sunday
LINK
Get Involved with the Ozark Blues Society

Annual membership levels begin at $15 and give you so much in return, including meeting new friends while enjoying the best blues artists in the area.
By being a member of The Ozark Blues Society of Northwest Arkansas, you are helping to support the Arts and to preserve the Original American Art Form known as The Blues.
Membership Benefits Include:
Weekly E-newsletter
Opportunities to win tickets to events
VIP seating at events (when available)
Discounts on OBS merchandise
Social networking – meeting other people who also love the blues
Opportunities to volunteer on OBS committees and at events
Ability to attend board meetings and vote on upcoming organizational issues and elections
Visit our Website to renew or join! Ozarkbluessociety.org