This week and next I am on the road
with my mom....seeking spring. Well, more realistically we are off visiting family. You have to admit that with the late doses of cold weather this year, spring does seem somewhat elusive in many parts of the country so going looking for it doesn't really seem like a far fetched idea.
Of course, since my effort toward that
end involves a view like this: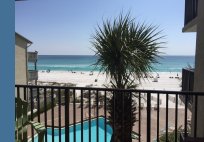 ...who in their right mind would complain, right? But in an effort to keep our dedicated readers informed, I press on. You will find the newsletter below with an updated calendar but otherwise only minor updates. And yes...I will
try my best to drag the warm weather
back with me to NWA!

Additionally, please remember, among the articles about upcoming events, you will once again find a call for volunteers to help with the April 22nd Cabin Fever event at George's. Thanks to those who have responded already! Ozark Blues Society has taken a support role in organizing and staffing the fundraiser and we could still use a few more hands. This looks to be a great event for NWA music fans so why not give LIZ LOTTMANN a shout and see if there is an opportunity for you to help while you enjoy the music. Check out the article below for more information.
As always,you can email me anytime at:
April 22

Shake Off Your

CABIN FEVER

Announcing an amazingly cool upcoming fundraiser for music lovers around the state and beyond! Join your NWA friends on April 22
and your Little Rock friends on May 6th as we all come together to raise the needed funds
to help Nightflying Magazine resume
publishing a print copy to accompany their amazing digital edition. Read on below
the poster for details on both events.
Prefer a video for your information?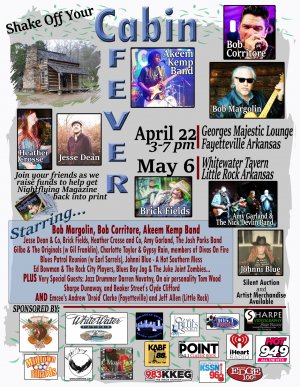 As shared by the organizers:
"NIGHTFLYING, OZARKS BLUES SOCIETY of NWA, AND AC MUSIC TEAM have joined together to bring a couple of major concerts to Fayetteville and Little Rock called "Cabin Fever" for this Spring to help raise the funds to enable Nightflying to resume printing. Cabin Fever I will happen April 22 at George's Majestic Lounge in Fayetteville.
Featured artists will be Steady Rollin' Bob Margolin, Bob Corritore, recording artist and composer Jesse Dean, Heather Crosse & Company, Brick Fields, members of Divas On Fire, and more.
Bob Margolin is a Chicago musician, and toured all over the world for many years with Muddy Waters. He was a featured guitarist on the "Last Waltz" and the "40 Year Last Waltz" documentaries, and was Muddy's guitarist on the Grammy-winning Woodstock Album.
https://bobmargolin.com/
Bob Corritore is a Blues Foundation Music Awards winner, and he contributed harmonica work on the 2008 Grammy®-nominated CD/DVD by Pinetop Perkins.
https://bobcorritore.com/bio/
A silent auction will also be held, and the opportunity to purchase various artist merchandise as well.
*************
Cabin Fever II will happen at The White Water Tavern on May 6. Featured artists will be Amy Garland, Heather Crosse & Co., The Akeem Kemp Band, Gilbo & The Originals (with Gil Franklin) a Blues Patrol Reunion (with Earl Sorrels), Charlotte Taylor & Gypsy Rain, The Josh Parks Band, Ed Bowman & The Rock City Players, Johnni Blue - A Hot Southern Mess, Blues Boy Jag & The Juke Joint Zombies and more. Special guests to appear will be Clyde Clifford, Andrew 'Droid' Clark, Sharpe Dunaway, 'Lectric Liz, Tom Wood and more…
There will also be an after-party at Midtown Billiards, featuring a major jam session of many of the artists mentioned and then some.
These events are to raise much-needed funds so that Nightflying - the 37 year old Arkansas music and live entertainment guide - can return to be an actual printed publication as well as its award-winning online-only edition.
These events are being sponsored by AC Music Team, George's Majestic Lounge, Ozark Blues Society of NWA, The White Water Tavern, KABF-FM, KKEG, The Point 94.1, I-Heart Radio, The Arkansas River Blues Society, Sharpe Dunaway Videography and of course Nightflying."
This one is an easy....since the musicians and music lovers
of NWA have always had such
a long-standing support for Nightflying Magazine, being a part of the Cabin Fever I fundraiser at George's Majestic Lounge on April 22 is an easy choice!

Ozark Blues Society is a primary supporter of this event and with several of our board members previously committed that day we could use a few extra hands. Please contact our Board President and Event Coordinator, Liz Lottmann for more information. lectricliz@gmail.com

NEW

Gospel Brunch!

For those who need another dose of
"Blues Therapy" C
heck out the new
Gospel Brunch starting April 15th at
Hoppin' John's in Fayetteville.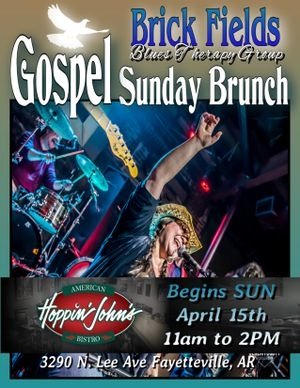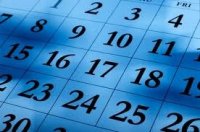 4/13 - 4/21

Please enjoy the following listings comprised of bands, venues, and/or organizations that support Ozark Blues Society. Always check with individual venues for event details and schedule changes.
3.
13
4.14
WellRed Comedy Tour at WAC in Fayetteville

Baskin Band at Ramo d' Olivo in Bentonville

Luane Feylon at Haxton Road Studios in Bentonville

Brick Fields at New Delhi Cafe in Eureka Springs
4.15
Gospel Brunch with Brick Fields at Hoppin' John's in Fayetteville
4.17
Ozark Regional Songwriters Association at Meteor Guitar Gallery in Bentonville
4.18
Blues Therapy with Brick Fields at Moranos in Fayetteville
4.19
Arron Kamm and the Onedrops at The Meteor Guitar Gallery in Bentonville

Farmer and the Markets for Notes at Night at Ramo d' Olivo in Bentonville

Benjamin Del Shreve at Bentonville Butcher and Pint

Gary Hutchison at JJ's Grill and Chill in Fort Smith
4.20
Dr NOLA and The Soulshakers at Kingfish in Fayetteville

Vernon Reid (of Living Colour) at Meteor Guitar Gallery in Bentonville

Earl and Them for H

appy Hour at George's Majestic Lounge in Fayetteville

Rachel Fields Duo at Ramo d' Olivo in Bentonville
4.21
Buddy Shute and The Baskins at Jammin' Java in Fayetteville

Shades of Blue

at Ramo d' Olivo in Bentonville

Buddy Shute and Mark Bokun at Low Gap Cafe in Ponca
4/22 Cabin Fever Nightflying Magazine Fundraiser

4/26 Loren and Mark at Sunrise Stage in Fayetteville

4/28 Zack Bramhall with Brick Fields at Warren's Rec Room in Alma

5/18 Brandon Santini at Warren's Rec Room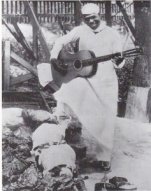 Today's show features music performed by Barbecue Bob, Muddy Waters, and Al Green

"Muddy was there at

a time when, really, the music was getting to me. I was really trying to grasp it

and make something out of it."

Blues Education Supporters
Thanks to the following for their support of blues education.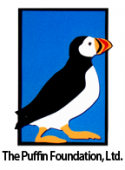 Check Out these regular local radio programs

"The Generic Blues Show" hosted by Paul Kelso airs every Friday night at 9pm on KUAF 91.3FM
Rockin' Hog Radio presents "Sunday Morning Blues" from 8am to 10am every Sunday
LINK
Get Involved with the Ozark Blues Society

Annual membership levels begin at $15 and give you so much in return, including meeting new friends while enjoying the best blues artists in the area.
By being a member of The Ozark Blues Society of Northwest Arkansas, you are helping to support the Arts and to preserve the Original American Art Form known as The Blues.
Membership Benefits Include:
Weekly E-newsletter
Opportunities to win tickets to events
VIP seating at events (when available)
Discounts on OBS merchandise
Social networking – meeting other people who also love the blues
Opportunities to volunteer on OBS committees and at events
Ability to attend board meetings and vote on upcoming organizational issues and elections
Visit our Website to renew or join! Ozarkbluessociety.org