Tickets to Jamaica's premier music festival,
Reggae Sumfest, are available for all events at all the usual local
Jamaican outlets
including:
Fontana Drugs in
Kingston, Montego Bay, Ocho Rios, & Mandeville, and at
Rapid True Value Hardware Stores
in Kingston, Montego Bay, Ocho Rios & Portmore, also
Richie B's Liquor Centre, Mary Brown's Texaco
in Kingston,
Ironshore Total, Pier 1, El Paso Records in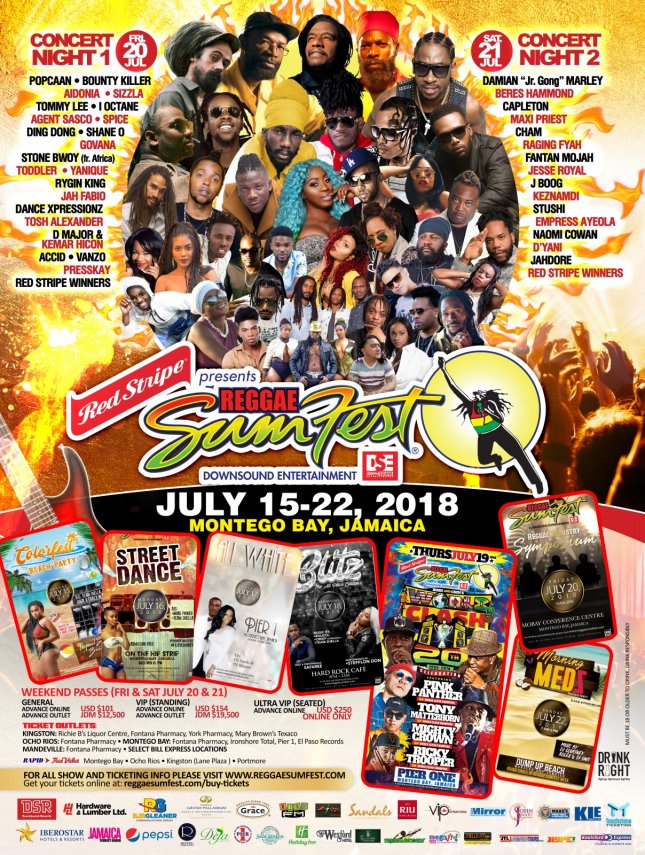 Start
making your travel plans now for the
hottest week of Reggae events on the planet!
Reggae Sumfest brings you
Pre-Events and the 2-Day Main Event
with the top names in Reggae & Dancehall,
all taking place in postcard-perfect
2018 Reggae Sumfest is exploding on the global marketplace. The Pre-Events have been expanded and upgraded, making the week-long celebration in Montego Bay a prime destination for Caribbean travel and entertainment.
Major global sponsors, Jet Blue and Mastercard,
are now also onboard for 2018.
The event lineup for 2018 includes: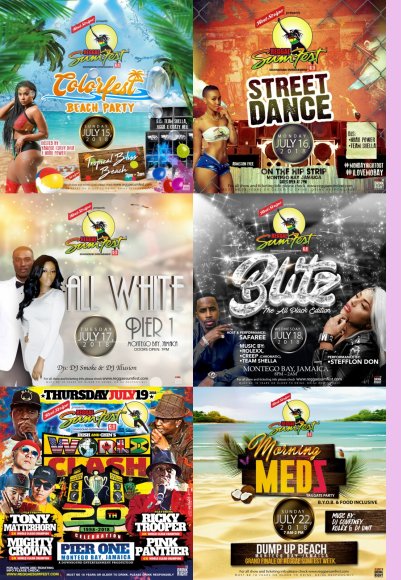 The Colorfest Beach Party on July 15 at
Tropical Bliss Beach
The Free Street Dance and Party on July 16 on the
Hip Strip
The All White Party at Pier One on July 17
The Blitz Party at The Hard Rock Cafe with inclusive food and drinks on July 18
The 20th Anniversary of Irish & Chin's World Clash on July 19 at the Pier One Event Centre
The Main Festival Nights on July 20 & 21 at
Catherine Hall Entertainment Center features the greatest stars of Reggae and Dancehall ~
all night long!
The Festival Week winds up with a 7am Tailgate Party at
Dump Up Beach, called Morning Meds.
_____________________________________________
The festival will again be live-streamed
in high-definition video.
Reggae Sumfest has become the most watched
Reggae & Dancehall festival in the world….Don't miss it!

Must Be Legal Age to Drink – 18 & Over in Jamaica – ID Required –
Please Drink Responsibly