The purpose of the NC Farm to Preschool Network (NCF2PSN) is to connect, educate, develop, and share resources between community and state partners, farmers, early childhood educators, and families to spark the local foods movement in early childhood education environments.
Let It Grow!...
Gardening Tips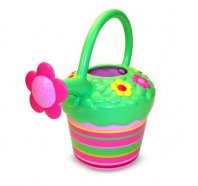 Sure, we all know plants need water to grow! But, do you need a little guidance on how much to water, when to water, and the best ways to water? KidsGardening.org has a great resource for you; check out their Wise Watering guide for tips to conserve water, pros and cons of different irrigation methods, and more!
Whip It up!...

Menus and Recipes



Tabouleh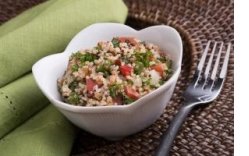 This delicious grain-based Middle Eastern salad incorporates in-season cucumbers, tomatoes, parsley, onions and peppers. For a gluten-free variety, replace the bulgur wheat with quinoa. CACFP approved!

Learning Never Ends...Conferences
Fundraising for farm to school can be challenging. Join this webinar to learn about different opportunities and avenues to fundraise for farm to school activities. This webinar is open to the public and will be led by Lea Madry, National Farm to School Network Development Director.

Register here

.


Team Nutrition Halftime Thirty on Thursday
June 21, 2- 2:30pm ET
Adding Whole Grains To Your Menu: This webinar will focus on how to offer whole grains at Child and Adult Care Food Program (CACFP) sites. Webinars will be held on the third Thursday of every month, in English from 2 to 2:30 PM ET and in Spanish from 3 to 3:30 PM ET.



ECE Obesity Network Webinars


Typically 4th Wednesday of the month.
To be added to listserve, email eceobesity@cdc.gov.

Where to Find the Beans...
Funding Opportunities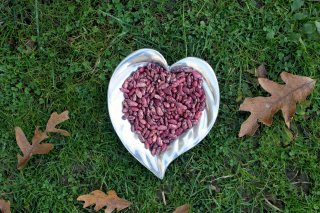 Farm to ECE Funding Opportunity

The federal budget passed in March 2018 included historic increases for key federal early care and education programs, notably the Child Care and Development Fund (CCDF), which funds the Child Care and Development Block Grant (CCDBG) program, was increased by $2.37 billion. Some of this new influx of funding will be used for quality improvements to early care and education that can include farm to ECE initiatives. Review

this new memo

from the National Farm to School Network and the Policy Equity Group for more information and ways to take action in your state. For more information, contact Lacy Stephens, Program Manager at the National Farm to School Network,

lacy@farmtoschool.org

, or Soumya Bhat, Director of Early Childhood Equity Initiatives at the Policy Equity Group,

soumyab@policyequity.com

.





National Education Association GrantsStudent Achievement Grants

, offered by the National Education Association (NEA) Foundation, are for projects that help students learn how to think critically and solve problems in order to improve student learning.

Learning & Leadership Grants

, offered by the National Education Association (NEA) Foundation, are for professional development opportunities for individuals or groups. Grants are available to current members of the National Education Association who are educators in public schools or public institutions of higher education. Preference is given to proposals that incorporate STEM and/or global learning into projects, which can include farm to school activities. Two levels of funding are available: $2,000 and $5,000.


The next deadline for applications is June 1, 2018.

Growing Minds Funding
Growing Minds offers two funding opportunities for pre-K through 12th grade teachers and members of the public working in cooperation with a school in ASAP's Appalachian Grown Region.

Farm to School Funding - Deadlines

September 15

and March 15
Local Food Cooking Stipends - Accepted on a rolling basis

Who's Who in the Network?
Meet...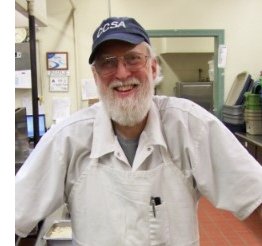 Nutrition Services Manager for Child Care Services Association


Here's Robert's story:
I have been cooking professionally in Chapel Hill for 44 years, the past 18 as a Nutrition Services Manager for Child Care Services Association. Even with many years of restaurant experience, and having raised, and fed, 2 children of our own, the switch to serving preschool kids was a much bigger challenge than I had anticipated, as well as a huge responsibility. But I also found it to be much more rewarding than preparing high dollar meals for well heeled patrons. For some of the children we serve it may be the only real meal they receive in a day.

Along with my cooking experience I also brought with me my ideals of preparing healthy, made from scratch meals. While working in restaurants I had developed a relationship with area farmers. So incorporating fresh locally grown produce and local pastured raised beef into our menus was a natural fit for wanting to provide healthy, nutritious food to school children. Working with the wonderful farmers at the Carrboro Farmers Market, and the folks at Farmer Foodshare and Firsthand Foods, has made it possible to source local foods year round. Hopefully the example set by CCSA's Nutrition Services can be an inspiration to others who are in the business of feeding young children.

Robert was recently named a Local Food Hero by Farm to Fork NC! Congrats, Robert- we are lucky to have you involved with the NC Farm to Preschool Network!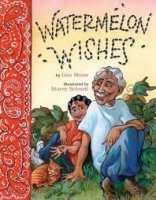 by Lisa Moser



Charlie and his grandfather spend their summer growing a patch of watermelons, and waiting for the perfect one to wish on.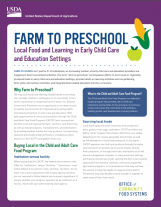 USDA's fact sheet, Farm to Preschool: Local Food and Learning in Early Child Care and Education Settings, discusses how farm to school isn't just for K-12 institutions; an increasing number of early child care and education providers are engaging in farm to preschool activities. The term "farm to preschool" encompasses efforts to serve local or regionally produced foods in early child care and education settings; provide hands-on learning activities such as gardening, farm visits, and culinary activities; and integrate food-related education into the curriculum.

THIS WEEK IN THE GARDEN @ PRESCHOOL
NEW CDC Infant and
Toddler
Nutrition Website
CDC Division of Nutrition, Physical Activity, and Obesity
has released a website that brings together existing information and practical strategies on feeding infants and toddlers from birth to 24 months of age. Topics include breastfeeding, formula feeding, feeding from a bottle, essential vitamins and minerals, introduction of solid foods and beyond (including what foods and drinks to encourage and what to limit or avoid), knowing when your child is hungry, mealtime tips and routines. View the website here.
Submissions to the e-newsletter could be share-worthy farm to preschool stories (include pictures with permission forms), upcoming conferences, webinars, grant opportunities, links to resources, and more!
Please submit to:
Next Advisory Committee call on

June 11, 2018