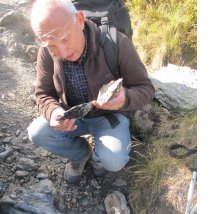 Why/how did you start working on clay minerals?


I may say that this was not me who selected clays but the opposite. I chose only mineralogy. I was a student of geology department at a technical university in Krakow in communist times. The choice we had for Master thesis was among different deposits of raw materials: metal ores, coal, oil and gas, building stone, and water. I knew that I wanted to become mineralogist, but a thesis on mineralogy was not offered. I asked my favorite professor Dr. Jan Kubisz to do a thesis with him, on mineralogy but pretending that this was on raw materials. He proposed me to study a bentonite deposit, discovered only a few years earlier between Carboniferous coal seams in the Upper Silesia. Then he gave me Clay Mineralogy by Ralph Grim and asked to come back when I finish reading this thick book. That is what I did, learning about clays and how to read English quick at the same time. Then I spent over twenty days in underground coal mines collecting samples, which was unforgettable experience. This is how I became clay mineralogist. The samples collected at that time are still used in different studies, now by my scientific grandsons.



2. If you had to tell us one success study and one which completely failed so far in your career, what would they be?


So far both my biggest success and failure are in the field of quantitative XRD analysis of rocks containing clays. The failure came first. Back in the late seventies I got the simple idea that a n-component mixture can be quantified by solving n equations with n unknowns. I am not a skilled mathematician, so producing appropriate equations took me some time. But I managed, and very fond of myself I wrote a short paper on this topic. It happened that before sending it out I got hold of the proceedings volume of 1975 Madrid International Clay Conference and I found there a paper by Victor Drits and his colleagues. One quick look was enough to realize that they presented exactly the same idea. I still remember the moment when I took my finished manuscript in two fingers and dropped it into a trash bin. Years later, in 1998, I started working invited by Dougal McCarty in the Texaco (now Chevron) mineralogical lab in Houston and I proposed to develop a technique of quantitative XRD analysis, better that the one they had been using. After several months of very hard work, this time with Victor Drits, we developed a technique, wrote a paper and send it to American Mineralogist. It was turned down based on reviewers' opinions that there was not much new and the approach was old-fashioned. We submitted it to Clays and Clay Minerals and it was published in 2001. It is now one of my most-cited papers. We organized first Reynolds Cup to convince the company decision-makers that our technique is better than those they had been using and we won one of next rounds of Reynolds Cup with it. Since, I have been using it in various studies, and the biggest reward came from my log analyst friend Tomek Zorski, who said that finally, after many frustrating years, his log data correlate well with mineralogy.





3. With the background that you have now, in what field of clay science

would you go into if you had to envisage again a PhD?


In my understanding, each science is addressing three types of questions: how it is/was (fundamental research), how to learn how it is/was (methodical research), and how to use this knowledge to the advantage of mankind (applied research, technology). I have had some experience in all three fields and by my taste the methodical research is most rewarding. Today, the applied research is by far most dominant sector of clay science, so pragmatic reasons would favor this type of choice. But fundamental research is closer to the heart of trained geologist and so far life did not force me to act against this preference. In conclusion if I had to do PhD again I would try to select a topic combining fundamental and methodical research.



4. What would you tell a student starting a career in clay science?




My first advice would be: Try to get as solid education in chemistry, mathematics, and programming as you can. Such knowledge will make you flexible and will broaden your options. Your choices of research topics will not be limited by the deficit of methodical education. Solid education makes a very comfortable starting point as any issue will be within your reach. But there is also a danger attached: a temptation to solve problems which other will bring to you, without own clear specialization and formulating research problems on your own. This is not my recommendation, so I offer the second advice: consider p.3 above and make up your mind, find the field which intrigues you most and which you want to develop. It will most probably evolve during your professional career but you need a starting point. And my third advice: find time to read what has been written on your topic of choice before you start your own research, keeping in mind that clay science is now over 100 years old and some of these old guys were quite smart. This way you will avoid rediscovering America again and your time will be used most effectively. And also luck is an important factor of successful research, so good luck!