This Sunday, June 17 at 10:00 am


Visiting Pastor Bruce Wilson takes the pulpit this Sunday to preach on Three Great Loves: Love of Neighbor.

We will also invoke the timeless spirit of love and inclusion embodied by American icon Fred Rogers. Our scripture is Luke 10:25-37.

Report:
June 10 Annual Meeting of the Congregation
Thank you to all Alki UCC members and friends who attended our Annual Meeting on June 10 — and to our Visiting Pastor, Bruce Wilson, for attending and opening our meeting with a prayer. It was wonderful to see so many people who care about Alki UCC gathered together to share the joys of the past year and responsibilities of the year ahead.
For the first agenda item, the finance committee presented an amended budget as approved by the Board of Directors. It was noted that some budget figures are necessarily only predictions based on the specifics of hiring an intentional interim pastor or fulfillment of pledge commitments. Although it was not easy to face a deficit of $20,000 for the coming fiscal year, after questions and discussion the budget was unanimously approved.
The Nominating Committee presented the slate of new Board and Committee members for the coming year. A motion to accept the slate was seconded and approved. Our Church has committed leadership from the new and current officers (see sidebar at right)
The Intentional Interim Minister Committee of Shannon Peterson, Scott Mathews and Sandy Johnson gave a report on how the process will unfold over the next few months, beginning with creation of a one page description of our church. It is an exciting time of transition.
Save the Date: A combined Church-Synagogue Picnic is planned for Sunday, August 26 at the Alki Shelter at 3:00 pm. Please plan to attend ... Good food, good folks, good fun!
The Board thanks the congregation for your support and gifts over the past year. It certainly has not been boring. We give thanks to our Minister of Music, Marshan Goodwin-Moultry, and the Choir for their incredible, inspiring music; to Cleiton Santos, our trusty Custodian, who keeps the building clean and ready for use; to the Nursery Staff Attendants, who care for our little ones during worship and church activities.
Thanks to Kristin Michael for her business leadership; to our Financial Secretaries, Laura Petrie and Sallie Neillie, for keeping our finances and our statements up to date; to Michelle Doherty, our Bookkeeper, who makes sure our bills are paid on time; and to Russ Thornock for his attentive care and constant repair of ongoing building issues. Many, many thanks to Larisa Wanserski, our ChurchLady Office Manager. Alki UCC is blessed with an extraordinary staff, volunteers, members and friends. We thank you all.
— Alki UCC Board of Directors
Faith Vigil on Monday, June 18


for


Asylum Seekers Separated from Children & Detained at SeaTac Federal Detention Facility

Thousands of Americans have raised their voices to say no more — the purposeful separation of children from their parents at the border is cruel, inhumane and unacceptable in the United States.
Faith Vigil at Normandy Park UCC
for Asylum Seekers Separated from Children
& Detained at SeaTac Federal Detention Facility
Monday, June 18, 7:00 to 8:30 pm
Normandy Park UCC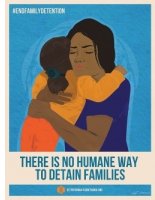 19247 1st Ave S
Community Briefing
Wednesday, June 20 at 9:30 am
World Refugee Day
Saint Mark's Cathedral/
Bloedel Hall 1245
10th Ave E in Seattle
Hi folks,
I'm off on summer break tomorrow until Monday, July 2.
Thanks so much to Jane Gunwaldsen for taking on the newsletter and bulletin in my absence ... and to Kristin Michael for keeping the office running.
Please send your newsletter/bulletin submissions directly to Jane Gunwaldsen by Wednesday of each week.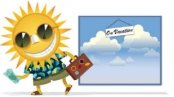 For pastoral issues, contact Pastor Susan Fairo per the article below.
Have a FABU couple of weeks!
Your ChurchLady, la
Alki UCC Flash Mob Dancers on You Tube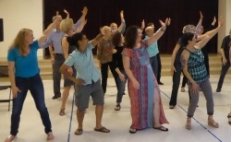 Broadway on Alki ... ??!!
Cindy Ogasawara led an energetic group of flash mobbers who shimmied and strutted their way through We are Family ... a runaway hit at Pastor Diane's sendoff celebration on May 19.
Check it out!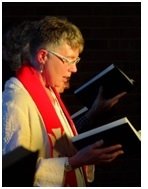 The Rev. Susan Fairo is your principal contact for pastoral care. Susan has been a member of Alki UCC since 2012,and is currently the intentional interim pastor at Spirit of Peace UCC in Sammamish.
Susan's cell number is (206) 349-7285.
Texts are preferred for prompt attention if possible, and please identify yourself.
Next best is email: susan.fairo@gmail.com, then phone calls at (206) 349-7285. Susan says she will respond as soon as she is able.
# # #
During Susan's vacations in late July and late August (dates will be announced), The Rev. Amy Hitchens will be available for pastoral care. Amy has been a member of Alki UCC for thirteen years and is now serving at Normandy Park United Church of Christ as their pastor.
The Rev. Bruce Wilson, is our Visiting Pastor for Sunday worship, is also available for pastoral care as needed. For the past four years, he has been serving at St. Joseph's Medical Center in Tacoma as a staff chaplain.
# # #
Alki UCC member Emily Hitchens is our Parish Care Nurse and leads the Parish Care team. You can contact her directly to request help with rides/meals or other logistics associated with illness, injury or major life disruptions. ameliahitchens95@gmail.com or (206) 824-6816
Updates will be included in future Messengers, in the Directory and in the Sunday bulletin. Contact the Church Office if you have any questions.
For those grieving the recent death of a loved one:
Kristin Michael, Lesa Henry, Jeff Jolly & family, Charley Rosenberry,
Russ Thornock, Trish Dodds
Recent hospitalization, illness and other concerns:
Lisa Burke, Penny Matthews, Bev Connor, Patty Magnuson's brother,

Shelley Webster, Jan Cochran
For home bound members/friends of Alki UCC:
Ruth Okada, Doris Colbert
Wider World: Children, parents and all those affected by recently-instituted, inhumane immigration policies; all those affected by the volcano eruptions in Hawaii; p
rayers for fewer guns and for all victims of gun violence; victims and survivors of extremist violence

around the world

;

the migrants seeking refuge around the world, and for those who are trying to help and serve them. The rest of the missing schoolgirls kidnapped by Boko Haram, who remain in our hearts as long as they remain missing. The hungry and homeless, the ill and the addicted, the lost and the lonely; the unemployed.
Tiny House Build/
Camp Second Chance
Saturday: 9:00 am to ?
Sunday Worship
& Church School
Sunday at 10:00 am
Alki UCC
Board of Directors and Committees
2018-2019
Board of Directors
Sara Bean
Charlie Hinckley
Emily Hitchens
Jason Huynh
Dan Kennedy
Patty Magnuson
Rod Peeler
Dave Smith
Cinda Stenger
Ex Officio:
(Voice but no vote)
Kristin Michael,
Business Manager
Julia Peeler, Treasurer
Stewardship Committee
Julia Chase
Gary Gesellchen
Cindy Ogasawara
Charley Rosenberry
Bob Stahley
Nominating Committee
Bonita Corliss
Julia Peeler
Dav'ne Staley
Cinda Stenger
Anne Van Dyne
The New Alki UCC Photo Directory Arriveth
There are about 30 printed and available Sunday at worship (a few $$ gratefully accepted to cover printing costs).

Please let me know asap if you catch any errors ... more copies will be available as needed and we'll correct any inadvertent boo-boos as we go along.
Thank you, la
Tomorrow!
Tiny House Build Scheduled at Camp Second Chance
Calling all Volunteers! We need you this Saturday.
9:00 am start time
Camp Second Chance, 9701 Myers Way S
Parking lot is in the front; carpooling encouraged
Please contact Kathy if you plan to join us.
We also welcome folks who can bring lunch or snacks!
Gospel/Reggae
Liberian Musician Lasana Performs at Admiral UCC
Sunday, June 24,
1:30 pm
Admiral Church UCC
4320 SW Hill
Lasana, an exceptional musician with an an exceptional life story, suffered much in his home country of Liberia, enduring disability, war, persecution, poverty and personal failure.
His music is inspired and brings a message of hope and faith through vibrant rhythms and soulful vocals.
Lasana says:
"I have been blessed to sing at many venues, events, and churches across the United States. While I have been through many hardships, trials, and failings, God has proved faithful. I have one goal and that is to bring you to a closer relationship with the living God in an unexpected and joyful experience."
A love offering will be welcome.

Click on the big, blue donate button at alkiucc.org to make your secure online donation.
You will be redirected to our contributions page where you click on the PayPal button to donate online.
Other giving options are also noted.
Make sure you get the newsletter:
Please add "office@alkiucc.org" to your Safe Sender list, or click the Subscribe button below to help keep your newsletters from going walkies: