This Sunday, June 24 at 10:00 am

This Sunday, the 24th, marks 48 years of pride celebrations. The first kicked off a year after the Stonewall riots, named after the infamous gay bar which the police raided over discrimination.
Today, in 2018, LGBTQIAA+ folks are still fighting for their rights. Many have to "come out" to their families and friends, not knowing if the love they will receive will be conditional. The President of the United States on March 23rd was still trying to ban Transgender folk from military service.
It leads one to think, where would Jesus have spent his time. Over and over again, Jesus spent time with those who were marginalized, not those in church. Just a few examples are: Mary Magdalene, Zacchaeus, the nameless Canaanite woman, The Samaritan woman at the well. Yes, OUR JESUS was a friend of those to whom society said "no".
There are 6 passages in the bible from Genesis 19, Leviticus 18:22, Romans 1:26-27, I Corinthians 6:9-10, and I Timothy 1:10, that debateably condemn homosexuality. While conservatives would like to translate homosexual... the word homosexual has only been around since the 1800's. Let's find out this Sunday what God's Love and Book have to say about things.
Hi folks,
I'm off on summer break tomorrow until Monday, July 2.
Thanks so much Kristin Michael for keeping the office running and Jane Gunwaldsen for taking on the newsletter and bulletin in my absence.
Please send your newsletter/bulletin submissions directly to Jane Gunwaldsen by Wednesday, June 27th.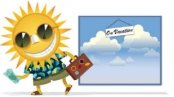 For pastoral issues, contact Pastor Susan Fairo per the article below.
Have a FABU couple of weeks!
Your ChurchLady, la
Alki UCC Flash Mob Dancers on You Tube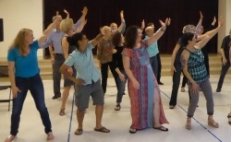 Broadway on Alki ... ??!!
Such fun!
Cindy Ogasawara led an energetic group of flash mobbers who shimmied and strutted their way through We are Family ... a runaway hit.

Check it out!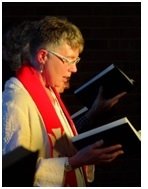 The Rev. Susan Fairo is your principal contact for pastoral care. Susan has been a member of Alki UCC since 2012,and is currently the intentional interim pastor at Spirit of Peace UCC in Sammamish.
Susan's cell number is (206) 349-7285.
Texts are preferred for prompt attention if possible, and please identify yourself.
Next best is email: susan.fairo@gmail.com, then phone calls at (206) 349-7285. Susan says she will respond as soon as she is able.
# # #
During Susan's vacations in late July and late August (dates will be announced), The Rev. Amy Hitchens will be available for pastoral care. Amy has been a member of Alki UCC for thirteen years and is now serving at Normandy Park United Church of Christ as their pastor.
The Rev. Bruce Wilson, is our Visiting Pastor for Sunday worship, is also available for pastoral care as needed. For the past four years, he has been serving at St. Joseph's Medical Center in Tacoma as a staff chaplain.
# # #
Alki UCC member Emily Hitchens is our Parish Care Nurse and leads the Parish Care team. You can contact her directly to request help with rides/meals or other logistics associated with illness, injury or major life disruptions. ameliahitchens95@gmail.com or (206) 824-6816
Updates will be included in future Messengers, in the Directory and in the Sunday bulletin. Contact the Church Office if you have any questions.
For those grieving the recent death of a loved one:
Lesa Henry, Jeff Jolly & family, Charley Rosenberry,
Trish Dodds
Recent hospitalization, illness and other concerns:
Larry Gill's nephew, Paul; Lisa Burke, Penny Matthews, Bev Connor, Patty Magnuson's brother,

Shelley Webster, Jan Cochran
For home bound members/friends of Alki UCC:
Ruth Okada, Doris Colbert
Wider World: Children, parents and all those affected by recently-instituted, inhumane immigration policies.So many families must be reconnected and healed; all those affected by the volcano eruptions in Hawaii; p
rayers for fewer guns and for all victims of gun violence; victims and survivors of extremist violence

around the world

;

the migrants seeking refuge around the world, and for those who are trying to help and serve them. The rest of the missing schoolgirls kidnapped by Boko Haram, who remain in our hearts as long as they remain missing. The hungry and homeless, the ill and the addicted, the lost and the lonely; the unemployed.
Tiny House Build/
Camp Second Chance
Saturday: 9:00 am to ?
Sunday Worship
& Church School
Sunday at 10:00 am
Alki UCC
Board of Directors and Committees
2018-2019
Board of Directors
Sara Bean
Charlie Hinckley
Emily Hitchens
Jason Huynh
Dan Kennedy
Patty Magnuson
Rod Peeler
Dave Smith
Cinda Stenger
Ex Officio:
(Voice but no vote)
Kristin Michael,
Business Manager
Julia Peeler, Treasurer
Stewardship Committee
Julia Chase
Gary Gesellchen
Cindy Ogasawara
Charley Rosenberry
Bob Stahley
Nominating Committee
Bonita Corliss
Julia Peeler
Dav'ne Stahley
Cinda Stenger
Anne Van Dyne
The New Alki UCC Photo Directory Arriveth
There were about 30 printed and available Sunday, the 17th at worship (a few $$ gratefully accepted to cover printing costs).

Please let me know asap if you catch any errors ... more copies will be available as needed and we'll correct any inadvertent boo-boos as we go along.
Thank you, la
Tomorrow!
Tiny House Build Scheduled at Camp Second Chance
Calling all Volunteers! We need you this coming Saturday.
9:00 am start time
Camp Second Chance, 9701 Myers Way S
Parking lot is in the front; carpooling encouraged
Please contact Kathy if you plan to join us.
We also welcome folks who can bring lunch or snacks!

Click on the big, blue donate button at alkiucc.org to make your secure online donation.
You will be redirected to our contributions page where you click on the PayPal button to donate online.
Other giving options are also noted.
Make sure you get the newsletter:
Please add "office@alkiucc.org" to your Safe Sender list, or click the Subscribe button below to help keep your newsletters from going walkies: