This Sunday, July 8 at 10:00 am
Visiting Pastor Bruce Wilson takes the pulpit this Sunday to


July 8th Love of Neighbor (Homelessness)
Matthew 8: 20

Summer Sunday Swaps!
Three Joint Worships Planned with Admiral Congregational UCC: July 29, August 12 & 19
On Sunday, July 29, the Alki UCC congregation is invited up the hill to worship with Pastor Andrew Conley-Hobson and all our our friends at Admiral UCC, 4320 SW Hill. NOTE: This service begins at 10:30 am.
On Sundays, August 12 & 19 the Admiral congregation has been invited to join us for worship at our regular 10:-00 am time. Visiting Pastor Bruce Wilson is leading worship.
About Pastor Andrew
Andrew Conley-Holcom took a roundabout way to the ministry, starting first as a public school teacher before finding a calling in genocide studies and violence prevention education. He has worked as a youth director, a conflict management workshop facilitator, and an advocate for survivors of sexual assault and domestic violence.
He received his M.A. in Anthropology from Western Washington University in Bellingham, WA and his M.Div. from Pacific School of Religion in Berkeley, CA. He was the first male M.Div. student to earn the Women's Studies in Religion Certificate from the Graduate Theological Union in Berkeley, CA.
UCNews Summer Issue Online

The latest Conference News is online
The summer issue of the Pacific Northwest Conference UCC newsletter features articles on::
• Annual Meeting, camps, stewardship training, board news
• Poor People's Campaign and UCC involvement
• Leda Zakarison JLP intern with Earth Ministry
• Newport UCC welcomes bicyclists
• Admiral challenges PNC churches to collect food for children in summer
• Kelle Brown's speech at Poor People's Campaign
• Several from PNC arrested during Poor People's Campaign in Olympia
• Joe Chrastil tells of community organizing
• Korean partners reflect on summit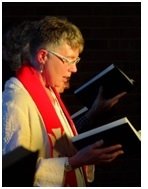 The Rev. Susan Fairo is your principal contact for pastoral care. Susan has been a member of Alki UCC since 2012,and is currently the intentional interim pastor at Spirit of Peace UCC in Sammamish.
Susan's cell number is (206) 349-7285.
Texts are preferred for prompt attention if possible, and please identify yourself.
Next best is email: susan.fairo@gmail.com, then phone calls at (206) 349-7285. Susan says she will respond as soon as she is able.
# # #
During Susan's vacations in late July and late August (dates TBA), The Rev. Amy Hitchens is available for pastoral care. Amy has been a member of Alki UCC for thirteen years and is now serving at Normandy Park United Church of Christ as their pastor.
The Rev. Bruce Wilson, is our Visiting Pastor for Sunday worship, is also available for pastoral care as needed. For the past four years, he has been serving at St. Joseph's Medical Center in Tacoma as a staff chaplain.
# # #
Alki UCC member Emily Hitchens is our Parish Care Nurse and leads the Parish Care team. You can contact her directly to request help with rides/meals or other logistics associated with illness, injury or major life disruptions. ameliahitchens95@gmail.com or (206) 824-6816
Updates will be included in future Messengers, in the Directory and in the Sunday bulletin. Contact the Church Office if you have any questions.
For those grieving the recent death of a loved one:
Lesa Henry, Jeff Jolly & family, Charley Rosenberry
Recent hospitalization, illness and other concerns:
Larry Gill's nephew, Paul; Lisa Burke, Penny Matthews, Bev Connor, Patty Magnuson's brother,

Shelley Webster, Jan Cochran
For home bound members/friends of Alki UCC:
Ruth Okada, Doris Colbert
Wider World: Children, parents and all those affected by myriad inhumane immigration policies/practices; all those affected by the volcano eruptions in Hawaii; p
rayers for fewer guns and for all victims of gun violence; victims and survivors of extremist violence

around the world

;

the migrants seeking refuge around the world, and for those who are trying to help and serve them. The rest of the missing schoolgirls kidnapped by Boko Haram, who remain in our hearts as long as they remain missing. The hungry and homeless, the ill and the addicted, the lost and the lonely; the unemployed.
Tiny House Build/
Camp Second Chance
Saturday: 9:00 am to ?
Sunday Worship
& Church School
Sunday at 10:00 am
Alki UCC
Board of Directors and Committees
2018-2019
The New Alki UCC Photo Directory Arriveth
We've printed up more copies, which will be available Sunday at worship (a few $$ gratefully accepted to cover printing costs).

Please let me know asap if you catch any errors ... more copies will be available as needed and we'll correct any inadvertent boo-boos as we go along.
Thank you, la
Tomorrow!
Tiny House Build Scheduled at Camp Second Chance
Calling all Volunteers! We need you this Saturday.
9:00 am start time
Camp Second Chance, 9701 Myers Way S
Parking lot is in the front; carpooling encouraged
Please contact Kathy if you plan to join us.
We also welcome folks who can bring lunch or snacks!

Click on the big, blue donate button at alkiucc.org to make your secure online donation.
You will be redirected to our contributions page where you click on the PayPal button to donate online.
Other giving options are also noted.
Make sure you get the newsletter:
Please add "office@alkiucc.org" to your Safe Sender list, or click the Subscribe button below to help keep your newsletters from going walkies: